Introduction
The Panasonic Lumix DMC-LZ40 is an entry-level bridge camera from Panasonic. It features a 42x optical zoom, with a focal length starting at a wide angle of 22mm, rising up to 924mm at the telephoto end. There's also an 84x digital zoom available, too. A 20.0 million pixel 1/2.3-type CCD sensor is found inside the camera, while other specifications include 15 different filter effects, the ability to create panoramic images, and a 3-inch LCD screen. In terms of the rest of the market, the camera is relatively basic, with no inbuilt Wi-Fi, no touch sensitive screen and only 720p video recording. However, for the moment at least, it's one of the cheapest bridge cameras on the market. It competes with cameras such as the Canon SX410IS (40x optical zoom) and the Nikon L840 (38x optical zoom). The Panasonic Lumix DMC-LZ40 costs around $250 / £150.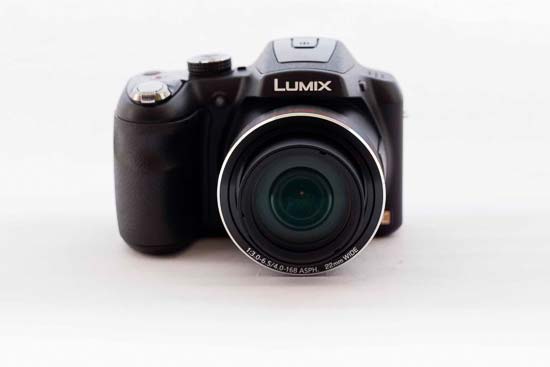 Ease of Use
Unlike some of the other entry-level bridge cameras on the market, the Panasonic Lumix DMC-LZ40 is quite a large offering, being reminiscent of one of the lower cost DSLRs on the market. The grip is pretty hefty, and has a textured coating to help your hand feel more secure when holding it. There's also an indent on the grip so your fingers sit comfortably. The back of the camera has a thumb rest, which is also textured and adds to the secure feeling in your hand.
On the top of the Panasonic Lumix DMC-LZ40 is the shutter release button, which is conveniently placed for your index finger to reach from the grip. Around this is the switch for extending and retracting the 42x optical zoom. It's quite a small switch, but it seems solidly built enough and the zoom itself retracts relatively quickly.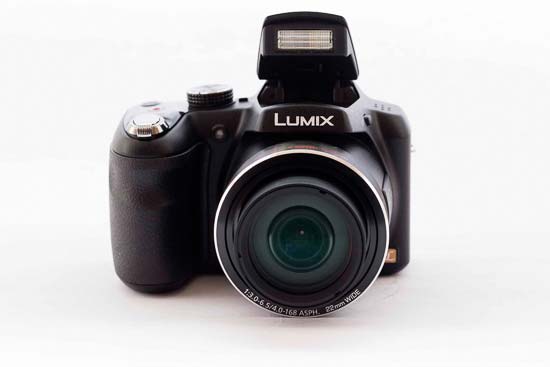 Front of the Panasonic Lumix DMC-LZ40
Also on the top is a dedicated movie record button, and a mode dial for switching between the different exposure modes the camera offers. Compared to some cameras there's a relatively limited range of shooting options on offer here. There's automatic, scene, digital filter and panoramic modes, and also a manual mode and Program mode. There's no aperture priority or shutter priority mode as you often find on many bridge cameras. The inbuilt flash on top of the Panasonic Lumix DMC-LZ40 is raised by pressing a button on the side to release the catch which forces it to pop up. To retract the flash, you simply push it back into place.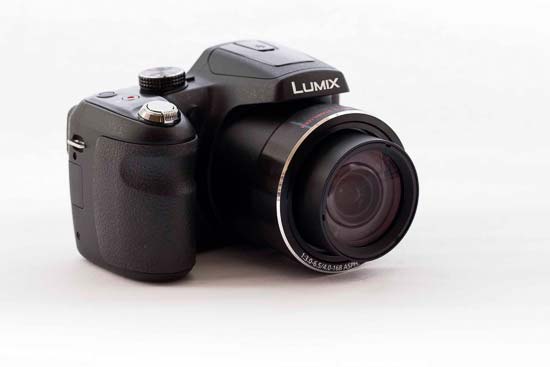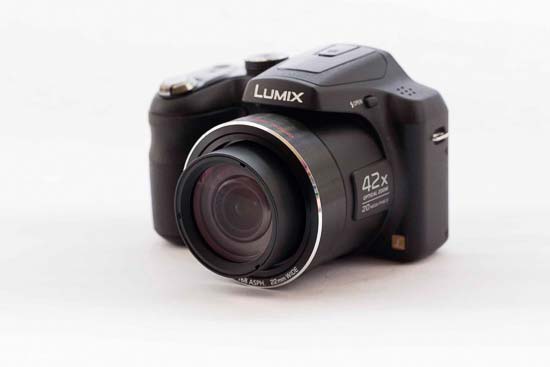 Side of the Panasonic Lumix DMC-LZ40
Moving to the back of the camera and there's a very familiar layout as we're pretty much used to seeing on digital cameras of this kind. There's a four way navigational pad, with each key controlling a specific function of its own.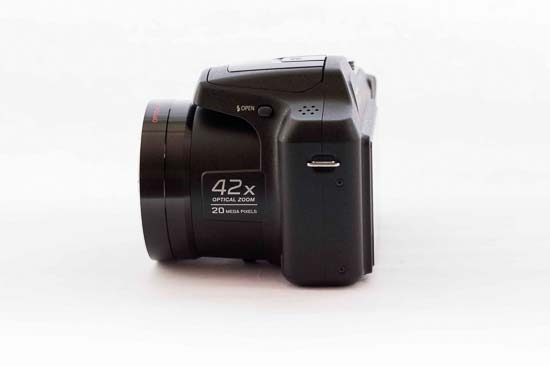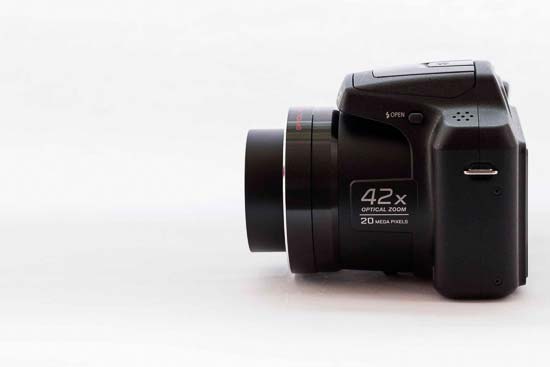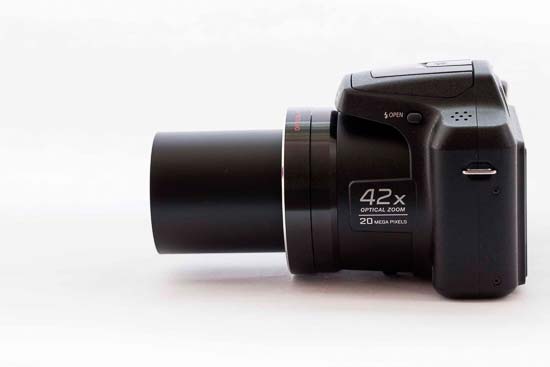 The up button controls exposure compensation, the left controls timer / drive mode, the down button accesses focusing mode, while the right button accesses flash modes. The central button is used to access the camera's main menu.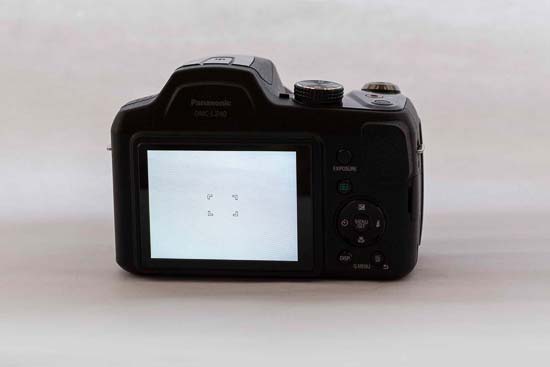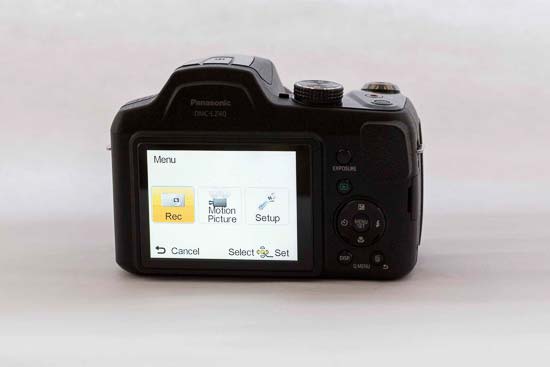 Rear of the Panasonic Lumix DMC-LZ40
There's also a quick menu, which is accessed by the trash can button when in shooting mode. Here you'll find a range of different commonly used settings, depending on the shooting mode you're in. For instance, if you're shooting in Program mode, you'll find settings such as sensitivity, white balance and drive mode. Meanwhile, in iA (automatic) mode, you'll only find image size, burst shooting and movie quality.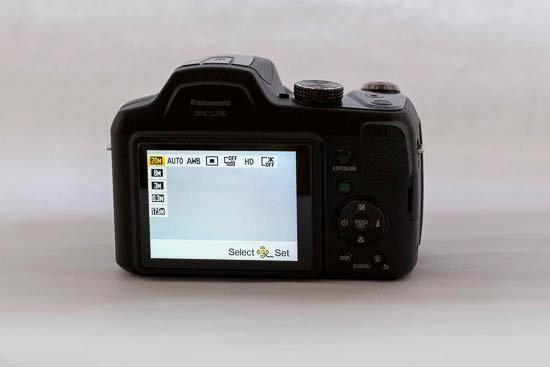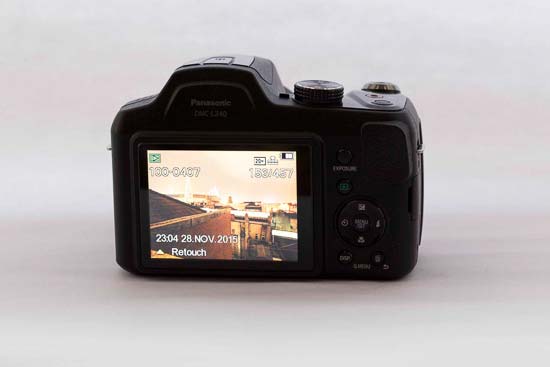 Rear of the Panasonic Lumix DMC-LZ40
A button labelled "Exposure" on the back of the camera is used to alter exposure compensation when shooting in Program mode, or to start altering aperture and shutter speed when shooting in Manual mode. Once you press the button in Manual mode, you can use the left and right keys to choose aperture, or the up and down keys to set shutter speed. It's worth noting that the camera only gives you two options for aperture, which will depend on the focal length you're shooting at. For instance, if you're shooting at the lens' widest point, you'll be able to choose between f/3.0 and f/8.6, while at the telephoto end of the lens, your choices will be f/16.5 and f/18.9. It's not the most flexible of systems, especially as the slowest shutter speed you can select is 15 seconds.
Top of the Panasonic Lumix DMC-LZ40
When shooting in iA mode, the Panasonic Lumix DMC-LZ40 will decide everything for you, including activating macro mode and selecting a focus point. When shooting in Program or Manual mode, you can use a central focus point and use the focus and recompose method. Again, it would be nice to have a bit more flexibility here – such as the ability to choose a different focus point.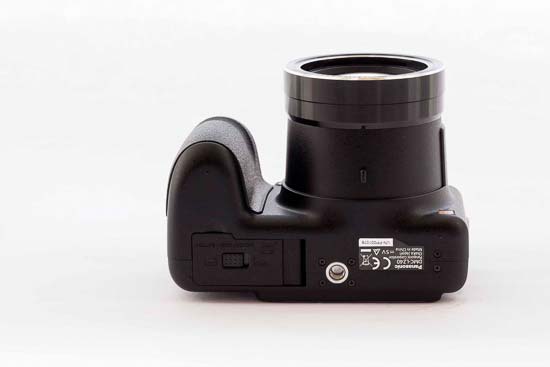 Bottom of the Panasonic Lumix DMC-LZ40
The main menu is organised into three different sections; Record, Motion Picture and Setup. In the first section you'll find the ability to change settings which are pertinent to how the image looks, such as metering, white balance and so on, while in the Setup section you'll be able to change the date and time, turn off the camera beep and so on. The Motion Picture section doesn't have many options, but you do have the option to change video record quality and choose a different focusing method. The menu is sensibly arranged for the most part and it's relatively straightforward trying to find the setting you require.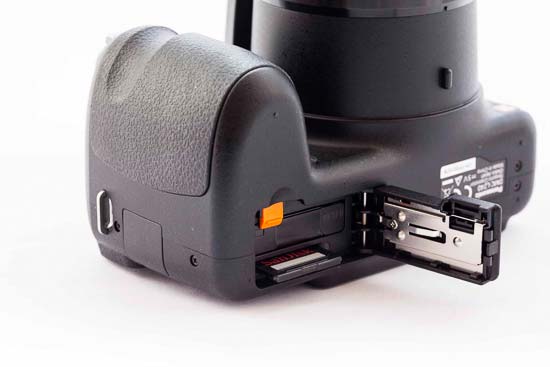 Memory Card Slot / Battery Compartment
In good light, focusing speeds are fairly quick. There are occasions when the Panasonic Lumix DMC-LZ40 fails to lock onto the target, and presents a false positive (where the camera suggests it has acquired focus when it hasn't). This seems to be especially true for small subjects taken from a distance (using the optical zoom lens). When the light levels drop, the lens tends to hunt around for a bit longer.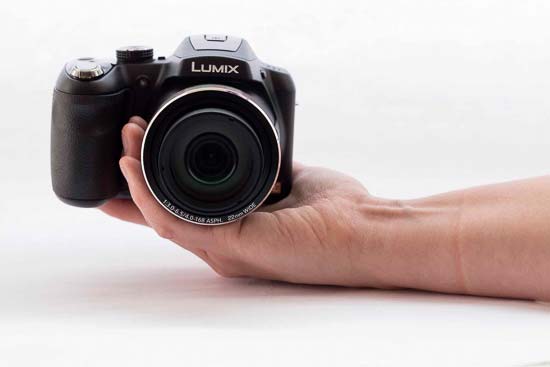 The Panasonic Lumix DMC-LZ40 In-hand
Shot to shot times are also a little slow, and the Panasonic Lumix DMC-LZ40 can be a little unresponsive when you press a menu or quick menu button, taking a little bit of time to respond to commands on occasion. On a couple of occasions during this test, the camera froze up completely, requiring that the battery be removed and the camera restarted to get it working again.
Image Quality
If you're only going to be using the Panasonic Lumix DMC-LZ40 in good, bright light, such as while on holiday, then you'll probably be pleased with its results. In those kind of conditions, colours are bright and punchy, showing a good level of vibrance and saturation.
However, if you intend to shoot anything in even slightly dim light, then it's a bit of a different story. From ISO 800, image smoothing is visible, with areas of the image displaying a slight painterly effect. Move up to ISO 1600 and there's quite a drastic drop in image clarity, even when viewing an image at relatively small sizes.
Another problem is with a relatively limited top sensitivity speed of ISO 1600, and a maximum aperture (at the wide angle end of the lens) of f/3.5, in dim conditions it's difficult to take a blur free image as slower shutter speeds are required to let the light in.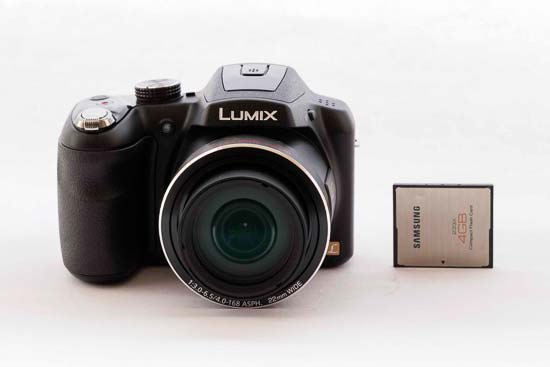 The Panasonic Lumix DMC-LZ40's zoom lens is fairly impressive. For the price, you get a decent zoom range, and images taken at the far end of the 42x telephoto optic display the same amount of detail and clarity as those taken at the wide angle end of the lens.
Automatic white balance copes well with artificial lighting conditions, producing images with accurate colours. Meanwhile, for the most part, the Panasonic Lumix DMC-LZ40's metering system does a decent job of producing accurate exposures.
Noise
The Panasonic Lumix DMC-LZ40 has 5 ISO settings. Here are some 100% crops which show the noise levels for each ISO setting.
| | |
| --- | --- |
| ISO 100 (100% Crop) | ISO 200 (100% Crop) |
| | |
| | |
| ISO 400 (100% Crop) | ISO 800 (100% Crop) |
| | |
| | |
| ISO 1600 (100% Crop) | |
| | |
Focal Range
The Panasonic Lumix DMC-LZ40 offers an incredibly versatile focal range of 22-924mm.
| | |
| --- | --- |
| 22mm | 924mm |
| | |
Sharpening
Here are two 100% crops which have been Saved as Web – Quality 50 in Photoshop. The right-hand image has had some sharpening applied in Photoshop. The out-of-the camera images at the default setting are soft and benefit from some further sharpening in a program like Adobe Photoshop.
| | |
| --- | --- |
| Original (100% Crop) | Sharpened (100% Crop) |
| | |
| | |
| | |
Chromatic Aberrations
The Panasonic Lumix DMC-LZ40 suffered from obvious chromatic aberrations during the review, with purple fringing present around the edges of objects in most high-contrast situations. Here are some 100% crops which show the typical chromatic aberrations that you can expect.
| | |
| --- | --- |
| Chromatic Aberrations 1 (100% Crop) | Chromatic Aberrations 2 (100% Crop) |
| | |
Macro
The Panasonic Lumix DMC-LZ40 offers a Macro setting that allows you to focus on a subject that is 1cm away from the camera. The first image shows how close you can get to the subject in Macro mode (in this case a compact flash card). The second image is a 100% crop.
| | |
| --- | --- |
| Macro | Macro (100% Crop) |
| | |
Flash
Here are some portrait shots. As you can see, neither the Auto and Red-Eye Reduction options caused any amount of red-eye.
| | |
| --- | --- |
| Forced On | Forced On (100% Crop) |
| | |
| | |
| Auto/Red-eye Reduction | Auto/Red-eye Reduction (100% Crop) |
| | |
Night
The Panasonic Lumix DMC-LZ40 maximum shutter speed is 60 seconds in the Starry Sky Mode, which is excellent news if you're interested in night photography. The shot below was taken using a shutter speed of 15 seconds, aperture of f/8.6 at ISO 1000.
| | |
| --- | --- |
| Night | Night (100% Crop) |
| | |
Specifications
Metrics
Dimensions (W x H x D)
126.4 x 86.6 x 94.2 mm/(4.98 x 3.41 x 3.71 inch)
Weight
Approx. 498 g without Battery and SD Memory Card (1.10 lb)/Approx. 524 g with Battery and SD Memory Card (1.16 lb)
Pixels
Camera Effective Pixels
20.0 Megapixels
Sensor
Sensor Size / Total Pixels / Filter
1/2.3-type CCD Sensor / Total Pixel Number 20.5 Megapixels / Primary Color Filter
Lens
Aperture
F3.0 – 6.5 / 2-step (F3.0 / 8.6 (W), F6.5 / 18.9 (T))
Optical Zoom
42x
Focal Length
f = 4.0 – 168.0mm (22 – 924mm in 35mm equiv.)/(24 – 1007mm in 35mm equiv. in 16:9 video recording)
Extra Optical Zoom (EZ)
66.3x (4:3 / 8M), 105.0x (4:3 / under 3M)
Intelligent Zoom
84x
Lens
12 elements in 9 groups/(3 Aspherical Lenses / 6 Aspherical surfaces / 2 ED Lenses)
2- Speed Zoom
–
Optical Image Stabilizer/Five Axis Correction
O.I.S. (On / Off) / No
Digital Zoom
Max. 4x
Conversion Lens Compatibility
–
Focus
Focusing Area
Normal: Wide 30cm – infinity / Tele 160cm – infinity/AF Macro / Intelligent Auto / Motion Picture: Wide 1 cm – infinity / Tele 160 cm – infinity
AF Assist Lamp
Yes (On/Off)
Focus
Normal / AF Macro / Macro Zoom/Quick AF (Always On), Continuous AF (only for motion picture)/AF Tracking
AF Metering
Face / AF Tracking / 1-area / 9-area / Spot
Finder
Viewfinder
–
Shutter
Shutter Speed
Approx. 15 – 1/1,500 sec/Starry Sky Mode: 15, 30, 60 sec
File
File Format
Still Image: JPEG (DCF/Exif2.3)/Motion Picture: QuickTime Motion JPEG
Recording Modes
Mode Dial / Mode Button
Intelligent Auto, P, M, Panorama Shot, Scene, Creative Control, Portrait, Scenery
Creative Control mode
Expressive, Retro, Old Days, High Key, Low Key, Sepia, Dynamic Monochrome, Impressive Art, High Dynamic,/Cross Process, Toy Effect, Miniature Effect, Soft Focus, Star Filter, One Point Color (15 filters)
Still Image Scene Mode
Soft Skin, Sports, Night Portrait, Night Scenery,/Food, Baby1*, Baby2*, Pet*, Sunset, High Sensitivity, Glass Through, HDR, Starry Sky/* Birthday only.
Continuous Shooting Mode
Full-Resolution Image: 1.1 frames/sec/High-speed Burst: Approx. 3 frames / sec/(recorded in 3M for 4:3, 2.5M for 3:2, 2M for 16:9, 2.5M for 1:1)
Motion Picture Recording (*2)
HD Video
1280 x 720 pixels, 30fps (HD / Motion JPEG)
STD Video
640 x 480, 30fps (VGA / Motion JPEG)/320 x 240, 30fps (QVGA / Motion JPEG)
High Speed Video
–
Continuous recordable time (motion pictures)
AVCHD
–
MP4
–
Actual recordable time (motion pictures)
AVCHD
–
MP4
–
Exposure Parameters
Exposure
Program AE, Manual
Exposure Compensation
1/3 EV step, +/-3 EV
Auto (AE) Bracketing
1/3 – 2 EV step, Max. ±2 EV, 3 frames
Light Metering
Intelligent Multiple / Center Weighted / Spot
ISO Sensitivity
Auto / i.ISO / 100 / 200 / 400 / 800 / 1600/High Sensitivity Mode (ISO1600 – 6400)
Picture Quality
Image Quality
Fine / Standard
Still Picture Recording
[4:3] 5152×3864 (20M) / 3264×2448 (8M EZ) / 2048×1536 (3M EZ) / 640×480 (0.3M EZ)/[3:2] 5152×3432 (17.5M) / 3264×2176 (7M EZ) / 2048×1360 (2.5M EZ)/[16:9] 5152×2896 (14.5M) / 1920×1080 (2M EZ)/[1:1] 3856×3856 (15M) / 1536×1536 (2.5M EZ)
White Balance
Auto / Daylight / Cloudy / Shade / Incandescent / White Set/White Balance Adjustment (Except Auto)
Photo Style / Film Mode
–
Color Mode / Color Effect / My color
–
Picture Adjustment
–
Aspect Bracketing
–
Other
Digital Red Eye Correction (Red-Eye Removal)
Yes (On/Off)
GPS
–
Wi-FI
–
NFC
–
Zoom in Motion Picture
Yes
Self Timer
2 sec / 10 sec
Self Shot Mode
–
Display
Playback Mode
Normal Play, Slide Show, Category Selection
Thumbnails / Zoomed Playback
12,30-thumbnails / Yes
Calendar Display / Dual- Image Playback
Yes (Menu / Zoom Lever) / No
Set Favorites / Rotate Image
No / No
Show Histogram
Yes
Show Highlights
–
DPOF Print Setting / Set Protection
No / Yes
Edit
Retouch
Creative Retouch
Resize / Cropping / Aspect Conv. / Leveling
Yes / Yes / No / No
Copy / Title Edit / Text Stamp
Yes / No / No
Cut Animation
–
Video Divide
–
PictBridge Support
Single / Multi / All
Setup
OSD language
Japanese, English, German, French, Italian, Spanish
Monitor
LCD Monitor
7.5cm (3.0″) TFT Screen LCD Display (460K dots)/Field of View: Approx. 100%/Power Monitor mode, AUTO Power Monitor mode, High-angle Mode
Flash
Built- in- Flash
Auto, Auto/Red-eye Reduction, Forced On, Slow Sync./Red-eye Reduction, Forced Off/0.6 – 10.8m (Wide / ISO Auto), 1.6 – 4.9m (Tele / ISO Auto)
Media
Recording Media
Built-in Memory, SD Memory Card, SDHC Memory Card, SDXC Memory Card
Built- in- Memory
Approx. 80MB (TBD)
Audio
Microphone / Speaker
Mono / Mono
Interface
AV Output (PAL / NTSC), USB (AV/USB Multi)
Power
Li-ion Battery Pack (3.6V, 1250mAh, 4.5 Wh) (Included)/AC Adaptor (Input: 110 – 240V AC) (Included)
Battery life (approx.)
320 pictures (CIPA Standard)*1
Standard Package
Included Software
* The DMC-LZ40 Operating Instructions for advanced features is available for downloaded at Panasonic LUMIX Customer Support Site using PC, smartphone or tablet connected to the Internet./* The software for PC is not bundled with DMC-LZ40. Please use the software pre-installed to the PC or other general image viewing software to browse pictures.
Standard Accessories
Battery Pack, AC Adaptor, USB Cable, Shoulder Strap, Lens Cap, Lens Cap String
NOTE
*1
Recording conditions by CIPA standard
– Temperature: 23 oC (73.4 oF) / Humidity: 50%RH when LCD monitor is on.
– Using a Panasonic SDHC Memory Card
– Using the supplied battery.
– Starting recording 30 seconds after the camera is turned on. (When the optical image stabilizer function is set to [ON].)
– Recording once every 30 seconds with full flash every second recording.
– Rotating the zoom lever from Tele to Wide or vice versa in every recording.
– The number of recordable pictures varies depending on the recording interval time.
– If the recording interval time becomes longer, the number of recordable pictures decreases.
– CIPA is an abbreviation of [Camera & Imaging Products Association].
*2
– Use a card with SD Speed Class with "Class 6" or higher when recording motion pictures. SD speed class is the speed standard regarding continuous writing.
– Motion pictures can be recorded continuously for up to 15 minutes.
– Motion pictures can be recorded continuously up to 2 GB.
– The maximum available recording time for up to 2 GB only is displayed on the screen.
Conclusion
The Panasonic Lumix DMC-LZ40 will mainly appeal to those who are looking for a holiday or family camera which offers a decent degree of flexibility in a bargain package.
While it's one of the cheapest bridge cameras on the market at the moment, the Panasonic Lumix DMC-LZ40 comes with several limitations. If you have any experience of photography and want to take control, being limited to just a couple of apertures, not being able to set the autofocus point, or shoot in raw format, limits its appeal.
Then again, if you're looking for something which will take care of settings for you, it's a little more appealing. Especially if you're only planning to use it in good light. That means the Panasonic Lumix DMC-LZ40 is good for holidays in the sunshine, but less suited to any kind of low light situation where you don't want to use the flash. Have a good think about the kind of photography you want to do before considering this camera.
Images are bright and punchy directly from the Panasonic Lumix DMC-LZ40 if you can limit yourself to taking photos in good light, but as soon as you need to up the ISO to 800 or over, you'll probably notice that images are smooth, painterly and lacking in the same kind of detail that lower sensitivity shots have. On the plus side you have a good degree of flexibility with a very wide angle (22mm) lens, which is great for sweeping landscapes, and a 42x optical zoom lens.
Some fun features, such as digital filters make it appealing to the Instagram generation, but it's a little disappointing not to see inbuilt Wi-Fi for easy transfer of your shots to social networking sites, especially from a company like Panasonic which is generally pretty hot on connected devices.
It's also worth considering that the Panasonic Lumix DMC-LZ40 is quite on the large side. That will be appealing to some, but to others it will be a drawback – especially when you consider something like the Canon SX410HS is much smaller and has almost the same optical zoom length.
If you can find the Panasonic Lumix DMC-LZ40 at a particularly cheap price, or on offer somewhere, it's a good deal, but you may want to also consider the other bridge camera competition which is currently on the market.
RATINGS (OUT OF 5)
Design
3.5
Features
3
Ease-of-use
4
Image quality
3
Value for money
3.5
(photographyblog.com)