In this article I'll compare the new Canon 80D versus Rebel T6s / EOS 760D and the affordable full frame 6D. The 80D is a mid-range DSLR, and it's interesting to see how it compared to the higher entry-level tier Rebel T6s. It's also fair enough to compare it versus which costs only $200 more than the 80D. I'm pretty sure that many of you are still leaning towards a full frame body. In this comparison article we'll see whether the EOS 80D can convince you otherwise.
Like in all our articles, we'll start with a short introduce to the Camera which we compare the other cameras to, in this case, the Canon EOS 80D.
Canon EOS 80D
The 80D like all its xxD cameras in the EOS series is aimed for enthusiast photographers who find the entry-level models somewhat limited for their use.  The 80D improves upon the 70D in several ways, including in AF and low-light performance, connectivity and video features in most part.
The 80D comes with a newly developed 24.2-megapixel sensor, bumping up the resolution compared  to the 70D (20.2MP). One of the biggest changed is the inclusion of a brand new 45-point all cross-type AF system, that in conjunction with the DIGIC 6 image processor and the new 7560-pixel RGB+IR metering sensor, should provide the camera with a faster and more accurate subjects tracking performance, even under low-light conditions, as the center point is sensitive down to -3EV.
The camera has a new Intelligent viewfinder with approximately 100% coverage that should give you a clear view of the scene. It doesn't match the size and wide view that you get with a full frame camera, but it's still very good. Canon also made sure that the 80D continues the tradition of being an excellent hybrid camera like its predecessor, the 70D. The camera utilizes a Hybrid AF system and Canon also added 1080p60 frame-rate, in-camera HDR and Time-lapse recording modes, creative filters and a Movie Servo AF custom settings that allows you to speed up or slow down focusing speeds. You also have a built-in microphone input and a headphone jack for monitoring the audio when recording movies.
With the introduction of the 80D, Canon also realeased the EF-S 18-135mm f/3.5-6.5 IS USM lens (also serves as the 80D Kit lens). It is equipped with a Nano USM motor that supports smoother and quieter Autofocusing using the lead-screw type STM. The new lens provides four s tops of optical image stabilization. This lens is also compatible with the new Power Zoom Adapter that provides very smooth cinematic transition when changing focal lengths on the subject. This is an excellent lens for those who love shooting videos and want more professional results.
Among the 80D other key features:
7 fps continuous shooting
Ambient priority / white priority white balance
Native ISO 100 – 16000
Built-in HDR mode
Flash sync up to 1/250th sec
Pentaprism approx. 100% coverage viewfinder
Anti-Flicker shooting (same as the 7D Mark II)
1080p60 fps MP4 (ALL-I or IPB compression modes)
Set Upper and lower limit for the Auto ISO
Set the Auto ISO low shutter speed limit
EOS scene analysis system
Time-Lapse and HDR movie modes
Video and image Creative Filters
Headphone and mic (external mic) inputs
3.0-inch Full articulated Touchscreen monitor
Built-in Wi-Fi and NFC
Multi-shot noise reduction function
Aufofocus Microadjustment (AFMA)
New Intelligent viewfinder with 100% coverage
26 custom function
The Canon EOS 80D was designed with innovative technologies to be super responsive and offer versatility for better creative results whether you're shooting images or movies. It makes it easier to connect your camera with your Android smartphone device and share your beautiful images with friends, family and coworkers.
I'm sure that many of you are asking yourself whether the new Canon EOS 80D is really that better than the Rebel T6s / EOS 760D that costs $350 less. What makes the 80D a better camera and are those features really useful for your particular needs?
80D vs T6s / 760D vs 6D
In this section we'll take a closer look at the 80D key features and specs, compare and analyze them versus the T6s/760D and also versus Canon's cheapest full frame, the 6D.
Canon 80D
Canon T6s / 760D
Canon 6D
Announced
Feb 18, 2016
February 6, 2015
September 17, 2012
Build Quality
Aluminium and polycarbonate resin body with glass and conductive fibre construction
Aluminum alloy chassis, composite exterior
Magnesium alloy front and rear panels with a polycarbonate top
Weather-Sealing
Yes (dust, weather resistant)
No
Yes

"Dust and water resistance construction equivalent to EOS-1N"

(which is same as the 7D, because that what it says on the 7D as well)

Shutter Durability
100,000 cycles
100,000 cycles
100,000 cycles
The Revel T6s is the only camera among the three that lacks weather sealing. The 80D and 6D has weather-sealing that helps to further protect the body from dust and moisture. Both are a good choice if you find yourself shooting in areas whether the weather is fickle or you intentionally are going to shoot in areas with harsh weather conditions. Keep in mind that there are accessories that can help protect their camera, but some of those are just too much if you just need moderate protection from rain drops and dust.
ISO
100 – 16000
Expanded: 25600
100 – 12800
Expanded: 25600
100 – 25600

Expanded: 50, 51200,
102400

Sensor
24.2 MP (effective)
22.5x15mm (APS-C)
Dual-Pixel AF
CMOS
OLPF

~4.03 micron pixel size

24.2MP (effective)
22.3×14.9 mm (APS-C)
CMOS
OLPF

~3.72 micron pixel size

20.2MP (effective)
35.8×23.9mm (Full Frame)
CMOS
OLPF

~6.55 micron pixel size

The Canon EOS 6D is the only camera amongst the three which has a full frame sensor. The 6D is the most affordable FF camera that Canon offers as of the time of writing.

There are many photographers who would love to enter full-frame photography. Among the reasons are: being able to achieve a shallower depth of field (with an equivalent focal length/aperture lens), better high ISO performance, higher dynamic range, use Canon EF lenses while taking advantage of their full ultra wide angle field of view, large viewfinders, normal EF lenses stay normal and not turned to tele due to the crop factor, etc.

Image Processpr
DIGIC 6
DIGIC 6
DIGIC 5+
AF Sensor
45 AF points

All cross type at f/5.6
Center AF point Dual cross-type at f/2.8 and f/5.6

Detection range: -3 to +18 EV (center EV -3 at f/2.8, EV -1 at f/5.6 and EV -0.5 at f/5.6)

Dual-Pixel CMOS AF for Live View and Video recording (Hybrid)

AF microadjustment

19 AF points

All cross-type – f/2.8 at center

Detection range: -0.5 to +18 EV

Hybrid CMOS III

No AF microadjustment

11-point AF
Cener AF point cross-type
Center AF vertical line sensitivity at f/2.8

EV -3 sensitivity (center point) for extreme low-light conditions

Detection range: : -3 to +18 EV (at center AF point [sensitive to f/2.8 and f/5.6)

Contrast-detection for Videos

AF microadjustment

The 80D has a faster AF system for Live view and Video recording due to a more advanced Dual-pixel technology, compared to the Hybrid CMOS III technology (check this video out).

The 6D only provides contrast-detect Autofocus for video, so the AF is much slower and hunts quite frequently as expected using this technology.

That being said, both the 6D and 80D provides better AF performance in low-light situations because of the very sensitive center point, but overall the 80D wins here with more AF points, better coverage and added technologies like the new light metering sensor and the new Movie AI Servo mode that make it better for subject tracking for both stills and video recording.

LCD
3.0-inch
1040K-dots
Fully articulated
Touchscreen

up to 270° of vertical rotation and up to 175° of horizontal rotation.

smudge-resistant coating

3.0-inch
1040K-dots
Fully articulated
Touchscreen

smudge-resistant coating

3.0-inch
1040K-dots
Fixed
Not touchscreen

smudge-resistant coating

All the three cameras have the same size and resolution display. The big difference here is that the 6D screen doesn't rotate, it's fixed in place, whether the T6s/760D and 80D monitors can be freely rotated in different angles. It's very useful when taking shots above head or below waistline, especially when recording videos when you are likely to continuously change your positioning and composition angles.
Viewfinder
Optical (Pentaprism)
approx. 100% coverage

0.95x magnification (0.59x equiv.)

Optical (Pentamirror)
95% coverage

0.82x magnification (0.51x equiv.)

Optical (Pentaprism)
97% coverage
0.71x magnification (35mm)
The 6D, as expected, as the largest viewfinder among the three. If you are coming from an APS-C camera you are assured to appreciate the big and bright view of a FF camera.
Shutter Speed
30 – 1/8000 sec
30 – 1/4000 sec
30 – 1/4000 sec
Built-in Flash
Yes (12m)
Yes (12m)
No
Flash X Sync Speed
1/250 sec
1/200 sec
1/180 sec
External Flash
Yes (via hot-shoe)
Yes (via hot-shoe)
Yes (via hot-shoe)
Burst
7 fps

5 RAW / 110 JPEG*

*with UHS-I card

5 fps

8 RAW / 940 JPEG

4.5 fps

3.0 fps silent continuous

The new Canon EOS 80D provides even better burst performance, allowing capturing more photos under a single burst, but you need to uses a fast UHS-I card to maintain this writing speed. The 80D offers thee fastest burst speed among the three.
Exposure Compensation
±5 (at 1/3 EV, 1/2 EV steps)
±5 (at 1/3 EV, 1/2 EV steps)
±5 (at 1/3 EV, 1/2 EV steps)
Video Recording
(highest resolutions)
1080p60 (IPB only, MP4)
1080p30
1080p24
720p60
720p30

Option to choose compression:
ALL-I or IPB when shooting in Full HD or HD, but limited to inter-frame (IPB) when shooting at 60 frames per second.

Stereo mic

1080p30
1080p24
720p60

HDR movie 720p30

MP4/H.264 (IPB)

Compression choices: standard or lightweight.

Stereo mic

1080p 30/25/24 All-I/IPB
720p 60/50 All-I/IPB

MOV (H.264)

Stereo mic

Headphone Input
Yes
Yes
Yes
Mic Input
Yes
No
No
The 80D offers the best video functions among the three, including the new AI Servo II autofocusing system which provides more accurate and faster target acquisition time when the subject moves rapidly and changing pace or direction. The extra AF and the new sensor sensitivity helps with low-light recording. Let's not forget the built-in Movie HDR and time-lapse moves and Servo AF custom settings that helps videographers become more creative when shooting videos.

Some videographers wouldn't mind not having those features because they prefer changing the focus manually. If you are among those, ask yourself whether you need that advanced phase-detection AF performance in Live View and video or you whether you'll be satisfied with the limited AF capabilities of the 6D.

Silent Shooting
Yes
Yes
Yes
Wireless
Wi-Fi + NFC
Wi-Fi + NFC
Wi-Fi
Battery Life
(CIPA)
960 shots
440 shots
980 shots
Dimesions
139 x 105 x 79 mm (5.47 x 4.13 x 3.11″)
132 x 111 x 78 mm (5.2 x 4.37 x 3.07″)
145 x 111 x 71 mm (5.71 x 4.37 x 2.8″)
Built-in Time-lapse
(Interval timer)
Yes
No
No

via USB cable and PC

Weight
730 g (1.61 lb / 25.75 oz)
565 g (1.25 lb / 19.93 oz)
770 g (1.70 lb / 27.16 oz)
Light Metering
63-zone 7560-pixel RGB+IR metering sensor

The new metering sensor that uses RGB+IR compared to the older iFCL. Provides better info for the AF system and face-detection and improved the speed and accuracy in low-contrast scenes.

63-zone 7560-pixel RGB+IR metering sensor
63-zone dual-layer iFCL metering sensor
Memory Card
SD/SDHC/SDXC (UHS-I compatible)
SD/SDHC/SDXC (UHS-I compatible)
SD/SDHC/SDXC
Anti-Flicker
Yes

(reduce flicker and banding when shooting under fluorescent or mercury-vapor lighting in live view or when recording movies.

Yes
No
Built-in GPS
No
No
Yes

Geotatting (location, latitude, longitude, elevation, UTC time, Satellite reception status)

Option to change to external GPS or disable the built-in GPS

Logging function
Conclusion
The Canon EOS 80D doesn't make it easier for us to decide. It packs some pretty cool features that certainly makes it more attractive than the T6s. For that approximately additional $350 you'll get better build quality, weather-sealing, new sensor, better AF system, pentaprism viewfinder with almost 100% coverage, 1/8000 sec shutter speed, faster burst, better video features, headphone jack, considerably better battery life, and updated features that makes the new 80D an excellent camera for those who needs that extra performance in their hand to become even more productive.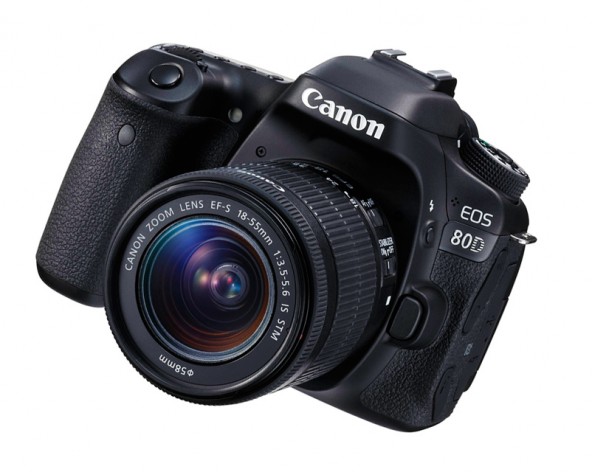 The Canon Rebel T6s / EOS 760D is still an outstanding camera, and not everyone will take advantage of the 80D added features in practical use. The 80D is an excellent hybrid camera, but whether or not it's worth $350, you'll need to answer that question yourself. For that extra price compared to the T6s, you can get a very good lens instead, which by itself can help you become more creative compared to what the camera body itself has to offer.
The 6D is a different tool, not because it outperforms the 80D in terms of performance, because of what a full frame camera provides. In fact, in some areas the 80D outperforms the 6D, especially in the Live View and video section. Have I decided to buy the 6D over the 80D, I would have done it for its larger and brighter viewfinder, being able to shoot with the actual focal length of FF Canon EF) lenses, get better low light performance and due to the size and weight of the camera; because it can help me to better stabilize my big and heavy superzoom lenses. Other than that, the 6D isn't that exciting, to be honest, and this is the beauty of meeting a fresh new APS-C camera in the form of the 80D. A landscape photographer will certainly love the 6D while sports photographers might lean towards the 80D due to its faster AF and burst performance, as well as the multiplication of the focal length due to the sensor crop factor when using full frame lenses on it.
It's easy to see where the 80D shines, and it's indeed an excellent all-around performer. A new updated model that although not anything unprecedented, it's still an excellent photographic instrument that many photographers will find very useful for many types of photography subjects — Highly Recommended!
(cameradebate.com)