The VR revolution is finally here in 2016. Whether it actually qualifies as a revolution or not, the two biggest contenders arrived earlier this year in the form of the HTC Vive and Oculus Rift.
So then, the question remains: which one is better? In reality, that question is oversimplified. The answer depends on what type of immersive experiences you're looking to get sucked into, the controls you want to hold onto and the amount of cash you're willing to dispense.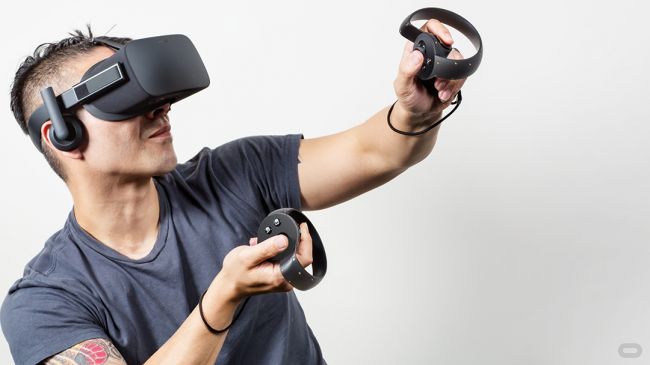 Though it started as a small Kickstarter project, Oculus Rift now has some huge names backing it, such as legendary video game programmer (and co-creator of the original Doom titles) John Carmack. Plus, in 2014, the Oculus VR company was purchased by Facebook, which means there's a truly authoritative presence in the background keeping the Oculus platform intact.
HTC Vive, on the other hand, comes from the minds of two notable tech companies, one known for its hardware and the other for software. HTC has created some of the most critically and commercially well-received smartphonesand tablets, while Valve is a long-time ally of PC gaming fans with Steam, which is neatly packaged with the Vive in the form of Steam VR.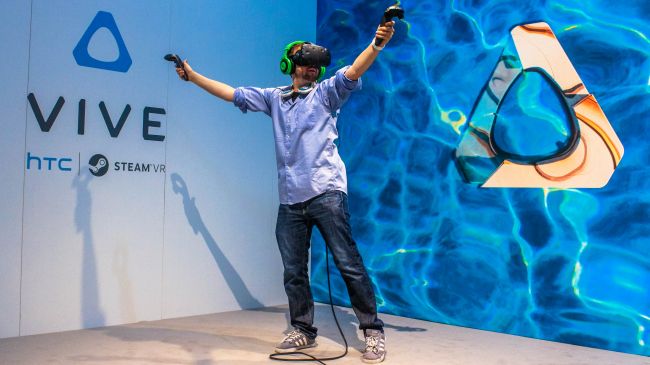 They're both expensive, so you're likely only going to be able to afford one. To help you wrap your head around these VR headsets, here's our HTC Vive vs Oculus Rift comparison.
Hardware
Both successfully offer expansive video game worlds and out-of-body experiences within your living room, and that's because the technology backing them up is similar in a lot of cases.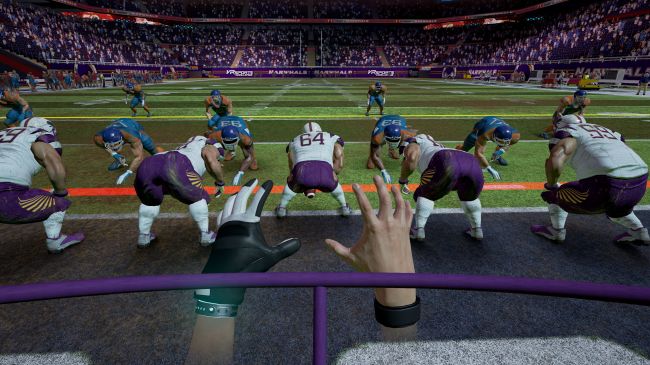 The all-important HTC Vive and Oculus Rift displays are really two OLED panels that combine for a 2,160 x 1,200 resolution. That means each eye has its own 1080 x 1200 resolution.
With a 90Hz refresh rate on both headsets and asynchronous spacewarp on the Rift for 90 fps VR, this means there are 233 million pixels flying at your face every second. This makes for a grown-up VR experience vs the 60Hz Samsung Gear VR.
HTC Vive and Oculus Rift also have a wider 110 degree field of view (measured diagonally). This causes the virtual reality world to feel as if it truly wraps around your head.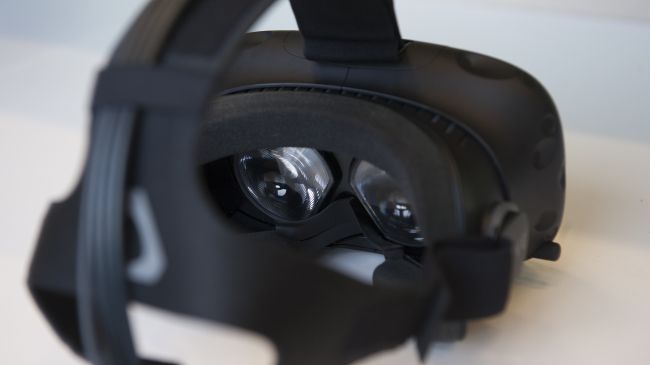 You're not going to be able to break free of the required computer, as both headsets have to be tethered to a powerful Windows machine with a number of cables in order to function.
However, besides the 37 sensors in the Vive headset that provide fluid, seamless movement, there's also a front-facing camera that can make a virtual world of difference. HTC's camera allows for a Chaperone safety system, casting a blue outline on walls and objects when you get too close. You can even turn it on for a Matrix-like look at everything at once.
What's more, third parties like Intel are designing additional camera add-ons for the Vive that allow for improved hand-tracking and real-time environment scanning to avoid walking into obstacles. And, with Valve having made its tracking tech royalty-free, more developers will be able to create similar accessories for the Vive.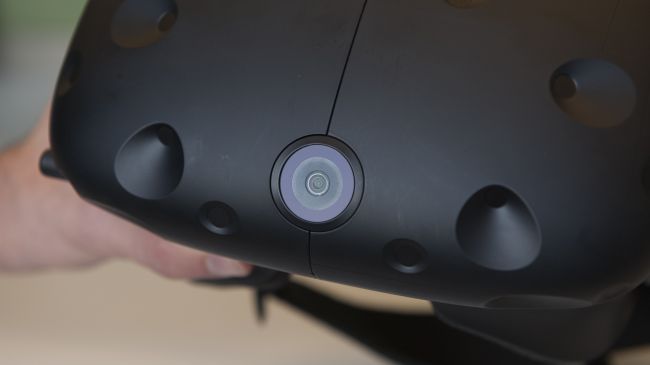 Chaperone is a mind-blowing safety net that serves to foster room-scale VR within the 15 x 15ft tracking space allowed by Vive's two lighthouse base stations (which look like small speakers, but emit invisible lasers).
Oculus Rift doesn't have a camera on the front of its headset for augmented reality vision, but you can buy a $79 (about £63, AU$104) sensor that enables room-scale VR comparable to that of the HTC Vive. With all accessories equipped, this means the Rift equates to a price tag of around $880 (roughly £697, AU$1,160).
Design and comfort
Your gateway to other worlds is through a VR headset strapped to your noggin via adjustable velcro. It's the ski mask of a dystopian future with no clear visor, but you can see so much more.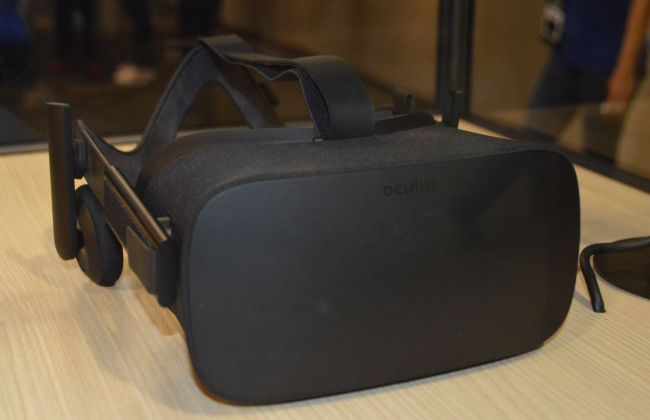 This is where the Oculus Rift vs HTC Vive differ the most, actually. While both are comfortable enough with face padding and are lightweight, there's definitely more heft to the Vive.
Oculus Rift is a bit more refined looking with a compact design that amounts to a big, black brick sitting against your face. There are lightweight headphones that are thankfully removable.
HTC Vive is bespeckled with 37 visible sensors, and while it's otherwise black like the Oculus, it is noticeably larger. It looks almost as if the Oculus headset has had a puffy allergic reaction.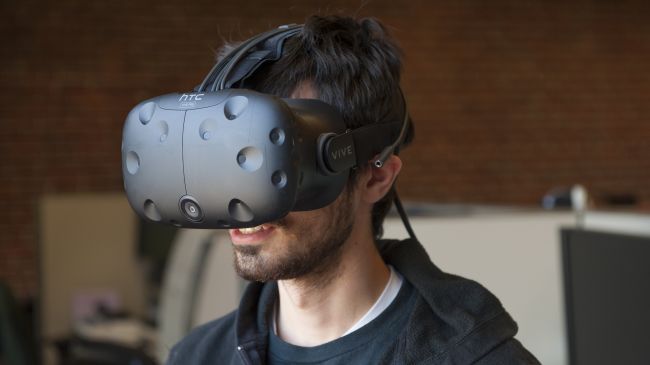 And though I said Vive is lightweight, it's technically heavier at around 555g without headphones included. Oculus is 470g by comparison and throws in headphones.
That bigger size and weight does have advantages: a lens distance knob moves the Vive lenses further and closer to your face. This is a helpful extra for people who wear glasses. Oculus Rift supports glasses, too, but the headsets doesn't have this handy adjustment knob.
Neither VR headset requires a phone, like the Samsung Gear VR, but HTC Vive does connect to your phone via Bluetooth for answering calls and messages. You can really wear it all day.
Controllers
Stepping into virtual reality is surreal enough, but it really becomes a tangible world when you can reach out and seemingly feel the VR environment with controllers.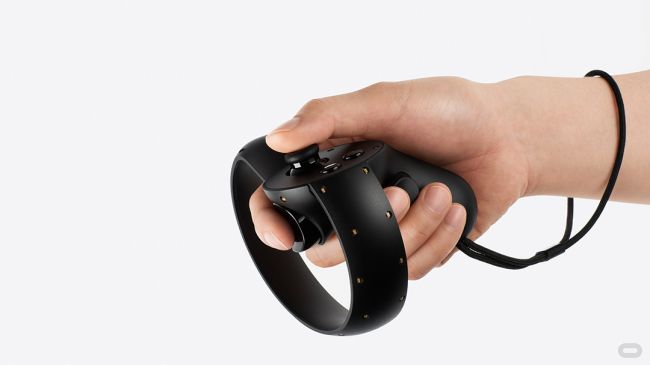 That deeper experience wasn't ready for March's Oculus Rift launch, but its Oculus Touch controllers with a hand-confirming, half-moon shape are slated to arrive on December 6 for $199 or £109. Pre-orders for the controllers start on October 10.
"Oh, I'm never going to get the hang of this" was our reaction when I was briefed on the controls for Bullet Train. Seconds later, we were hitting switches and picking up guns, then throwing them at enemies when they were spent.
Oculus Touch needs to hurry up, however, because while Rift ships with a normal Xbox One gamepad, the HTC Vive comes with two unique-looking controllers with buttons and touchpads.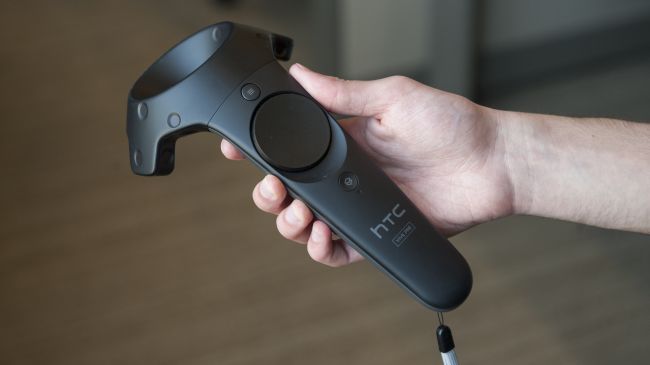 Wielding these Vive controllers puts my hands into the game virtually, and I've demoed the same with the Oculus Touch. It's just that one is here now and the other is not.
Games
All of this VR headset technology, regardless of the differences under the almost literal hood, is enough to power virtual reality worlds. So which translates into better games?
There are 30 Oculus Rift (and 35 Oculus Touch) launch games, and that's expected to reach 100 by the end of 2016. It comes bundled with two of the best, too: Lucky's Tale and Eve: Valkyrie.
Testing Lucky's Tale, I felt like there is finally brought something new to the 3D platformer genre pioneered by Super Mario 64. All of a sudden, looking in all directions for hidden coins opened up a new dimension.
Eve: Valkyrie is aesthetically different, but takes fully advantage of VR's 360 degrees view with spaceship dogfighting. The gameplay trailer above really gives you a sense of the chaotic action involved.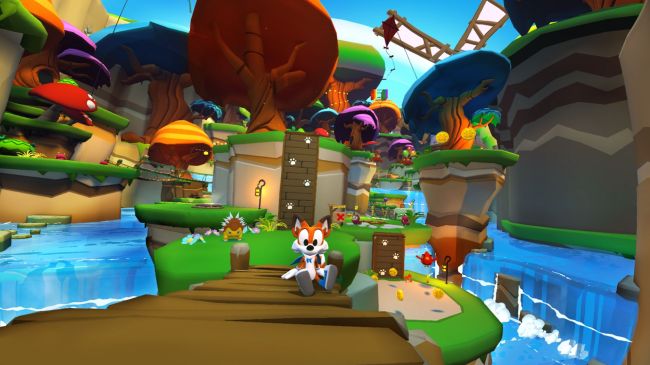 More games notable Oculus games out now include Chronos (an RPG), Radial-G: Racing Revolved (futuristic racer) Pinball FX2 VR (a pinball game) and more on the way, like Bullet Train (an FPS from Epic Games) and even Minecraft if you're on Windows 10.
HTC Vive has some 50 launches window games, but no exclusives (many are also on the PC), according to Fortune. This includes bundles games Job Simulator and Fantastic Contraption.
I enjoyed playing Space Pirate Trainer and Tilt Brush with the Vive headset and its controllers, but HTC's game lineup isn't as striking as core gaming experiences of the Oculus Rift.
That can certainly change, as VR developers have more time to craft engrossing virtual reality gameplay, especially given the native Steam support on the Vive.
System requirements
As expensive as HTC Vive and Oculus Rift are, the hidden cost is in the computer hardware that's required to start playing any of these graphics-intense games.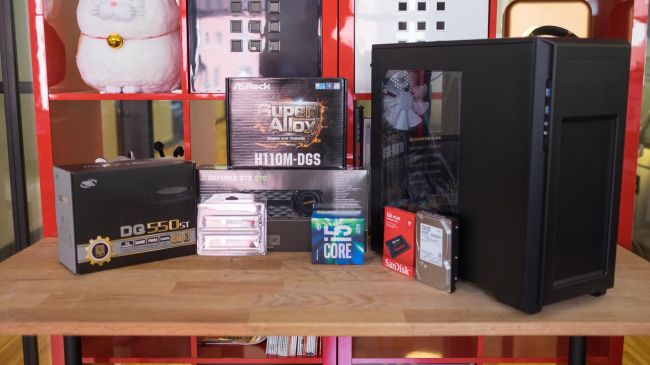 You're going to need a Windows PC with a beefy GPU for the HTC Vive in particular, whose specs require an Nvidia GTX 970 or AMD R9 290 graphics card at a minimum. That's at least $320 (about £225, AU$416). The Oculus Rift, on the other hand, is a little less demanding, asking for at least an Nvidia 960.
Then there's the processor and RAM. The Oculus Rift minimum requirements call for an Intel Core i3-6100 or AMD FX-4350 minimum and 8GB of RAM. HTC Vive is a little more lenient, asking for that Intel Core i5 4590 or an AMD FX 8350 or greater, and you can squeak by on 8GB of RAM.
Oculus Rift also demands two USB 3.0 ports and an HDMI 1.3 port or better. HTC Vive only needs one USB port and wants either an HDMI 1.4 or DisplayPort 1.2 or better.
Price and availability
You clearly want a virtual reality future, but you know it comes at a cost. Owning a VR headset may be the ultimate fantasy for some people until a price drop happens.
HTC Vive is especially expensive, with the price set at $799 (£689, AU$899). That's how much it costs before shipping and without a PC, remember.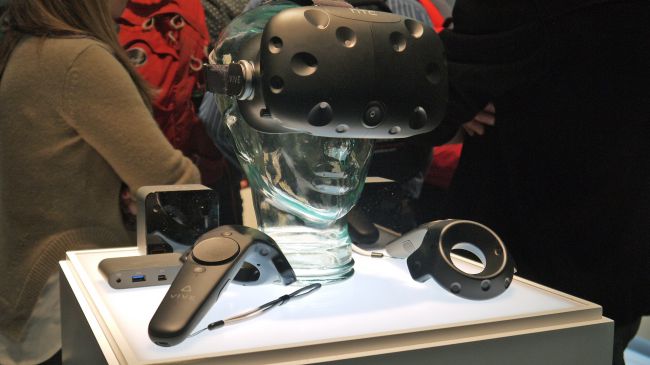 Oculus Rift is pricey, too, but a little more reasonable. It costs $600 (£400, AU$839), and again that's without the shipping charge and a PC to go along with it. Not to mention the $200 Oculus Touch controllers.
How much is the future worth to you? At first, no one was able answer that question right away simply because both headsets were initially backordered. It was HTC Vive by default.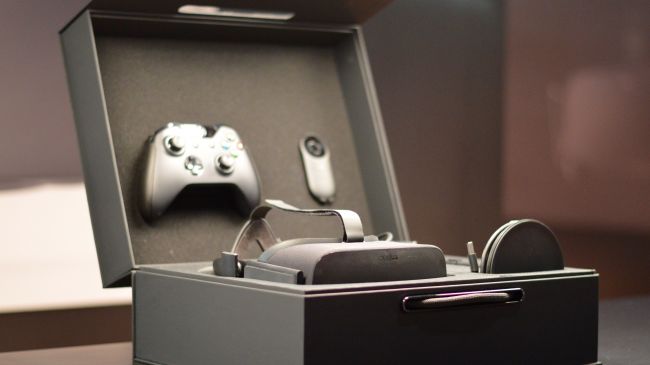 While the Oculus released first in March 2016 and the HTC Vive units started shipping to customers for its official April 5 release date, you were likely to get a Vive headset before a Rift.
New Oculus Rift orders didn't stock until July, while HTC Vive were ready to ship two months sooner: May 2016. It took a while for the future to arrive for so many anxious gamers.
Conclusion
There's a lot that goes into an HTC Vive vs Oculus Rift comparison and that ultimate decision, more so than our Xbox One vs PS4 debate. That's because VR headsets are gaming's great unknown at the moment, while both Sony and Microsoft's consoles have always been seen as safe bets.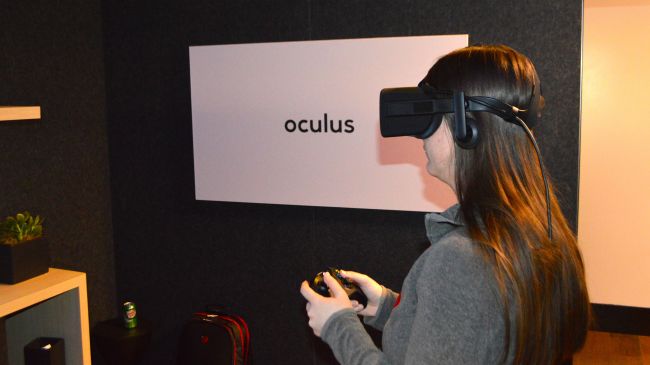 The good news is that Oculus Rift demand is strong, and so are its games out of the gate. You're getting a powerful virtual reality headset for a price cheaper than the Vive. That's a big plus, unless of course Rift's more stringent processor and video output requirements add more to your bill than the savings are worth.
HTC Vive, on the other hand, is a futuristic-looking headset that's a little more future-proofed with a front-facing camera, room-scale VR and two controllers bundled with the order. Oculus Touch controllers don't come until December.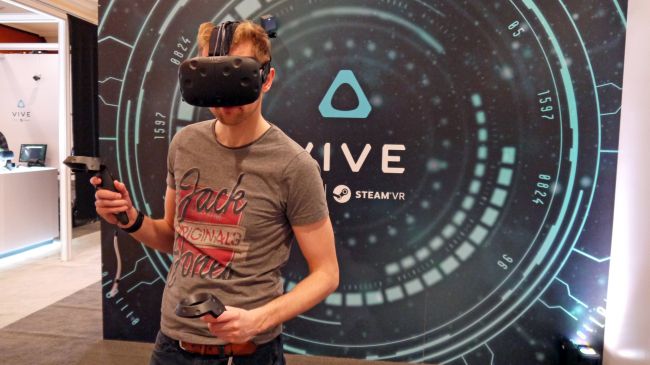 You certainly pay for that extra technology and those Vive controllers, however. Its price will pull the plug on virtual reality for many eager gamers with a smaller budget. I'm also still waiting for more core game experiences from the HTC Vive, and I know that will happen given the advanced technology involved and the Steam platform backing it up.
You really can't go wrong with either VR headset. They're both mightily impressive, and have tremendous support, whether it's from Facebook or Valve. Which one is best for you really comes down to the amount of money you're willing to spend and the type of immersive games you want to play.
Related product: HTC Vive
Our Verdict:
If you have the budget and the space for it, the HTC Vive is the best virtual reality experience bar none.
FOR
Best VR experience

Intuitive controls

Software partnership with Valve
AGAINST
$800 price tag

Requires a high-end GPU

Requires tons of space
(techradar.com, https://goo.gl/RRKIlp)
Comments
comments