OUR EARLY VERDICT
Garmin's new and improved hybrid watch has a few minor upgrades, but the new design is a big improvement for anyone looking to hide fitness features on their wrist.
FOR
Premium feel
Innovative design
AGAINST
Limited notifications
No built-in GPS
Garmin entered the world of hybrid smartwatches last year with the Vivomove, and at IFA 2017 the company has now unveiled its next attempt at making a stylish watch, called the Vivomove HR.
Despite the name, there is more to the Vivomove HR than just heart rate tracking tech though.
The hybrid watch has a unique design compared to a lot of other hybrid devices on the market and you've got the added benefit of Garmin's fitness tech inside too.
Garmin Vivomove HR release date and price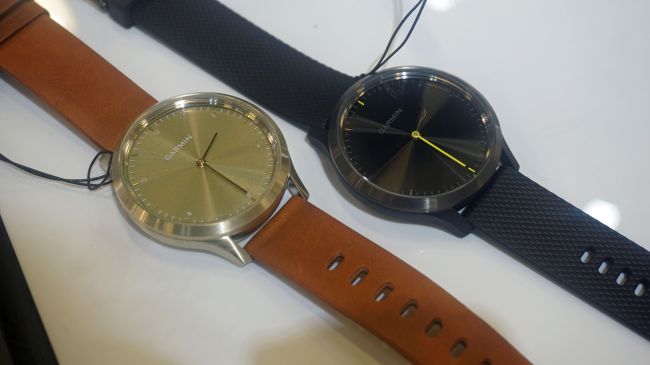 All Garmin has shared in terms of a release date for the Vivomove HR is that it will be coming in the last few months of 2017. We know it'll be available in the US and UK, but it's unclear on whether it will launch in Australia.
The original Vivomove did go to Australia though so it looks hopeful that the Vivomove HR will be there one day. For pricing, the cheapest version of the Vivomove HR is £169.99 or $199.99 (about AU$250).
If you want the more expensive metal and leather version of the watch it will cost £249.99 or $299.99 (about AU$380).
Design and display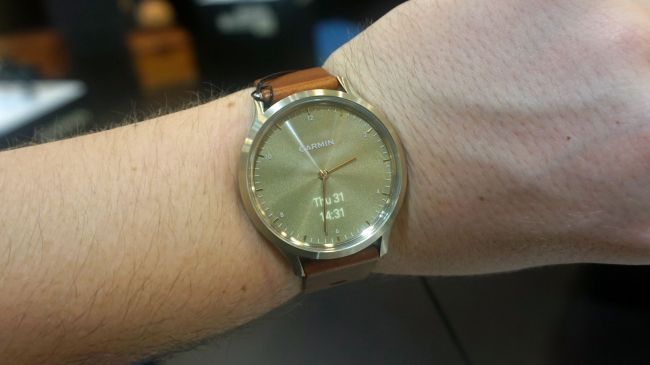 The Vivomove HR doesn't feature a traditional screen like most smartwatches and instead has a physical watch face. All of the designs for the watch face are simple and look elegant – it's the perfect look if you're trying to avoid a bright smartwatch display.
Unlike the original Vivomove though there is a very small display within the watch on the lower half, which sits at around six on the watch face.
Here you'll be greeted with fitness stats, notifications and a digital time by just doing a spinning gesture with the watch. This only lights up when you lift the watch though and is still quite understated on the watch face.
It's quite a small display and doesn't provide huge amounts of detail, but if you need to dive deeper you'll be able to find those facts and figures within the Garmin app.
There are two different designs for the Vivomove HR, so you'll need to make the decision between a plastic design with a metal bezel around the edge (dubbed the Sport) or a version with a full metal aluminum body, which is called the Premium model.
The Vivomove HR Premium version is quite a bit more expensive, but feels far more high-end. It also comes with a leather strap while the plastic case one comes with a silicone strap, but both felt like a comfortable fit in our limited testing.
Fitness features
Even though the Vivomove HR is a hybrid watch, it's still packed with fitness features. There's a heart-rate monitor built-in here as well as a VO2 Max sensor that will be able to work out your fitness age with Garmin's software.
There's also a new anti-stress idea from Garmin that takes your heart rate and is able to notify you when it's rising without you exercising. This way it can help you work out what emotionally stresses you in your day-to-day routine.
One thing that is missing from the Vivomove HR though is GPS. There isn't a location tracker built-in here, but there is in the newly announced Vivosport and Vivoactive 3.
The Vivomove HR is also capable of run, cardio, strength and walk tracking, but we'll break down more of that when our full review comes out in the next few months.
Other specs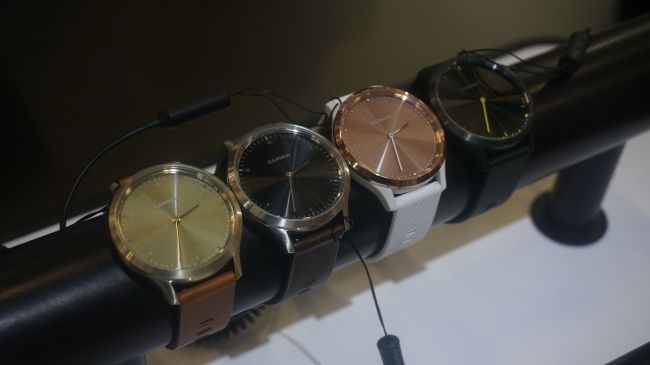 You'll be able to get notifications through to the watch, but what you see on the display is rather limited as it's so small. If you get a long text message, it'll likely be easier to open it on your phone to see it properly rather than waiting for it all to scroll through.
Garmin estimates the battery life on the Vivoactive HR should last five days while tracking your fitness stats and up to two weeks if you're not.
That's a bit disappointing compared to other hybrid watches that can last for months at a time, but we'll be sure to thoroughly test how long it lasts in time for our full review.
Early verdict
The design of the Vivomove HR is far improved from the original hybrid watch from Garmin and that could make it a much more desirable purchase.
If you're after an understated watch that offers great fitness features and a few notifications through to your wrist, as well as heart rate tracking tech, the Vivomove HR may be a good fit.
(techradar.com, https://goo.gl/CtSTq4)
Comments
comments