FOR
Water and dust resistant
Premium look
Rotating crown
AGAINST
No NFC, GPS, heart rate monitor
A little pricier than rivals
The Diesel On is the latest smartwatch from the fashion brand, and offers up a big look and big screen for a price that's a little bigger than most.
While it may have size and presence in its favor, it does skip on a few features such as GPS, a heart rate monitor and NFC – which means those looking for a feature packed smartwatch may want to look elsewhere.
That said, if you like big watches that make a statement, you'll want to check out the Diesel On.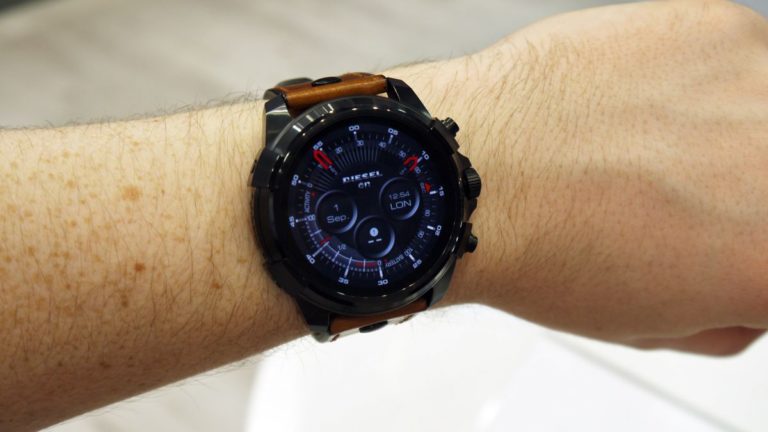 Diesel On price and release date
The Diesel On price starts at £329 ($325, around AU$530), but if you want a metal link strap you'll be looking at £349 (around $375, AU$580) instead. Either way, it makes it one of the more expensive Android Wear smartwatches on the market.
As far as the Diesel On release date goes, it'll arrive in the UK on October 14 and it'll be available before Christmas in the US. We're still waiting to hear when it'll arrive in other countries.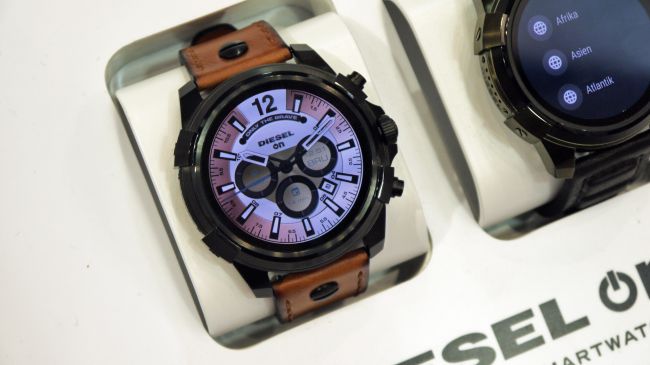 Design and display
There's no getting away from the fact that the Diesel On is a big smartwatch, so those with small wrists will likely find it overbearing.
However, for anyone used to wearing large standard watches the Diesel On has the same pleasing size and weight that makes a statement on your arm.
Its metal chassis is solid, and the chunky crown and buttons either side give it an almost rugged finish, with the watch body measuring 48 x 54mm.
It's also IP67 certified, meaning it's fully dust and water resistant, and it's able to survive a submerging in fresh water to a depth of 1 meter for up to 30 minutes.
We are fans of the look and feel of the On, and despite its size it felt comfortable on our wrist.
The large display provides a great viewing experience, with plenty of space for even busy watch faces, allowing you to have a range of data available to you at a glance.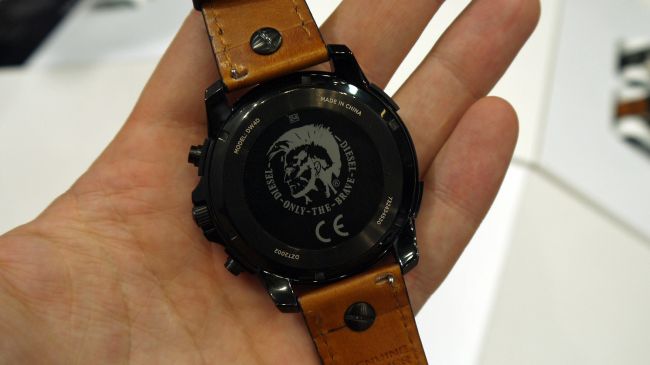 Performance and interface
The Diesel On has a Snapdragon 2100 chipset under the hood, which provides enough grunt to run Android Wear 2.0.
The on-screen experience is enhanced by the inclusion of a rotating crown on the right side of the watch, allowing for smooth as easy navigation through lists and messages.
The central crown button is flanked by two programmable buttons, giving you one-click access to your most popular applications.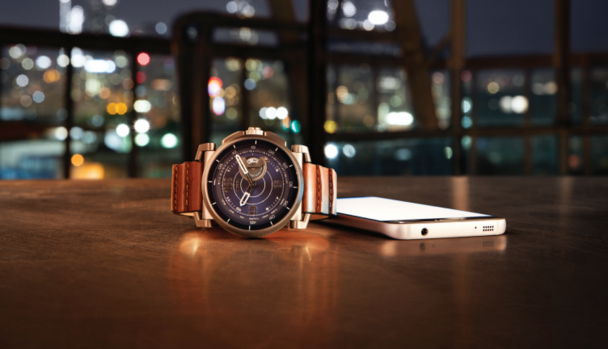 The Diesel On also comes pre-installed with the firm's first smartwatch app, called T-ON-I – which stands for Time, Organization, Notifications, Intelligence.
Diesel says it'll deliver you notifications in a unique way, but the watches weren't set up to properly demo this, so look out for our full review where we'll dig into this new app.
Diesel says you'll get up to 24 hours of usage from a single charge, although battery life will differ depending on how you use it.
The watch does have its own custom wireless charging method, although this component wasn't on show at IFA, so you'll have to wait for our full review to find out what that's like.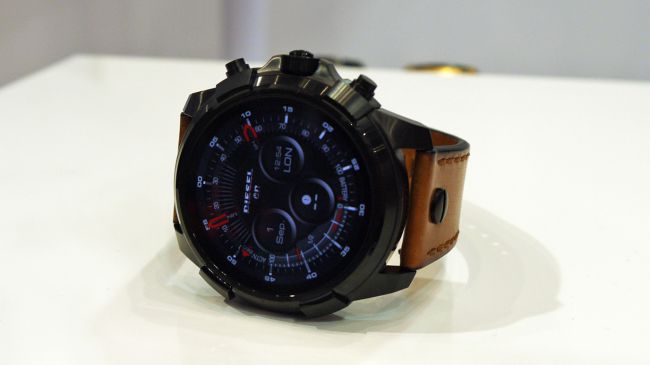 Early verdict
The Diesel On is a good looking smartwatch, with a nice screen and pleasing rotating crown, although it feels a little overpriced.
Considering it lacks GPS, NFC and a heart rate monitor, the price tag is a little hard to swallow which may limit its appeal to die-hard Diesel fans.
(techradar.com, https://goo.gl/8WTiYe)
Comments
comments