OUR VERDICT
The Garmin Forerunner 30 is a pared-back version of the Forerunner 35, and while it lacks some of the more advanced features of its bigger sibling, Garmin has got the balance right to still leave the 30 feeling well-rounded and impressive.
FOR
Clear screen
Intuitive controls
Great app
AGAINST
Design definitely fitness-focused
No touchscreen
Move IQ isn't capable enough yet
With the Forerunner 30, Garmin has launched yet another running watch to add to its already impressive collection. Confusingly, the 30 is actually a more recent version of the Garmin Forerunner 35.
The reason for the lower number is that the Garmin Forerunner 30 is actually a pared-back version of the 35. Garmin describes it as a "simple-to-use running watch with wrist-based heart rate".
It may be pared back, but Garmin has done a great job of removing more advanced features without leaving the Forerunner 30 feeling sparse.
It still has heart rate monitoring, GPS tracking, overall fitness metrics in the form of Vo2 max (measuring the oxygen levels in your blood to gauge how well your body metabolizes oxygen), and even has basic smartphone features in call notifications and message previews.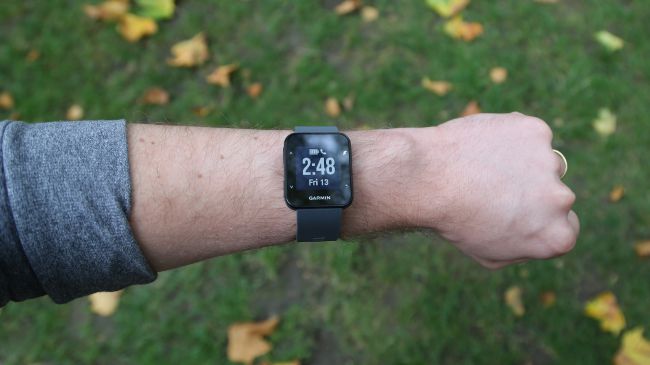 The feature we were really excited about was Move IQ, which it's claimed can automatically detect the type of exercise you're doing. It's a trade-off from the slimming down process that swaps manually selecting fitness mode for machine learning.
The paring back has undoubtedly made the Garmin Forerunner a more streamlined device, but is it too pared back?
Garmin Forerunner 30 price and release date
The Garmin Forerunner 30 is available right now in Europe in Black, Turquoise and Amethyst, and sits solidly in the mid-range price bracket at £129.99.
At the moment Garmin seems to have no plans to extend the Forerunner 30 to other regions, but should that change we'll let you know.
Design
The design of the Garmin Forerunner 30 is exactly the same as that of the 35: a glass rectangle, with thick bezels surrounding a 0.93-inch diameter screen. On the sides are four buttons for navigating the menus (up, down, run, and previous screen).
The screen is incredibly clear, and in comparison to thinner devices like the Fitbit Alta HR, there's plenty of screen real estate for displaying all your metrics, which is particularly important mid-run when you've got sweat in your eyes and want to quickly glance at your device.
The unit itself is relatively thick, needing as it does to fit in the buttons, the electrics, and the sensors on the underside. This becomes a bit of an issue when it comes to sleep tracking as we found it a distracting presence, causing us to wake up in the night.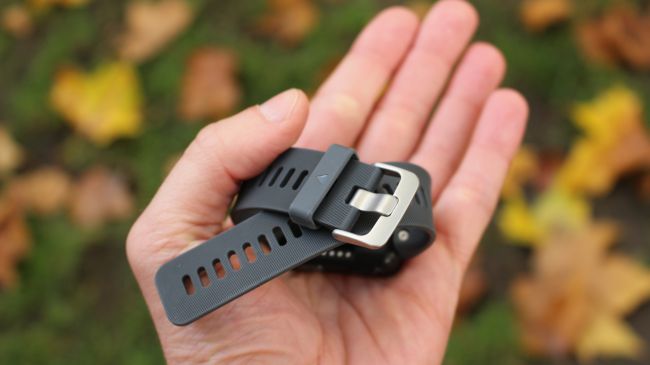 The unit is held on your wrist with silicone straps, connected using a metal clasp and a loop that holds down the surplus strap. When putting it on, we often found that this loop caught our arm hairs which was pretty unpleasant, although by no means a deal-breaker.
The Garmin Forerunner 30 is definitely one of Garmin's more fashionable units, but still looks very much like a run-tracker – the boxy shape and large on-screen text would look incongruous with a nice suit or on a night out.
The benefits of the large clear text massively outweigh the negatives, though – it's easy to read, and the combinations of icons, numbers and labels mean you're never in any doubt about what you're looking at. It's ideal if you're trying to work in a specific heart rate zone, or aiming for a specific pace per mile and don't want to spend the entire time staring at your wrist.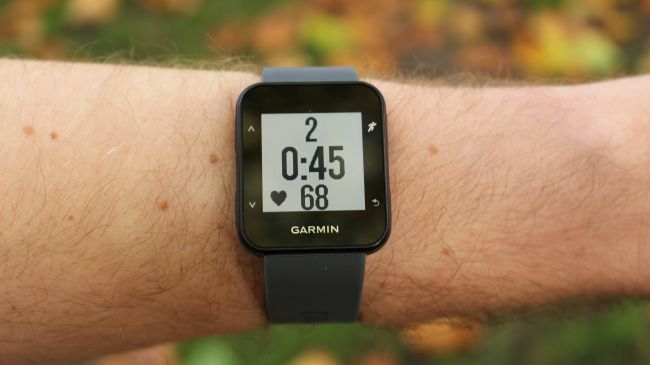 The interface, both on the app and on the watch itself, is detailed without being convoluted, and the app offers a great range of features including steps, running, swimming, cycling, strength training, sleep tracking, weight tracking, and more. We'll look at how the app works in greater depth a little later.
The watch itself is less complex, but still shows heart rate, calories burned, steps, notifications, intensity minutes, and more.
It sounds like a lot, and it is, but it doesn't feel overwhelming, which is testament to Garmin's experience in this field.
Specs, performance and fitness
As we've said, the Garmin Forerunner 30 looks and feels like a running tracker, which isn't ideal if you just want to wear it day-to-day. But as soon as you start running, it comes into its own.
A simple press of a button engages run mode, and the Forerunner 30 instantly starts monitoring your heart rate, cadence, pace, and VO2 max. And what's really impressive is the accuracy with which it measures all of those things.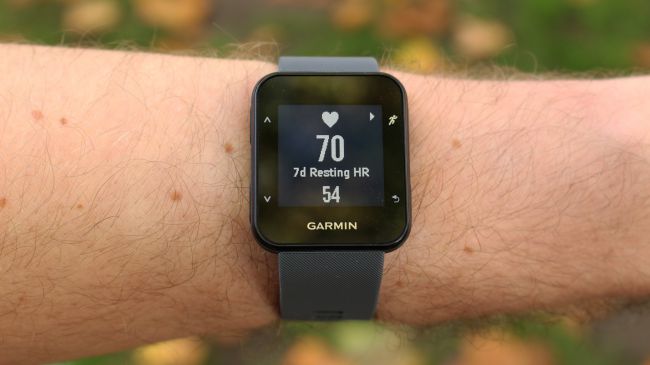 When we cross-checked its measurements it was accurate to within six beats per minute (bpm) of direct pulse measurement, which is seriously impressive. It responded quickly to changes in heart rate when we slowed or increased our pace, and while we didn't test its accuracy against a chest strap, we were impressed with its responsiveness.
Wrist-based heart rate monitoring is notoriously not as accurate and responsive as a chest strap-based system, and when we had time with the Forerunner 35 that was one of the problems we found with it. So we were keen to see if the 30 was any better – and we were pleasantly surprised.
To test the accuracy of the GPS we did some unusual stops and direction changes, and it was pinpoint accurate. The Forerunner 30 is incredibly swift at finding GPS signal, and during our time with it we found it to always be reliable.
After you finish a run you're given a breakdown of your performance, including your pace per mile (or kilometer, you can choose), any personal bests you may have broken, and your current VO2 max reading.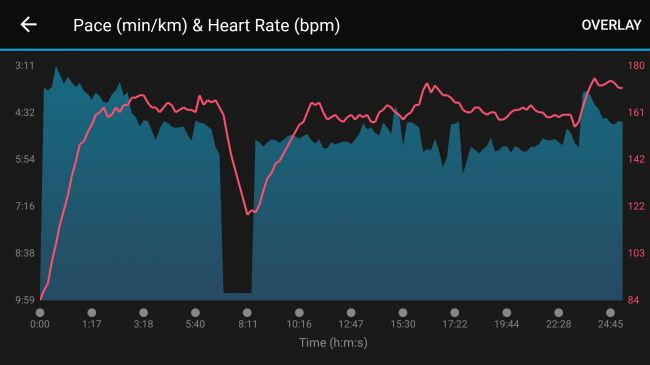 VO2 max is a way of measuring your body's ability to metabolize oxygen, which is an indication of the efficiency of both your cardiovascular system and your muscles. We checked VO2 max against a Cooper run test, which is an industry-standard method of measurement, and found the Forerunner 30 to be perfectly accurate, which we were very impressed with.
All of that information displays on the Forerunner's screen, but if you really want to dig into the data you can open up the app and a world of information awaits you. There are graphs for your heart rate, pace, elevation and cadence, and what's even cooler is that you can overlay the data sets, allowing you to see any flaws in your training.
For example, if you're the sort of person who always runs out of steam on hill sections, you can see exactly how your body is responding to hill running, and train for the energy system and physical requirements of that particular challenge.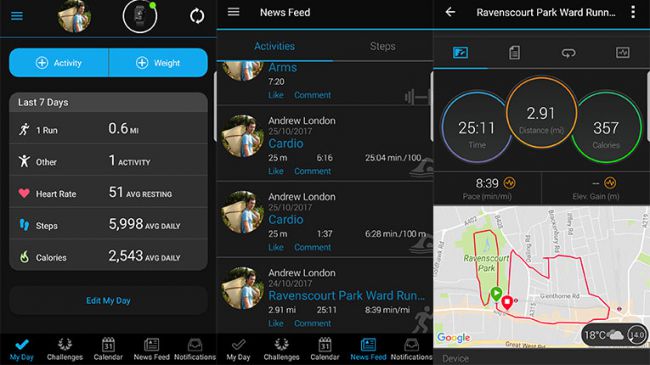 What's really nice is that the app manages to include all that data for those who want it, but still is user-friendly enough that a beginner could use it without feeling overwhelmed. It includes enough 'gamification' that it'll keep you motivated to meet movement goals for health benefits without adopting the slightly patronizing tone of the Fitbit app.
Once you start digging into the app, you'll discover that there are a vast amount of different activities that you can log, so it will serve the type of person who does a diverse range of fitness activities well.
One thing that was a fairly major disappointment, however, was the automatic classification feature. With the Forerunner 35, you're able to specify whether you're running, or swimming, or cycling before you start.
With the 30, you just press the 'run' button, and Move IQ is supposed to automatically detect which kind of exercise you're doing. We tried it with running, swimming, and weight training, and the only one it detected was the run, which is the standard mode.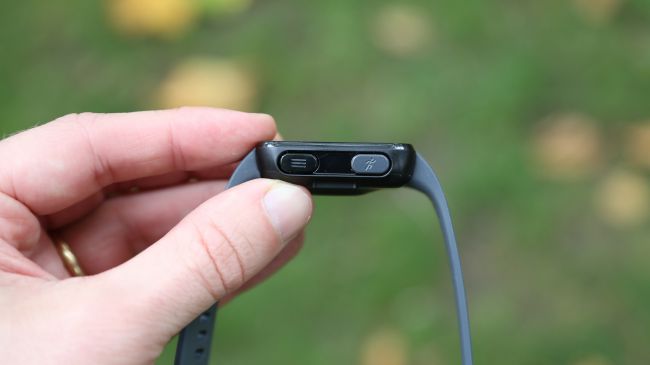 Inside the app there are good tracking features for swimming including 'swolf' (which measures your strokes per length versus your length time) but even once we'd gone into the app to tell it that the generic 'cardio' it had measured was actually swimming, this data failed to appear.
Hopefully Move IQ will be improved with software updates as it's a feature we'd really love to see work well, and without it the Forerunner 30 is incapable of delivering proper tracking of any exercise other than running.
The Garmin Forerunner also does sleep tracking, measuring movement during the night, and deep and light sleep. We did find that the Forerunner 30 was uncomfortable to wear to bed, though, which obviously could be problematic.
Compatibility
The Garmin Forerunner 30 works on both Android (version depends on device) and iOS (9 or later) devices.
There are also some light smartwatch features, so you can get notifications from your phone, including text messages and phone calls.
While notifications aren't as fleshed-out a feature as on a device like the Apple Watch 3, the screen at least displays your texts the right way up, which can't be said for a device like the Huawei Band 2 Pro.
The Garmin connect app also works with third-party apps Microsoft Office 365, MyFitnessPal, and Strava.
Battery life
Garmin says the Forerunner 30 will last five days in 'watch mode' and eight hours in 'GPS mode'. In our experience, we found it actually lasted a little longer than promised, making it through a little over a week on a single charge. That said, we weren't well that first week, so we weren't asking too much of it.
The second week the battery ran down a little quicker, but we still think five days is a conservative estimate. It's more likely that you'll get just shy of a week using the Forerunner 30 as a watch all the time, and going for the occasional run.
This is good, but considering we've just spent time with the smaller, cheaper, Huawei Band 2 Pro, which lasts 21 days when not in GPS mode, we can't help but feel underwhelmed by the 30's battery life.
The Forerunner 30 is very easy to charge using a single cable that clips onto the device. Considering the fiddly methods of charging that you get with some other wearables, this is a pleasure to use, and the device charges in about an hour and a half, which is fairly standard.
Verdict
The Garmin Forerunner 30 is a welcome addition to Garmin's already extensive family of running trackers. At £129.99 it manages to deliver some really impressive features at a very reasonable price.
While Garmin has clearly attempted to make a more fashionable unit with this tracker, we still think it sits more on the side of function than fashion in terms of aesthetics. The battery life isn't the best available, but is still very good.
Where the Forerunner 30 really comes into its own is as a running tracker. It delivers an impressive amount of data, and is incredibly accurate in terms of its heart rate sensor, VO2 max, and GPS. The screen is big and bold with easy to read text, the app is brilliant, and the menu interfaces are user-friendly.
Who's it for?
The Garmin Forerunner 30 is ideal for someone who wants to take their running more seriously without breaking the bank. It's comfortable, robust, waterproof, and has a commendable battery life.
It's not the most stylish fitness tracker on the market, but compared to the other running trackers that it sits alongside in terms of functionality, it's actually pretty fashionable.
Is the Garmin Forerunner 30 not for you? Then check these options out: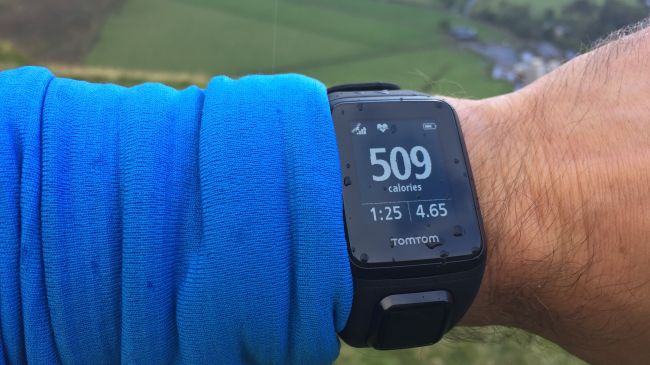 TomTom Spark 3
The TomTom Spark 3 has a significantly bigger screen than the Forerunner 30, but offers some pretty great features, like the ability to play music without you needing to bring your phone with you.
It also offers route navigation, meaning you can plan a route before you set off and then just focus on your run.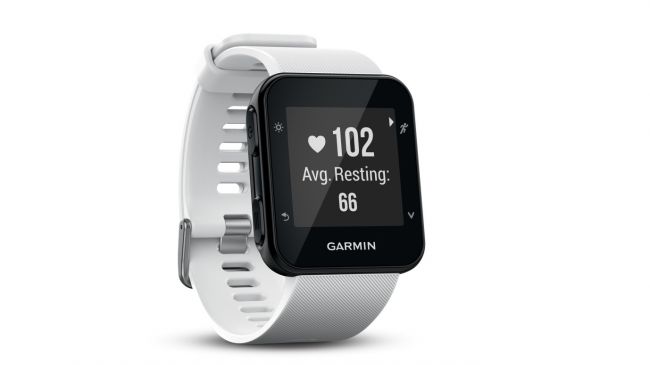 Garmin Forerunner 35
The big brother to the Forerunner 30, the 35 is aesthetically an identical device, but it's got a lot more features, including the ability to specify which type of exercise you're doing, which is something we felt was missing from the 30.
Those extra features do come at an extra cost though, and if your budget stretches that far it's worth seeing what else you can get for your money.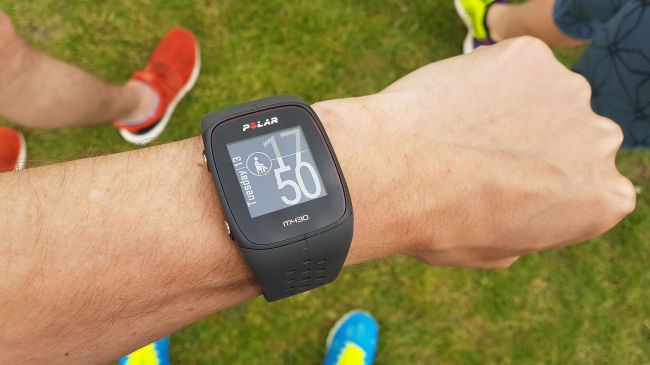 Polar M430
The Polar M430 definitely looks and feels like a running watch, and if you really want to get into the data-crunching of cadence, pace and heart rate, this is an accurate and easy to use device.
It's definitely not as good looking as the Forerunner 30, but it's a comfortable and functional fitness tracker that has rightly earned its place on our best fitness trackers list.
(techradar.com, https://goo.gl/mM128g)
Comments
comments