Outdoor sports watch family also introduces new pulse ox acclimation sensor
Garmin continues to share the music and payment love – this time bringing the features to its outdoor sports watch range, the Fenix 5.
The Fenix 5 Plus series, which includes the Fenix 5 Plus, Fenix 5S Plus and Fenix 5X Plus, are all upgraded versions of the 5 Series watches launched last year. All three watches now have Garmin Pay support to make contactless payments and a built-in music player letting you stream music when paired with Bluetooth headphones.
All three of the 5 Plus series watches will be able to store up to 500 songs and download offline playlists from select music streaming services, including iHeartradio and Deezer, as well as transfer music directly from your computer.
But it's not just about adding more Apple Watch, Wear and Samsung Gear-rivalling features. Garmin is also bringing new sensors and data, too, with the addition of a pulse ox acclimation sensor. This enables users to be more aware of their blood oxygen saturation levels, which is particularly useful for outdoor tracking when you need to adjust to higher altitudes. This is only available on the 5X Plus model, though.
What Garmin has also done is bring one of the big features that was previously only available to the more hulking 5X, and that's built-in, routable topographical maps, which now arrives on the 5S Plus and the 5 Plus. It's also bringing the cycling and running-friendly Trendline routing feature from its cycling computers, which uses Garmin Connect data to allows users to find the best trails and running routes based on miles logged by other Garmin users.
In terms of design, you've got your pick of a stainless steel bezel with silicone watch band combo or a titanium bezel with titanium bracelet, if you prefer something a little lighter. They're all packing a Chroma Display with LED backlighting and you'll still have your pick of interchangeable silicone, leather and titanium straps, with all watches waterproof to 100 metres.
The most notable change for the 5 Plus series is that the 5S Plus, designed for slimmer wrists, now has a larger 1.2-inch screen, which is almost 20% bigger than the one on the 5S. Again, sizes range from 42-51mm, and all include Garmin's own proprietary heart rate monitors and multi-network satellite reception, including Galileo support to keep route mapping well covered.
You can expect all of the same smartwatch-inspired features, with access to Garmin's Connect IQ store to download additional watch faces, apps, data fields and widgets.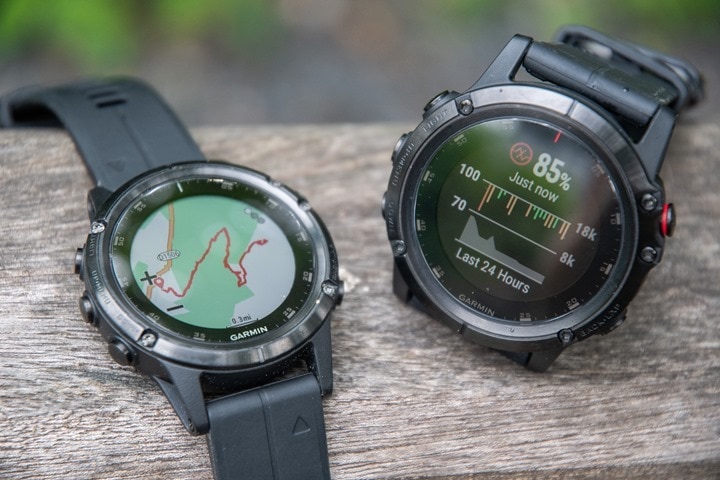 Battery life is inevitably a big deal for outdoor sports lovers and it looks like Garmin will have you pretty well covered whichever model you go for. Starting with the 5 Plus, you're getting 10 days in smartwatch mode and 8 hours in GPS and music mode. The 5S Plus musters up a week in smartwatch mode and just 4 hours in GPS and music mode. Last up is the 5X Plus, which should give you 20 days in smartwatch mode and 13 hours in GPS and music mode.
We imagine when you factor playing music out of the equation, that should push things a bit further. You do, of course, have the benefit of Garmin's UltraTrac power saving mode, too, in order to ramp up battery life performance at the expense of how frequently GPS data is sampled during your tracked sessions.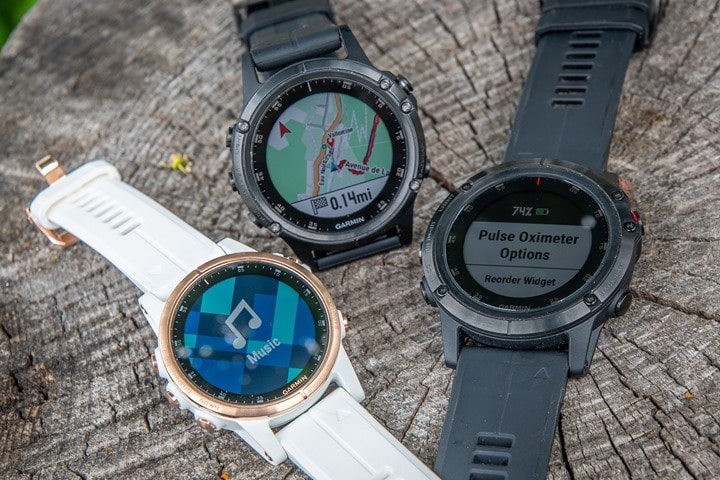 So, finally, let's get to that pricing. The Fenix 5 Plus will start from $699.99, going all the way up to $1,149.99 for the most expensive Fenix 5X Plus model. We've already put the 5X Plus to the test and are currently running the rule over the 5S Plus. We're hoping to get our hands on the Fenix 5 Plus in the not too distant future, as well, to give you over full verdict on the latest feature-packed Fenix watches.
(wareable.com, http://bit.ly/2MGev9W)
Comments
comments