The Fitbit Ionic saw the popular fitness tracking company launch its first "smartwatch". Designed to walk a path that gave you the convenience of the smartwatch – colourful display, apps, wide notifications – with Fitbit's popular tracking platform.
The Ionic was an evolution of the Blaze, incorporating some of the design lines, while bringing it a little closer to the conventional in terms of looks. Gone is the metal framed look, but retained is angular design.
The Fitbit Versa sets off on a different tack and while the vibrant touchscreen is the same shape – rectangular – the watch itself softens all those corners. The back is smoother and less angular, the corners curve. Some may say it's a less masculine design, although Fitbit was keen to point out that it's a unisex design.
We briefly got our hands on the new model and here are our first impressions.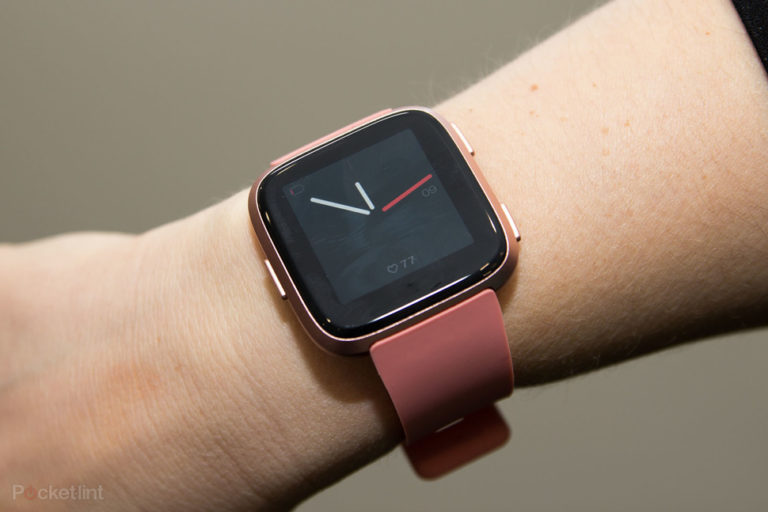 Customisation remains key
Choice of body colours
Customisable UI
Accessory straps
There is a choice of different body colours, including silver, black and rose gold. The previous Ionic watch offered a copper/burnt orange colour and moving to offer rose gold instead, might make you think that Fitbithas its female users in mind, giving an escape from silver or black which dominate smartwatch colours.
But customisation is very much key to the Versa's offering, so it doesn't matter who you are or what your preferences, you can pair up the different coloured bodies with different straps. There will be a range of accessory straps from basic colour options for replacement silicon bands, through to Horween leather (£49.99), metal mesh bands (£69.99) and metal link bands (£89.99).
It's not just to look you can customise; the watch face on the Versa can also be changed to suit your style and situation – you might have a formal analogue face for work and something showing your activity for the weekends – whatever you choose.
The Versa models that we've seen are production samples and while the design shown here is what the final product will look like, there will be a Fitbit logo on the front – as there is on Ionic.
In addition to the standard models and the accessories, Fitbit is also doing two special editions with woven straps. These look and feel really great, but will come at a premium price. These straps will only be available with the special edition and not sold separately.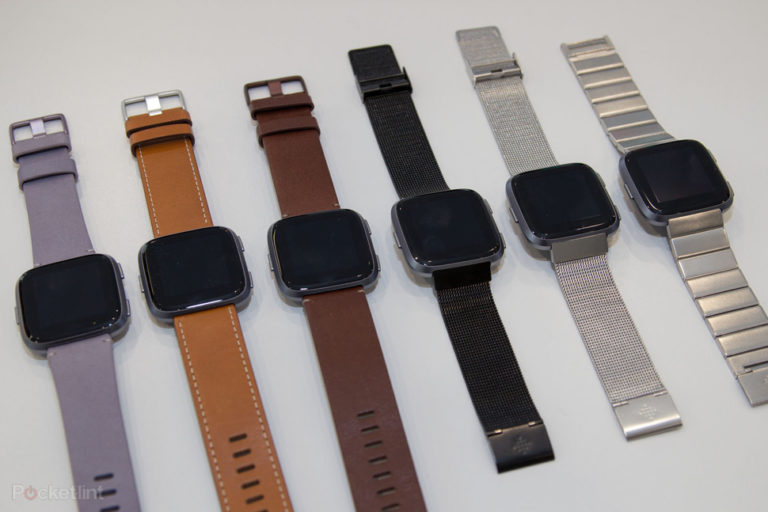 Activity tracking and fitness features
Activity tracking and step counting
Sleep tracking
Coaching functions
24/7 heart rate tracking
50m water resistance
The Fitbit Versa is surprisingly light, which might appeal to those who want to use the sleep tracking functions it offers. This has been a feature of various Fitbit devices for a number of years, detecting your movement patterns through the night to determine your duration and quality of sleep – with sleep phases recorded in the app.
But what Fitbit is really known for is activity tracking. The Fitbit Versa is loaded with sensors so that it can keep track of your steps, encouraging you to stay active to hit that 10,000 steps a day – or any figure you might choose to set.
You can set move reminders to tell you to get up from your desk and do something, so that you're not just a sedentary zombie during the day.
As the Versa is a smartwatch – and a fully-functioning sports watch too – there's a lot more going on. There's a fully range of sport-specific workout tracking on offer and, like the Fitbit Ionic, there are lovely vibrant screens for each of the main sports – swimming, running, cycling. These are much more engaging than other sportswatch rivals and it's great to see them retained on the Versa.
The elephant in the room, however, is GPS. There's no GPS on the Versa, meaning that while it will track your runs, it will only be tracking your heart rate and motion. It will know you're running and can estimate the distance, but unless you plan on taking your smartphone with you to provide the GPS data, you won't get the same accurate distance, speed or pace details that the Ionic and rival devices offer.
That's something of a negative on a £199.99 watch, which might deter runners who want specific details about their activity.
You do get 24/7 heart rate monitoring, however, so for those who spend most of the time in the gym – either on a treadmill or doing other types of workout – the lack of GPS won't be a concern. You'll get things like your resting heart rate monitored, giving you a history of how that changes as you get fitter – it's also a good indicator of when there's something else going on with your body – like you're about to be ill.
In the short time that we've spent with the Fitbit Versa we haven't had the chance to test how well the heart rate monitor works or use the sports functions – but we'll be sure to bring you a detailed performance analysis closer to launch.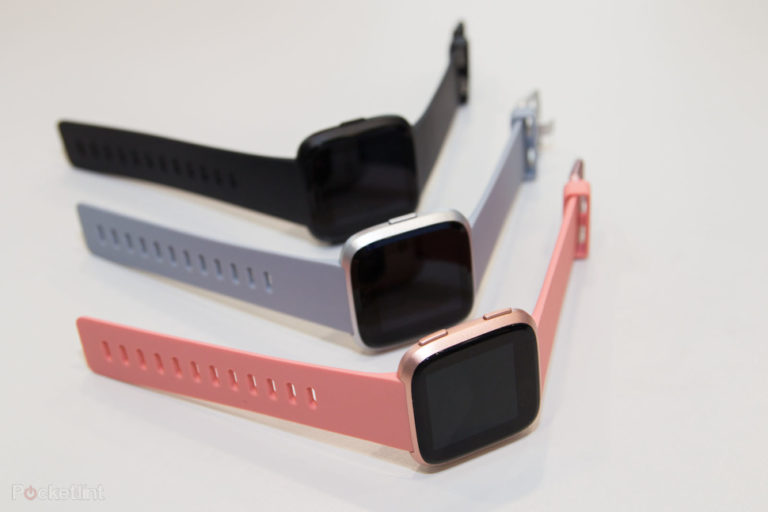 Going smart: Music, payments and notifications
Music with Deezer integration
Fitbit Pay supported
Smartphone notifications
Female health tracking
While the sports functions and step tracking will be fairly familiar to anyone on the Fitbit platform – essentially pulling the content of the Fitbit app onto your wrist – there are a range of other areas where the Versa hits hard in the smartwatch stakes.
The first is music. This is a smartwatch staple, but it's something that rivals Garmin have only just integrated into a few models. For Fitbit, the Versa also brings with it the debut of a new offering from Deezer, allowing Deezer subscribers the ability to sync music offline – meaning you can take it with you on the run.
This has some merits. Firstly it means fresh music on your watch, where some devices will only let you sync music you own (rather than using a subscription). The Versa can then be connected to Bluetooth headphonesso you are free to listen to that music wherever you might be.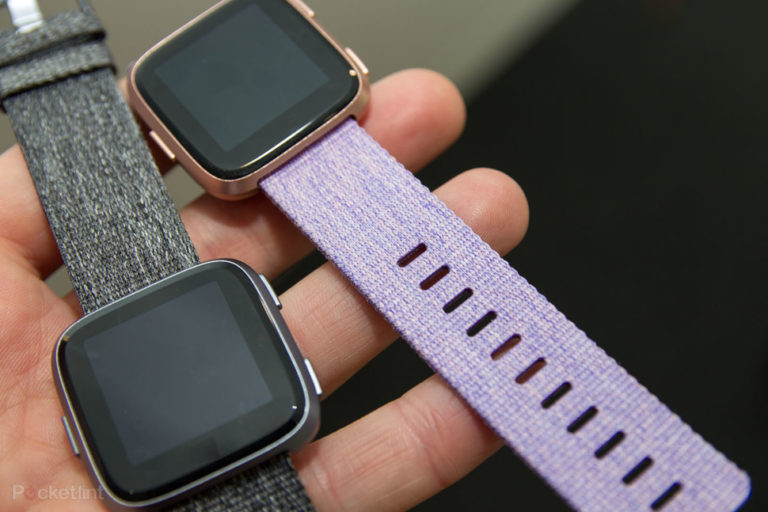 Another smartwatch-level function is Fitbit Pay. This service made its debut on the Fitbit Ionic in 2017 and is currently supported by 34 banks in 14 countries – allowing contactless payments. While the range of supporting banks isn't as wide as Apple Pay or Google Pay, at least you have the option here – but you might have to open an account specifically to work with your Fitbit for mobile payments if you're in the UK.
You'll be able to download apps to your watch as well as get smartphonenotifications, so you can stay fully in the picture through-out the day. While we haven't yet tested all these functions on the Versa, the look and feel of the interface is close to Ionic, so we have a good idea of what the experience will be like.
Also making its debut on the Versa – but also coming to Ionic and the Fitbit app via an update in the future – is female health tracking. This will give you a way to monitor your cycle, logging your periods and corresponding symptoms, with the app calculating your fertility window.
The inclusion of these new functions will negate the need to use a separate app to track your cycle and means that all of your wellbeing is in one place – the Fitbit app.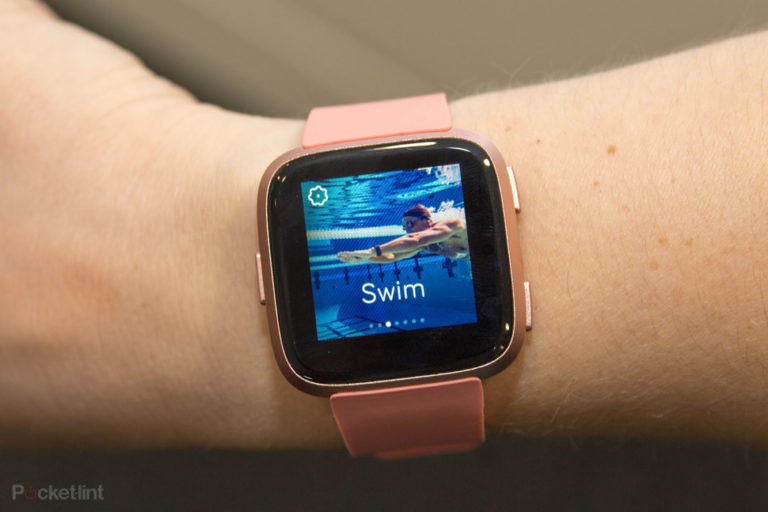 First Impressions
As we mentioned above, the lack of GPS sets out the Fitbit Versa as a device that might not appeal to those who need precise location information. If you're a runner, for example, you'll be better served by the Ionic or a different sports platform.
But what the Versa does offer is some sophisticated functions wrapped up on one of our favourite platforms. Fitbit is bright and engaging, a pleasure to use and compatible with a great number of other services too.
While £199 might sound like a lot for a device without GPS, you are getting offline music, you're getting mobile payments and you're getting a design that's not too chunky with plenty of options for customisation. We will bring you a full Fitbit Versa review as soon as we can.
The Fitbit Versa will available from April 2018, pre-orders are now open priced at £199.99. There will also be special editions available with a woven strap for £229.99.
(pocket-lint.com, https://goo.gl/awdDVf)
Comments
comments