OUR VERDICT
Setup can be complex, but once it's running this little box will keep you safe at home, and Bitdefender's quality software protects you everywhere else.
FOR
Lots of features
All managed from one app
Built-in parental controls
Bundled Bitdefender software
AGAINST
Setup can be tricky
$99 yearly subscription
Can only be managed by a mobile app
Bitdefender Box 2 is a smart home security appliance which shields desktop PCs, laptops, mobiles, tablets and all your connected devices from hackers, malware and more.
The Box is essentially a supercharged router which can replace or run alongside your existing networking kit. Connect your devices to the Box and it acts as a sort-of firewall, watching inbound connections to keep hackers at bay. Your network is constantly monitored for unknown devices or suspect behavior, and Box also blocks outgoing requests to known malicious websites.
Box is powered by a dual-core version of ARM's popular Cortex A9 CPU, with 1GB DDR3 RAM and 4GB of internal storage.
Wi-Fi duties are handled by an 802.11a/b/g/n/ac AC1900 setup. You get just two ports – one LAN, one WAN – both supporting Gigabit Ethernet. It's not quite up to the standard of Norton Core's 4×4 MU-MIMO system, but there will be enough power for most users.
Extras? There's a 1m Ethernet cable bundled with the Box, but that's about it.
The Box is only available in the US right now (other countries are "coming soon"), and that's probably why our unit came with a two-pin power adaptor only. This accepts 100-240V input, though, so even now can be used in the UK and elsewhere if you have a travel adaptor.
Bitdefender Box costs $249.99 (£200) for year one, which gets you the router and a free one-year subscription to Bitdefender Total Security 2018, or the equivalent software for your device (Bitdefender Antivirus for Mac, Bitdefender Mobile Security for iOS or Bitdefender Mobile Security & Antivirus for Android).
Buying the software alone would normally cost from £35 for up to five devices, but the Box subscription covers as many as you need. Renewing your subscription costs $99 (£80) a year.
While Box isn't exactly cheap, it's competitive with similar products. Right now Norton Core has the same upfront cost at $249.99 (£200), and also includes software for unlimited devices and renews at $10 (£8) a month, or $120 (£96) a year.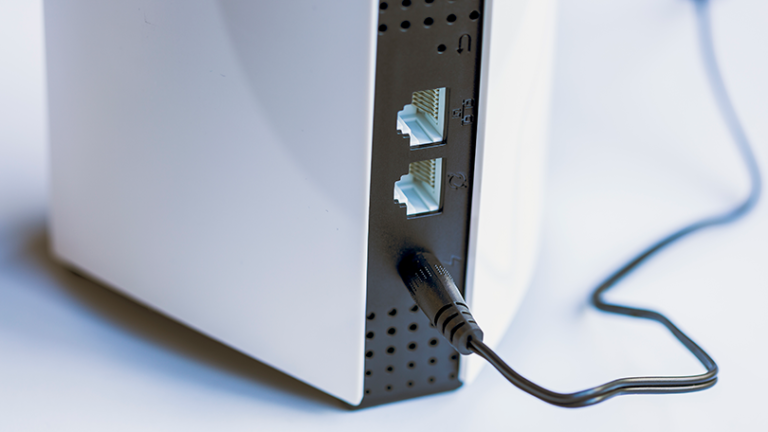 Setup
Bitdefender Box arrives in a well-designed and very protective, umm, box. Lift the cardboard sleeve, open a surprisingly solid lid, and everything is neatly tucked away inside. It's the kind of premium packaging you'd expect with a luxury designer product rather than a piece of network kit.
The router inside is more ordinary, just a simple cream and black triangular block with a power connection and a couple of Ethernet ports. No one's going to marvel at the design, but it's good enough, and won't look out of place in most homes.
Networking newbies will probably be intimidated by the lengthy instructions on the setup card, but it can be easier to get going than you think.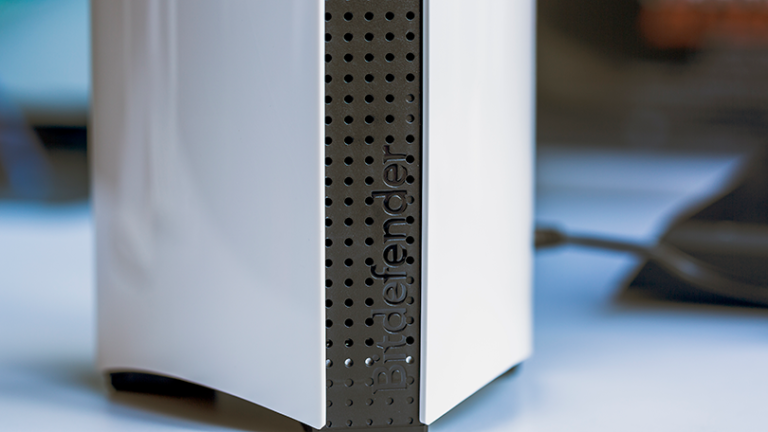 The process starts by downloading Bitdefender Central's app for iOS or Android (there's no desktop-based alternative). This is normally used to manage any existing Bitdefender installations you might have, but the app also provides a simple Box activation wizard.
Setup starts by asking you to log in to the Box network on your phone, then connect your Box to the internet, typically by plugging it into your standard router with the cable provided.
The app offers a choice of networking modes. Box can effectively replace an ISP router, work with an existing personal router by enabling bridge/AP mode, or be used as a standalone router.
We chose the ISP Router option. The app asked for our ISP router's login credentials so that it could clone our default settings.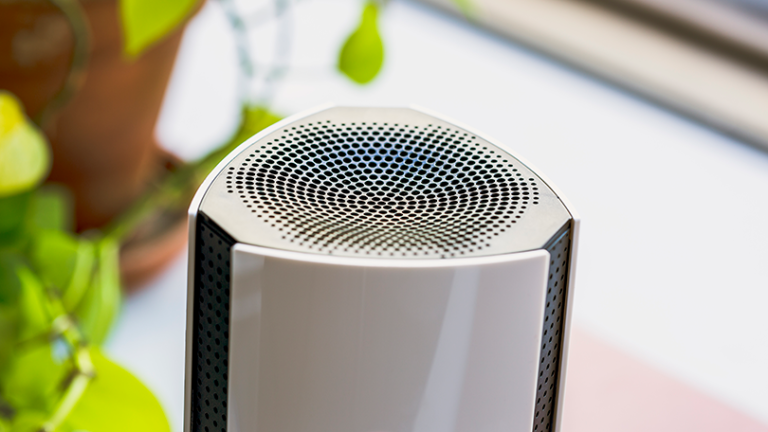 The last step requires disabling your original wireless network to ensure any devices reconnect to the Box. The app includes instructions to work with four common router types – AT&T, Comcast, Time Warner, Verizon – but our UK ISP wasn't on the list.
This isn't Bitdefender's fault: we were using a US unit in the UK, so it's no surprise that UK ISPs weren't covered. Experienced users may still be able to disable the original wireless network on their own. Even if that's a problem, it doesn't prevent you getting started. You can connect devices to the Box network right away and sort out your old router later.
If you have problems, Bitdefender does its best to help, with free installation assistance via telephone or email. We tested the email route and got friendly and helpful replies within two to three hours. This should be enough to help you solve most problems, and if all else fails, return the unit within 30 days and you'll get your money back.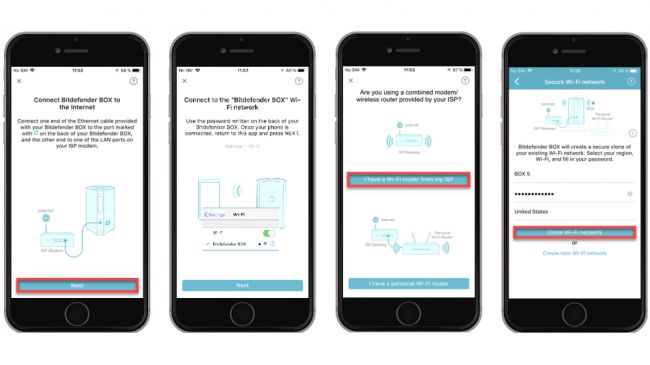 Features
Setup can be a hassle, but once it's configured you can use the Box without doing anything else at all. Restart each of your devices, and they should connect to the Box and the internet exactly as they did with the old router.
Even at this level, there's plenty happening in the background. Box is monitoring outgoing connections, blocking attempts by your devices to access phishing and other malicious sites, and also preventing the sending of sensitive information like credit card details over an unencrypted connection.
Box also watches for dubious incoming connections. New devices won't be able to access the network until you give permission, and Box prevents any brute-force attempts to log in to your devices.
More general network monitoring layers detect and alert you to network vulnerabilities, as well as picking up unusual behavior which might indicate a hacked device.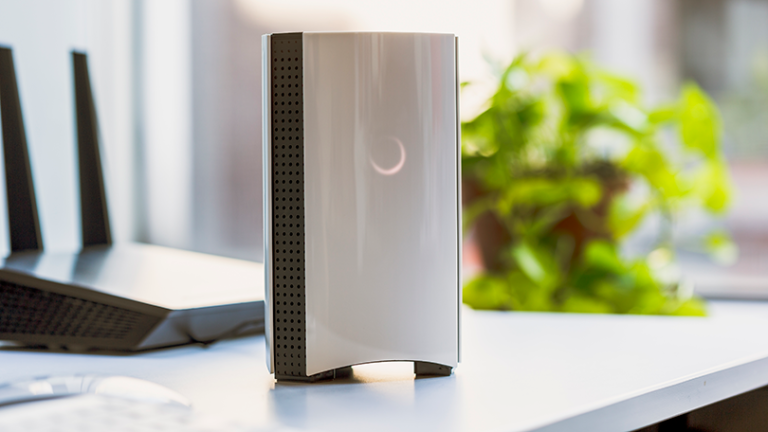 There's no clear way to test most of this, but we have measured Bitdefender's anti-phishing systems in previous reviews, and they generally perform very well. That protection alone is well worth having.
Your Box is managed from the Bitdefender Central app. Its Devices screen shows you recognized and unknown devices which have connected to your network recently, gives you more information about them and provides some handy extra tools.
This status display didn't always work as we would expect. It regularly told us devices were 'disconnected' and hadn't been seen for some time, even as we were using them to access the web. This happened on both a Windows 10 laptop and an Android phone, suggesting it wasn't a simple device setup issue.
These status issues didn't seem to affect what our Box could do, fortunately. We were able to click a device, find out more about it (operating system, MAC address, IP address), and pause/resume its internet access with a click.
A Network Scan option claims to give you an "instant report of how network vulnerabilities affect this device" (weak credentials, outdated firmware and more). The Scan button tells you to "come back later for the results", which doesn't match our definition of instant, but within a few minutes a notification arrived with the results.
An Install Protection button prompts you for the email address of the device owner, and sends them a message with a link to download and install local Bitdefender software (Windows, Mac, iOS and Android devices are covered). Your subscription covers as many devices as you need.
Box comes with simple parental controls which can block websites by content or restrict internet access by time of day. The ability to block a specific device's internet access on demand could also be handy for those ad hoc 'stop what you're doing and come here right now' situations. There's nothing surprising or revolutionary here, but the features are still a worthwhile addition to the package.
We completed our checks by running simple performance tests, including streaming HD video content from three devices simultaneously. As we'd expect from the level of hardware used by Bitdefender Box, there were no issues and our systems worked much as they did with the original ISP router.
Final verdict
Bitdefender Box can take some time, thought and experience to set up properly. But there's a free installation service to help point you in the right direction, and once you're up and running the Box does an excellent job of protecting you from a host of security threats.
(techradar.com, https://goo.gl/ScBc5w)
Comments
comments