USB-C wasn't ready to replace the ubiquitous 3.5mm headphone jack when the Pixel 2 was released, and there's almost nothing to meet the demand for the new product category.
Now that Google has jumped on the bandwagon of removing their headphone jack, the artificial market of alternative audio solutions is now in chaos. What's good? What's bad? How do you know?
Apple would want you to grab a pair of Beats wireless headphones, but there's another solution you might not be aware of: USB-C wired headphones. While this market segment is new and very, very unsettled—there are some options out there. It's just that they're not really very good quite yet. While it's true that this segment is about to explode with a glut of Made for Google models, we'll be waiting until 2018 before they hit shelves. Desperate to find you something, I scoured the internet, accidentally found unreleased models, and tested the best of what's currently out there.
But I caution you: even though Google published a list of what's to come, there just aren't enough products currently available to offer a credible alternative to Bluetooth or traditional headphones. Until that happens, this list exists as a stark reminder that the innovations of Silicon Valley are often ill-timed and foolhardy. Despite how promising the tech is, USB-C wasn't ready to replace the ubiquitous 3.5mm headphone jack when the Pixel 2 was released—and there's almost nothing to meet the demand for the new product category.
We don't recommend USB-C headphones at the time of publish. There are too many better alternatives for less money in the Bluetooth and 3.5mm plug varieties right now.
The best USB-C audio solution is Google's dongle
Trust me when I tell you that this was an incredibly deflating realization to come to, especially as USB-C technology is so promising. There's so many good—great even—headphones coming out with a USB connector in the next 6 months, but none of them release before the holiday season in 2017. The long and short of it is: a dongle plus whatever headphones you were using before is the best way to enjoy audio over that USB-C connector at the moment. If you want on or over-ears, this is the only way to avoid using Bluetooth as of publish.
Google USB-C to 3.5 mm headphone adapter
Tucked inside the white plastic and rubber exterior is a tiny USB-C DAC that allows headphones with a 3.5mm connection to interface with a jack-less headphone, but it's still less than an ideal situation. Not only does it block the only charging port, but it's also far less durable than a regular ol' headphone jack.
Thankfully, this is a really cheap option. While it comes with the standard caveat that your new, easily lost accessory can't charge and listen at the same time: it's $9. Not the end of the world, even if it's an inconvenience. It'll do its job of getting you to next year, anyway.
Like I said, there's plenty of new USB-C headphones on the way in early 2018 that buying a Pixel 2 or other phone sans 3.5mm headphone jack is still not the end of the world if you're an audiophile. To wit, the Made for Google program has scores of models on the way, and many of them from extremely reputable audio dealers. The instant those come on the market, expect to see this list change.
The best USB-C headphones are the JBL Reflect Aware C
Unfortunately, these models win almost by default for now. It's not something we had to rigorously test to reach this conclusion, it's just that of the available options: the JBL Reflect Aware C and the Libratone Q Adapt USB-C Earphones are the only models that meet our criteria for a candidate for our best product.
JBL Reflect Aware C
If you live in the US, you can pick up a pair of the JBL Reflect Aware C from HTC's site. This model has the best sound available on the market, with a rather annoying caveat. This model is so unbelievably bass-heavy by default, and the only way to make them sound decent is to download the app, and turn the preset off. You read that right: they're tuned out of the box to sound worse than they do with the app installed. I have yet to find a set of USB-C headphones that aren't frustrating as hell in some way or another.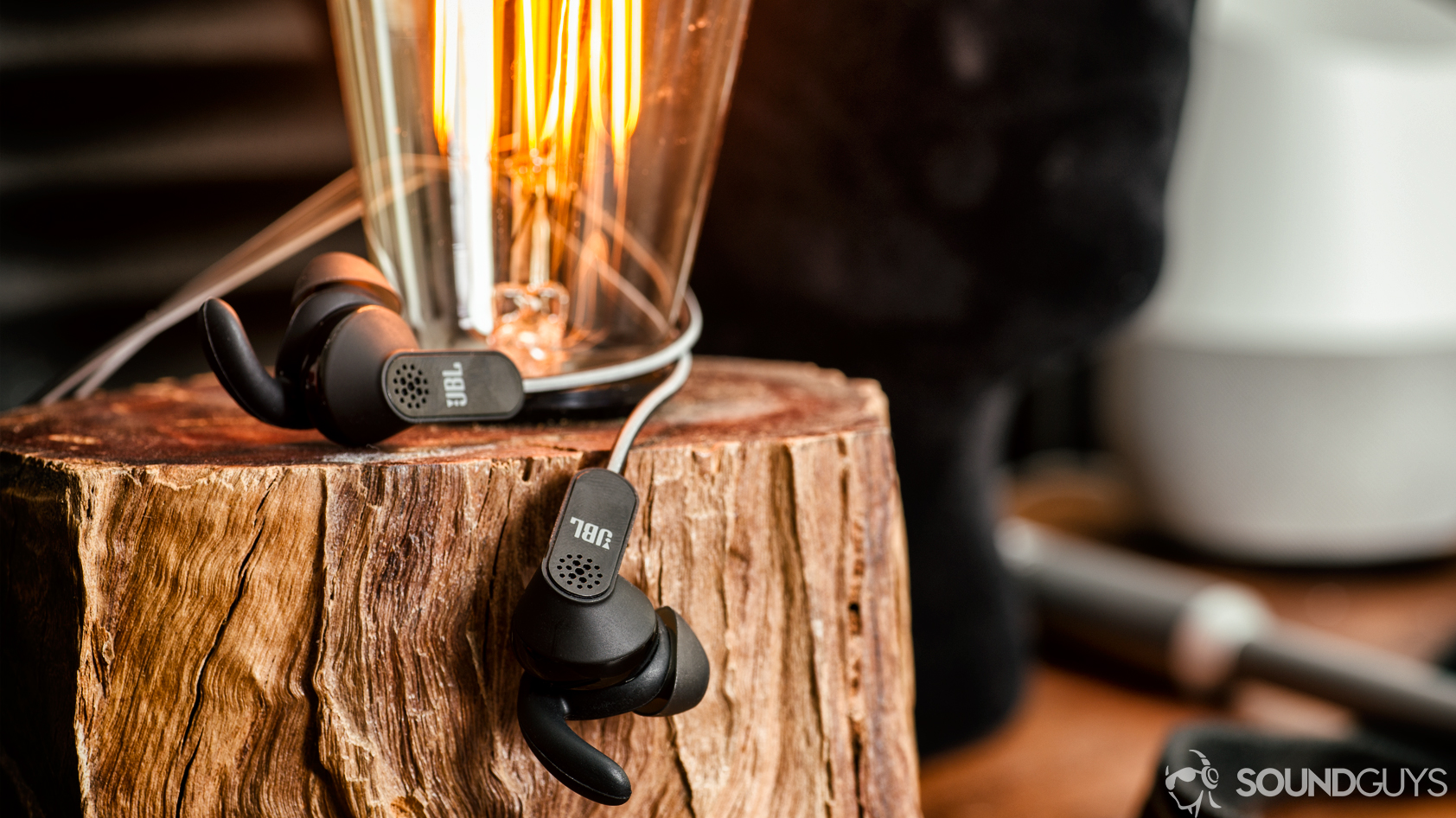 The app itself is quite useful, much like that of the Sony WH-1000X M2. It offers granular equalizer control, and like the Libratones, allows control over how much noise cancellation you get. I'm still miffed that you can't just plug the headphones in and have them sound good out of the box, but at least you get some functionality in return. These were the most comfortable option that we tested by a country mile, though they weren't the most secure fit. I'm not sure that you could get memory foam tips for these, given the nozzle is this strange football shape. Oh well.
Here's JBL's Headphone app, with ANC options, and a custom EQ with presets.
Each of these presets can be massaged a bit, but don't use the "Bass" preset. It's… bad.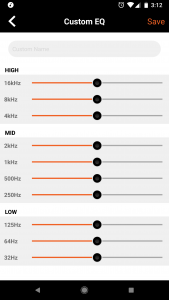 Band-specific EQ makes for a customizable sound.
Permissions are near-nonexistent, but that doesn't mean you won't have to check in the future.
All that aside, playing with the app makes these in-ears sing, and I genuinely enjoyed using them. It's just gravy that JBL brought their A-game when designing their first USB-C in-ears, as these also offer a fat, bright reflective strip down the wire. As any New England night-runner/L.L.Bean backpack enthusiast can tell you: this is a super important safety feature if you find yourself in close proximity to cars at dusk or in the winter.
If you're not a fan of the concha fins, that's understandable, but the ones found on the Reflect Aware C are quite a bit softer than what I typically see. There's alternate sizes of both the concha fins and the silicone ear tips available in the packaging, as well as a handy pouch for avoiding tangles in your cable.
I have yet to find a set of USB-C headphones that aren't frustrating as hell in some way or another.
I was able to snag these for $149, but I wouldn't pay any more for these, to be perfectly frank. They're decent headphones—good even—but there are so many 3.5mm in-ears that I'd take over these in a heartbeat, for less. It'll be a while before the USB-C category matures. While the JBL Reflect Aware C is a good buy at its reduced price, I wouldn't pay $200 for it.
Libratone Q Adapt USB-C
Despite not facing a ton of competition, the Q Adapt In-ear USB-C gives users some interestingly useful features for its pricetag. $149 is tough to swallow for in-ears, but they come with a feature called CityMix ANC that allows you to adjust the level of active noise cancellation (ANC) to your needs. If you want to hear the world around you, you can disable it, or you can tone it down to hear people around you. When you're on a flight: crank that bad boy up to avoid making awkward conversation with your neighbors.
The Libratone Q Adapt In-ear C is certainly competent enough, and boasts a respectable host of features that obviously took a lot of R&D to implement. They sound pretty good, as our own Adam Molina can attest to:
…my favorite part of the headphones is their sound quality… These find a nice balance between clean and bass-driven sound signatures even without going into the app. If I'm in the gym I'd prefer a strong bass, and if I'm commuting I'd want more of a clean sound and these go straight up the middle and manage to accomplish both… That said, don't expect to be blown away by the extra features that make these headphones so pricey.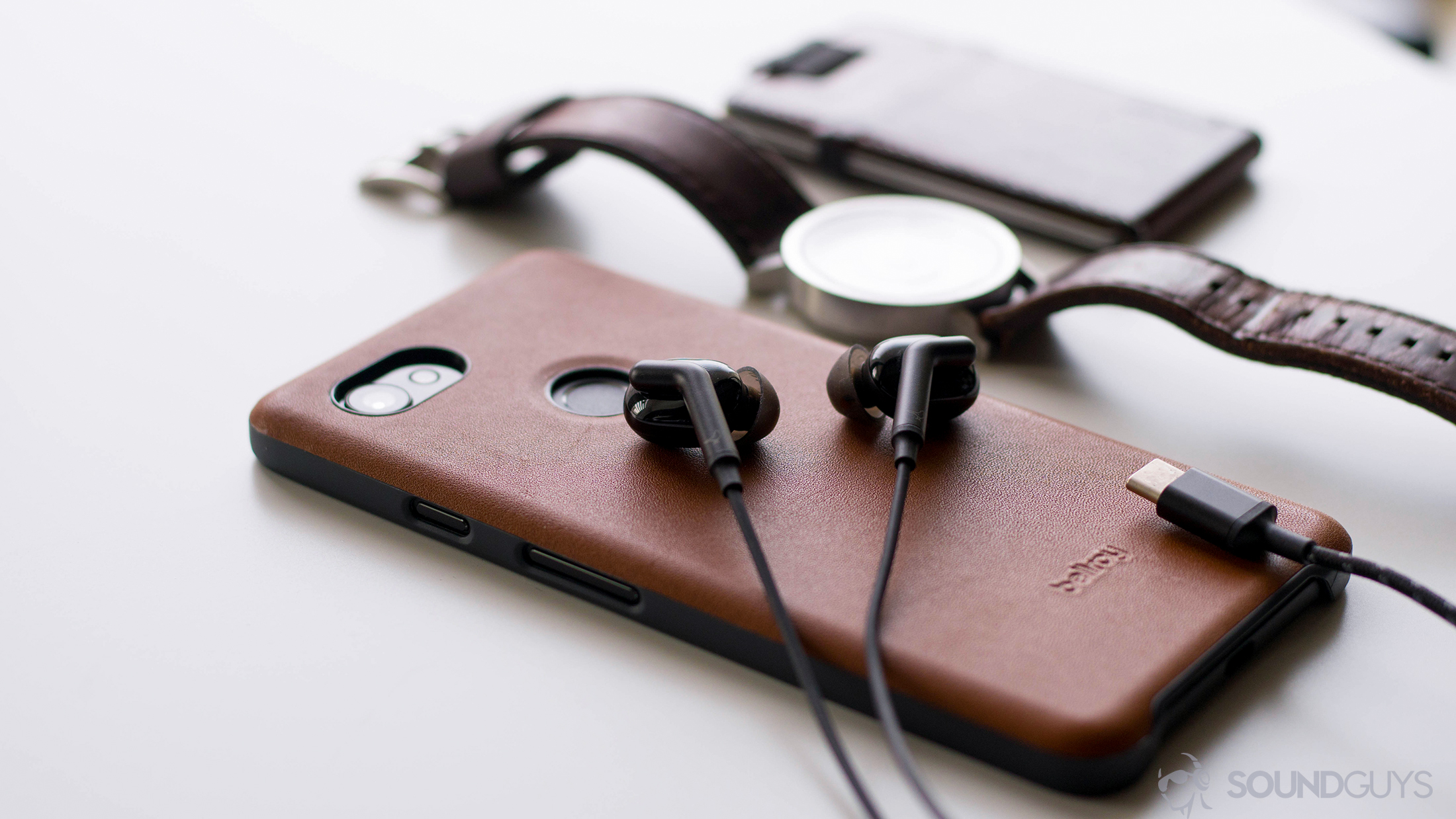 Like many other well-polished in-ears, you can use these with Comply memory foam tips, which I suggest you do. While most may elect to use the silicone sleeve options, I'm a big fan of the memory foam. Adam had an enormously difficult time getting a good seal, so we suggest picking up a set of size 500 Comply tips.
Not only is memory foam much better at preventing outside noise getting in your ears, but it's also a very easy way to guarantee a good fit every single time you use them. As we noted in our best noise canceling headphones article, the more you isolate yourself from outside noise, the better your overall ANC performance is going to be.
Do not buy anything else
I'm serious: don't. It's not that all the models are bad, but buying something for the sake of buying it is unwise when better investments exist. Not everyone likes in-ears (myself included), and you're 100% out of luck if you want on-ears or over-ears. If you don't want USB-C in-ears for your jack-less phone, you need to grab something Bluetooth. And I hate Bluetooth headphones. All the other options on the market currently—yes, allof them—suffer from one of our extremely few and reasonable dealbreakers.
Don't believe me? Let's run down the list of the other Amazon dreck I tested.
The Viotek Aqua is well-built and a credible set of in-ears. Unfortunately, the USB housing is so big you can't use a phone case, and while the tip options are plentiful and otherwise laudable, they made my ear canals burn. Whether or not that was a fluke, I can't recommend them.
Next up was the Smart&Cool 3D Surround. Much like the Viotek option, these have a surprisingly decent build quality. The nozzles on these in-ears were also big enough to cause my ear problems. Never in my 6+ years of reviewing consumer audio products has this happened, and the Smart & Cool is easily the most painful set of in-ears I have ever used.
The Trilink USB Type C headphones don't work with the Galaxy S8 or Pixel 2, so those are gone.
We also had to rule out the Sunwe Type C Headphone for compatibility issues.
Amazon only had two other models of the crappiest personal audio design ever: the outside-the-ear earbud. Those suck and we're not considering them.
I was heartened to see that Chinese manufacturer Xiaomi had an entry into this category, but then I ran into a brick wall on availability. It's not that you can't or shouldn't buy these headphones—hell, the Verge likes 'em—but I have serious questions about the only vendors with stock at the moment. Maybe an Amazon retailer will have them by the holidays, but as of right now, the most reputable storefront with these in-ears is AliExpress. AliExpress is rated C- by the BBB, while Gearbest is rated F.
Most of the third-party dongles don't have a properly-functioning DAC, so they won't work with modern phones. Just get the Google Dongle.
HTC USonic Adaptive Audio Earphones
The only other options we could find that were remotely credible come standard with HTC phones: HTC USonic Adaptive Audio. Don't worry, I got my hands on those, too. They don't work with non-HTC devices (minus the Huawei Mate 10… for some reason), and even worse: the phones also block the use of many 3.5mm conversion dongles through their use of a proprietary standard. That's a needlessly antagonistic level of baloney that we're not going to reward on this site as long as I have a say in the matter, so it's really a shame that they're probably the best mix of cost and performance on this list.
The USonic Adaptive Audio work fine enough—great, even—as we got to test them out with the HTC U11, but the only sore spot is the crappy mic. If you're using them with an HTC phone, the sound is customizable to a degree. Our own Kris Karlon was a fan, but also noted that the buds don't sound the best out of the box. You'll definitely want to use the companion USonic features to create a custom sound profile for you, but the process is dead-simple. If you get a new HTC phone, the USonic buds will treat you right.
The features really drive USB-C headphones so far, and even the stock HTC USonic buds offer things like auto-tuning.
The result of the tuning is meant to give you a flatter, more accurate frequency response.
I also took a look for Android-compatible USB-C DACs and amps… and the only one I found with the kind of love such a device deserves is the HIFIme Type C USB DAC. I have no idea how good or bad it is, and to be honest I'm not crazy about having something that bulky to strap to a phone. It's an option if you must, but it's the only game in town currently.
On the horizon
Now, I should point out that the USB-C landscape isn't going to stay like this forever. AiAiAi has a USB-C cable that terminates in a single 3.5mm TRRS plug for roughly $40. This makes the following headphones USB-C:
TMA-2 MFG1 Preset
TMA-2 MFG2 Preset
TMA-2 MFG3 Preset
TMA-2 MFG4 Preset
TMA-2 MFG5 Preset
TMA-2 MFG6 Preset
TMA-2 MFG7 Preset
TMA-2 MFG8 Preset
Additionally, Shure will soon offer a USB-C cable (RMCE-USB) terminating in MMCX connectors that can turn its entire lineup of in-ear monitors into USB-C powerhouses that will undoubtedly mop the floor with the existing pack performance-wise. Coming in at $99, this can make the following IEMs USB-C enabled:
Shure SE215
Shure SE315
Shure SE425
Shure SE535
Shure SE846
Obviously, giving your existing headphones USB-C compatibility seems it will cost you a bit of money, but from what we've heard it's worth it unless your headphones and smartphone support LDAC.
How we selected candidates
The absolute bare minimum criteria we use for our best lists isn't very discerning, but most models failed this easy test:
The products have to be reasonably easy to buy for your average shopper
The products have to work on popular devices
The products cannot be discontinued, or cause physical harm
I'll admit, selecting candidates was the hardest part. Not only are people simply not searching for this term yet, but the number of products available when I started this article were extremely scarce. They were so scarce that most of my results were actually leaked products for release in 2018. We did find a handful of products out there—some by reputable companies—but we were unable to populate a credible candidate list of anything other than in-ears. That's never happened to us before, and our first draft of this article had more pictures of rapidly emptying booze bottles than USB-C headphones.
How we tested
After buying whatever I could find, getting pre-orders in, and begging for help: we were able to build a corpus of candidates to assess. Considering the compatibility issues with USB-C at the moment, the first bar to clear was "the product has to work on a Pixel." We thought that'd be an easy one to clear, but we were wrong. Despite my gut feeling that I should skip the low-end in-ears on Amazon, I forged ahead anyway… and wasn't surprised when I got more enjoyment out of a bottle of low-shelf whiskey than the most of the bunch. Some models, as noted above, were actually painful to use.
From there, we assessed sound quality, features, and comfort in that order. Obviously that's not a scientific test, but we did have more than one person testing these things. My esteemed colleague Adam tested the Libratones, Kris Karlon tried out the HTC USonic, and I took care of the rest.
I used the handful of models that almost met our criteria, and found that I couldn't recommend any of them in good conscience unless you absolutely can't wait to get USB-C headphones. The listing of only these products on this list isn't a mistake: they're the only USB-C products that I'll let carry SoundGuys' recommendation. It's so dire, that this article exists solely because it would be dishonest to not say the segment is currently incomplete.
Why you should trust Chris
If you're looking for someone's take on the consumer audio products, I'm uniquely positioned as an audio expert and the Head of Testing for Android Authority. I'm not perfect, but one of my best skills is designing the means to gain the information I want, and relaying it to the internet. While that does mean my articles and projects are often absurdly in-depth, if you want to know something about a product: I'm the guy you talk to.
I've spent thousands of hours testing consumer electronics, and hundreds more designing tests for smartphones, headphones, cameras… you name it. I've built a career on this sort of thing, first in my time at USAToday-owned Reviewed.com Electronics (cameras, smartphones, headphones, laptops), then my time freelancing, and finally here at SoundGuys and Android Authority. I have a big network of former colleagues and friends across the audio, news, and electronics industries, and if you've ever looked for reviews in those categories: chances are surprisingly good that you've already read something I've written—or at least helped test. I've been at the forefront of mobile and audio tech since 2011, and I've seen it all.
So when a new product category comes along that bridges the gap between the two, I'm the guy some of your favorite bloggers and writers ask to figure out what's good and what's not. I'm an intensely private and academic individual, so tooting my own horn is very out of character for me.
(www.soundguys.com, https://goo.gl/y5hgA8)
Comments
comments