It had been rumoured for more than a year, but no-one expected Apple to announce an iPad Pro at an iPhone launch event (much less that Microsoft would also appear on stage). But it's real, and its closest competitor is Microsoft's Surface Pro 4. Both tablets run Office and both have physical keyboards, but which should you buy? Here's our iPad Pro vs Surface Pro comparison.
The Surface Pro 4 is the new model, but we'll compare the iPad Pro with this and with the Surface Pro 3.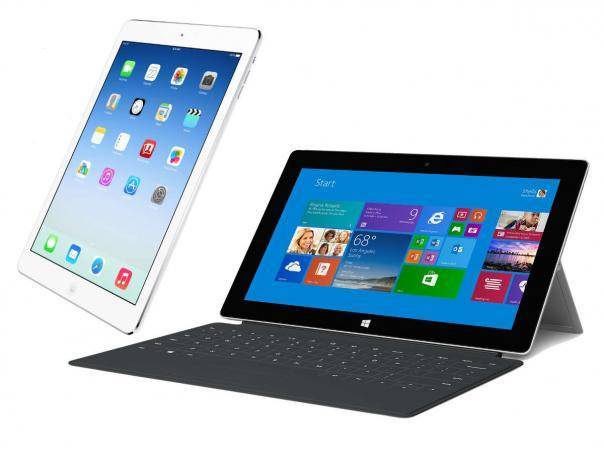 SOFTWARE
Let's deal with this first as it's the most controversial aspect. Some people will preferWindows while others will like iOS 9. There are pros and cons of running a desktop OS on a tablet, which means there's no obvious 'winner' in that sense.
Having full-blown Windows on the Surface Pro means you can do anything you can do on a desktop PC. You can attach USB peripherals, including a mouse or a hard drive, and you can connect a second monitor. This will make it a better laptop replacement than the iPad Pro in some peoples' eyes.
But if you view them as tablets first (and if you will mainly use them as a tablet) the iPad would be the obvious choice. It runs an operating system that's dedicated to a mobile device and therefore has no impossibly small buttons and controls that are designed to be used with a keyboard and mouse. It's fingers (and thumbs) all the way.
Or almost all the way, because there's the new Apple Pencil. Which we'll get to a bit later.
Fortunately the Surface Pro 3 isn't stuck with Windows 8. Windows 10 improves the experience of switching between laptop and tablet modes (Microsoft calls this Continuum) and should also improve the selection of tablet-style apps available in the store. The Pro 4, naturally, ships with Windows 10.
But apps are a sore point for the Surface Pro because while developers will be cursing Apple for introducing yet another screen size and resolution for the iPad Pro, existing apps designed for other iPads will scale and run on the new version. And the huge selection in the App Store puts Microsoft's paltry collection firmly in the shade.
In Windows' favour, though, is the vast catalogue of desktop software which will run happily on a Surface Pro 3 and 4. iPad owners might have a smug look now that Office and Adobe apps have come to their tablets, but Surface Pro users can install the full versions of Photoshop, AutoCAD and everything else.
As we said, there are pros and cons.
CONNECTIVITY
Because the Surface Pro 3 and 4 are designed to replace a laptop, they have a full-size USB 3 port, a microSD card slot (a pain if you want to read full-size SD cards) and a mini DisplayPort output.You could attach a USB hub and connect a full-size mouse, as well as a hard drive or printer at the same time. DisplayPort isn't ideal if you need an HDMI output, but you can buy an adapter or HDMI to mini DisplayPort cable.
It's harder to use the iPad as a laptop replacement in the same way. It has only a Lightning connector for input and output meaning it's harder to connect to a projector, harder to print and harder to quickly share files with others. All of these things are possible, but either require adaptors, compatible peripherals or the cloud.
SCREEN AND STYLUS
The Surface Pro 2 had a puny 10.6in screen that was simply too small for most people. Even the upgrade to 12in with the Pro 3 wasn't quite enough: the iPad Pro at 12.9in is about right in our opinion. The Surface Pro 4 sits between the two at 12.3in.
The iPad Pro has a resolution of 2732×2048 compared to 2048×1536 of previous iPads. Pixel density remains the same at 264ppi.
The Surface Pro 3 has a resolution of 2160×1440, which is 216ppi on a 12in screen. The difference in sharpness is negligible. The Surface Pro 4 has a 2736×1824-pixel screen, meaning it's a wider aspect ratio than the iPad, That's the same 3:2 ratio as the Surface Pro 3 (the iPad has the usual 4:3 aspect ratio).
The Surface Pro 3 has an IPS touchscreen and an active capacitive stylus, using N-trig technology. It's capable of detecting 256 levels of pressure (more than enough), plus the angle at which you're holding the pen. It's great for sketching and drawing. The Surface Pen also has three buttons, one of which launches OneNote even if the Surface is asleep.
On the Pro 4, the new pen detects 1,024 levels of pressure, has interchangeable tips and there's an eraser on the end. Solving the storage issue, it's magnetic and can be 'stowed' on the top edge of the Surface Pro 4.
Apple's Pencil is also active and has in-built sensors and a battery. It's an optional extra unlike the bundled Surface Pen, and can also detect force and tilt angle. As we haven't yet had a chance to test it for ourselves, we can't say which is best, but it's sure to be a close call. Both have very low latency and are about as close to 'real' drawing as you can get with a digital screen. The Pencil doesn't have any buttons, though, and there's no holder for it on Apple's Smart Keyboard.
Talking of keyboards, they're optional on both tablets, but cost similar amounts if our estimate of £120/$180 for the Apple keyboard is correct – there's no confirmed UK price at present.
Apple's keyboard has one fixed angle, but the Surface Pro 3 has a built-in kickstand which can be set to just about any angle – even if no keyboard is attached.
Moving to cameras, the front camera is arguably the most important on a tablet. Not for selfies, but for Skype and conferencing. The Surface Pro 3 has a 5Mp sensor while the iPad Pro has a 1.2Mp 'FaceTime HD' camera. This is likely to be the same 1.2Mp camera as found in the iPad Air 2. The Surface Pro may capture more detail, but as anyone who's used Skype or FaceTime will know, it's the speed of the connection between you and the recipient of the call that's the biggest factor in determining quality.
The Surface Pro 4 has a 5Mp front camera and 8Mp at the rear.
SPECIFICATIONS
Here are the key specs for the iPad Pro
iOS 9
Apple A9X 64-bit processor
4GB RAM (rumoured)
Up to 128GB storage
12.9in Retina display (2732×2048, 264ppi, 4:3) multitouch display
Lightning port
802.11a/b/g/n/ac Wi-Fi, dual-channel
Bluetooth 4.2
8Mp iSight camera, 1.2Mp FaceTime camera
Four speakers with auto orientation
Optional Apple Pencil
Battery life up to 10 hours (web browsing)
305x220x6.9mm
713g (723g cellular model)
These are the Surface Pro 3's vital stats:
Windows 8.1 Pro (free upgrade to Windows 10 Pro)
Intel Haswell Core i3/i5/i7 processor
Up to 8GB DDR3 RAM
Up to 512GB SSD
12in ClearType full-HD (2160×1440, 216ppi, 3:2) multitouch display
USB 3.0 port
802.11a/b/g/n/ac Wi-Fi
Bluetooth 4.0
Mini DisplayPort
2x 5Mp cameras (front and rear)
Stereo speakers with Dolby sound
Surface Pen
Battery life up to nine hours (web browsing)
292×201.3×9.1mm
800g
And here are the Surface Pro 4's vital stats:
Windows 10 Pro
Intel Skylake (6th gen) Core i3/i5/i7 processor
Up to 16GB DDR3 RAM
Up to 1TB SSD
12.3in PixelSense (2746×1824, 267ppi, 3:2) multitouch display
USB 3.0 port
802.11a/b/g/n/ac Wi-Fi
Bluetooth 4.0
Mini DisplayPort
1x 8Mp, 1x 5Mp cameras (front and rear)
Stereo speakers with Dolby sound
Surface Pen
Battery life up to nine hours (web browsing)
292x201x8.5mm
766g for Core m3 (786g for other models)
PRICE
The cheapest Surface Pro 3 costs £549/$824, which includes the Surface Pen, but not the keyboard (that's £110 extra for any Pro 3). This model has a Core i3, 4GB of RAM and 64GB of storage. The most expensive has a Core i7, 8GB of RAM and 512GB of storage. That's £1,329/1,994.
These prices have been discounted following the Surface Pro 4's announcement, which itself starts at £749/$1,124 (128GB, Core m3, 4GB) and rises to £1,799/$2,699 (512GB, Core i7, 16GB). Currently the 1TB version is not available for pre-order in the UK.
The 32GB iPad Pro costs $799 (we expect it to be £599/$899 in the UK), but the Pencil could cost as much as £79/$119 inc VAT, making the comparable price £678/$1,017 for the entry-level model. The Smart Keyboard is likely to cost £129/$194 inc VAT.
Opt for the 128GB iPad Pro and you'll pay at least £100/$150 more if not £120/$180 extra. Add another £100/$150 for the cellular model, which is available exclusively in 128GB guise.
VERDICT
When we reviewed the Surface Pro 3 – almost a year ago – we concluded that it was the best yet. It's the most portable of laptops and an acceptable tablet. Nothing has changed with the update to Windows 10. The Surface Pro 4 is an evolution and, apart from the higher screen resolution and new chips, doesn't offer too many compelling reasons to buy one over the cheaper Pro 3, or upgrade if you already have one. With the iPad Pro, it's the best yet in some ways – it's the most powerful iPad and has the highest resolution screen – but it may not be the best choice for everyone who wants an iPad. Until we've reviewed it we can't come to any firm conclusions but it's likely to be the opposite of the Surface Pro: a fantastic tablet and an acceptable laptop.
(pcadvisor.co.uk)
Comments
comments