OUR VERDICT
The Cube iWork 1X is a tale of two products. On one hand, it offers great value and very decent hardware with the added bonus of Android 5.1 alongside Windows 10. On the other hand, the keyboard is optional and the battery life could be improved.
FOR
Excellent value
Solid performance levels
Dual operating systems
AGAINST
No rear camera
Takes time to charge
So-so battery life
When it comes to tablets or laptops, the bare minimum you should be looking for to run Windows 10 comfortably is a quad-core (or quad-thread) device with 4GB of system memory and 64GB on-board storage (eMMC is okay, but preferably SSD).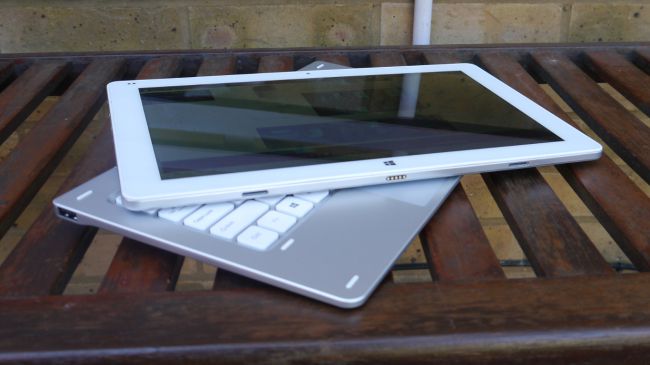 Cube, a newcomer to TechRadar Pro, unveiled the iWork 1X at the beginning of the year. This 2-in-1 convertible laptop was the first one to come with the Intel Atom X5-Z8350 processor, a slightly improved version of the Z8300, one of the most popular CPUs of 2016.
This device fulfils the three aforementioned requirements for running Windows 10 decently and does so with a price tag of just over £150 (around $190), making it one of the cheapest Windows products to pull off this feat.
Online Chinese retailer, Gearbest, sent us the sample and sells the Cube iWork 1X for only £151 (around $190) – although a flash sale could bring it to as little as £113 (around $145). Note that, while this price includes delivery, it is exclusive of any taxes that may be levied by HMRC or the courier companies on behalf of the vendor. Want to buy tech from online Chinese retailers? Read this first.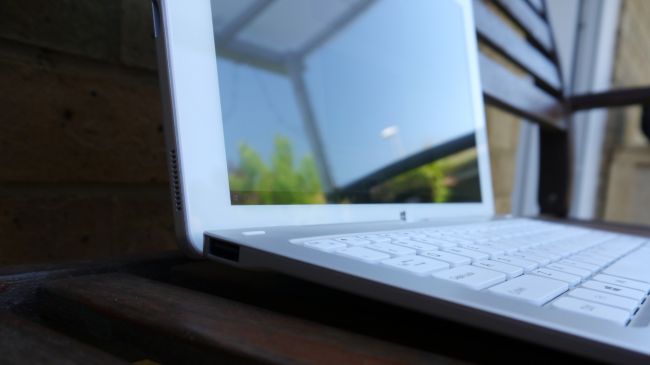 Design
The Cube iWork 1X is essentially a Windows tablet with an optional keyboard at a price point that's similar to what netbooks were selling for. The form factor is a well-known one: a slab of glass and metal with a thick white bezel (up to 21mm) around the display, plus some inscription in Chinese on the back together with the AllDoCube logo.
At 298 x 180 x 9mm and weighing 762g, it is fairly chunky for an 11.6-inch tablet. The good news, though, is you get plenty of ports including a microSD card slot, a micro-HDMI connector, along with a microUSB that doubles as the power connector, plus there's a full-size USB 3.0 port.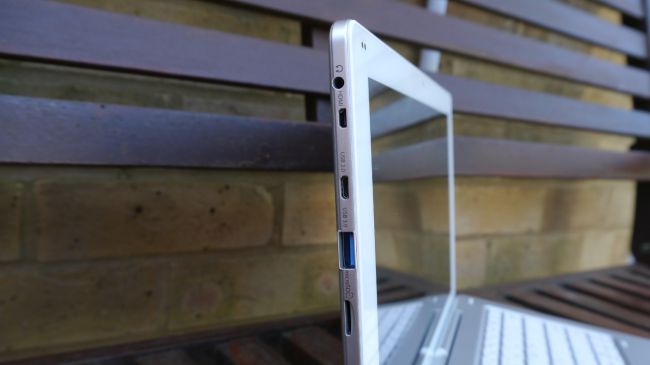 A rocker volume button, a power button and a pair of tiny speaker grills can be found on the sides of the iWork 1X. Other than the Windows button on the front, there's a webcam (2-megapixel) plus a status light that comes to life when charging the device.
The optional keyboard is mostly made from plastic and magnetically attaches to the tablet; the latter connects via a 5-pin POGO port. There are two USB 2.0 ports, one on each side of the device, and unlike some rivals, it doesn't come with an integrated battery.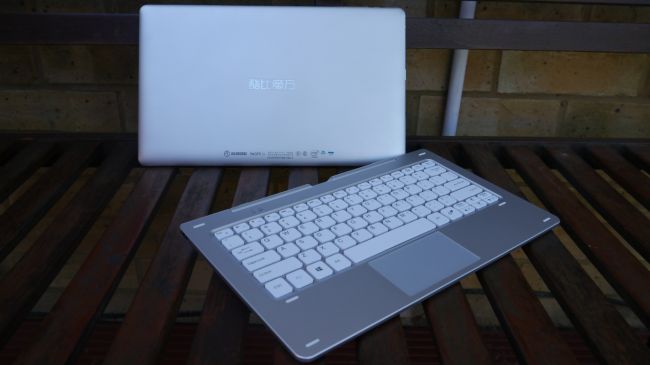 Specifications
Don't expect any miracles from the iWork 1X – the main selling point of this Cube product is its value for money, not its use of top-end components. As mentioned earlier, it runs with an Intel Atom X5-Z8350, a quad-core 14nm processor that has a base/burst frequency of 1.44GHz/1.92GHz, with 2MB L2 cache and integrated Intel HD Graphics 400.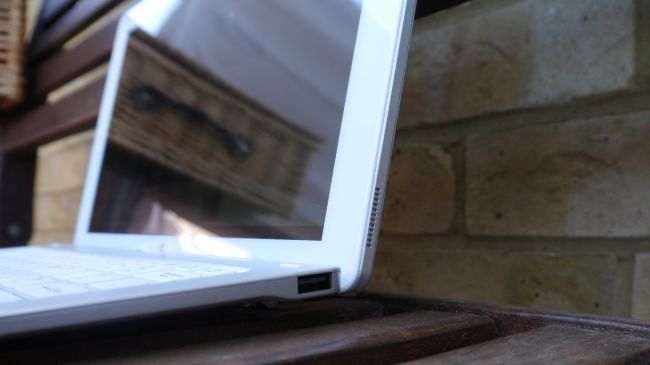 Also part of the package is 4GB RAM clocked at 1600MHz, along with 64GB eMMC storage. The IPS display is an 11.6-inch model with a Full HD resolution, a rarity at this price point. An 8,500mAh/8.2Whr battery and Windows 10 Home power the iWork 1X tablet.
The charger is a 10W (5V, 2A) model which means that you should be able to use your bog standard power bank/laptop charger to power it.
In use
The one thing that became apparent quite quickly was the sheer ease with which the tablet can be separated from the keyboard. That means you will need to take extra care in order to avoid a potential accident which could send either section of the device crashing to the floor.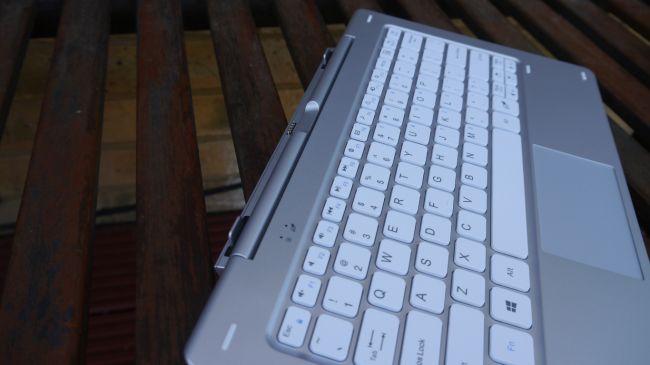 Unsurprisingly, the keyboard and the touchpad are both uninspiring. The latter is smaller than a credit card (83 x 47mm) which means that it is cramped and not ideal for precise manipulation of the cursor.
The keyboard has six rows and while the keys are springy with good feedback and decent travel, the function keys are too small for our tastes, and the decision to position the cursor keys very close to other keys (page up and page down) could badly backfire.
The Cube iWork runs both Windows 10 (and as is the case with so many Chinese vendors, the OS comes already registered) and Android 5.1. While you will be able to update the Windows 10 operating system, it is unlikely, based on past experience, that the Android OS will ever get new firmware.
You can select either OS at startup or swap between them by clicking on the appropriate icon on your Windows or Android desktop.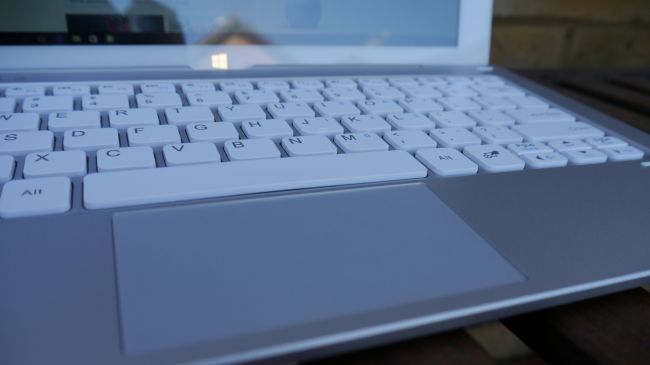 On the performance front, you shouldn't expect any miracles as we've already noted. The Z8350 that powers this tablet, while better than its predecessor CPU, is still only good enough for light tasks. It posted 66 points on Cinebench's CPU benchmark, and just under 2,000 points on GeekBench Multi-core, less than half what the Celeron N3450 on the Onda Xiaoma 31 delivered.
The storage subsystem suffered from the fact that it uses eMMC chips, a clear cost-cutting move. It managed 149MBps and 93MBps on CrystalDiskMark read/write tests respectively, and a slightly more respectable 166/107MBps (again, read/write speeds) when benchmarked with Atto.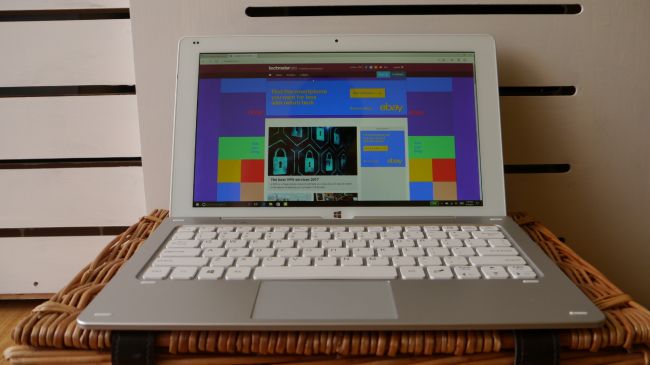 We were equally disappointed by the battery life which struggled to go beyond 4.5 hours (270 minutes) in our standard test which consists of running a count-up YouTube video until the device shuts down. Other than disabling timed system/display sleep modes and putting brightness on 100%, we do not tinker with other variables.
The screen is relatively bright and in line with what we would expect from an IPS display at this price point. Note that since it is a touch display, it is pretty reflective which may or may not frustrate you.
One last thing to note is the fact that the hinge which supports the tablet protrudes downwards and, when you use this device as a notebook in your lap, this presses against your legs in an uncomfortable manner.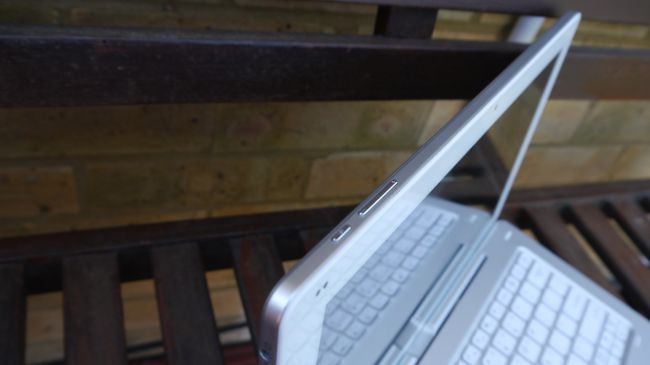 Final verdict
We've got mixed feelings about the Cube iWork 1X 2-in-1 Tablet PC. Sure, it is affordable but there are a number of things that could be improved like the battery life and the fact that the Android OS will not be upgraded. Some might also criticise the lack of rear camera – an element that most rivals have included – as well as the absence of a dedicated stylus option.
Overall though, it remains a likable tablet, and one that doesn't have a lot of competitors at the moment. The only two that come to mind are the Teclast TBook 10S which can be purchased for about £120 (around $150) and has the same set of features bar a smaller 10.1-inch display, and there's also Cube's own iWork 10.
Others, like the Jumper EZPad 4S Pro or the Onda oBook 11 Plus are either more expensive or offer an inferior feature set. If you want to buy in the UK, the Asus Transformer T100HA is the nearest alternative but is far more expensive and sports an HD display.
(techradar.com, https://goo.gl/EfoWo5)
Comments
comments