Samsung is reportedly working on a brand new Galaxy Tab S4 tablet. With rumors starting to swirl we want to outline some reasons why you should, and maybe shouldn't, wait for the device to arrive.
If you are currently looking for a new tablet, you've got a ton of options. Samsung's Galaxy Tab S3 is still a solid choice and it's only getting better. If everything goes according to plan, the Galaxy Tab S3 should get upgraded to Android 8.0 Oreo sometime this month.
Apple's also got a solid line of slates available including an upgraded 9.7-inch iPad it announced at its spring event in March. The company is also rumored to have a new iPad Pro 2018 up its sleeve. Both should be on your radar.
The Galaxy Tab S3 and Apple's iPad are worth considering, but you should also take note of Samsung's rumored Galaxy Tab S4, a brand new tablet that's expected to make its debut later this year.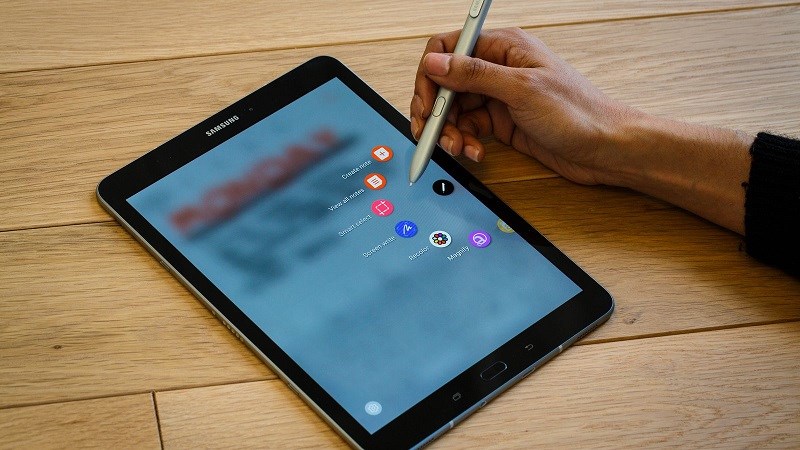 Samsung Galaxy Tab S4 Rumors
The Galaxy Tab S4 missed Samsung's Unpacked event at Mobile World Congress in February, but a release looks like it's in the cards for 2018.
Samsung Galaxy Tab S4 rumors continue to trickle out and the device looks like it could be a worthy successor to the Galaxy Tab S3.
A recent benchmark listing outlines potential specs which include a Snapdragon processor, tons of RAM and internal storage, Android Oreo, and a sizable display that could bring the company's Infinity Display to the Galaxy Tab line.
While some of you might not want (or be able) to hold out for Samsung's next-generation tablet, others might want to wait for more rumors or the device itself to arrive.
The Galaxy Tab S4 probably won't launch in May or June, but rumors point to a launch around the time Samsung announces the Galaxy Note 9. The device recently got certified in Russia, a sign the device is moving closer to its official release.
While some of you might want to wait for Samsung's announcements, others might want to turn to another device in 2018.
Wait If You Want the Best Software Support
If you plan on keeping your next tablet for awhile, it might be a good idea to wait for the Samsung Galaxy Tab S4 to arrive. Here's why.
While you might be tempted to go with a cheaper Galaxy tablet from 2017 or 2016, note that these devices will see their software support end a lot quicker than the Galaxy Tab S4.
Samsung typically keeps its flagships upgraded with major software updates for two years. The company tends to extend bug fixes and security patches for a little bit longer, but software support will eventually stop and you'll be on your own.
The company has also kept some software features exclusive to newer devices due to the hardware limitations on older phones and tablets.
We fully expect the Samsung Galaxy Tab S4 to come with a full suite of Android Oreo and Samsung Experience features.
If we're lucky, the company will outfit it with Android 8.1 Oreo (rumored to be on board the Galaxy Note 9) and Project Treble. Project Treble will ensure the tablet gets fast software updates.
If you want the absolute best software experience from a Samsung Galaxy tablet in 2018 and the foreseeable future, you might want to think about holding out for the Galaxy Tab S4.
Wait If You Want High-Powered Specs
If you're in the hunt for a high-performance tablet you should think about waiting for the Samsung Galaxy Tab S4.
Nothing is confirmed, but you can count on the Galaxy Tab S4 having some exciting hardware upgrades to areas that matter the most.
The latest Galaxy Tab S4 benchmarks point to a Qualcomm Snapdragon 835 processor, a newer generation chip. The Galaxy Tab S3 features Qualcomm's Snapdragon 820 processor.
The new processor should make for a more efficient tablet provide some performance upgrades including longer battery life and better gaming.
On top of that, the device is rumored to have a 12MP rear camera, 8MP front-facing camera, 4GB of RAM, and 64GB of internal storage space for your games and other files. Like the Galaxy Tab S3, we expect the Galaxy Tab S4 to come with a microSD card slot for expanded storage.
The Galaxy Tab S3 is still a very capable tablet, but if you think you might need a little more horsepower from your next device, you might want to hold out and see what Samsung's got planned.
Wait for a New Display
Do you want a beautiful edge-to-edge, high resolution display on your next tablet? The Galaxy Tab S4 might have what you're looking for.
Again, nothing is confirmed, but it looks like Samsung's next flagship Galaxy Tab will have a 10.5-inch display with a 16:10 aspect ratio.
As for the resolution, rumors point to a 2560×1600 pixels which would be suitable for anyone looking to play games, do work, or consume content on their slate.
Some believe Samsung could use an Infinity Display design on the Galaxy Tab S4 which would eliminate the bezels on the side of the display for an all-screen experience.
Apple is reportedly considering a similar feature on its rumored iPad Pro 2018.
Wait for an S Pen with Upgrades
Samsung's Galaxy Tab S3 comes with the company's S Pen stylus, an accessory that was initially limited to the Galaxy Note series. Lots of people love using the S Pen on their tablet and many are hoping for S Pen support on the Galaxy Tab S4.
At this point, barring a huge change in direction (and remember, Apple's newest 9.7-inch iPad, one of the Galaxy Tab's main competitors, comes with Apple Pencil support), we'd expect Samsung to bundle the S Pen stylus with the Galaxy Tab S4. There's also a chance the S Pen comes with some upgrades.
Earlier this year, in response to a question about the next Galaxy Note, BJ Kang from Samsung Electronics' Global Product Planning Group stated that the team is "already considering how to approach the development of the next Note by evaluating the latest model and looking for ways to improve upon signature features like the S Pen."
Rumors point to a brand new S Pen experience coming with the Galaxy Note 9 so there's a chance Samsung brings similar upgrades to the Galaxy Tab lineup with the Galaxy Tab S4.
Wait for Even Better Deals
Samsung's top-of-the-line tablets are still fairly expensive, but we expect prices to dip once the Galaxy Tab S4 launches later this year.
You can find deals on devices like the Galaxy Tab S3, but the biggest price cuts will likely come once retailers start clearing out inventory to make room for the new model.
With the Galaxy Tab S4 launch date probably a few months away, you might have to wait a little bit longer to get a killer deal.
The Galaxy Tab S4 is reportedly arriving around the same time Apple's expected to announce its new iPad Pro so you won't just see deals on Samsung's lineup of tablets.
You can also expect to see iPad Pro and iPad deals emerge as we push toward September and the start of the holiday shopping season.
Don't Wait If You Can't Wait Until IFA 2018
So those are a few reasons to wait for Samsung and its rumored Galaxy Tab S4. Here are a few reasons why you might want to skip the launch and pickup something else.
First and foremost, the Galaxy Tab S4 launch probably isn't happening this month. In fact, you'll probably have to wade through a few more weeks of rumors and speculation before Samsung takes the stage to show it off.
A launch date isn't set in stone, but all eyes are on IFA 2018, a trade show where Samsung's launched a great many devices.
IFA 2018 takes place from Aug 31, 2018 to Sep 5, 2018 in Berlin, Germany and we'd expect the Galaxy Tab S4 to emerge in and around August 31st with a release in September.
So if you don't have time to sit through a few more months of rumors, or your budget won't allow you to wait much longer, you should start looking elsewhere.
Don't Wait If You Find Something You Love
If you find something you really like between now and late August, don't let Samsung's rumored Galaxy Tab S4 hold you back.
Again, there are plenty of exciting tablets on the market right now including the Galaxy Tab S3 which, again, will get upgraded with Android Oreo and Samsung's Experience 9.0 UI. Samsung also sells a Galaxy Book, another device that's worth a look.
If you aren't married to buying a Samsung tablet, you should take a look at Apple's iPad line. Apple's current iPad Pro and iPad models are solid Galaxy Tab alternatives and they're getting upgraded iOS 11.4and iOS 12 later this year.
You should also make sure to look at the best tablet alternatives running Windows 10 which includes the Surface, HP Spectre X2, and the Lenovo Miix 630 2-in-1
Be sure to go hands-on with these tablets before you settle on waiting for the Galaxy Tab S4. If you find a tablet that suits your needs at a price you like, don't be afraid to make a move.
Don't Wait If You Don't Want to Spend Top Dollar
If you don't want to spend a ton of money on your next tablet don't bother waiting for the Samsung Galaxy Tab S4.
While it would be great to see the Galaxy Tab S4 come with an affordable price point, we expect it to come with a price that falls in line with the Galaxy Tab S3's $599 starting price.
And if Samsung does decide to overhaul the design with an edge-to-edge Infinity Display, we wouldn't be surprised if it came in slightly higher than that.
If you're looking for a budget tablet, you'll want to look elsewhere. This device will be a flagship and flagships require a significant investment.
(gottabemobile.com, http://bit.ly/2KqLhtN)
Comments
comments