10. NISSAN VERSA
MSRP: $12,815
EPA Mileage: 27/36 (CTY / HWY)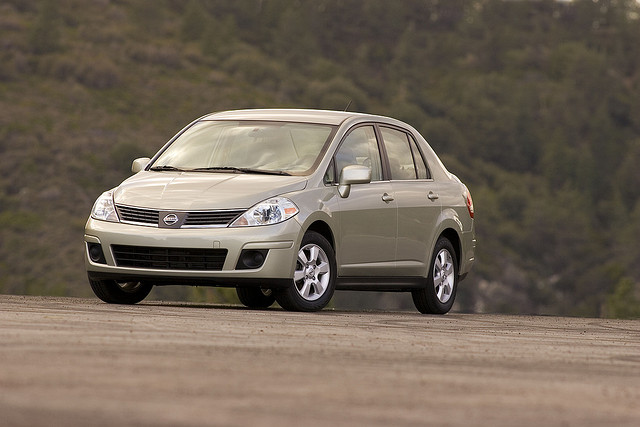 Built by Nissan to be an inexpensive car, the Nissan Versa succeeds in every way. The Nissan Versa is a very bare bones vehicle, having low cost plastic interior panels, and a small 1.6 liter 109 horsepower engine. The Nissan Versa won't be winning any races, but that's not the point of this little sedan. At a base cost of $12,815, the Nissan Versa is a very affordable car, perfect for a student who just needs transportation from point A to point B. The Nissan Versa gets very reasonable gas mileage as well, with 27 mpg in the city and 36 mpg on the highway. A few standard features include Bluetooth connectivity and steering wheel radio controls.
9. HYUNDAI ACCENT
MSRP: $14,745
EPA Mileage: 27/38 (CTY / HWY)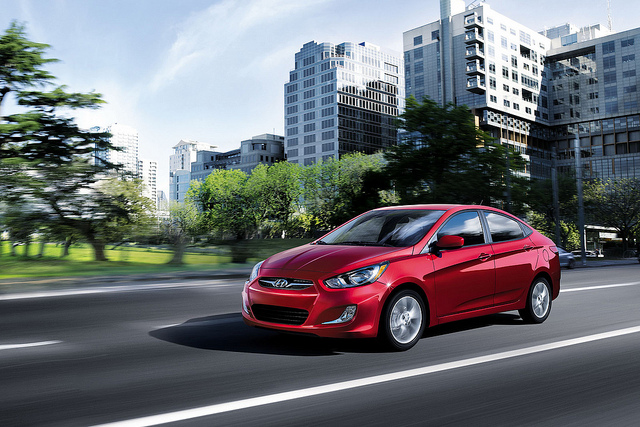 The Hyundai Accent stresses strong value and ample interior space, with predictable performance that doesn't vary much from it's competition. With a 1.6 liter 138 horsepower engine, the Hyundai Accent will get you where you need to go, just don't expect to get there fast. The Accent accelerates, steers, and handles adequately, and the engine sips gas with a 27 mpg city / 38 mpg highway rating. The interior is nothing fancy, as to be expected with such an economically affordable car. The layout is simple and clean, with low gloss plastic and streamlined dash controls. The Hyundai Accent has a respectable amount of cargo space for a vehicle of its size, and even more if the seats are folded down.
8. SMART FORTWO
MSRP : $14,020
EPA Mileage 35/40 ( CTY / HWY)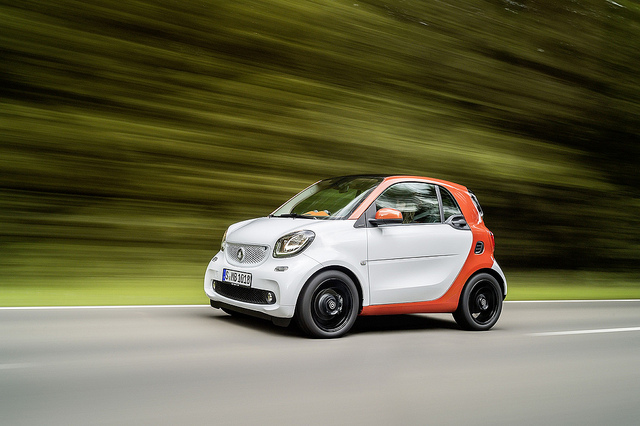 The Smart ForTwo was built specifically for city driving, and that's where it should stay. Driving it on the highway can be a harrowing experience. With a rear mounted 89 horsepower turbocharged three cylinder engine, the Smart ForTwo isn't going anywhere quickly, but for an around town vehicle it's efficient. Trunk space is limited, but there is plenty of room for the driver and passenger. The handling of the Smart ForTwo is anything but sporty, as it's suspension isn't built for any kind of stress. The small size of the Smart ForTwo makes parking in tight spots no problem, which is a bonus for city drivers. With a price tag of $14,020 and a EPA rated fuel mileage of 35 city and 40 highway, the Smart ForTwo is a great car for any student.
7. HONDA FIT
MSRP: $16,610
EPA Mileage: 29/37 (CTY / HWY)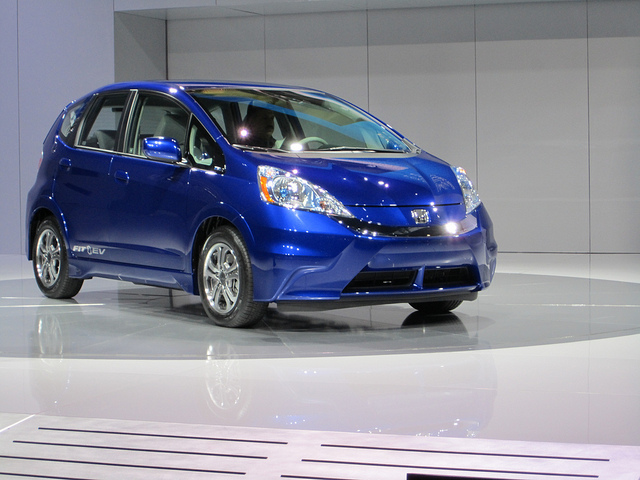 The Honda Fit proves that a small, affordable car can still be fun to drive. Successfully mixing economy with versatility, the Honda Fit is a joy to drive. The 1.5 liter four-cylinder engine puts out 130 horsepower, and the six-speed manual transmission shifts smoothly through the gears. The Honda Fit is very responsive when you want it to go quick, although it is limited by its low horsepower. Rear seat legroom is spacious, and when the rear seats are folded down the cargo capacity is a respective 53 cubic feet. With a MSRP of $16,610, the Honda Fit is a little pricier than others on the list, but it's well worth it in the end.
6. KIA RIO
MSRP: $14,990
EPA Mileage: 27/38 (CTY / HWY)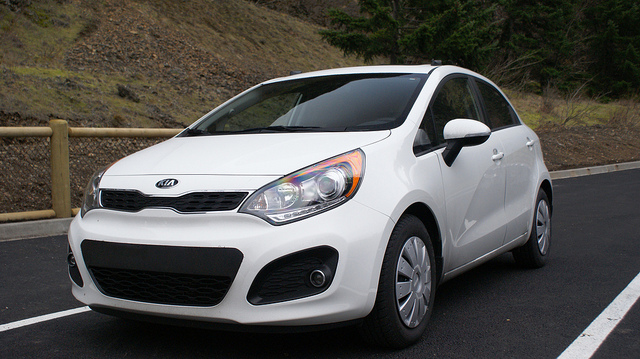 The Kia Rio is a stylish, well-equipped, and fuel efficient sedan. With a 138 horsepower 1.6 liter four-cylinder engine under the hood, the Kia Rio isn't going anywhere fast, but that's not the vehicles purpose. The Kia Rio comes standard with air conditioning, a six-way manual driver's seat, satellite radio (subscription required), USB and auxiliary audio jacks. Additionally it offers steering wheel mounted controls, and keyless entry. Steering and handling are average for the Kia Rio, at times feeling a little floaty when at higher speeds. The Kia Rio gets great fuel mileage with 27 city and 38 highway, and the efficiency-minded Active Eco System helps to use as little fuel as possible.
5. TOYOTA YARIS
MSRP: $15,680
EPA Mileage: 30/36 (CTY / HWY)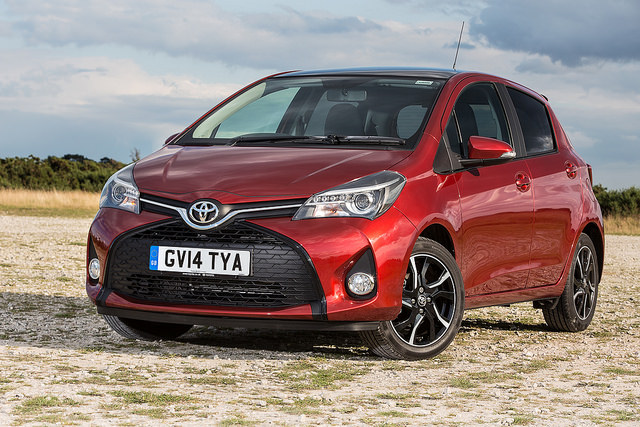 When first introduced in 2012, Toyota advertised the Toyota Yaris with the tagline "It's a car!" No truer statement can be made, the Toyota Yaris certainly is a car. Designed with economy in mind, the Toyota Yaris comes in at a base price of $15,680. Coming standard with the Toyota Yaris is a 6.1 inch touch screen for Toyota's app-based infotainment system, six speakers, HD radio, a USB port with iPod control, and Bluetooth phone, voice recognition and music streaming capability. The Toyota Yaris's little four-cylinder engine produces 106 horsepower, which isn't much in the way of power, but allows the Yaris to pull off an EPA estimated 30 mpg city / 36 mpg highway.
4. KIA SOUL
MSRP: $16,015
EPA Mileage: 23/31 (CTY / HWY)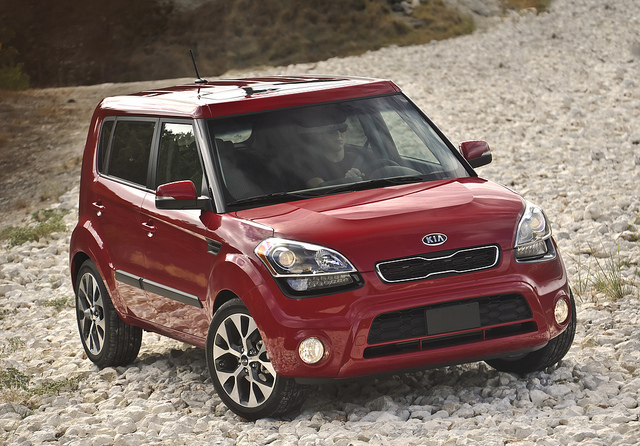 With an eye catching exterior, the Kia Soul has a solid build quality and smart interior. Under the hood is a 16-valve inline 4-cylinder than makes 130 horsepower. While it's not the quickest car on the block, it's no slouch either. The suspension is surprisingly responsive when cornering, doing a great job of reducing body roll and damping bumps. The Kia Soul was rated by the EPA as having 23 mpg city and 31 mpg highway, a little lower than other vehicles in the same class. Standard features of the Kia Soul include an MP3 compatible radio, satellite radio (subscription required), Bluetooth connectivity, USB and auxiliary audio jacks, six speakers and steering wheel mounted controls.
3.TOYOTA COROLLA
MSRP: $17,785
EPA mileage: 29/37 (CTY / HWY)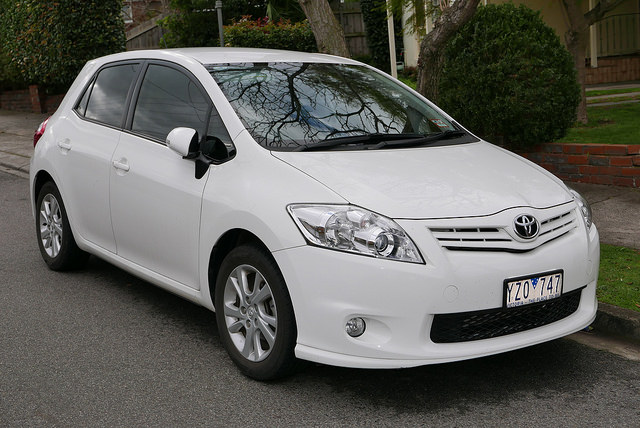 The Toyota Corolla has a long standing reputation for reliability, one that it has certainly earned. With an impressive EPA fuel mileage rating of 29 mpg city and 37 mpg highway, the Toyota Corolla makes use of every drop of gas you give it. The engine is a 4-cylinder that produces 132 horsepower, and is very responsive when needed. Tight suspension gives a smooth ride, and the steering doesn't feel sluggish like many cars in its class. Standard features include a 6.1 inch touchscreen multimedia infotainment center, MP3/WMA capability, 6 speakers, auxiliary audio jack, USB 2.0 port with iPod connectivity and control, hands-free phone capability, phonebook access and music streaming via Bluetooth technology, and advanced voice recognition.
2. HYUNDAI ELANTRA
MSRP: $18,075
EPA Mileage: 24/35 (CTY / HWY)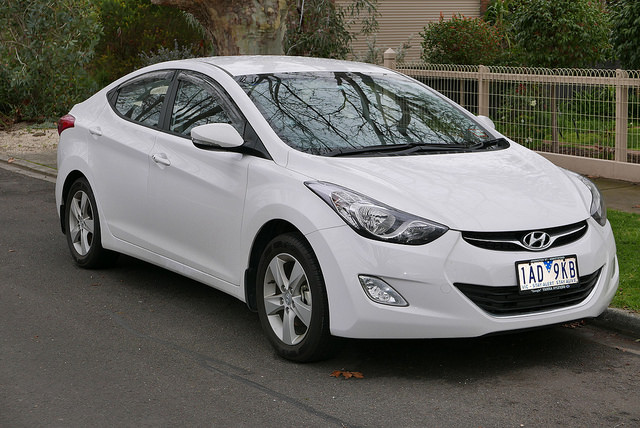 The Hyundai Elantra is a sleek vehicle with plenty of great features, although a bit pricey at $18,075. Powered by a 145 horsepower 1.8 liter four-cylinder engine, the Hyundai Elantra has moderate pep in its step when cruising down the road. With an EPA estimated 24 mpg city and 35 mpg highway, the Hyundai Elantra ranks a little lower on the fuel economy scale compared to other vehicles in its class. The radio is MP3 compatible, with iPod/USB input jacks and 6 speakers. The suspension is well built, offering a nice smooth ride with little to no body float. The Hyundai Elantra has a spacious interior with moderate cargo space, perfect for any road trips.
1. KIA FORTE
MSRP: $16,815
EPA Mileage: 21/29 (CTY / HWY)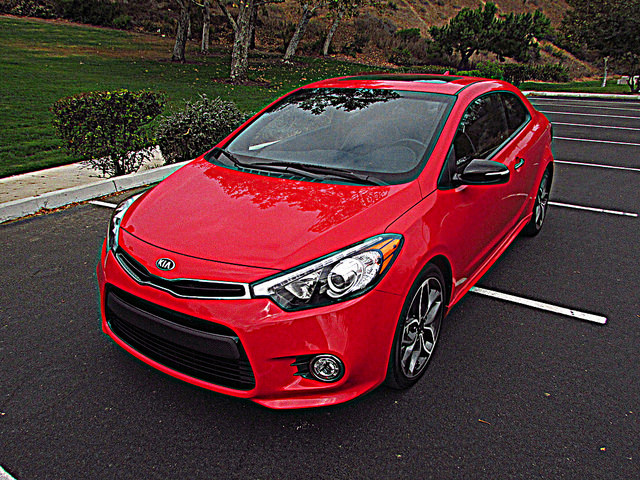 With the Kia Forte affordability and a 10-year powertrain warranty get your through the door, but ample space, quality styling, and a well designed interior will keep your attention. Equipped with a 148 horsepower 4-cylinder engine, the Kia Forte has an EPA estimated 21 mpg city and 29 mpg highway. While not the best fuel economy among other vehicles in its class, those numbers are respectable. For a small car the Kia Forte is surprisingly quick, getting from zero to sixty in just under 7 seconds. Standard features include an MP3 compatible radio with SIRIUS satellite connectivity, USB/auxiliary audio jacks, 4 speakers, steering wheel mounted audio controls, and Bluetooth wireless technology.
(carophile.com)
Comments
comments