Is the Ford Fiesta ST still the affordable hot hatch to beat? This new one is here to prove that it is – but first it has to see off Volkswagen's latest Polo GTI…
The contenders
*** Note : £1 = $1.29 (correct at time of post)
Ford Fiesta ST 1.5T ST-3 Performance Pack 3dr
List price £22,345
Target price £21,242
The previous ST was one of the best hot hatches ever, so this new one has a lot to live up to.
Volkswagen Polo GTI 2.0 TSI GTI+
List price £23,020
Target price £21,358
The Polo GTI has the opposite problem: previous versions have never quite hit the spot.
"Some are born great, some achieve greatness, and others have greatness thrust upon them." Bill Shakespeare wrote that for Twelfth Night, and there's little doubt about which camp the outgoing Ford Fiesta ST belongs in.
It was born great, and such was the depth of its dynamic sparkle that the designers of this new Fiesta ST must've been riddled with "how do on earth do we follow that?" self-doubt. Thankfully, they persevered, and among the new ST's highlights is a potent, 197bhp 1.5-litre three-cylinder turbocharged petrol engine and, for the first time, a limited-slip differential (LSD). It's part of a new £850 Performance Pack option (tested here) and aims to improve traction out of corners.
What about the Fiesta's rival, the Volkswagen Polo GTI? It's fair to say it has never captured hot hatch enthusiasts' imaginations to the same extent, but this is also a new model that resets the bar. Power is identical to that of the ST from a 2.0-litre four-cylinder motor, and unlike the manual-only Fiesta, it comes as standard with a seven-speed dual-clutch automatic gearbox. In range-topping GTI+ trim, you get a whole heap of extra equipment, to match the top-spec ST-3 Fiesta.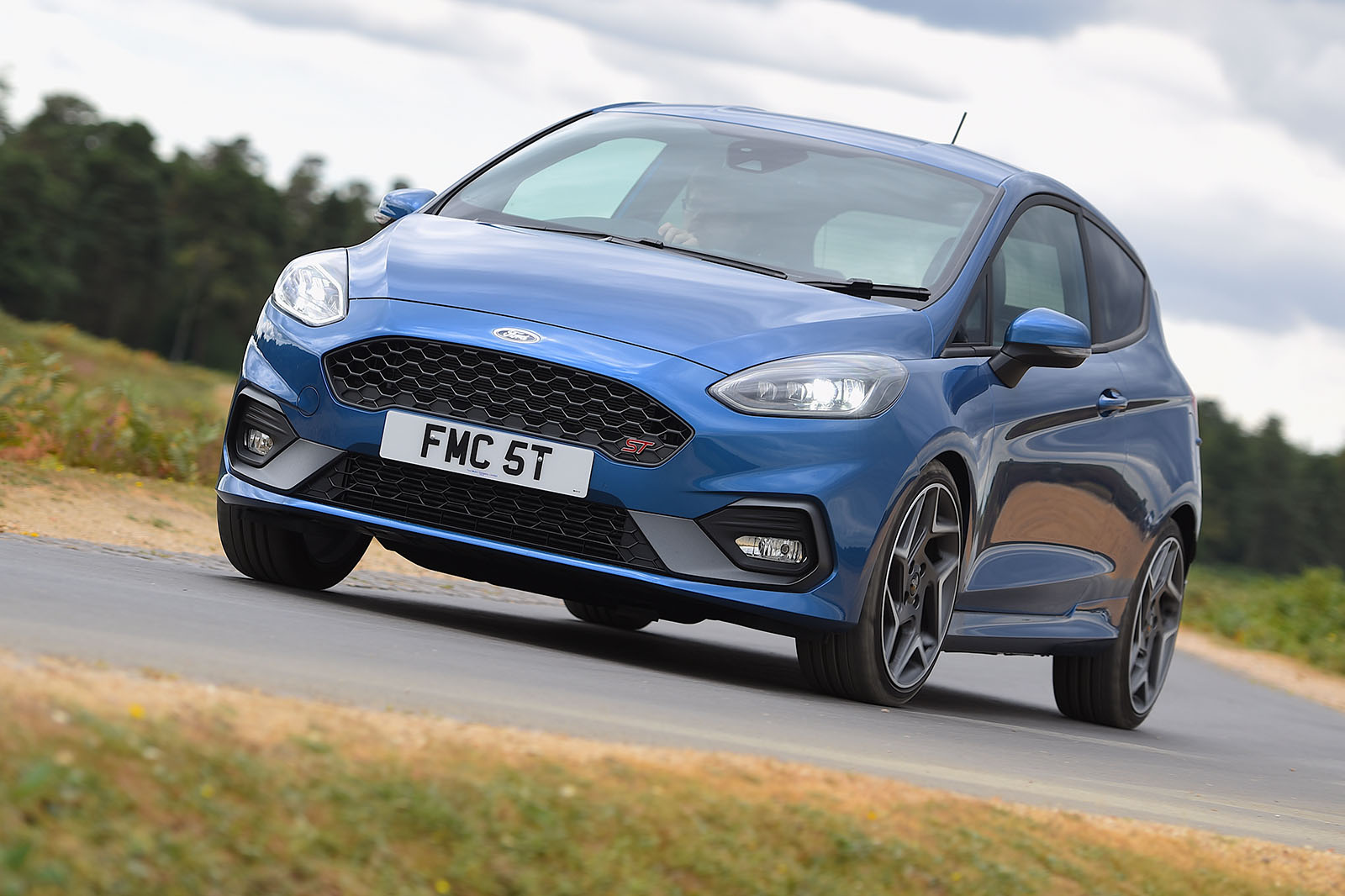 Driving – Performance, ride, handling, refinement
Both cars come with launch control systems designed to ping you off the line cleanly. The Fiesta's works effectively; once it's activated, you simply floor the accelerator, release the clutch pedal and you're off. Being an auto, the Polo's is instigated by releasing the brake pedal, but it then bogs down due to abrupt intervention by its traction control.
Despite this, the Polo wins the 0-60mph dash. Having seven gears to the Fiesta's six keeps its engine boiling at peak power for longer, so it pulls out a 0.4sec lead. That's halved when accelerating through the gears from 30-70mph, though, and the Fiesta pulls more vigorously from low revs.
Beyond the "mine's quicker than yours" pub bragging rights, the Fiesta is the more bewitching car. Even when you're not ragging it, its accelerator response is crisper and its fruity three-cylinder exhaust burble is more rousing than the Polo's smooth yet colourless buzz.
Meanwhile, the Fiesta's slick, stubby gearlever is a palpable joy to use. The Polo's seamless shifts are impressive, but even executing them manually, using plastic paddles behind the steering wheel, is comparatively joyless.
The Ford-sponsored fun continues when you get the Fiesta onto a snaking country road, where it's tauter and more agile than the Polo. Although the Fiesta's steering is a little nervous just off the dead-ahead, with forced self-centring and a tendency to follow cambers in the road, its weighting becomes more predictable as you wind on more lock, and it's far more alert than the Polo's slower steering. There's some initial body lean in both, after which the Fiesta finds greater balance, grip and composure than the Polo can muster. It's also more playful at the limits of adhesion.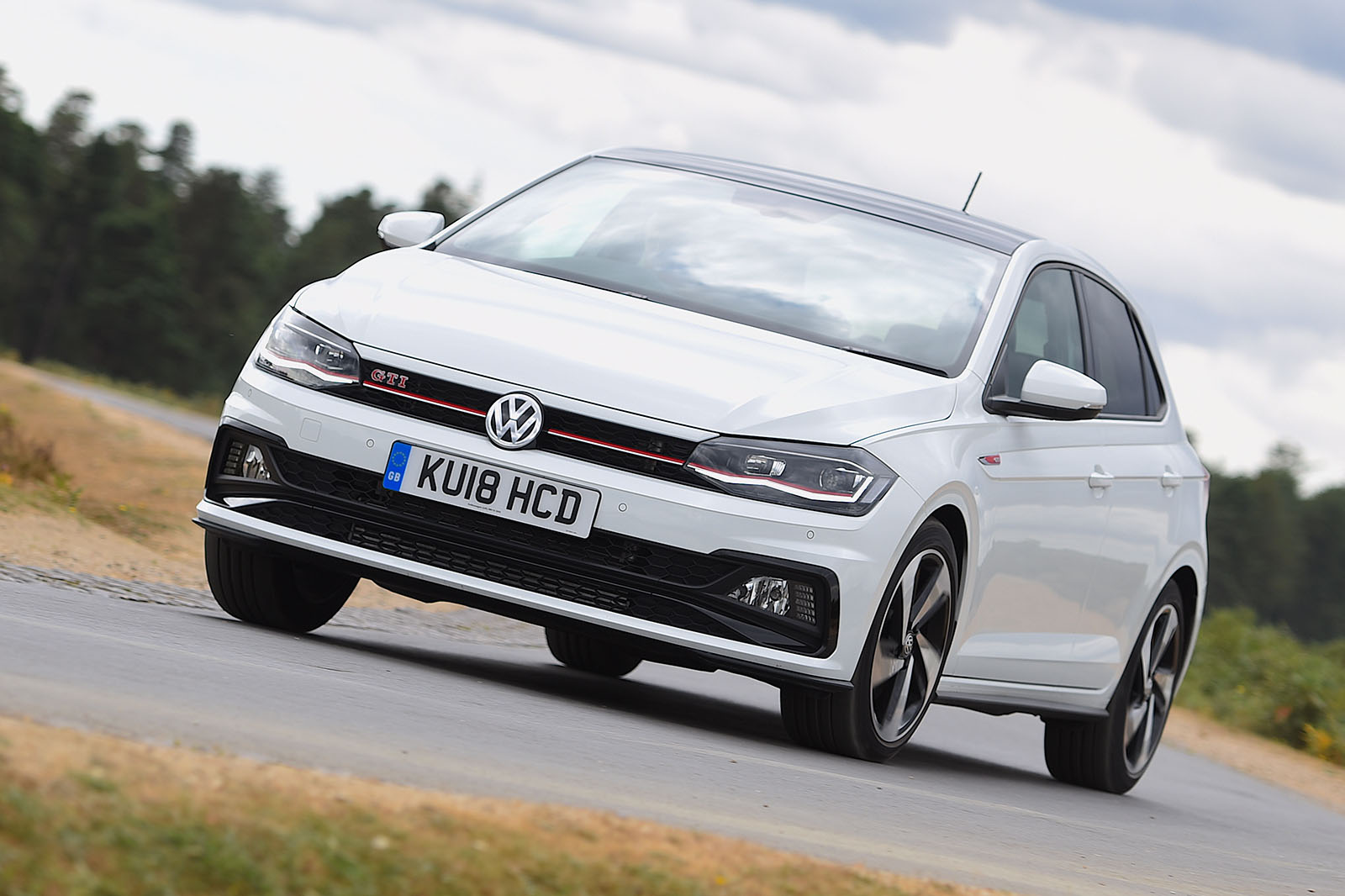 The traction generated by the Fiesta's LSD out of corners is impressive, too. You can squeeze the accelerator earlier and harder than you can in the Polo, with its front tyres seeming to grow talons that dig into the asphalt and drag you around.
In an attempt to replicate the Fiesta's LSD, the Polo uses clever electronics to limit wheel-spin, but it isn't as effective; its front tyres scrabble for grip earlier and run wide of your chosen line sooner. As a result, its quickest lap time at our test track was one second behind the Fiesta's best of 44.8sec.
However, the Polo is more comfortable. It comes with adaptive dampers as standard, and they deliver a pretty soft ride in Comfort mode. The Fiesta's conventional dampers give a firmer, busier ride that never really abates, even on motorways. Some will find this wearing.
Behind the wheel – Driving position, visibility, build quality
Standard Fiestas and Polos offer highly adjustable driving positions, and these sporty models build on that. Their heavily bolstered seats are even more supportive in corners and include height and lumbar adjustment as standard. Meanwhile, their steering wheels have plenty of adjustment for reach and height.
The Fiesta's analogue dials couldn't be clearer, augmented by a 4.2in digital information screen. In GTI+ trim, the Polo goes one better, though, with fully digital dials on a configurable 10.3in screen.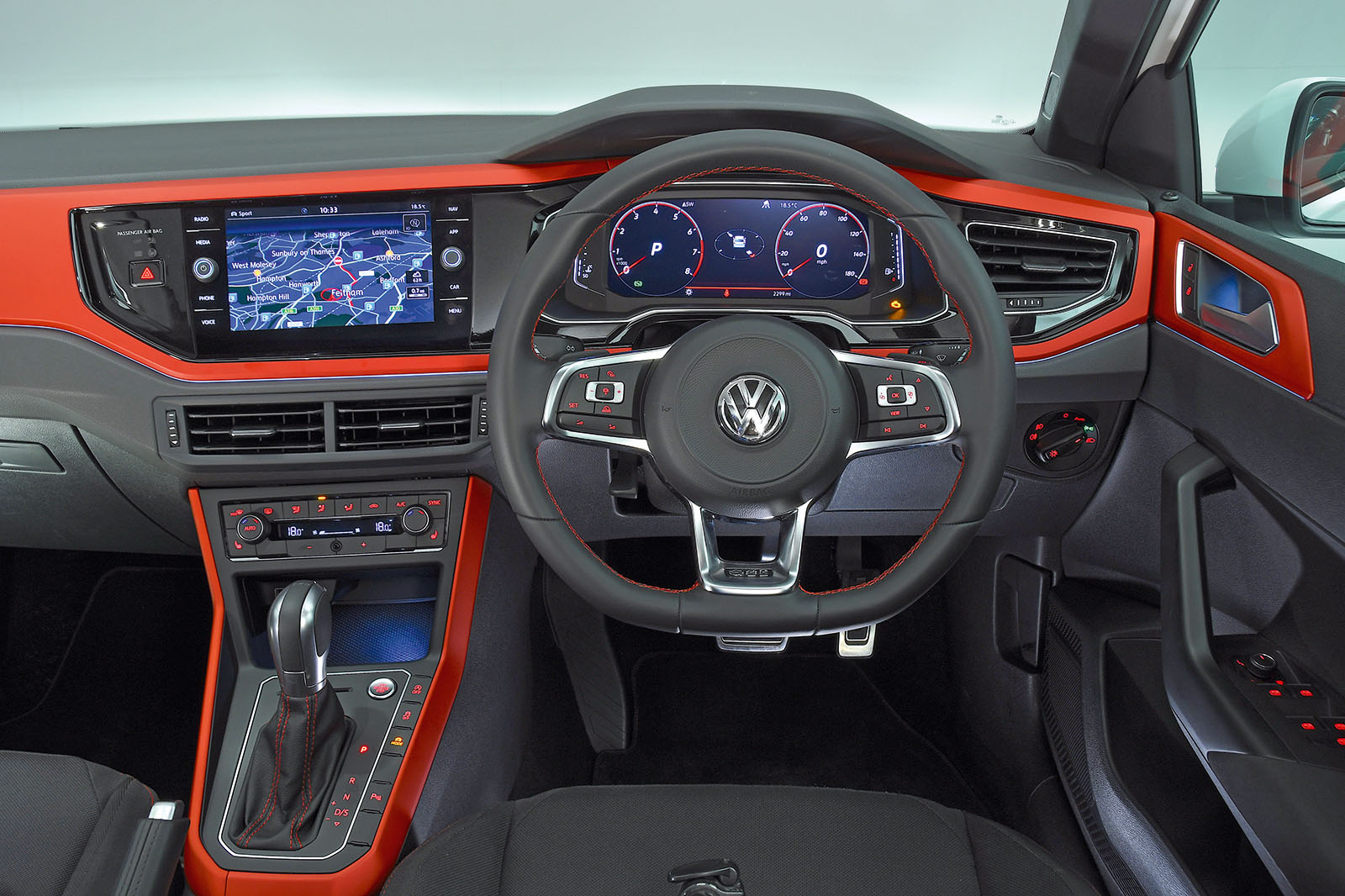 Both cars feature soft-touch dashboards with harder plastics elsewhere, although the Polo's dash looks less shiny and feels that little bit classier than the Fiesta's. That said, the Polo's matt red dash inserts look fairly cheap and unfinished, although the Fiesta's fake carbonfibre isn't much better.
Infotainment
Ford Fiesta ST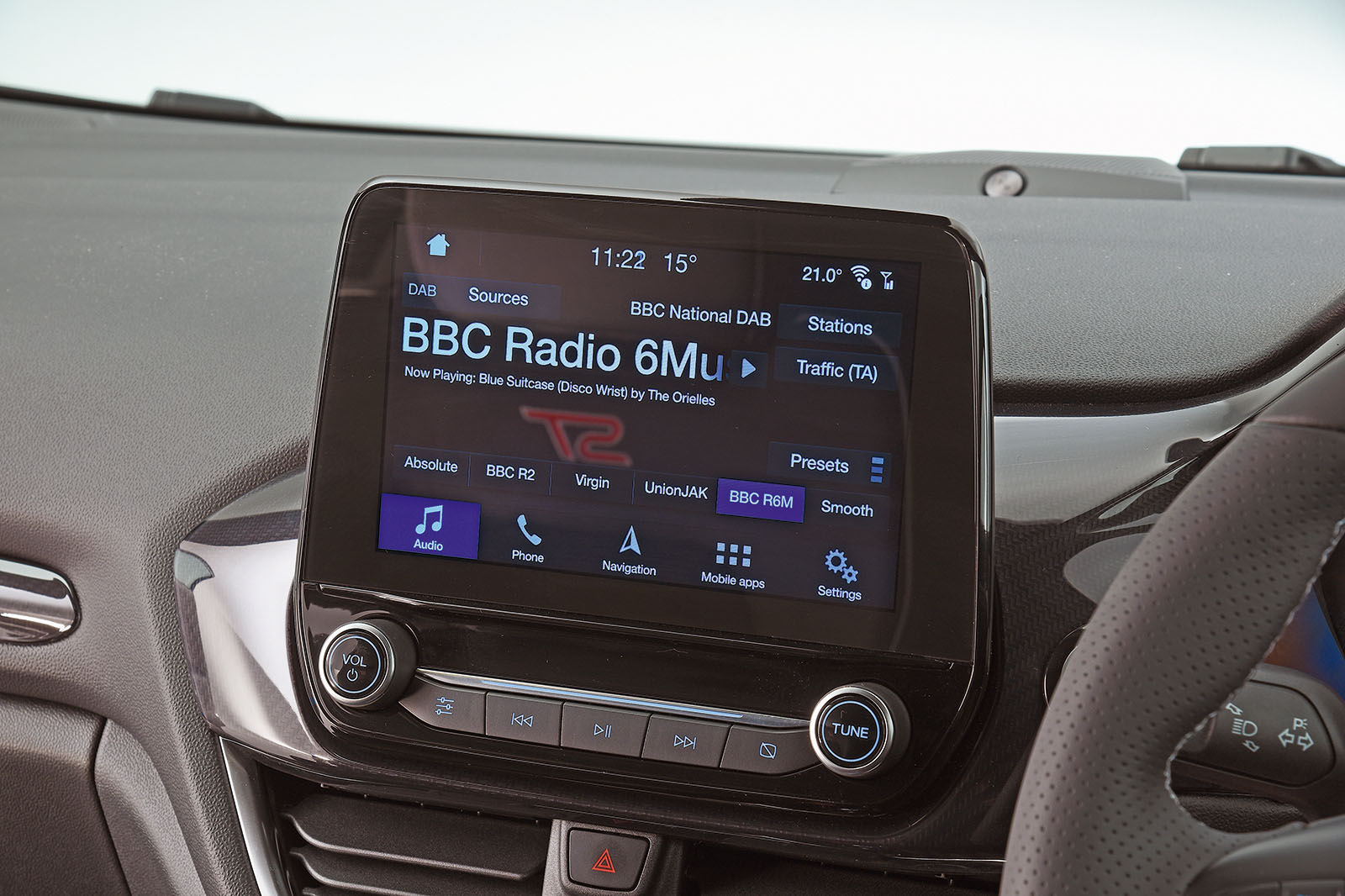 Prefer built-in sat-nav? It comes standard on ST-3 trim – unlike the Polo. You also get Apple CarPlay and Android Auto smartphone mirroring for using your phone's apps via the screen. It's an 8.0in touchscreen that's well positioned, high up on the dashboard, although the graphics aren't as crisp as the Polo's and some menus are less intuitive to navigate. A 10-speaker B&O stereo is a £350 option; it sounds decent but lacks mid-range definition.
Volkswagen Polo GTI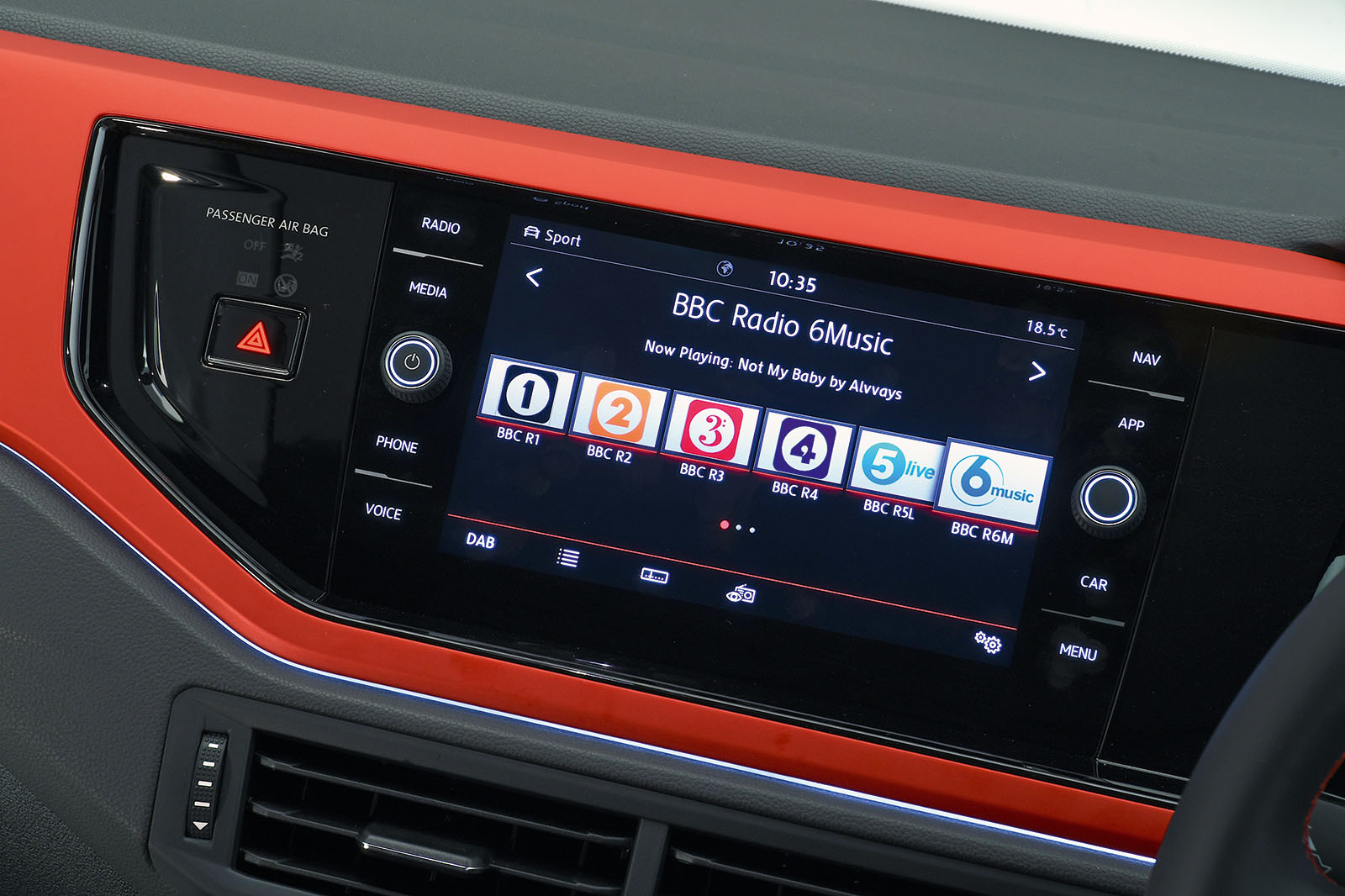 The glass-fronted 8.0in touchscreen is ultra-sharp and displays smart graphics. It's quicker to respond to inputs and the menus are easier to fathom than the Fiesta's, too. Sat-nav (£650) and voice activation (£195) are options, but smartphone mirroring is standard, and you can download an app to show you where your car is parked, itemise fuel costs per trip and provide access to a 24-hour customer service helpline.
Space and practicality – Front space, rear space, seating flexibility, boot
The beauty of hot hatchbacks is you get performance with practicality, and these two are no exception. There's plenty of leg room for six-footers up front, and although the Polo has less head room than the Fiesta when fitted with a panoramic sunroof (£900), it's far from tight.
In three-door form, getting in or out of the Fiesta's rear seats is awkward, although a pricier five-door ST is also available. The Polo, meanwhile, comes with five doors by default. Both cars have adequate rear head and leg room, but the Polo's wider bench means it's better for seating three abreast.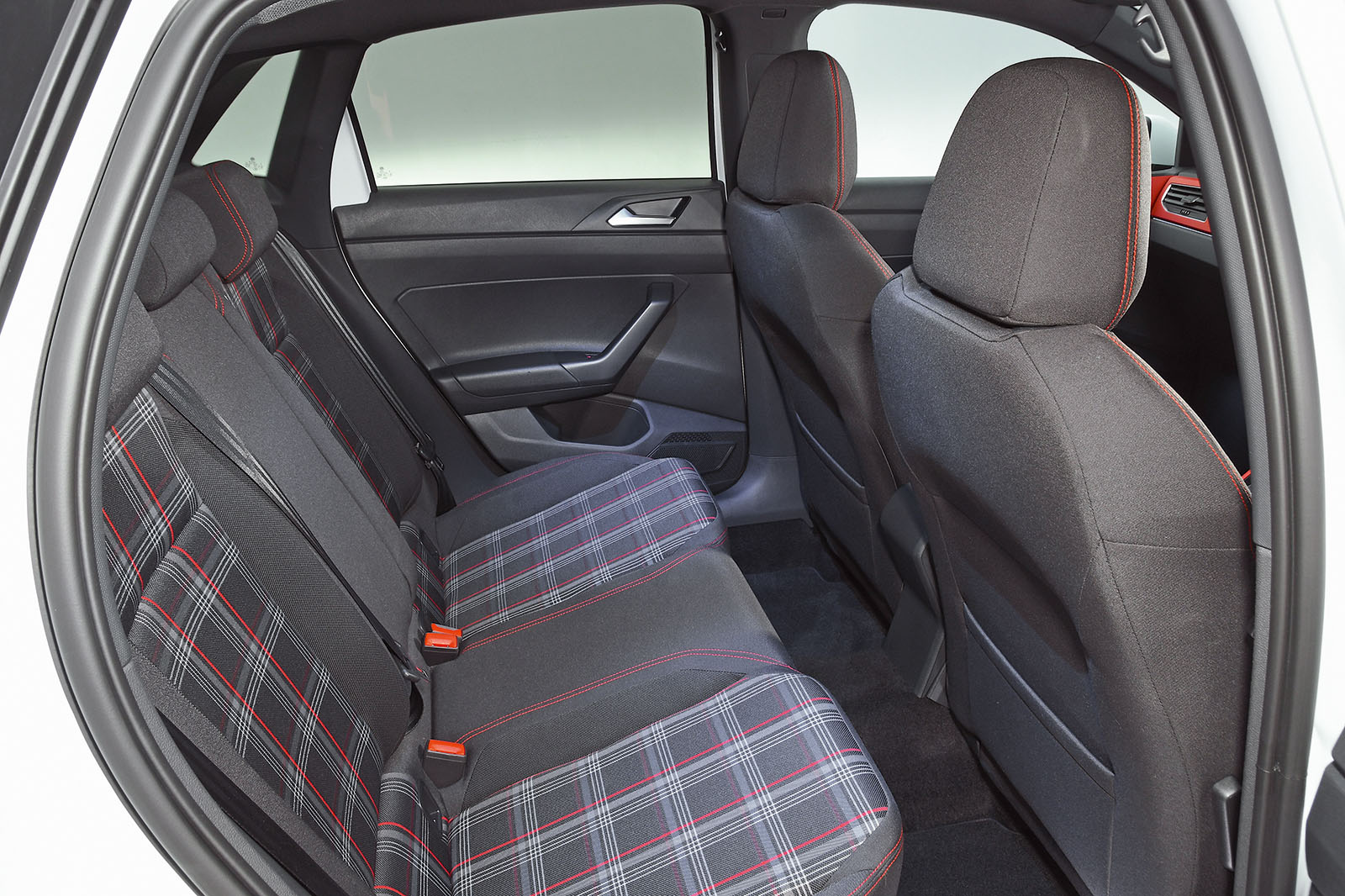 The Polo GTI has a smaller boot than other Polos, due to the relocation of the battery from the engine bay to the back, so the Fiesta trumps it for luggage space. Both cars have 60/40 split-folding rear seats, the Polo's lying flush with the boot floor when folded. Drop the Fiesta's seats and they leave an awkward stepped floor. We'd suggest adding a variable-height boot floor (£75), which can smooth out this step.
Buying and owning – Costs, equipment, reliability, safety and security
For private buyers, the total three-year cost of running these two cars is very similar; the Fiesta will set you back just £566 more than the Polo, mainly due to the latter's better resale values. They're virtually identical on company car tax over the same period, too.
The biggest disparities concern leasing costs, which are £76 per month less for the Polo, and PCP finance, where the Fiesta is cheaper, by £40 per month.
In these range-topping trims, both cars come well equipped. The Fiesta features a heated steering wheel and front seats, which the Polo counters with LED headlights and adaptive cruise control, while both come with keyless entry.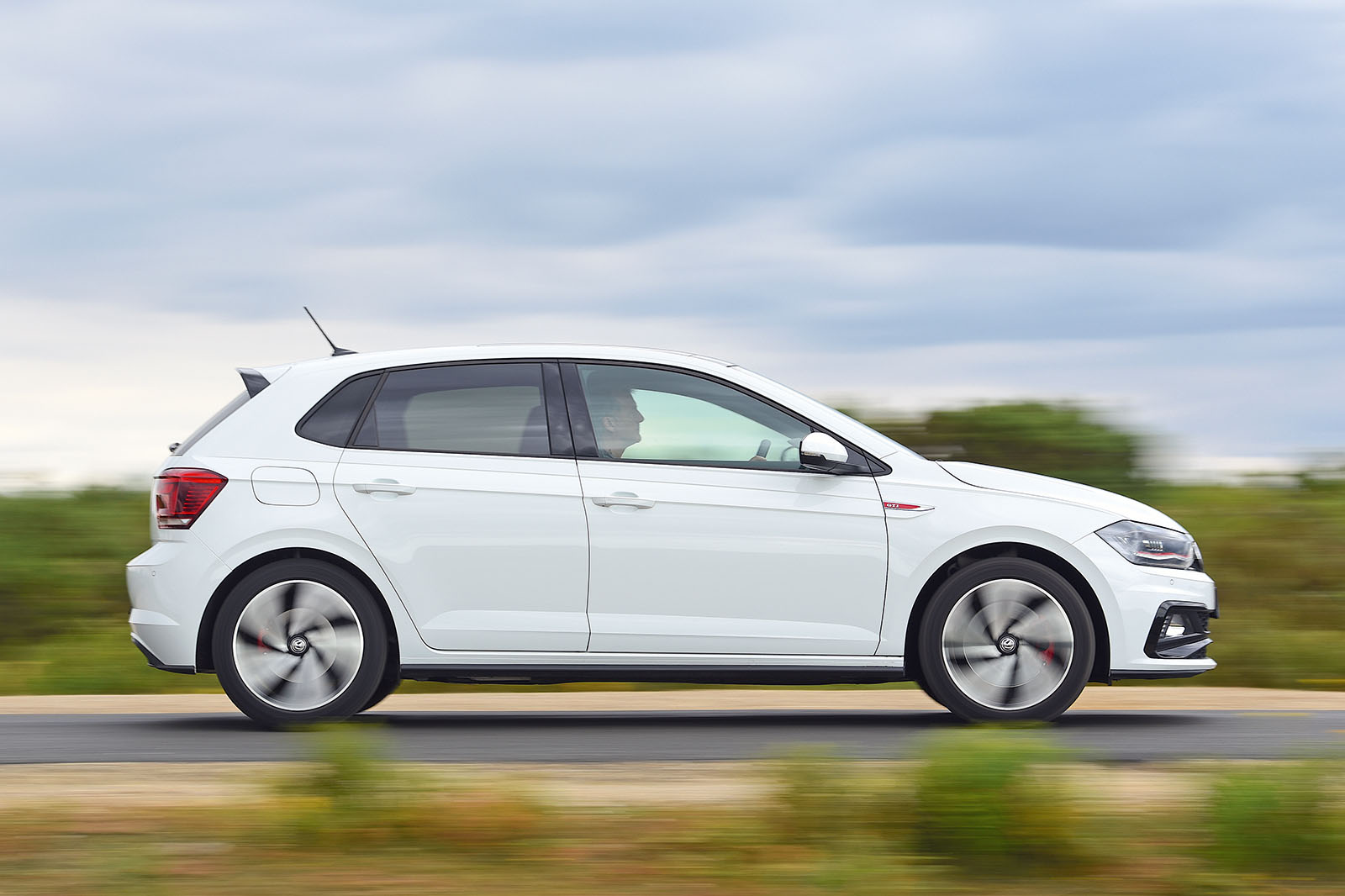 In terms of safety, both have five-star ratings from Euro NCAP, but the Polo scores better for adult, child and pedestrian protection. The Fiesta ST isn't available with automatic emergency braking (which is standard on the Polo), although it's alone in having lane-keeping assistance as standard.
verdict
There's only one way you'll be disappointed with the new Fiesta ST: if you've been lucky enough to drive its predecessor. The old car was more agile, more fun and, surprisingly, rode British roads with a bit more fluidity. We know this because we've driven both cars back to back. But the margins are small and the new ST is still an absolute cracker. It's by far the best sub-£25k hot hatch you can buy and in some respects – namely interior quality and infotainment – actually betters its predecessor.
The Polo GTI? Well, it's comfier, but it's neither as fun nor as capable through the bends. It simply isn't as good a hot hatch.
1st Ford Fiesta ST
For Sweet chassis balance; fruity engine note; punchy motor; slick gearchange
Against Inconsistent steering weight; agitated ride; no auto emergency braking
Specifications: Ford Fiesta ST 1.5T ST-3 Performance Pack 3dr
Engine 3cyl, 1497cc, turbo, petrol
List price £22,345
Target price £21,242
Power 197bhp @ 6000rpm
Torque 214lb ft @ 1600-4000rpm
Gearbox 6-spd manual
0-60mph 6.8sec
Top speed 144mph
Gov't fuel economy 47.1mpg
Test mpg 41.1mpg
CO2 emissions 136g/km
2nd Volkswagen Polo GTI
For Stronger performance; comfier ride; quieter at speed; better infotainment
Against Uninspiring handling; less evocative engine sound; smaller boot
Specifications: Volkswagen Polo GTI
Engine 4cyl, 1984cc, turbo, petrol
List price £23,020
Target price £21,358
Power 197bhp @ 4400-6000rpm
Torque 236lb ft @ 1500-4350rpm
Gearbox 7-spd dual-clutch automatic
0-60mph 6.4sec
Top speed 147mph
Gov't fuel economy 47.9mpg
Test mpg 39.3mpg
CO2 emissions 134g/km
(whatcar.com, http://bit.ly/2xyra8D)
Comments
comments