"Supernaked." No, it's not a state of undress or a new movie starring Ron Jeremy. It's Kawasaki's description of its newest mid-size streetfighter  made to compete against rides such as the FZ-07 from Yamaha and Suzuki's SV650 for a slice of the stripped-down pie.
Much of the Z650 is new, but there are also plenty of carryover details that show some continuity of evolution alongside the Ninja lineup, specifically the Ninja 650. To some, the differences may seem a bit subtle, but naked streetfighters draw a different type of buyer than do the fully faired, race-style superbikes , and said subtleties make all the difference in the world to those kinds of buyers. This is an area where Kawi has been conspicuously absent, and the release of this ride signals a move by the factory into previously uncharted waters against established makes and models, so let's see what all makes the Z650 tick and how it stacks up against the current market.
Design
Detractors might be tempted to accuse the "Z" of being a minimally modified Ninja, but an objective look quickly gives lie to that opinion. The "Z" uses an all-new frame design that is optimized for minimal weight while improving handling over the old-style, twin-beam frame. Not only that, but the exposed Trellis adds a definite streetfighter flavor that plays well with the "raw, refined" visage the factory was going for.
For me, the "Z" is a bit of a mixed bag. I find that I really like the Mad Max vibe of naked bikes in general, but what I don't like is the fugly, cartoonish, Optimus Prime-like headlight can that makes me want to run out and burn a life-size Power Ranger doll in effigy.
RWU forks mount a vented fender over blackout fork sliders, but a vestigial flyscreen above the cyclops headlight serves only to protect the backside of the digital instrument cluster. The cluster itself is an interesting piece as it uses an analog face with an LED pointer for the tachometer with a digital display for speed, ambient air/coolant temp, shift indicator and various idiot lights all laid out in a compact yet user-friendly unit. A slight rise and moderate pullback in the bars moves the hands closer to the body— great for average riders, but the big-and-tall crowd is going to feel a little cramped in the arms.
From there we move aft across the fuel tank that is surprisingly slim for a four-gallon tank yet manages a generous flange that absorbs the knees into the tank and provides a knee-hanger for extreme body English maneuvers. Small cheek fairings kind of finish off the forward edge of the tank, but are rather small and do nothing to enclose the radiator or channel air over it. Behind the deep saddle and stadium pillion the subframe tapers off to nil atop an interesting tail light housing with LED lights arranged in a "Z" pattern.
Unfortunately, Kawi didn't get the memo that molded-in lighting is hot and standoff-type turn signals are so last century, so the winkers stick out both front and rear. The overall stance leaves the ride with a slight, nose-down/tail-up look, but it's tastefully subtle and doesn't look forced— just a natural extension of the lines as they lay, and a refreshing change after seeing so many "sprinter crouched at the blocks" bikes here lately.
Chassis
Nothing says "look at me" quite like lime green paint against a black background, and Kawi makes damn sure you don't miss its all-new Trellis frame where it peeks out at various points around the bike. Thin-walled tubing keeps the frame light while minimal bend angles help distribute the loads and forces generated while riding.
As is typical with Trellis bones, the engine becomes part of the frame structure as a stressed member that eliminates a significant portion of the frame for a light and clean skeleton. A gull-wing swingarm finishes the standing rig with a bit of flair that looks cool, but serves a purpose as it leaves clearance for the muffler. The central-mount, coil-over shock supports and tames the rear end through a horizontal back-link, and it comes with minimal adjustment in the form of a variable spring-preload setting.
A set of 41 mm forks buoy the front with no adjustment whatsoever, but nevertheless deliver a plush ride by virtue of its 4.9 inches of wheel travel at the axle to go with the 5.1 inches of travel in back. Lest you be put out by this, be aware that the factory did well when picking out the forks, and only the heaviest riders will detect any unpleasantness or wallowing in hard corners. Steering-head layout gives us a 24-degree rake with 3.9 inches of trail for crisp handling, while the 55.5-inch wheelbase provides some straight-line stability at speed.
Kawi doesn't mess around with the brakes. In spite of its 410-pound wet weight (406 pounds for the non-ABS model), the factory threw on a pair of huge, 300 mm, petal-cut discs and twin-pot calipers to slow the front wheel but a token, 220 mm disc in back. Honestly, the 220 is big enough, and the only things that prevent the front from being overkill is the fact that the binders only carry two pistons each, and ABS is available to prevent over-braking issues. Feedback pulses from the rear ABS are detectable but not overly harsh, but the front ABS is smooth as silk even if the feel at the brake lever leaves a little to be desired, at least early in the pull. Overall, the ride quality is decent, and should be both confidence-inspiring to new riders and fun for saltier sorts.
Drivetrain
The cams deliver a rather linear power curve that comes alive around four grand and pulls evenly all the way to the top for predictable and manageable acceleration.
The beating heart is a liquid-cooled, parallel-twin engine that runs a 180-degree crank with balancers to provide smooth power delivery throughout the range. Bore and stroke measure out at 83 mm and 60 mm, respectively, which adds up to a total displacement of 649cc. Compression ratio is warm at 10.8-to-1, just enough to put you at the mid-grade pump to prevent pre-ignition/detonation, and that contributes to the 48.5 pound-feet of grunt you can expect out of this plant.
Dual over-head cams time the four-valve head, and they come ground with minimal overlap to improve low- to mid-range torque and reduce free hydrocarbons in the exhaust stream. Granted, short overlaps usually make for dirtier air-fuel charges as all the waste gasses aren't scavenged ahead of the fresh charge, but this ain't no closed-circuit race bike, and emissions concerns are more important than brute performance.
The cams deliver a rather linear power curve that comes alive around four grand and pulls evenly all the way to the top for predictable and manageable acceleration. Liquid-cooled mills don't throw as much heat onto the rider as air-cooled ones, and the factory added the Kawasaki Air Management System that uses a fan to direct hot air down and away from the rider and passenger.
Chrome composite-plated bores reduce friction (if not heat transfer) and contribute to long engine life, a great thing unless you are into punching out jugs for bigger pistons and more power. Dual throttle valves in the 36 mm Keihin throttle bodies help to make up the difference between what is desired as far as power delivery and what can be smoothly delivered, making the twist grip position more of a guideline than an actual rule.
A six-speed, cassette-type transmission sends power down a tough chain-type final drive, and a slipper clutch makes for easy lever pulls and some wheel-hop prevention to help maintain control while hauling it down using compression braking. All-in-all, a solid engine with predictable delivery in which newbies and experienced riders alike should find plenty to love.
Price
Priced to move, the Z650 with ABS will set you back a cool, $7,399, while the non-ABS model rolls for $400 less. It comes in Pearl Flat Stardust White/Metallic Spark Black (and Lime frame!) or Metallic Flat Spark Black/Metallic Spark Black (and black frame for a black on black on black ride). All bikes come standard with a 12-month warranty, but Kawi offers warranty protection packages for up to 48 months through its Protection Plus program.
Competitor
While buyers looking at the Z650 may or may not also be looking at a full-faired Ninja, the Yamaha should certainly at least be on the radar. These three rides are the ones to look at if you want a mid-size naked/roadster, so let's start looking, shall we?
Looking at visuals, I will say I like the Yamaha the best. The cheek-fairings give it a muscular look up front, and the headlamp is interesting but not stupid-looking like the Kawi or boring like the plain, round Suzuki light. The rest of the FZ-07 is about equal in "cool factor" with the Kawi ride, but the SV650, well, I know it's supposed to be a naked roadster, but it just looks unfinished to me — almost like the factory literally pulled some plastic off a faired sportbike and rolled it out for sale. Not trying to be mean, just callin' it like I see it. I realize that aesthetics are subject to taste, but if you prefer the Suzuki looks to the other two, I'm a'feared all your taste is in your mouth.
Suspension is comparable across the board with RWU forks and simple preload-adjustable shocks— no fancy stuff here, just the basics. Brakes are likewise similar with dual binders up front and ABS protection across the board. Let's go ahead and look at what isn't different in the mills. Liquid-cooling, fuel-injection and dual bores are a constant, but while Yamaha and Kawi go the parallel-twin route, Suzuki runs a 90-degree V-twin. None offer any sort of traction control or variable power delivery system, but that's OK since such fandangled contraptions drive the sticker up and are mostly lost on all but the more experienced riders.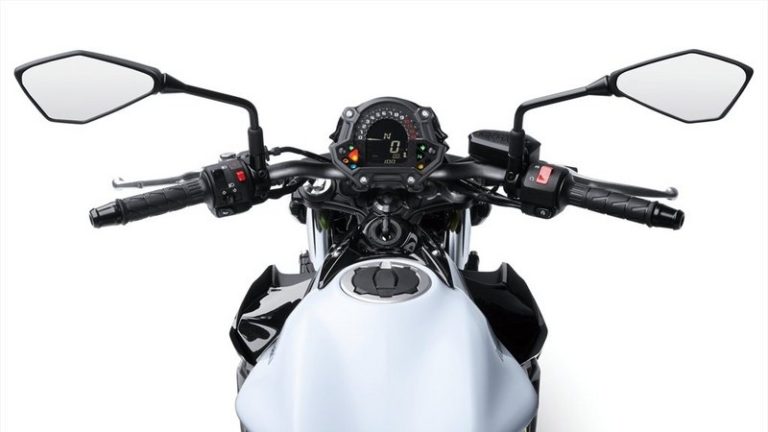 Power numbers likewise run neck-and-neck (depending on whose dyno you use) at around 50 pounds of grunt each, and displacement runs within a handful of cubes of each other. If it sounds like there isn't much to choose between these three, you would be correct, but what else would you expect from such a tight race between close competitors in a niche market? The sameness is indicative of each factory having pushed the limits of cost-effectiveness versus performance and features, and each reaching the wall together. Either that, or it's a vast conspiracy amongst the Big Four to shape the market, you decide. Kawi wins at the till by the slimmest of margins at $7,399 while the other two tack another bill onto that for a $7,499 sticker, and I begin to wonder if my conspiracy theory might hold water after all.
He Said
"Although I ain't feeling the headlight, this is actually a sweet ride with something to offer both the younger crowd as well as the riders with a bit of seniority and miles under the belt. Stretched-out riders will feel cramped, but that isn't an issue with my 5'8" frame, and the rider triangle leaves one with the option of leaning into it, or sitting up for a more relaxed attitude. Ninja fans should definitely take a look— they may discover that they are batting for the wrong team. "
She Said
My wife and fellow motorcycle writer, Allyn Hinton, says, "Shaving a degree of rake and shorten trail off last year's Ninja and giving that steering geometry to the Z650 has improved handling on Kawasaki's new middle-weight streetfighter. If you rode a Ninja last year, you might want to look at the Z650 this year. The Z650 is lighter and has a very nice linear feel in the power band. It's a fun bike to ride."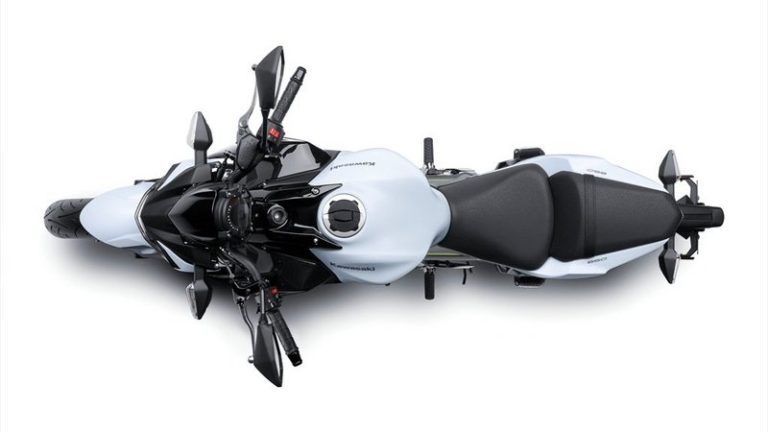 Specifications
| | |
| --- | --- |
| Drivetrain: | |
| Engine: | 4-stroke, 2-cylinder, DOHC, liquid-cooled |
| Displacement: | 649cc |
| Bore x Stroke: | 83.0 x 60.0mm |
| Compression ratio: | 10.8:1 |
| Fuel System: | DFI® with Keihin 36mm Keihin throttle bodies |
| Ignition: | TCBI with electronic advance |
| Transmission: | 6-speed, return shift |
| Final Drive: | Sealed chain |
| Chassis: | |
| Frame Type: | Trellis, high tensile steel |
| Rake/Trail: | 24.0°/3.9 in |
| Front Suspension / Wheel Travel: | Telescopic fork/4.9 in |
| Rear Suspension / Wheel Travel: | Horizontal back-link with adjustable preload, swingarm/5.1 in |
| Front Tire: | 120/70 ZR17 Dunlop |
| Rear Tire: | 160/60 ZR17 Dunlop Sportmax D214 |
| Front Brakes: | Dual 300mm petal-type rotors with four-piston calipers, ABS |
| Rear Brakes: | Single 220mm petal-style disc w/ABS |
| Dimensions: | |
| Overall Length: | 81.3 in |
| Overall Width: | 30.5 in |
| Overall Height: | 42.5 in |
| Ground Clearance: | 5.1 in |
| Seat Height: | 30.9 in |
| Curb Weight: | ABS: 410.1 lb / NON-ABS: 405.7 lb |
| Wheelbase: | 55.5 in |
| Details: | |
| Fuel Capacity: | 4.0 gal |
| Color Choices: | Metallic Flat Spark Black/Metallic Spark Black, Pearl Flat Stardust White/Metallic Spark Black |
| Warranty: | 12 Month Limited Warranty, Kawasaki Protection Plus™ (optional) 12, 24, 26 or 48 months |
| Price: | $7,399 (NON-ABS: $6,999) |
(topspeed.com, https://goo.gl/1BeH5M)
Comments
comments