The newest pressure on Harley-Davidson  comes in the form of the new-in-2016 Indian Springfield. Named a "bagger" by the Indian marketing folks, it is much closer to the truth to call it a tour bike. Before you start shaking your head, I would point out that big touring fairings are a relatively recent feature, and that back in the day. this is what American touring models looked like.
Back in 1901 when George Hendee brought in Oscar Hedstrom to help power his bicycle designs, he couldn't have known that he was launching a legacy that would, off and on, be in operation through the entirety of the 20th century and into the future. Yet, here we are in 2016 with a revamped Indian Motorcycle Company that is thriving under the Polaris umbrella and taking a serious bite out of the domestic motorcycle market, a slice of the pie that for many years was under the de facto monopoly of H-D. They say that competition is good for the market, and I believe that the recent success of Indian products has forced Harley out of its complacency and driven innovations that may never have happened…..or at least not yet.
Indian worked in plenty of nostalgic touches here and there on the Springfield while it tackled the more pragmatic issues with an eye to modern performance. This new ride is meant to serve as a tribute to the original Indian factory in Springfield, Massachusetts, so join me whilst I evaluate how they did.
Design
"Roses are red, violets are blue. I'm schizophrenic, and so am I." This was my first thought looking at the touring features on the Springfield, and the way you can quickly,sans tools, convert the sled from an old-school tour bike to a boulevard cruiser. The factory took steps to make sure the quick-connect mounting hardware did not offend the eye with the hang-on equipment removed, and they even included a split-seat design to allow you to quickly remove the pillion pad for that solo appeal. This is definitely a bike with a "Gemini" personality.
The overall panache is that of the quintessential American cruiser, circa 1950s and '60s, and it carries the unmistakable Indian DNA markers so familiar to longtime fans of the brand. The look comes on full-bore at the fully-valenced front fender and classic "Indian Head" fender gizzie, and stays strong across the body panels and full rear fender.
An antique-looking speedometer face establishes a strong connection to years past, and while the chrome instrument panel has a nice shape, it also bounces light right back into your face like one of those reflectors people use on the beach to tan the underside of their chin. This is a point of contention for me, however small it may seem. I suffer from mydriasis which makes my pupils dilate just a little more than the light conditions would call for, and just the chrome on my riser clamp is enough to cause pain and distraction, even through both my riding shades and smoked helmet visor. I'm not saying don't buy a Springfield for this reason, just saying that if you do, be prepared to buy some extra-dark shades, or some sort of dash cover.
Beyond that, there is plenty of chrome bling in all the more-appropriate places, to include the front-fork skirt/headlamp nacelle end the engine/exhaust components. Bling is fun and everything, but I expect more from a bike that's built to tackle the open road. To that end, the factory blessed the bike with cruise control, ABS, keyless ignition and a tire-pressure monitoring system (TPMS), all good stuff that's becoming more ubiquitous, and more in demand, every year.
Chassis
Typically, one would expect large bikes like this to ride on a welded, tubular-steel frame, but not the Springfield. The engineers started out on a cast-aluminum frame, a construct that leaves us with a stiff, but light, starting point. A 25-degree steering head keeps the front end tucked in, and the 5.2-inch trail helps make this bagger/tourer behave much better in the turns than you would expect from a bike that tops 850 pounds, wet. Another thing that aids in cornering is the 5.6 inches of ground clearance that allows you to lean into the turns quite a bit before you start throwing sparks.
Massive, 46 mm front forks buoy the front end. I have to gig Indian at this point, because although H-D hasn't got there yet either, the rest of the world enjoys tuneable front suspensions on their touring bikes, and Indian missed an opportunity here to get out in front of the curve amongst American manufacturers.
At least the rear suspension comes with a single, air-adjustable shock so you can adjust for conditions and load. Better than nothing, I suppose. The front and rear suspension components give up 4.7, and 4.5 inches of travel, respectively, which should provide a comfortable ride without excessive diving under heavy braking.
Speaking of brakes, the Springfield comes with plenty of 'em. A pair of four-pot calipers bind the dual, 300 mm front brake discs, and a twin-pot caliper binds the 300 mm rear disc. ABS overwatch comes standard, and helps you get away with using as much of those brakes as you need, or dare. Cast-aluminum rims mount the 16-inch wheels, front and rear, and the tires come with the whitewalls on the inside. Maybe it's just me, but given the nostalgic nature of this bike, I think a set of laced, chrome wheels and gangster whitewalls would look pimp.
Drivetrain
When Indian relaunched under the Polaris banner, it came out with a completely new, factory built engine. The designers obviously made aesthetics a front-burner issue, and the resulting Thunder Stroke 111 engine is unquestionably good looking with plenty of little details that folks familiar with antique American engines will definitely appreciate. This mill is a far cry from the S&S "Evo" lumps used in the previous Springfield by Indian's former owners.
The Thunder Stroke doesn't just look good, it's powerful as well. At 1,811 cc, the Thunder Stroke is a rather large engine, even by current American standards. The pushrods, heads and rocker boxes are designed to emulate the look of the old side-valve (flathead) mills, and it doesn't do a half-bad job of it. Oh, I'm sure nobody was ever fooled by the design, but the details are attractive to those of us familiar with the early U.S. motorcycle engines.
Bore and stroke measures out at 101 mm and 113 mm, respectively, leaving us with an undersquare, long-stroke arrangement. The engine breathes through a 54 mm throttle body and an airbox that comes integral with the frame. While the Thunder Stroke has performance packages available that are equivalent to the Screamin' Eagle "Stages," the stock engine performs fairly well even with the government-imposed restrictions in place. The stock Thunder Stroke puts out 119.2 pound-feet of torque at 3k. Them's some stump-pulling numbers right there, placing it well into the "power-cruiser/bagger/tourer" category.
Instead of a chain-type primary drive system, the Thunder Stroke uses a series of gears to couple the engine to the clutch hub, a system that requires less maintenance and makes less noise than a chain primary.
Power flows through the wet clutch pack and the six-speed transmission, and gets sent to the rear wheel via belt drive. As proof that American manufacturers have a way to go yet as far as gadetry and electronic wizardry is concerned, I would point out that there is room here for at least a slipper clutch (which Harley is already producing) or some sort of traction-control system. I mean, come on, you already use an electronic fuel injection system and that's the hard part. Traction control would be a good step toward garnering more of the domestic market.
Price
The Springfield comes with a starting MSRP of $20,999 for Thunder Black, pretty much in line with the genre, and actually a bit more expensive than the fairly-comparable H-D Road King. It can also be had in Indian Motorcycle Red for $21,449. New for 2017, Indian added two-tone colors Steel Gray over Burgundy Metallic or Blue Sapphire over Star Silver for $22,099.
Competitor
While the obvious competitor would be something from H-D, possibly the Road King, I decided they were too similar, like two sides of the same coin, so I instead looked abroad and settled on the California 1400 Touring  from Moto Guzzi.
Visually, they share some similar features with a fat front end, pimp lights, windshield and hard bags. The different genetic stock becomes apparent beyond that point. While Indian follows a design that does more than just pay tribute to past models, MG has no such constraints, and gave the California a definite Italian flair. The result; an Italian bagger/tourer that covers all the bases domestic riders expect, without coming off looking like a reproduction piece. (Nothing wrong with reproductions, in fact, I quite like them, just stating the facts, ma'am.)
One big difference between the two bikes is in the engines. While Indian takes the blue ribbon for brute displacement and power in a rather stereotypical, V-twin arrangement, MG went with its own style and stuck a transverse-mount, 90-degree, 1,380 cc V-twin into the California. Unsurprisingly, the power numbers reflect this size difference. The Thunder Stroke puts out its 119 pounds of grunt while the MG mill still manages 87 pound-feet – a big difference, but one that should be offset somewhat by the lighter, 742-pound curb weight of the California versus the 852 pounds with the fully-fueled Springfield.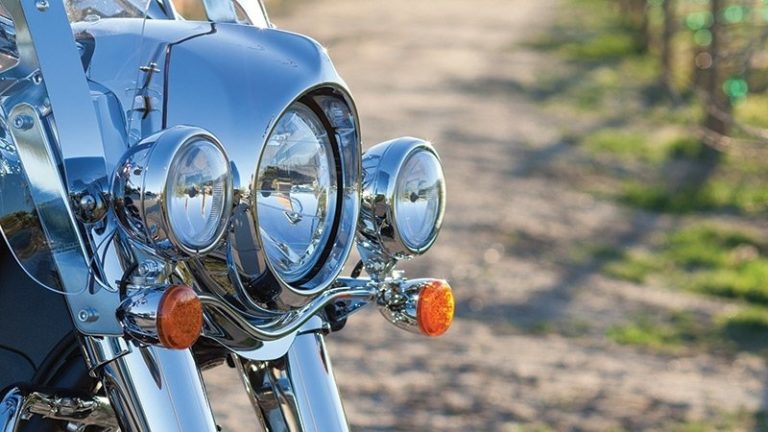 Indian takes a hit in the gadetry department. Sure, the Springfield has TPMS and ABS, but the California comes with a ride-by-wire throttle that enables the use of a traction-control system and three separate engine maps for different performance profiles. Come on U.S. manufacturers, time to catch up with the rest of the world on features like this.
Pricing is really close here. Indian lets go of the Springfield for $20,999, a little more than the $18,490 sticker on the 'Guzzi California. You get some name recognition and a whole heap of nostalgia with the Springfield, but the California enjoys an edge with its fancy electronic doo-dads at a slightly lower price. Granted, if you want a classic-looking ride, it's hard to beat the Springfield, or almost any Indian for that matter, but as usual, it comes down to taste.
He Said
"Wow, like it was torn from a history book, the Springfield carries all the typical Indian charm, and this ride cannot possibly be mistaken for a product from any other company. The world over. Ever. This particular model aside, I really like the direction Polaris has taken Indian so much more than the products from the previous effort to reinvigorate the brand, and I look forward to seeing what they have on the drawing board for us next."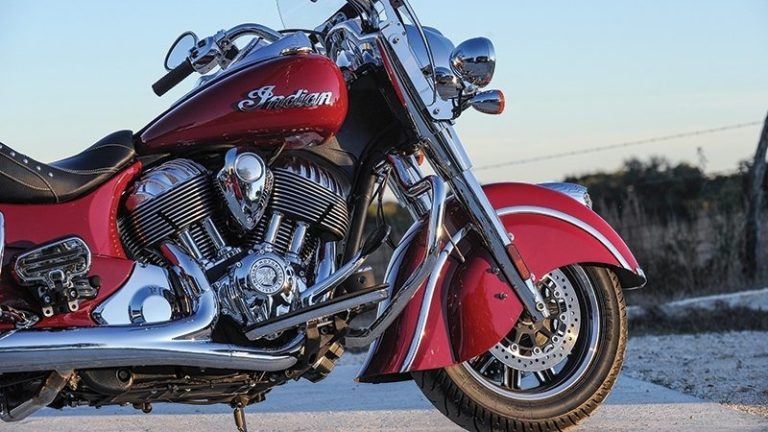 She Said
My wife and fellow writer, Allyn Hinton, says, "I really like the fairingless touring look. That muscular front end with the big headlight nacell looks better without a body panel slapped across the front, but I go back to the old days when that's what touring bikes looked like. Just like our music, our preferred styles are what was current back when we reached the age of our independence. The Springfield isn't plugging a hole in the Indian lineup; it's a tribute bike and a gorgeous one at that."
Specifications
| | |
| --- | --- |
| Engine: | |
| Engine Type: | Thunder Stroke® 111 |
| Displacement: | 111 cu in / 1811 cc |
| Bore x Stroke: | 3.976 x 4.449 in (101 mm x 113 mm) |
| Compression Ratio: | 9.5 : 1 |
| Electronic Fuel Injection System: | Closed Loop Fuel Injection / 54 mm Bore |
| Drivetrain: | |
| Primary Drive: | Gear Drive |
| Drive/Driven Clutch: | Wet, Multi-Plate |
| Final Drive: | 2.2 : 1 |
| Performance: | |
| Peak Torque: | 119.2 ft-lbs (161.6 N-m) |
| Peak Torque RPM: | 3000 rpm |
| Gear Ratio (Overall): | |
| 1st: | 9.403 : 1 |
| 2nd: | 6.411 : 1 |
| 3rd: | 4.763 : 1 |
| 4th: | 3.796 : 1 |
| 5th: | .243 : 1 |
| 6th: | 2.789 : 1 |
| Suspension: | |
| Suspension: Front – Type/Travel: | Telescopic Fork / 4.7 in (119 mm) |
| Front Fork Tube Diameter: | 46 mm |
| Suspension: Rear – Type/Travel: | Single Shock w/ Air Adjust / 4.5 in (114 mm) |
| Chassis: | |
| Brakes/Front: | Dual / 300 mm Floating Rotor / 4 Piston Caliper |
| Brakes/Rear: | Single / 300 mm Floating Rotor / 2 Piston Caliper |
| Tires/Front: | Dunlop® Elite 3 130 / 90B16 73H |
| Tires/Rear: | Dunlop® Elite 3 Multi-Compound 180/60R16 80H |
| Wheels/Front: | Cast 16 in x 3.5 in |
| Wheels/Rear: | Cast 16 in x 5 in |
| Exhaust System: | Split Dual Exhaust w/ Cross-Over |
| Dimensions: | |
| Wheelbase: | 67.0 in (1701 mm) |
| Seat Height: | 26.0 in (660 mm) |
| Ground Clearance: | 5.6 in (142 mm) |
| Overall Width: | 39.0 in (990 mm) |
| Overall Height: | 56.8 in (1442 mm) |
| Overall Length: | 101.7 in (2583 mm) |
| Rake: | 25° |
| Trail: | 5.2 in (133 mm) |
| Fuel Capacity: | 5.5 gallons (20.8 liters) |
| GVWR: | 1385 lbs (630 kgs) |
| Weight (Empty Tank / Full of Fuel): | 818 lbs / 852 lbs (372 kgs / 388 kgs) |
| Standard: | |
| Standard Equipment: | ABS; Cast Aluminum Frame with Integrated Air-Box; Cruise Control; Highway Bar; Indian® Script Tank Badge; Keyless Start; Quick-Release Windshield; Quick-Release Hard Saddlebags, Tire Pressure Monitoring |
| Electrical: | |
| Gauges: | Tank Mounted Electronic Speedometer with Odometer; Dual Tripmeters; Digital Tachometer; Ambient Air Temperature; Fuel Range; Average Fuel Economy; Battery Voltage; Gear Position Display; Real-Time Clock; Vehicle Trouble Code Read-Out; Heated Grip Level (If Heated Grips Installed); Low Engine Oil Pressure; 9 LED Telltale Indicators: Cruise Control Enabled, Cruise Control Set, Neutral, High Beam, Turn Signal, ABS, Check Engine, and MPH or Km/H Unit Designation; Tank Mounted Electronic Fuel Gauge with Low Fuel LED Indicator |
| Lights: | Headlight; Driving/Tail/Brake Lights; Turn Signals; License Plate Light; Speedometer with Indicator Lights |
| Features: | |
| Color / Graphics: | |
| 2016: | Thunder Black, Indian Red |
| 2017: | Thunder Black, Indian Motorcycle® Red, Steel Gray over Burgundy Metallic, Blue Sapphire over Star Silver |
| Price: | Thunder Black: $20,999, Color: $21,449, Two-tone: $22,099 |
(topspeed.com, https://goo.gl/VO9l9j)
Comments
comments