Do you hate it? Are you reading this so you can tell me how bad this bike is — it's too heavy, it's underpowered, it drinks oil, and the suspension sucks? Get over it. If you already hate it, this review isn't for you. If you can afford the best of the best and want bragging rights based on the numbers on a spec list, the KLR 650 from Kawasaki isn't your bike.
If you don't already hate it, are those things true? Yeah, pretty much, but I'm not sure that should dissuade you from looking at the KLR 650, even if it's just to use as a comparison.
Design
If adventure bikes are dual-purpose tourers, then the KLR 650 is a dual-purpose go-for-a-ride-and-let-it-take-you-somewhere-fun bike.
The KLR 650 is a dual-purpose bike — the bikes from which adventure bikes were spawned. If adventure bikes are dual-purpose tourers, then the KLR 650 is a dual-purpose go-for-a-ride-and-let-it-take-you-somewhere-fun bike. Not a full-fledged tourer , but as on-road/off-road capable as a dual-purpose bike can be.
Heavy? The KLR 650 weighs in at 432 pounds — 90 pounds heavier than a XR650L from Honda, two pounds heavier than the G 650 GS from BMW and 40 pounds lighter than a V Strom 650 from Suzuki . So it istoo heavy? I guess it depends on what you're comparing it to.
In keeping with the dual-purpose intent, the KLR 650 has a 6.1-gallon fuel tank and an alternator that can handle your gadgets with aplomb. If there is a whine from me, it's that bags don't come standard, though there is a handy cargo rack on the back that accommodates a tail bag. I'd have to hit the accessories catalog for saddlebags and a tank bag, at the very least.
Instrumentation is analog — which isn't a bad thing. I find dials easier to take in at a glance than a digital readout. The gauges are well-placed above the bars for easy viewing.
Chassis
The frame, rims and suspension show true, off-road roots, and carry features popular with pure-dirt riders.
Kawasaki built the KLR 650 for actual use in rough terrain, not as another motorcycle equivalent of the Soccer-Mom SUV. The frame, rims and suspension show true, off-road roots, and carry features popular with pure-dirt riders.
First, the double-downtube, stressed-engine frame is made of steel, known for providing a little bit of flex and give that takes the edge off the jolts. The tubular steel frame carries the steering head at 28-degrees, for a 4.4-inch rake that falls just a little on the stiff side for motocross-style maneuvers but offers some stability for higher speeds on the road. Overall, the steering geometry seems to be fairly consistent with other bikes of this market, and it represents just one of the compromises in this collision of worlds.
The next item that caught my attention was the beefy front end. At 41 mm, the tubes are fairly stiff, though Kawi could have stiffened it even more with some big, inverted forks, but given the 430-pound curb weight, usd forks probably aren't necessary.
A rear monoshock comes with preload and rebound adjustments and provides 7.3 inches of travel. The front forks compress through 7.9 inches of travel, so you have some real give in the system. Laced wheels with 4 mm spokes represent the third item on the dirt bike list, and they also provide another layer of give in the system to further take the edge off the bumps.
Kawasaki skipped ABS on this ride, but that's ok 'cause let's face it, sometimes you want/need to slide a little bit when riding off the pavement. The designers did manage to work in yet another dirt-track proven design into the KLR with a set of petal-cut brake rotors. This design radiates heat more efficiently than round rotors, and they provide a self-cleaning feature of sorts that helps clear the grit away. At less than 500 pounds, the single, 280 mm disc up front and 240 mm disc in back seems sufficient to control the bike.
Drivetrain
A four-cycle thumper serves as the beating heart for this dual-purpose animal. The 651 cc engine comes with a constant-velocity carburetor for easy repairs and maintenance, and the water jacket around the engine helps to attenuate some of the mechanical noise from the engine. Although it's a one-lunger, the 100 mm bore and 83 mm stroke gives us a decidedly oversquare configuration with a big piston for lots of mass and low-end torque.
In addition to the simplicity of the carburetor induction, the factory went with an equally simple and tough capacitor-discharge (CDI) ignition system to manage the spark. I've got to say I find it refreshing to see a bike that you can actually work on without some expensive, computer-controlled gadget to tell you what's wrong. In short, this simplicity should be viewed as a boon, not a detriment. A simple but tough drive system comes in the form of a five-speed transmission and sealed-link chain.
Pricing
MSRP on the KLR 650 was $6,599 for 2015 and 2016 and came in Candy Lime Green or Ebony. The new-from-2016 KLR 650 Camo set you back $6,899 and came in Matrix Camp Gray. I have to admit that I wasn't really feeling the digital camo thing until I saw this bike cruising through an urban environment. I'm a fan now, at least for city riding.
For 2017, Kawasaki added $100 to last year's MSRP and offers the KLR 650 in Metallic Matte Carbon Gray or Candy Persimmon Red. The Camo still comes in Matrix Camp Gray; otherwise it wouldn't be [camo.
Kawasaki covers the KLR with a 12-month warranty and offers additional protection for 12, 24, 36 or 48 months under the Kawasaki Protection Plans.
Competitors
Competitor-wise, you might instantly go to the V Strom 650 from Suzuki or the G 650 GS from BMW. I'm not going that way. In my mind, an adventure bike isn't exactly the same as a dual purpose bike, so instead, I'm going to look at the DR650— still a Suzuki, but I think this is a better comparison. These rides are meant to compete for the same slice of the market, so let's see how they stack up.
Right off the bat I have to say the KLR comes off looking like a proper dual-sport machine while the DR seems to be more of a glorified dirtbike. The fairing and windscreen on the Kawi shows that it means business, and is sure to be more comfortable on road trips than the naked Suzuki. In this way, the KLR leans more toward an adventure bike.
Specs-wise there isn't much to choose between the two, though the KLR boasts a few more cubes with a 651 cc mill versus the 644 cc lump in the DR. Suzuki swung deep into dirt bike territory with the suspension though.
The factory ran inverted front forks on the DR that are sure to stiffen the front end, and they come with 10.2 inches of wheel travel and 9.4 inches of travel at the rear shock, a lot longer range of motion than the 7- to 8-inch travel on the KLR. That's great for rough terrain, but the Suzuki may feel a bit squishy on pavement and tend to dive when braking. Weight-wise, the DR650 wins, coming in about 80 pounds lighter than the KLR.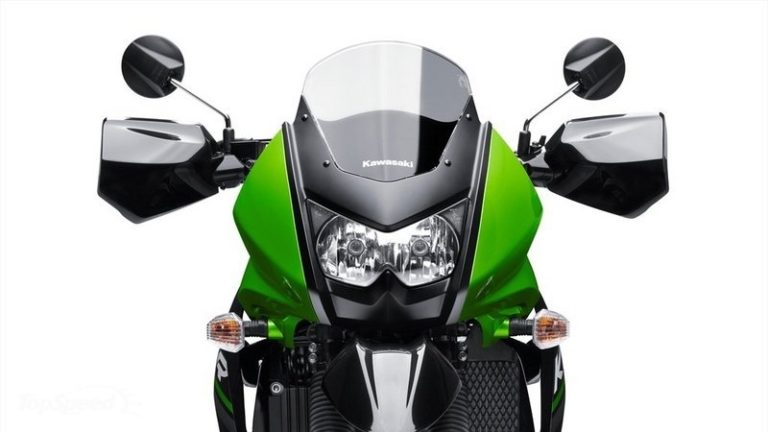 Pricing is neck and neck. The KLR650 rolls out for $6,699 and the Camo version can be had for a few dollars more at $6,999, just a hair over the somewhat stripped down DR650S at $6,499. Given the features on the Kawi, this price difference isn't enough to even nudge me toward the Suzuki, and Kawi clearly comes out on top.
He Said
My husband and fellow writer, TJ Hinton, says, "Not a bad-looking dual-sport. I like that they got the overall stance right, and molded the fairing and windshield in for a more organic look. Got to admit, I really like the urban camo on the "Camo," it breaks up the lines so even when you are looking straight at it, you aren't really sure what you are looking at. Nice."
She Said
"I've heard people say they wouldn't take a KLR 650 if someone gave it to them. I'll proclaim my stance right now and say I'd be glad if someone gave me one of these. C'mon people, it's a capable bike that can take you to fun places. Are there more monster-like bikes out there? Sure, but at what price? It'll get you off the pavement for 66-hundred bucks and still take you up the road if that's where you want to go."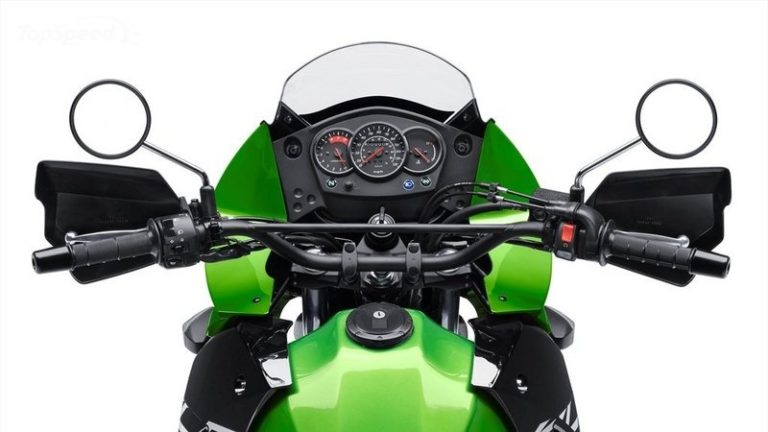 Specifications
| | |
| --- | --- |
| Engine: | Four-stroke, DOHC, four-valve single |
| Displacement: | 651cc |
| Bore x stroke: | 100 x 83mm |
| Compression ratio: | 9.8:1 |
| Cooling: | Liquid |
| Carburetion: | Keihin CVK40 |
| Ignition: | Electric CDI |
| Transmission: | Five-speed with positive neutral finder |
| Final drive: | Sealed chain |
| Frame: | Semi-double cradle, high-tensile steel |
| Rake / trail: | 28 degrees / 4.4" |
| Front suspension / wheel travel: | 41mm telescopic fork / 7.9" |
| Rear suspension / wheel travel: | Uni-Trak® single-shock system with 5-way preload and stepless rebound damping / 7.3" |
| Front tire: : | 90/90×21 |
| Rear tire: | 130/80×17 |
| Front brake: | Single 280mm petal-type disc, two-piston caliper |
| Rear brake: | Single 240mm disc, single-piston caliper |
| Overall length: | 90.4" |
| Overall width: | 37.8" |
| Overall height: | 53.1" |
| Ground clearance: | 8.3" |
| Seat height: | 35" |
| Curb weight: | 432 lb |
| Fuel capacity: | 6.1 gallons |
| Wheelbase: | 58.3" |
| Warranty: | 12 months |
| Kawasaki Protection Plans (optional): | 12, 24, 36 or 48 months |
| Color choices: | |
| 2015 KLR 650: | Candy Lime Green/Ebony, Metallic Flat Raw Graystone/Ebony, Pearl Stardust White/Ebony |
| 2016 KLR 650: | Candy Lime Green, Ebony |
| 2016, 2017 KLR 650 Camo: | Matrix Camo Gray |
| 2017 KLR650: | Metallic Matte Carbon Gray, Candy Persimmon Red |
| Price: | |
| 2016 KLR 650: | $6,599 |
| 2016 KLR 650 Camo: | $6,899 |
| 2017 KLR 650: | $6,699 |
| 2017 KLR 650 Camo: | $6,999 |
(topspeed.com, https://goo.gl/7smabz)
Comments
comments