Since 2011, the CBR250R has served both as Honda's small-displacement street-riding and racing trainer, and the model is actually used in amateur, closed-circuit races as a prelude to entering the larger brackets. Based on that success, Honda designed this, the next generation of little trainer bikes. I am, of course, referring to the new-from-2015 CBR 300R that comes with the then-new, 286 cc engine based on the previous 249 cc version.
While I am at a loss to explain it, I confess I have a certain affinity for beginner bikes, and "one-design" race categories that remove hardware advantages and force racers to win based on nothing but their own skills and bravery, which is arguably the purest form of competition. So, with that in mind, let's take a look at the CBR300R, and see what the Red Riders have to look forward to in Honda's continuing campaign to draw new riders into the sport and lifestyle we all love so much.
Design
These days, training bikes come in various forms, and whether it's dirt, street or track that you're interested in, chances are better than ever that you will find one appropriate for your particular needs. The CBR300R follows a rather race-tastic, streetbike form that will help new riders gain a feel for that type of bike. A jockey-style rider triangle puts the rider in the typical, forward-leaning riding posture, while the handlebar position allows for a more upright stance designed to help riders transition to more extreme arrangements. To further aid in newbies' comfort, the seat and side panels were intentionally narrowed to provide a straight shot from hip to ground because, let's face it, nobody likes wrestling a bike on tip toes, not even veteran riders.
Beyond that, rather full body panels hide most of the inner machinations from view, and flow up to a small wind deflector so the rider can tuck in superbike style once they're comfortable with the rest of the machine. A small P-pad with an under-seat storage compartment on the subframe allows you to share the experience and can serve as a sort of cargo deck for your bungee net so you can use it as a commuter as well, a function further improved with the addition of an accessory tank bag.
Chassis
Unlike its naked CB-F cousin, the CBR paneling covers the tubular steel frame almost in its entirety, hiding the 25.3-degree steering head that leaves us with 3.9 inches of trail. Though the trail is a bit longer than some that come to mind, it is sufficient to provide quick flicks and reversals without being too terribly squirrelly for a beginner.
A set of 37 mm front forks provide 4.65 inches of travel, but without any adjustments to worry about, adjustments that would likely be too subtle for someone just learning the ropes. The Pro-Link monoshock in back allows for 4.07 inches of travel, and comes with a spring-preload adjuster that riders of any sort should learn to use regardless of experience. This frame and suspension arrangement pushes the wheelbase out to a decidedly compact 54.3 inches.
At only 357 pounds soaking wet, it doesn't take much in the way of brakes to handle it. A twin-piston-and-anvil caliper slows the front wheel via the 296 mm front disc, and a single-pot caliper binds the 220 mm disc in back. On the ABS version, a two-channel ABS stands overwatch for another noob-friendly feature to further its utility as a trainer, though it will tax your pockets a little more. Cast, 17-inch, blackout rims mount the 110/70 front tire and 140/70 rear hoop.
Drivetrain
Honda rebuilt its 249 cc engine especially for the CBR300R. The factory increased the swept volume to 286 cc in this water-cooled, four-cycle thumper before plugging it into the frame. Much like the rest of the bike, the mill was designed to provide smooth and manageable power sufficient to move your butt while not being so powerful as to get away from you. Well, according to the factory anyway.
If you think you can't get in trouble with only 300 cc to work with, I got some beach for sale, and it only gets wet twice a day. Not trying to be nasty, just imploring new riders to treat this bike with the same respect you would any other machine. Along the same lines, riders with greater aptitude may outgrow the 300 fairly quickly, so be sure to take care of it to maintain resale value for when it's time to upgrade.
The oversquare engine runs with a 76 mm bore and engineers lengthened the stroke from 55 mm to 63 mm, for a 17-percent increase in ponies over its 249 cc predecessor. A 38 mm throttle body meters air/fuel delivery and the onboard computer manages the ignition and timing advance for a long-legged 71 mpg.
Best of all, since most new riders are probably also new mechanics, the engine comes laid out with ease of maintenance in mind with easy access to the valve adjusters, oil fill and filter and rear brake fluid reservoir. A six-speed tranny helps keep the rpm within the usable powerband, and it sends the power to the rear wheel via chain drive.
Price
Honda lets loose of the CBR300R for $4,499, just $100 over last year. The ABS version will set you back another smooth $500. The models share the classic black finish, sort of the motorcycle equivalent of the LBD, but come in a handful of different color combos unique to each year. It should come as no surprise that my personal favorite is the Candy Orange/Matte Black, but most of the paint packages are pretty sharp if you ask me.
Competitor
Usually I like to find my own reasons for my choice of competitor, but in this case I feel compelled to address the 800-pound gorilla in the room. Of course, I am referring to the fact that anyone looking at a 300 cc sport trainer will almost certainly be considering one of the most recognized names on the streets, the Ninja 300 from Kawasaki .
Visually, the CBR sports smooth lines and gently faired curves, while the Ninja carries a more angular countenance. Both are very sporty looking, but the Kawi looks like it's going fast even when parked. Having said that, I prefer the looks of the Honda here as it carries more feminine lines. Yes, I'm a sailor, and as such am accustomed to thinking of my hardware in the feminine, so the gentler curves are a definite bonus to mine eyes.
When I get down to brass tacks, I confess there is almost nothing to choose between the two powerplants, but how much difference could there be on such small mills?
Kawi comes off a little proud at $4,999 for the base model and $5,299 with ABS, a fistful of dollars more than the CBR at $4,499 for the base and $4,999 with ABS assist. Given the targeted market, this price difference should appeal to persons scratching to stay within budget.
He Said
"Honestly, I don't get to say this often enough in my estimation, but this is one sharp-looking Honda. To the untrained eye, it looks typical of the class, but something about it has an appeal that defies definition. Yeah, I know that is very subjective, but how, exactly,DOES one qualify something as ethereal as beauty and attraction? As usual, I like it for its capacity as a trainer, and even though I fear it can be outgrown rather quickly, ya gots (sic) to start somewhere."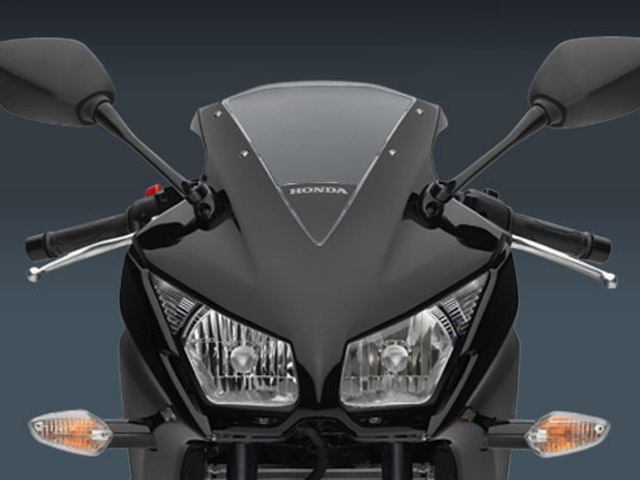 She Said
My wife and fellow writer, Allyn Hinton, says, "I like the fact that you can get an entry-level bike that doesn't look like grandma's motorcycle. It's a sport-bike look with zippy performance. It's not a big bike so you won't feel like you're wrestling a monster and as a commuter , it has enough oomph to take you up the interstate for a couple of exits, but for more than that, I'm not feeling so confident. It is an awesome little bike, though and definitely in the range of the budget-minded or folks looking to stick a toe in the water, as it were, on two wheels."
Specifications
| | |
| --- | --- |
| Engine Type: | Liquid-cooled single-cylinder four-stroke |
| Displacement: | 286cc |
| Bore and Stroke: | 76mm x 63mm |
| Induction: | PGM-Fi, 38mm throttle body |
| Ignition: | Computer-controlled digital transistorized with electronic advance |
| Compression Ratio: | 10.7:1 |
| Valve Train: | DOHC; four valves per cylinder |
| Transmission: | Six-speed |
| Front Suspension: | 37mm fork; 4.65 inches travel |
| Rear Suspension: | Pro-Link single shock with five positions of spring preload adjustability; 4.07 inches travel |
| Front Brake: | Single 296mm disc |
| Rear Brake: | Single 220mm disc |
| Front Tire: | 110/70-17 radial |
| Rear Tire: | 140/70-17 radial |
| Rake: | 25.30 degrees |
| Trail: | 98mm (3.9 inches) |
| Wheelbase: | 54.3 inches |
| Seat Height: | 30.7 inches |
| Curb Weight: | 357 pounds. Includes all standard equipment, required fluids and full tank of fuel-ready to ride. |
| Fuel Capacity: | 3.4 gallons |
| Miles Per Gallon: | 71 MPG – Honda's fuel economy estimates are based on EPA exhaust emission measurement test procedures and are intended for comparison purposes only. Your actual mileage will vary depending on how you ride, how you maintain your vehicle, weather, road conditions, tire pressure, installation of accessories, cargo, rider and passenger weight, and other factors. |
| Emissions: | Meets current EPA standards. Models sold in California meet current CARB standards and may differ slightly due to emissions equipment. |
| Model Id : | CBR300R |
| Available Colors: | |
| 2015: | Black, Red, Pearl White/Red/Blue, Matte Black Metallic/Yellow |
| 2016: | Black, Bright Yellow/Matte Black, Candy Orange/Matte Black |
| 2017: | Red/Black |
| Price: | |
| 2015/2016: | $4,399 |
| 2017: | $4,499 (ABS: $4,999) |
(topspeed.com, https://goo.gl/rQj7wL)
Comments
comments