1. VOLKSWAGEN GOLF R
The Volkswagen Golf R is the high powered version of the standard Golf. The turbocharged and intercooled DOHC 16 valve 4-cylinder engine puts out 292 horsepower and 280 lb-ft of torque. With a zero to sixty time of 4.5 seconds and a zero to 155 mph time of 29.5 seconds, the Golf R is a quick little beast. The transmission is a 6-speed dual-clutch automatic that can be manually shifted. To get the full experience of the power the Volkswagen Golf R is capable of, it's best to manually shift the transmission, as the automatic gearbox seems to lag when trying to select the correct gear for the situation. The Golf R has an upgraded suspension as well, giving it better stability and responsiveness when driving it like a race car.
2. FIAT 500 ABARTH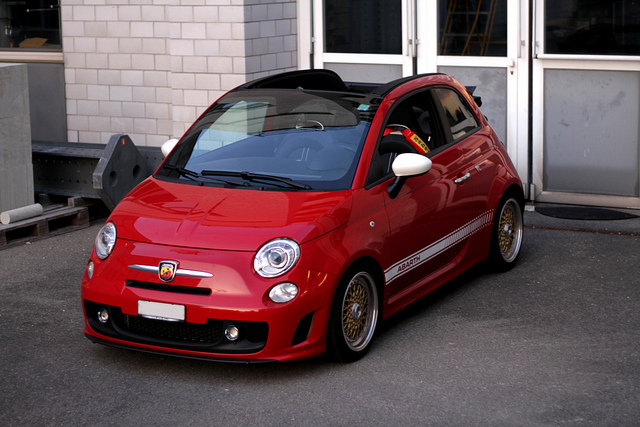 The regular Fiat 500 is nothing special. A weak motor and underwhelming road performance leaves a lot to be desired, which is why the Abarth model is such a breath of fresh air. Under the hood is a beefy 160 horsepower turbocharged four-cylinder. A five-speed manual is standard, with a six-speed automatic being optional. The handling is responsive and feisty, with a lowered suspension giving it a lower center of gravity. This allows the Abarth to handle sharp corners and rough roads with ease. Either a coupe or a softtop convertible is available, so you can rip through traffic with the wind in your hair. The gas mileage is reasonable, with 24 city and 32 highway estimated MPG, so you won't need to stop too often as you race from place to place.
3. CHEVROLET COBALT SS TURBO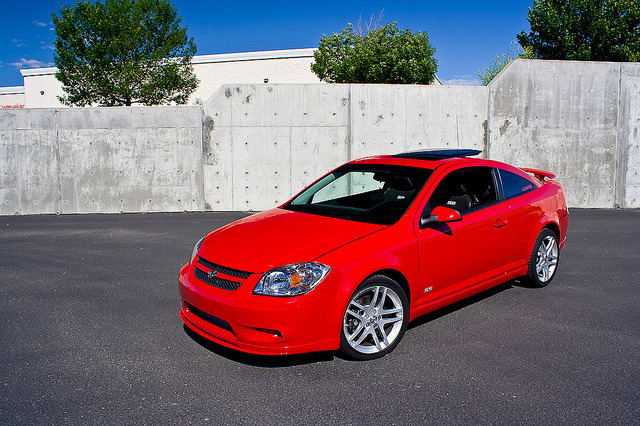 The Chevrolet Cobalt came in a few varieties, but the most powerful one was the turbocharged SS. With the stage 1 kit installed the Cobalt SS turbo had a whopping 290 horsepower and 340 lb-ft of torque. The vehicle was so powerful it came from the factory with high end tires to ensure better traction as well as upgraded electronic traction control. The SS turbo featured "no-lift" shifting, which allowed the driver to maintain boost during an upshift. When engaged the vehicle kept the throttle wide open when the clutch was depressed. Launch control was also added to the SS turbo model. All in all the Cobalt SS Turbo was pretty much a street legal race car.
4. FORD TAURUS SHO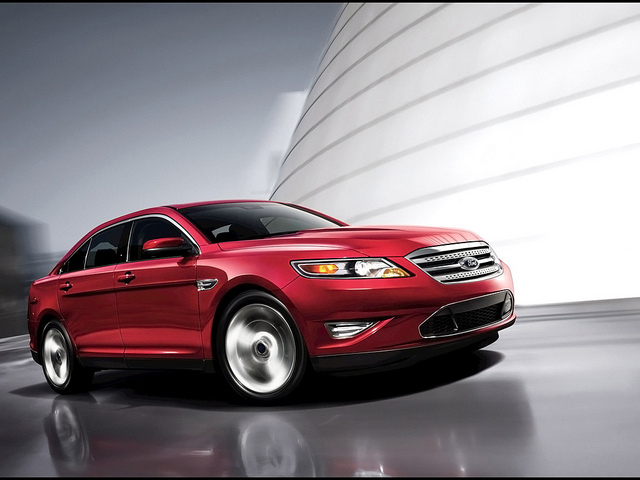 The Ford Taurus isn't anything special. For the most part it's just an average sedan that gets decent reviews. The same team that produced the Mustang SVT Cobra designed and built the Taurus SHO. It was meant to be a limited edition when introduced in 1989, but was so popular production continued for ten years. Recently it was revived for 2010. Under the hood of the new model is a 365 horsepower twin-turbo V6 engine producing 350 lb-ft of torque. The transmission is a six-speed SelectShift automatic with paddle activated manual mode. All-wheel drive was also added to the revived model. The visual differences between the SHO and the regular Taurus are subtle, with only the grille and wheels having slight differences.
5. HONDA CIVIC SI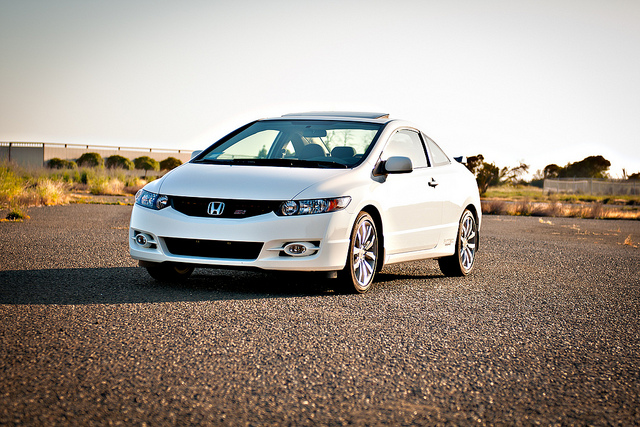 The standard Honda Civic is known for being a reliable, gas sipping, family sedan.The Honda Civic Si takes all those qualities and upgrades the engine and suspension to make a sweet little vehicle. The 2.0 liter four-cylinder engine makes 205 horsepower and 174 lb-ft of torque. Giving it a zero to sixty time of 6.5 seconds and a top speed of 134 mph. The suspension is lowered and tuned by Honda specifically for sport, letting it tear around corners without missing a beat. The steering is tight and responsive, as one would expect from a sports car. The interior is bathed in black and red, with red light accents in the dash. The infotainment touch screen system functions like a smartphone, allowing you to swipe, pinch to zoom, and use two fingers to scroll.
6. CHEVROLET IMPALA SS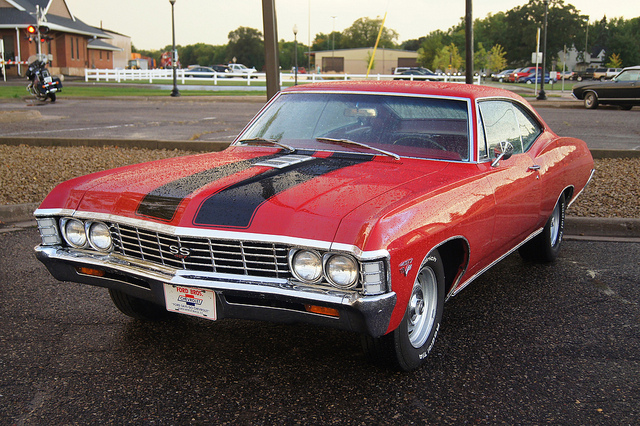 The original Impala SS was produced from 1961 to 1969 and was revived in 1994 for another 2 years, eventually being discontinued in 1996. The 60's Impala SS was a powerhouse with V8 engines producing 305, 340, 350, and 435 horsepower. The SS package also included upgraded shocks, springs, and tires as well as a better braking system. The 90's edition of the SS impala was less powerful than the older model, housing a 5.7 liter V8 that produced 260 horsepower, although, there was a twin-turbo model that was offered in 1996. The twin-turbo Impala SS was a beast, with 588 horsepower and 665 lb-ft of tire smoking torque. Zero to sixty time of the twin-turbo Impala SS was 3.5 seconds.
7. DODGE SPIRIT R/T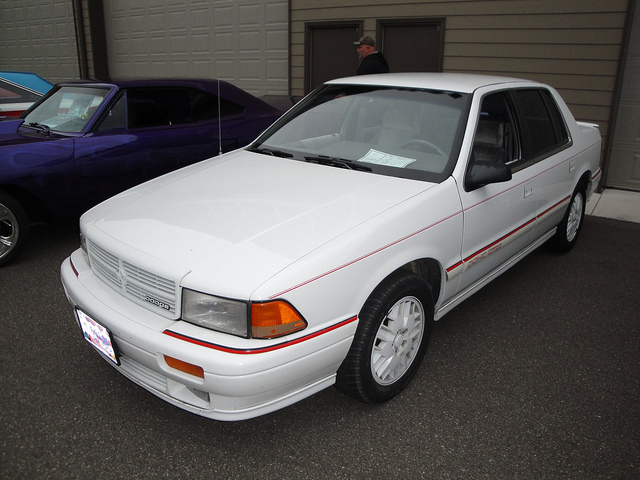 In 1991 Dodge took their Spirit sedan and stuffed a turbocharger under the hood, creating what was advertised as "the fastest sedan made in America." The Spirit R/T was powered by a 16-valve DOHC turbocharged four-cylinder producing 224 horsepower and 217 lb-ft of torque. A five-speed transmission delivered power to the front wheels. Able to reach 60 mph in 5.8 seconds, the Spirit R/T outperformed the BMW M5 built that year.  It was chosen as Motor Trend magazine's "Domestic Sport Sedan of the Year", beating the Ford Taurus SHO for 1991 and 1992. A total of 1,208 Spirit R/Ts were sold in 1991. An additional 191 were sold in 1992 before being discontinued.
8. DODGE NEON SRT-4
The Dodge Neon was a popular little car when it was introduced. Like the Honda Civic, the Neon was an affordable, gas efficient sedan. In 2003 Dodge decided to supe up the Neon and created the Neon SRT-4. Under the hood was a 2.4 liter turbocharged four-cylinder that produced 215 horsepower and 245 lb-ft of torque.The only available transmission was a five-speed manual. Zero to sixty time was 5.6 seconds, while the quarter-mile time was 14 seconds. The suspension received an overhaul so the Neon SRT4 could handle higher speeds as well as harder cornering. The Neon SRT4's life was short lived, only being produced from 2003 till 2005, but it's creation lead the way for other SRT modified vehicles like the Caliber, Cherokee, and Hellcats.
9. GMC SYCLONE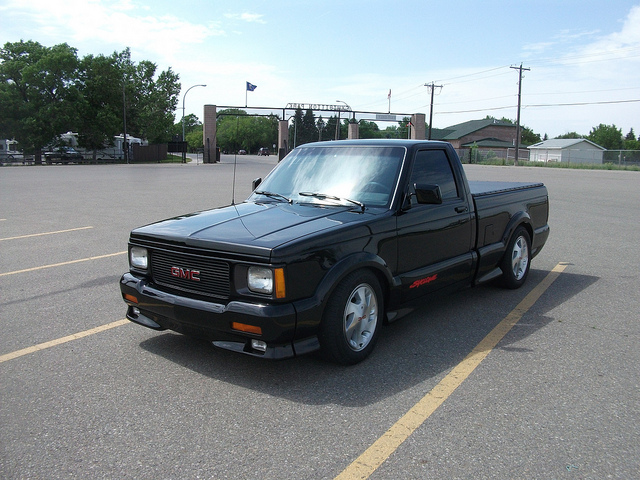 GMC's little Sonoma pickup was a reliable V-6 work truck and for some reason in 1991 someone at GMC decided that it would be a good idea to stuff a turbocharger under its hood. The result was the GMC Syclone, a truck that at the time was the fastest pickup produced on the planet. This unassuming vehicle had a 280 horsepower V-6 engine. The all-wheel drive system and 350 lb-ft of torque allowed this bad boy to hit 60 mph in close to 5 seconds. Most people pulling up next to this truck at a stop light wouldn't look twice, until the light turned green and it disappeared in a cloud of smoke. It was sadly only produced in 1991, and a total of 2,995 were made.
10. MITSUBISHI LANCER EVOLUTION X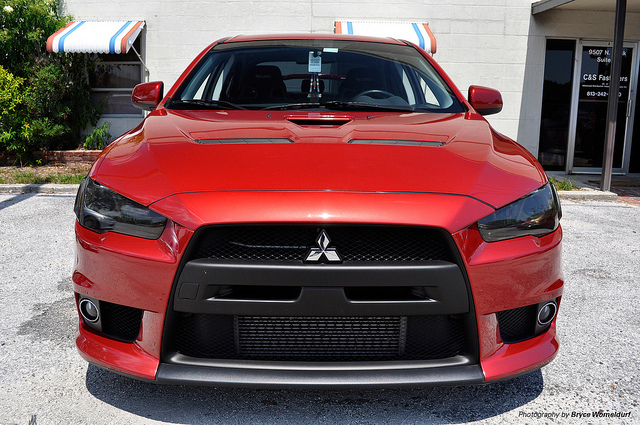 The Mitsubishi Lancer was a decent four door sedan, but Mitsubishi kicked it up a notch with the Evolution models. The Mitsubishi Lancer Evolution X is the final incarnation of the Lancer Evolution model line.Under the hood is a 291 horsepower turbocharged and intercooled DOHC 16-valve 4-cylinder monster. With 300 lb-ft of torque, the Lancer Evolution X can beat most cars off the line. With a zero to sixty of 4.9 seconds and top speed of 158 mph, not many cars can keep up. The all-wheel drive and fine tuned suspension allows the Lancer Evolution X to navigate corners with ease. Instead of a manual transmission, the Lancer Evolution X comes equipped with a six-speed twin clutch automatic with launch control.
11. DODGE CHARGER HELLCAT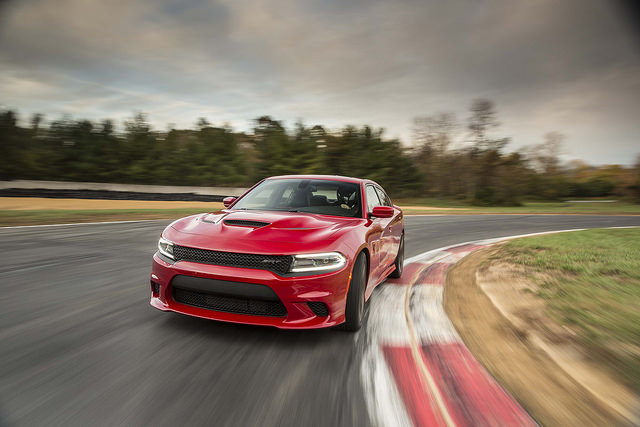 If ever there was a car that was the perfect example of being an awesome version of an existing car, it would be the Dodge Charger Hellcat. With a 707 horsepower supercharged 6.2 liter V-8, this thing is speed incarnate. The one German four-door that is capable of beating it to 60 mph is the Porsche Panamera Turbo S, but it costs almost three times the Charger's base price and can't match its top speed of 204 mph. Rev this bad boy at a red light and other cars will hang their heads in shame. The Charger Hellcat is perfect when speed and style is what you want, and not many other cars can keep up when this cat goes into a full sprint. Dodge wasn't kidding when they said they had built the most powerful production sedan on earth.
12. CHEVROLET CORVETTE Z06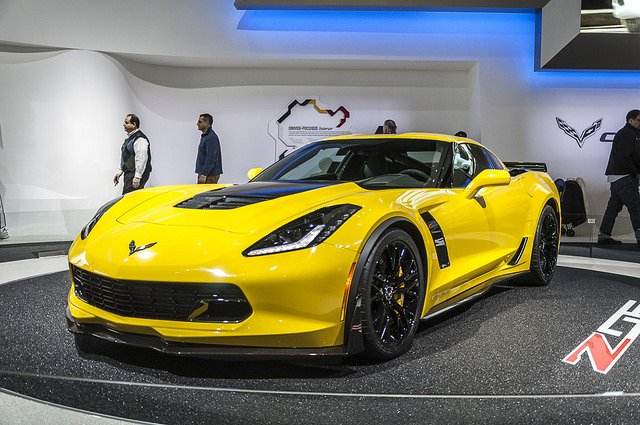 The Chevrolet Corvette has always been a pretty sweet car, but Chevrolet turned it up to 11 when they built the Corvette Z06. A supercharged 6.2 liter V-8 producing 650 horsepower and 650 lb-ft of torque resides under the hood of this monster of a car. Six gears wasn't enough for this baby, so Chevrolet installed a seven-speed manual transmission as a standard. An eight-speed automatic transmission with paddle shifters is also available. The Corvette Z06 has a zero to sixty time of 3 seconds flat, and has a top speed of 185 mph. The chassis and suspension are perfectly tuned, keeping the Z06 planted on the pavement as it flies around corners or tears down straightaways.
13. SUBARU WRX STI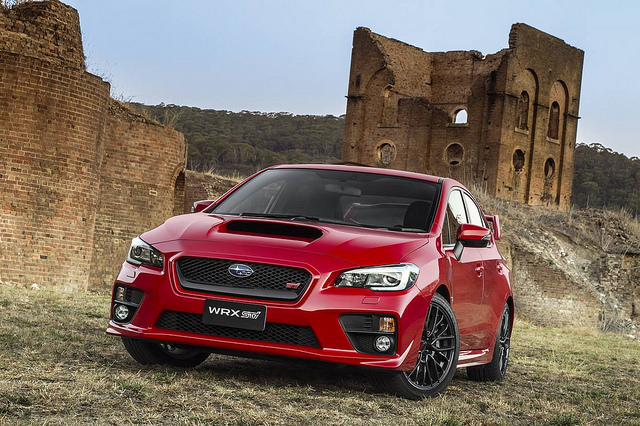 The Subaru WRX is a sweet car in its own, and plenty quick too, but the STI model is a whole other beast. Originally built for rally car racing, the Subaru WRX Sti has earned the praise it's been given. With a turbocharged and intercooled DOHC 16-valve 4-cylinder engine under the hood, that puts out 305 horsepower and 290 lb-ft of torque, the Subaru WRX STi hits zero to sixty in 4.8 seconds with a top speed of 157 mph. The only transmission available for the Subaru WRX STi is a 6-speed manual. Due to its rally car roots, the suspension is fine tuned for hard cornering. The all-wheel drive keeps the vehicle moving in all weather conditions, as well as gripping the road tight as you blast around corners.
14. FORD FOCUS ST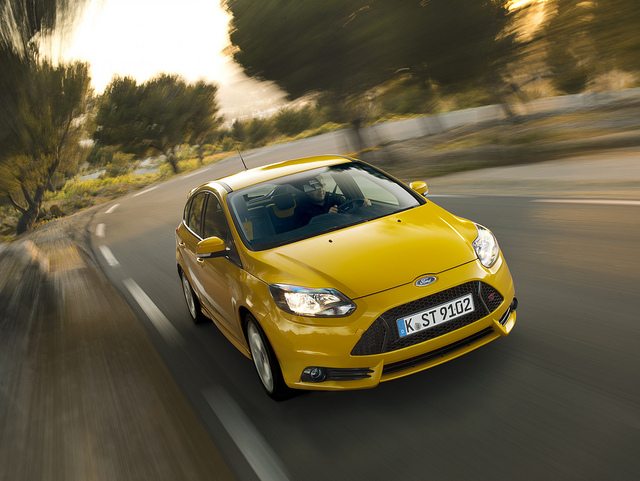 The Ford Focus is a critically acclaimed sedan, garnering praise for its comfort and safety, while the ST model of the Focus gets praised for being a powerful little speed demon. Powered by a turbocharged and intercooled DOHC 16 valve 4-cylinder engine, mated to a 6 speed manual transmission. With 252 horsepower, the Ford Focus ST is capable of a zero to sixty time of 6.3 seconds, and a quarter mile time of 14.9 seconds. When pushed to it's limits, the Ford Focus ST reaches a top speed of 154 mph in 38.7 seconds. It's stiff subframe and springs give the Ford Focus ST a tight, smooth ride; capable of handling sharp curves with ease. Electronically assisted steering, actuated via a flat-bottom steering wheel, adds to the smoothness of the ride.
(carophile.com)
Comments
comments