1. HENNESSEY VENOM GT
Top Speed: 278 mph (estimated)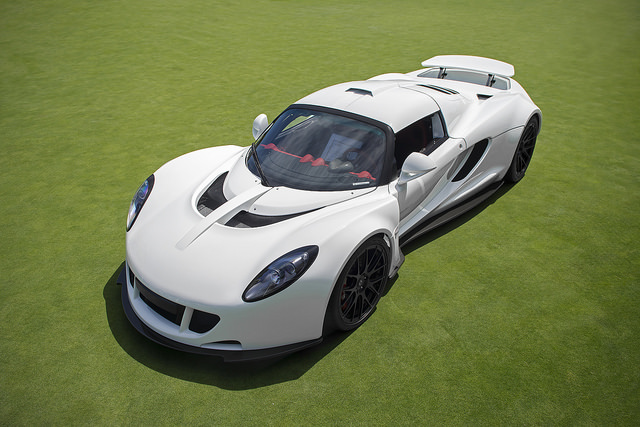 The Hennessey Venom GT holds the current title as the world's fastest production car. Currently the Venom GT holds the Hypercar world record for 0 – 200 mph, reaching 200 mph in 14.51 seconds. The Venom GT runs the quarter mile in 9.92 seconds, and hits 253 mph by the time it hits 1 mile. With 1244 horsepower produced by a 7.0 liter twin-turbo V-8, the Venom GT out paces any other car on the road. The Braking system of the Venom GT helps the vehicle stop as well as it accelerates, with Brembo 6-piston calipers mounted to 15 inch carbon ceramic rotors. Composite materials and aerospace quality construction keeps the Venom GT strong and light, weighing in at 2743 pounds.
2. BUGATTI VEYRON 16.4 SUPER SPORT
Top Speed: 268 mph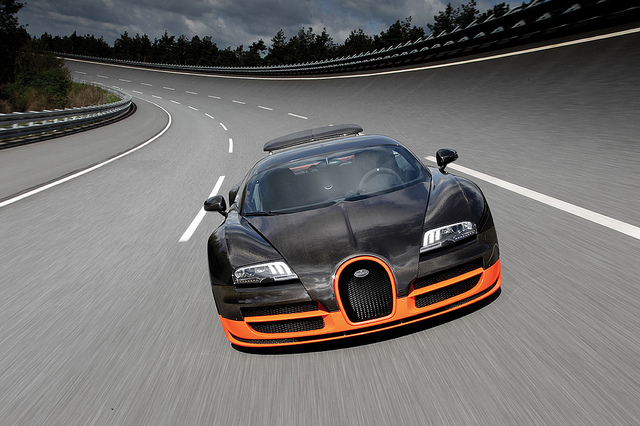 With a quad-turbocharged and intercooled DOHC 64-valve W-16, producing 1200 horsepower and 1106 lb-ft of torque, the Bugatti Veyron 16.4 Super Sport is a speed demon on wheels. With a base price of $2.4 million the Veyron Super Sport is out of the reach of most drivers, and being limited to a production of only 40 makes them even more hard to obtain. The Veyron has so much power that the special $42,000 set of Michelin tires last around 10,000 miles, unless you're going top speed, then they last around 15 minutes. At that speed the gas tank will only last 10 minutes before it's dry.Not to worry, as there aren't many places, if any, on the planet where you can drive 268 mph for that length of time.
3. KOENIGSEGG AGERA R
Top Speed: 273 mph (theoretical)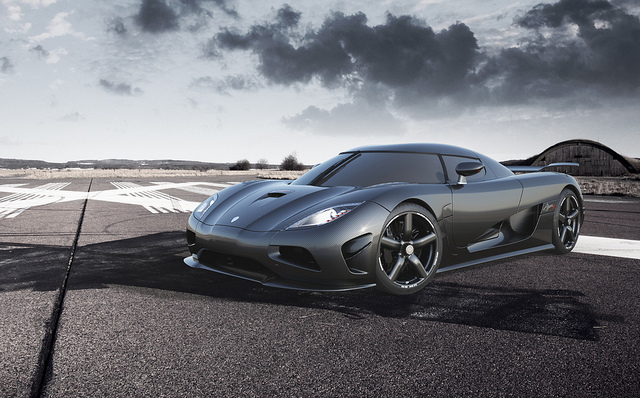 Debuting at the March 2011 Geneva Motor Show, the Koenigsegg Agera R is one of the fastest cars ever built. During test sessions in Ängelholm, the Agera R broke six world land speed records for a production car, including 0–189 mph in 14.53 seconds, and 0-189-0 mph in only 21.19 seconds. The braking performance required to maintain this record is enabled in part by the Agera's stability, demonstrated by Koenigsegg's test driver and drivetrain technician Robert Serwanski, who was able to brake from 186 mph to 0 without holding the steering wheel. The adaptive rear wing system is lighter than conventional hydraulic/electrical adaptive systems, and has the unique ability to compensate for head/tailwind due to its spring-loaded design.
4. 9FF GT9-R
Top Speed: 260 mph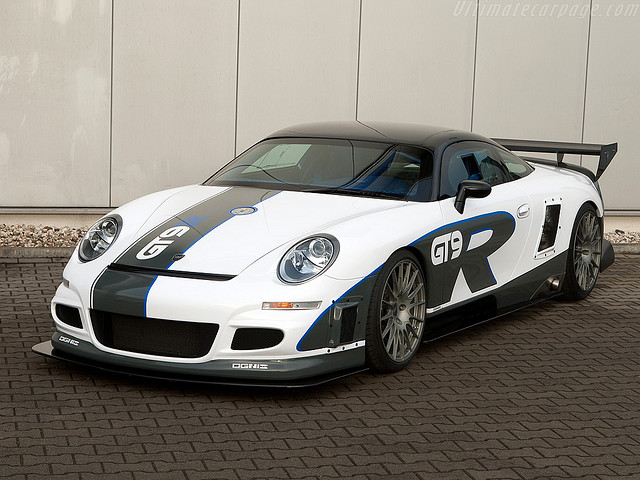 The 9ff GT9-R is based loosely on the Porsche 911, but aside from the looks, it is a whole other beast. Built by German tuning company 9ff, founded by Jan Fatthauer, the GT9-R is an extensively rebuilt Porsche 911 GT3. Fitted with a heavily modified 4.0 litre flat 6 that produces 1,120 horsepower. It was designed to take the speed record for a street legal car, with a claimed speed of 260 mph. It does 0 to 60 in 2.9 seconds and 0 to 190 in under 16 seconds. The interior was stripped out for lightness, and has blue leather, square patterned trim, with a roll cage for safety. Only 20 GT9-R models were built with the largest engine, making them very rare.
5. ZENVO ST1
Top Speed: 233 mph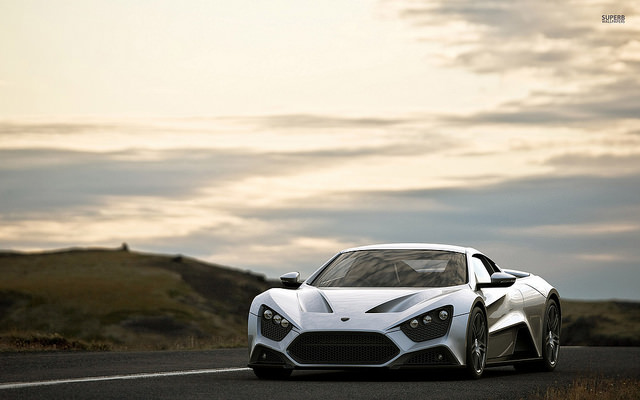 The Zenvo ST-1 is a high performance sports car. Its turbocharged and supercharged 6.8 liter
V8 engine generates 1,104 hp at 6,900 rpm and 1,050 lb-ft of torque at 4,500 rpm. According to Zenvo, the ST1 set a 0-100 km/h time of 3.0 seconds, with 0-200 km/h taking 8.9 seconds. The Zenvo ST-1 has a top speed of 233 mph. The body is made of carbon fiber and was constructed in Germany. While certainly fast, the ST1 had some issues when it was reviewed on the British TV show Top Gear. The First ST1 they tested caught fire due to an engine malfunction, and the second one failed to impress on the wet track.
6. ULTIMA GTR
Top Speed: 231 mph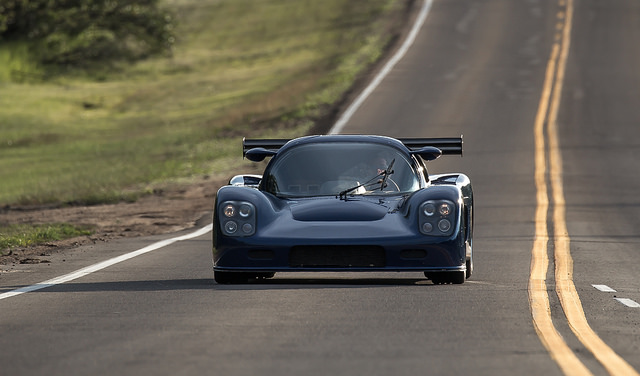 The Ultima GTR is a supercar manufactured by Ultima Sports Ltd of Hinckley, Leicestershire, England. The car was available in both kit and "turnkey" form (turnkey meaning assembled at the factory) until early 2015. The design is mid-engine, rear wheel drive, with a tubular steel chassis. The GTR is equipped with a 720 horsepower engine, capable of a top speed of 231 mph. The Ultima GTR can do zero to sixty in 2.6 seconds, zero to 100 in 5.3 seconds, and can go from 100 to zero in 3.6 seconds. The Ultima GTR also runs the quarter mile in 9.9 seconds. The GTR720 was independently timed lapping the Top Gear test track in 1 minute 12.8 seconds, which is at least 1 second faster than all other times listed on the Top Gear television programme's Power Board.
7. PAGANI HUAYRA
Top Speed: 230 mph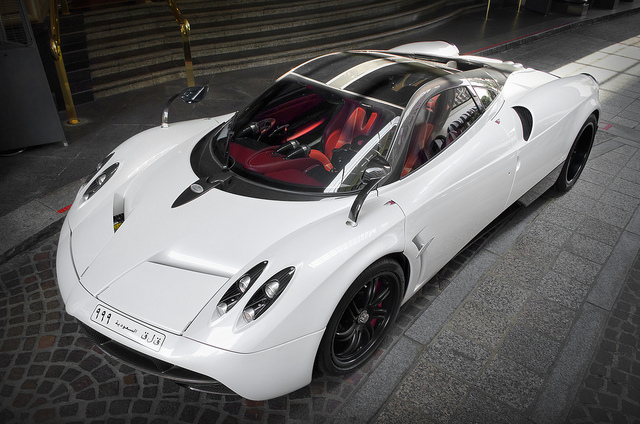 The Pagani Huayra is a 720 horsepower, mid-engined, million dollar supercar. The 6 liter twin-turbo V-12 engine gets the Pagani Huayra to a top speed of 230 mph. The Huayra is almost a jet fighter on wheels, the vehicle has motorized body surfaces that constantly lift and tuck like an F-16's flaperons with the goal of reducing body roll and stopping distances. Above 50 mph, all four lift 10 degrees to increase downforce. When the driver turns the wheel, the flaps on the inboard side rise to 20 degrees to counteract body roll. Under braking, all four lift to 40 degrees to act as air brakes. All these features make the Huayra one of the most unique vehicles on this list. The cockpit looks like something from a spaceship, with bionic-Bauhaus sculptures in cut aluminium.
8. NOBLE M600
Top Speed: 225 mph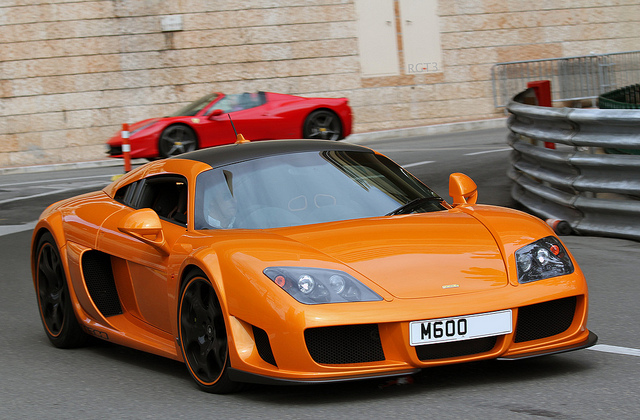 The Noble M600 is a handbuilt British supercar made by Noble Automotive in Leicestershire. The M600 engine uses a Yamaha-derived Volvo B8444S V8 engine which is also used in the Volvo XC90 and S80, but with twin Garrett turbochargers equipped with variable boost. This allows the user to choose from 450 horsepower (Road setting), 550 horsepower (Track setting), and 650 horsepower (Race setting), through the use of a switch in the interior. The Noble M600 can reach a top speed of 225 mph, can run zero to sixty in 3 seconds flat, and can hit 100 mph in 6.5 seconds. The brakes, while servo assisted, are "barely" assisted and don't have ABS, making it very easy for an inexperienced driver to lock the wheels.
9. MCLAREN P1
Top Speed: 217 mph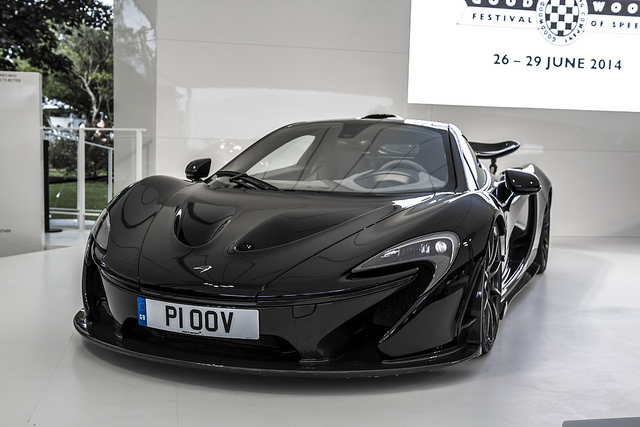 McLaren has long been the king of supercar makers, and they retain their title with the McLaren P1. Under the hood the P1 houses a twin turbo 3.8 liter 727 hp engine coupled with a 177 hp electric motor that combined put out 903 hp, and produces a top speed of 217mph, reaching 60mph in 2.7 seconds.The P1's hydro-pneumatic suspension, rear wing extending close to 12 inches, and an electro-hydraulically assisted steering allows it to outperform its rivals when roaring around the track. It may not be faster than it's competitors, but speed is only part of the equation. While others are going faster in a line, the P1 is able to corner at insane speeds. With multiple driver-selectable programs (e-mode, normal, sport, track and race), you're not without options when driving. Race mode drops the body two inches and raises the wing close to a foot off the body, but driving on anything other than a race track could cause the P1 to scrape when it hits road imperfections.
10. LAMBORGHINI AVENTADOR
Top Speed: 217 mph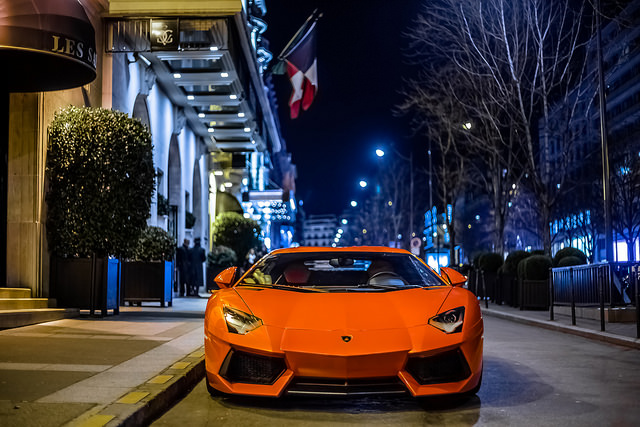 The Lamborghini Aventador is a brutally powerful machine, equipped with a 6.5 liter, 691 horsepower V12 mated to a seven-speed automatic. Available in a coupe or roadster, the Lamborghini Aventador also features an all-wheel drive system. With a top speed of 217 mph, and a zero to sixty time of 3 seconds flat, the Lamborghini Aventador is lightning fast. The vehicle is also surprisingly agile for its size, making it a joy to drive. The Aventador also features a manually adjustable carbon-fiber wing and fixed C-pillar aero scoops, lateral strut-type magnetic shocks, and a variable-ratio steering system that reduces lock-to-lock motion. Two drive modes are selectable, Sport and Corsa. Sport is the standard mode, while Corsa offers hyperspeed shift times and a more textured ride quality.
(carophile.com)
Comments
comments