Google unveils a new Nexus phone every year, and in 2015 we're expecting two new devices with 5.2- and 5.7in screens. We examine the UK release date, price, specification and feature rumours surrounding the 2015 Nexus phones, the LG Nexus 5 and Huawei Nexus 6
Update 20 August: uSwitch has revealed exclusive new renders of the Huawei Nexus 6, sourced by OnLeaks, which shows it to have the same rear fingerprint scanner as the Nexus 5. Check out the new Nexus 6 in its video below.
Update 17 August: The first leaked photo of the LG Nexus 5 comes from the Google+ page of the Google Nexus Community Indonesia. It reveals a white device with a circular fingerprint scanner, protruding camera and the Nexus logo at the rear.
Update 12 August: Another leak, this time from @Onleaks, backs up that the Huawei Nexus will have a 5.7in screen while the LG Nexus will be smaller at 5.2in. It also reveals both will have a metal body, Type-C USB, front facing speakers and a fingerprint scanner on the back. Furthermore it mentions dimensions of 159.4×78.3×6.6/8.5mm for the Huawei model and 146.9×72.9×8/9.8mm for LG. The below image was also published reportedly showing the LG Nexus.
Update 4 August: Today GizmoChina is reporting that specs of both an LG Nexus 5 and a Huawei Nexus 6 have leaked online. We're reporting these rumours as we do all new Nexus rumours, but taking them with a very large pinch of salt – the site lists absolutely no sources, and for all we know the report is entirely made up.
For what it's worth, the site claims the LG-made new Nexus 5 has a 5.2in full-HD P-OLED screen, a Qualcomm Snapdragon 620 processor, up to 4GB of DDR3 RAM, up to 64GB of storage, a 3180mAh battery, a MediaTek connectivity chipset, front-facing speakers, a rear power button with integrated fingerprint scanner, 13- and 4Mp cameras and USB Type-C with QuickCharge 2.0. The Nexus 5 will allegedly have an aluminium frame with chamfered edges and a plastic rear cover.
GizmoChina says the Huawei-made new Nexus 6 has a 5.7in WQHD AMOLED screen, a metal unibody chassis, a 21Mp rear camera and wireless charging.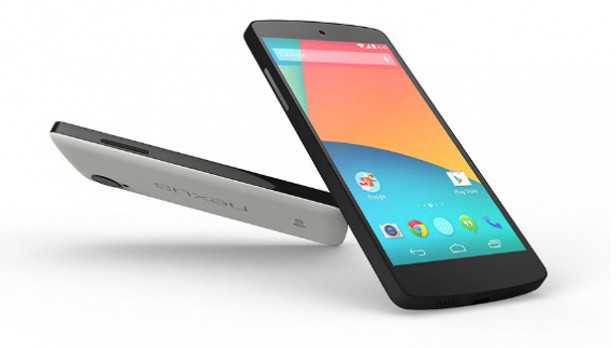 Update 15 July: Prolific leaker @eveleaks has revealed that the 'Huawei Nexus', as he calls it, will feature a 5.7in screen with a Quad HD resolution, a Snapdragon 820 processor, a metal body and a fingerprint scanner. He also reveals it will ship in Q4 of this year. Read more below.
Update 17 June: Huawei has been confirmed as the manufacturing partner on the new Nexus. A source told IBT that the P8 maker is working 'in close partnership with Google' on the smartphone.
In October 2014 Google announced its Nexus 6 phone. It was expected to go on sale in November, but it was actually getting on for Christmas before stock was available.
People were desperate to get their hands on the new Nexus 6, despite the fact it was possibly Google's most unexciting phone launched yet. Sure, it had the brand-new Lollipop OS and some powerful hardware inside, but for many customers the 5.96in Quad HD display was simply too big, while the £499 price no longer offered such brilliant value as did the previous Nexus 5 and Nexus 4.
Google noticed the difference in its Q1 2015 earnings call, too. While takings were up 23 percent YOY from Google Play, revenue was down 3 percent compared to the previous quarter, and the Nexus 6 hadn't been nearly as successful as previous Nexus devices. It's possible that the 2014 Google phone was simply priced too high to garner the same kind of mass appeal as did the Nexus 4 and Nexus 5.
And those phones really were killer Google phones, with the Nexus 4 announced in 2012 with an unbelieveably low SIM-free price of £239, and in October 2013 the Nexus 5 followed that tradition with unrivalled value for money at £299.
That's the Nexus 4, Nexus 5 and Nexus 6 covered. Meanwhile, the Nexus 7, which was last refreshed way back in 2013, is still one of the best-value 7in tablets around (the Nexus 9 and Nexus 10 are larger tablets). Google no longer officially stocks the Nexus 7, but you can still get your hands on one online, and for not much more than £100.
So what will the new Nexus 2015 phones be called?
With only the Nexus 8 model name going spare, Google's either going to have to start refreshing its existing product lines, adding the year as it did with the second-gen Nexus 7, or go down the Apple route with the addition of an 'S'. Perhaps in 2015 we'll get a new Nexus 5s, or a new Nexus 6s.
…Or both. Since early rumours circulating on the web suggest Google is in talks with both LG and Huawei for its new Nexus phone (which LG has now confirmed, saying the new Nexus phone is "under consideration at LG", according to Android Pit). It's quite possible that we'll see both a new Nexus phone and a new Nexus tablet, or maybe a new Nexus phone and a new Nexus phablet, with LG making one device and Huawei the other.
LG, of course, made the Nexus 4 and Nexus 5, while Motorola made the Nexus 6, Asus made the Nexus 7, HTC made the Nexus 9 and Samsung the Nexus 10. Huawei, meanwhile, has just launched a very interesting, very good-value phablet in the Huawei P8 max, alongside its flagship Huawei P8.
It's possible, then, that we'll see a new Nexus 5 2015 from LG and a new Nexus 6 2015 from Huawei, and that seems to be what most leaks are now saying. The LG device is more likely to be a new Nexus 5 while the Huawei is bigger so is a more natural replacement for the Nexus 6.
New Nexus 2015 phone UK release date and price rumours: When is the new Nexus 5 2015 coming out? How much will the new Nexus 5 2015 cost?
We now know that the existing Nexus 5 will get Android M, when it launches. During theGoogle I/O 2015 keynote we got our first glimpse of Android M, the operating system that will run on the new Nexus phone(s). At the keynote Google failed to mention any new Nexus handsets or tablets. But there is good news for existing Nexus 5 users in that an early build of Google's Android M is available to developers with Nexus 5 phones starting today.
Android M includes a number of important and interesting changes to the operating system, including a mobile payments system (in the US) and what Google calls 'more intuitive' app permissions. Android M will launch globally in the Autumn, and the developer release suggests that the Nexus 5 will get it straight out of the box.
Importantly, Android M also brings support for USB Type-C, a reversible conntector that was shown during the keynote with a mystery phone – could it be the new Nexus 5?
Watch the keynote video in full below.
Following tradition, though, the new Nexus phone(s) won't be unveiled until later in the year, and most likely October, alongside the final version of the new Android OS. We expect Google would like to get the new Nexus device(s) on sale in November. The latest info matches up with this, suggesting the Nexus 5 will ship in Q4 of this year.
In terms of pricing, until we know the exact specification, we can merely speculate. The Nexus line is known for its value, and we really can't see Google taking prices any higher than its £499 Nexus 6. Much more likely, given the findings of its Q1 2015 earnings call, is that it will return to its previous tack: high-end devices with mid-range prices.
The fact it's in talks with Huawei is very interesting. Huawei is a Chinese manufacturer that makes devices with specs to rival the big brands such as Apple and Samsung, but at significantly lower prices. It's one of the better-known Chinese phone makers in the UK, and in the first quarter of this year in China itself it was second only to Xiaomi in terms of market share. Both are more popular over there than Apple and Samsung, with Xiaomi taking 14 percent of the market and Huawei 11 percent, according to IHS Technology.
If Huawei is to build the next Nexus phone, we could see the price fall right back down to around £300- to £350. However, if Huawei is in charge, we're really hoping availability won't become an issue once again: the P8 and P8 max should have gone on sale in the UK on 15 April, but today (7 May) are still impossible to find on sale.
New Nexus 2015 phone specification and features: What to expect from the new Nexus 5 2015
After various leaks we appear to have arrived at some reasonably concrete, or agreeable, specs for the LG and Huawei Nexus devices. Of course, they could all be wrong but see below for what the rumour mill had churned out for the two devices.
LG Nexus specs
It seems the LG Nexus will be the smaller device at 5.2in Full HD P-OLED screen, only a little bigger than the existing Nexus 5. It will also reportedly use a Qualcomm Snapdragon 620 processor, up to 4GB of DDR3 RAM, up to 64GB of storage and a 3180mAh battery.
Front-facing speakers, a rear fingerprint scanner, 13- and 4Mp cameras and USB Type-C with QuickCharge 2.0. The LG Nexus will allegedly offer a metal design rather than plastic – 146.9×72.9×8/9.8mm.
Huawei Nexus
Closer to the Nexus 6 in specs, the Huawei Nexus looks like it will feature a 5.7in screen with a Quad HD resolution, it will also have a Qualcomm Snapdragon 820 processor and a 21Mp rear camera. Rumours also suggset it will, like the LG Nexus, have a metal body (159.4×78.3×6.6/8.5mm), fingerprint scanner, USB Type-C and front facing stereo speakers.
The below concept images are from designer Miqdad Halim and show LG and Samsung Nexyus devices.
A more convincing leak is the phone used in Google's own promo video for Project Fi. It's clearly not a Nexus 6, despite the fact that is the only available handset that works with Project Fi right now, so could it be a Huawei-made Nexus phone? Check out the video below.
We'll update this article with more details as we hear them.
(pcadvisor.co.uk)
Comments
comments