This guide will take you through some reasons why you should, and shouldn't, buy the new Samsung Galaxy Note 9 in August and beyond.
If you're hunting for a new Android smartphone, devices like the the Galaxy S8, Galaxy Note 8, and Galaxy S9 should be on your shopping list.
The Samsung Galaxy S8, Galaxy S8+, and Galaxy Note 8 are cheaper than they once were and they've been upgraded to Samsung's version of Android Oreo. Android Oreo brings a long list of new features, enhancements, fixes, and patches along with it.
These Galaxy devices and others, like Samsung's Galaxy S7, should have your attention, but you'll also want to add another Galaxy device to your shopping list. Perhaps to the top of it.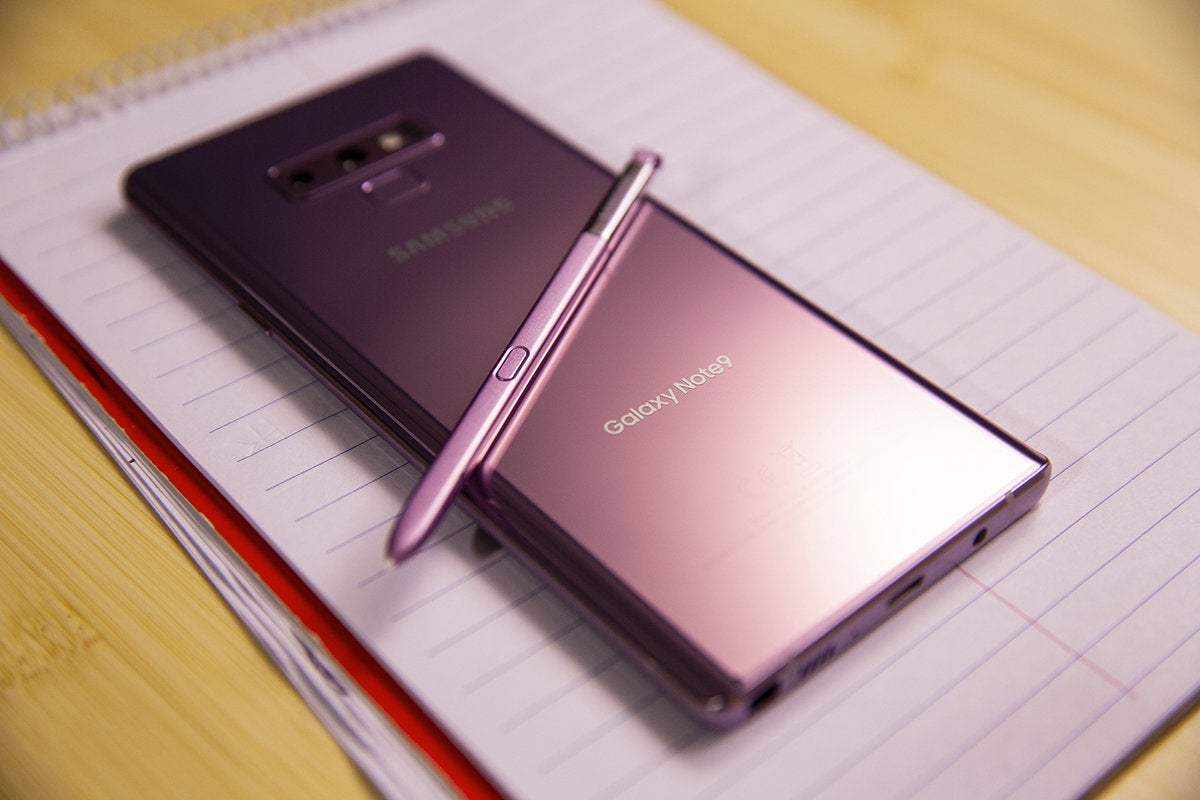 After a seemingly endless stream of rumors and speculation, the Galaxy Note 9 is official and it's officially on sale in the United States and countries around the world.
As expected, the Galaxy Note 9 is a powerhouse. Samsung's new entry in the long-running Galaxy Note series comes with a long list of upgrades including a brand new S Pen stylus, a huge high-resolution display, a high-performance processor from Qualcomm, tons of storage space, and a massive battery.
The Galaxy Note 9 isn't cheap, but it's certainly worth investigating if you're looking for a powerful smartphone you can hold onto for several years.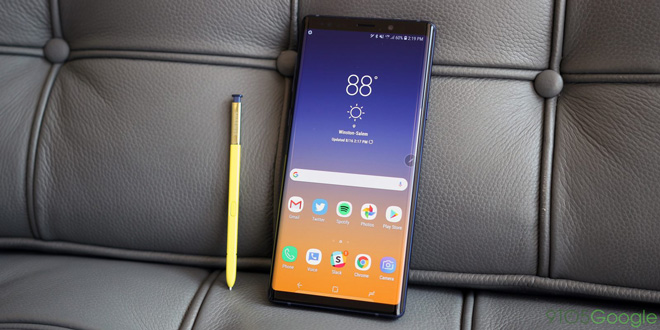 With the trade-in offers live and iPhone 11 and Pixel 3 launches imminent, many people are trying to decide if they should buy the Galaxy Note 9 now or wait a few more weeks before making a decision.
In this guide we'll take you through the best reasons to buy and the best reasons to wait.
Buy If You Want the Best Software Support
If you plan on keeping your next phone for several years, consider buying the Galaxy Note 9. 
Samsung didn't advertise this on stage during the Galaxy S9 launch event and it didn't talk about it during the Galaxy Note 9 event either, but these devices should receive at least two years of major Android OS upgrades with bug fixes and security updates mixed in.  
While you might be tempted to skip the Galaxy Note 9 and go with a cheaper alternative like the Galaxy Note 8, Galaxy S8 or Galaxy S7, software support for those devices will come to an end much faster.
The Samsung Galaxy Note 9's hardware upgrades ensures the device will get feature-rich versions of Samsung's upgrades for several years to come. Samsung's Android updates for older phones are often limited by their aging hardware. 
The Samsung Galaxy Note 9 is one of the first Galaxy devices to run Android 8.1 Oreo, a newer version of Oreo, and Samsung's new Experience UI. It's also running Samsung's new Bixby 2.0 assistant.
Bixby 2.0 comes with improvements to the AI's accuracy, an improved SDK, better support for third-party applications. As of right now you can use Bixby to launch third party apps, but you can't do much else.
Bixby 2.0 will eventually make it onto other devices like the Galaxy S9, but you'll likely have to wait for Samsung to issue it with a major software update, probably Android 9.0 Pie. And if the roll out is anything like Oreo, that might mean waiting until late 2018 or the first half of 2019. 
We expect the Galaxy Note 9 to be one of the first Samsung devices upgraded to Google's new Android 9.0 Pie update. Android Pie is now available for Pixel phones and select devices from OEMs like Essential. 
If you plan on keeping your next phone for several years and you think you might want the latest features, fixes, and patches without having to install custom software, think about going with the Samsung Galaxy Note 9 over an older Galaxy phone. 
Buy for the New S Pen
The Samsung Galaxy Note 9 comes with a supercharged S Pen and the new stylus is one reason owners of devices like the Galaxy Note 5 should think about upgrading.

Rumors pointed to a powerful, Bluetooth-enabled S Pen and that's exactly what Samsung's delivered alongside the Galaxy Note 9.

The new S Pen comes with Bluetooth Low-Energy (BLE) support which means you'll be able to take advantage of a variety of new functions. For example:
Use the S Pen as a remote camera shutter.
You will be able to remotely unlock your phone if the S Pen was removed from the phone and then the phone locks.
You will be able to press the S Pen button to do more in a range of apps.
Press and hold the Pen button to open any app or S Pen feature.
Set up single and double press Pen actions.
Another huge perk? Samsung says the new S Pen charges in the phone in just under a minute.
Samsung also says developers will be able to "integrate the S Pen's new, advanced BLE functionalities into their apps later this year."
If you're a heavy S Pen user and want more out of the experience, you'll want to think about buying the Galaxy Note 9.
Buy If You Want a Ton of Horsepower
If you want a ton of horsepower from your next smartphone, consider the Galaxy Note 9. It's arguably the most powerful smartphone on the planet.

Samsung's loaded the Galaxy Note 9 up with high-performance hardware and that should be music to the ears of people that want to play cutting edge games, consume great looking content, and get all day battery life out of their smartphone.

The Galaxy Note 9 is powered by Qualcomm Snapdragon 845 2.35 GHz quad-core processor that's backed by 6GB to 8GB of LPDDR4 RAM.

There are two storage options 128GB or 512GB and it comes with a microSD card slot if you find you need more space to store your movies, photos, or game saves.

Samsung's managed to pack in a massive 4,000mAh battery with Wireless Charging capabilities via WPC and PMA.

The Galaxy Note 9 also features a dock-less desktop experience. It's like DeX, but without the dock. In order to use this feature, Galaxy Note 9 users will need a DisplayPort-enabled USB-C adapter or cable which are sold separately.

If you're the type of person that does more than just browse the web and send out email, or you want to become a person that gets a lot more done on their phone, you should consider buying the Galaxy Note 9. It'll give you that all day performance you're looking for.
Buy for Camera Improvements
If you aren't thrilled with the cameras and camera software on the Galaxy Note 8 and Galaxy S9, think about going with the Galaxy Note 9.

Samsung's hyped up the Galaxy S9 camera setup, but reviews are mixed. Critics are complaining about low light photos and bugs. That said, the new cameras do enable some perks like AR Emojis.

Last year, the Galaxy Note 8 trumped the Galaxy S8 with its secondary 12MP camera with telephoto lens that enables depth of field effects and lossless zooming. This year, the Galaxy Note 9 builds on the experience Samsung delivered with the Galaxy S9 with some new software features.

In the rear the Galaxy Note 9's got a Dual Camera setup with Dual OIS (Optical Image Stabilization). Specifically, we're looking at a 12MP rear lens with adjustable aperture and a secondary 12MP telephoto lens with f/2.4 aperture.

Other perks include:
Wide-angle: Super Speed Dual Pixel 12MP AF, F1.5/F2.4, OIS
Telephoto: 12MP AF, F2.4, OIS
2X optical zoom, up to 10X digital zoom
The Galaxy Note 9's front-facing camera is a 8MP shooter with autofocus. Perfect for those of you that like to take selfies.
On top of that, Samsung's made some changes to the camera application. New features include:
Scene Optimizer: The Galaxy Note 9's camera uses AI and can identify elements of a photo, such as scene and subject, to automatically classify it into one of 20 categories. It then optimizes saturation, white balance, brightness and contrast based on the category.
Flaw Detection: The Galaxy Note 9 will now let you know if there's something wrong with your photo so you can quickly take another. You'll get an immediate notification if the image is blurry, if the subject blinked, if there is a smudge on the lens, or if there is backlight impacting the quality of the image. 
If you want the best Samsung's got to offer, you'll want to take a look at the Galaxy Note 9.
Buy If You Want a Flagship Without a Notch
If you don't want a notch at the top of your next smartphone's display, think about buying the Galaxy Note 9.

The iPhone X brought the notched screen into the mainstream and we're starting to see other manufacturers employ the notch on their devices in 2018.

LG's G7, also known as the LG G7 ThinQ, comes with a 6.1-inch notched display. Google's Pixel 3 XL is rumored to have a notched display. And Apple's new 2018 iPhones will almost certainly come with a notch at the top of their displays.

While the design isn't a huge improvement over the Galaxy S9, it doesn't come with a notch at the top of the display.

We recommend going hands-on with notched phones before the Galaxy Note 9's arrival later this month. If you can't stand it, you should think about picking one up.
Wait for the Better Deals
The Samsung Galaxy Note 9 is expensive. Plain and simple.

Samsung's new flagship commands a flagship price and the 128GB/6GB RAM version will be $999.99 while the 512GB/8GB RAM model will be $1249.99.

U.S. carriers have a variety of trade-in offers, but your phone will need to be in good condition in order to get the best discount. For instance, Samsung will let you trade in an old phone for up to $450 off the price of the Galaxy Note 9.

Unfortunately, we aren't going to see many, if any, straight Galaxy Note 9 price cuts in August. We might not see any in September either. This is a hot phone and it won't hit the bargain bin for a few months at least.

If you aren't thrilled with the price, don't despair. We do expect to see better Galaxy Note 9 deals emerge later this year around Black Friday and the holidays.

You don't have to wait for the Galaxy Note 9 launch to get a deal, but you might have to wait until the start of the fall to find solid price cuts without a trade-in.
Wait for Apple
If you aren't tied to Samsung and/or Android, here's a great reason to think about temporarily holding off on buying the Galaxy Note 9.

Apple's reportedly working on three brand new iPhone models for release this fall. We don't have an official launch date just yet, but all signs point to a launch in September alongside new iPad Pros.

Like the Galaxy Note 9, the new iPhones should come with a ton of horsepower. We've also heard about a 6.5-inch iPhone X Plus that will challenge the 6.4-inch Galaxy Note 9 for big screen supremacy.

With only a few weeks to go, we highly recommend waiting for Apple to launch these devices so you can compare them to the Galaxy Note 9.

Look for the announcements to take place sometime during the first two weeks of September.
Wait for the Pixel 3
If you aren't in a rush you also might want to stick around and wait for Google to announce its brand new Pixel lineup.

With Android 9.0 Pie now available for the current crop of Pixel devices, new Pixel phones shouldn't be too far behind.

Google's reportedly working on a new Pixel 3 and a big screen Pixel 3 XL that'll be a nice alternative to the Galaxy Note 9 and the iPhone X Plus.

Of course, the Pixel 3 is rumored to have an assortment of other bells and whistles including high-resolution displays, Android Pie, improved cameras, and more.

We don't know when Google will announce the new phones, but October is a good guess. That's become the company's standard.

If you can, think about waiting a few weeks so you can compare the Galaxy Note 9 to the iPhone X Plus and Pixel 3 XL.
Wait Until You Research the Competition
If you haven't gone hands-on with the competition yet make sure you do before you commit to buying the Galaxy Note 9. If you find something you really like at a price you really love, don't be afraid to the pull the trigger.
There are a ton of excellent Galaxy Note 9 alternatives out on the market right now. One is the Samsung Galaxy Note 8.
The Samsung Galaxy Note 8 is a year old, but it's still one of the top smartphones you can buy. And it's gotten better.  
The Note 8 a little bit cheaper than it once was and it's getting upgraded with Android 8.0 Oreo and Samsung Experience 9.0, Samsung's new user interface. 
The Galaxy Note 8 Oreo update brings a long list of upgrades to the device including Color Lens, an improved keyboard, and brand new emojis. 
Make sure you go hands-on with the Galaxy Note 8 before you decide to spend a fortune on the new model and its upgrades. 
You've also got top big-screen Android devices like Google's Pixel 2 XL. It's one of the best phones from 2017 and it's definitely worth a look.
You've got the Galaxy S8 and Galaxy S8+ which have been upgraded to Android 8.0 Oreo and Samsung's Experience 9.0 UI. 
And if you aren't married to buying a Galaxy phone, you should also take a look at Apple's iPhone X and iPhone 8 Plus. 
If you haven't looked into the competition yet, hold off on buying the Galaxy Note 9. 
(gottabemobile.com, http://bit.ly/2wz7C30)
Comments
comments