We've now seen the Nintendo Switch in the flesh and are reasonably impressed. We also know the prices for the console and accessories. Plus the launch games line-up and list of those coming throughout 2017.
But there is still one big question we are asked most often: "Should I buy this or get a discounted Wii U?"
Gamers who desperately want to play The Legend of Zelda: Breath of the Wild have a choice. It will be available for both the Nintendo Switch and Wii U on the same day, 3 March and, by all accounts, offers a very similar experience on both.
That's why we've looked at certain facets of both consoles, based on what we know so far, to help you make that decision.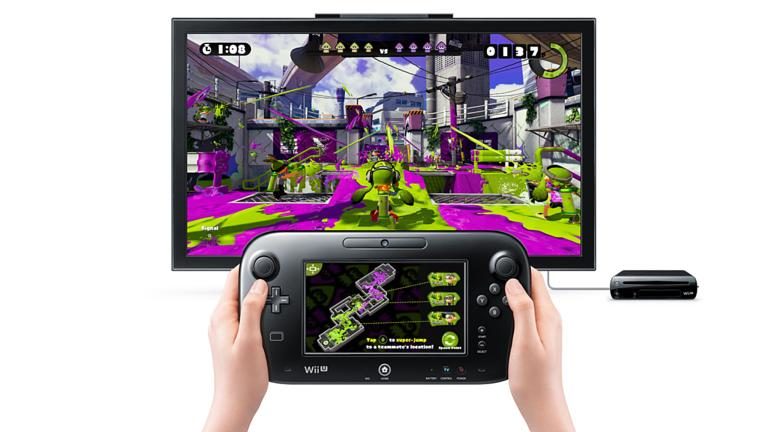 Nintendo Switch vs Wii U: Specifications
The biggest and most obvious comparison between the two consoles comes at the hardware level. Both have dual functionality, with a separate handheld mode that can be used to play games remotely. And both have a max graphical output of 1080p (for games at least).
But while they seem a similar concept to a casual observer, they are markedly different machines.
We haven't yet had the full Nintendo Switch specifications confirmed, so are working off a few speculated spec suggestions and the things we do know, but the Switch is more powerful and better built than its predecessor.
We base that on the fact that the Switch is said to be running on a heavily modified Nvidia Tegra X1 processor – something Nvidia itself has admitted in the past. This provides a whole lot of oomph in the CPU and GPU stakes.
The unmodified version of the chipset has a quad-core, 64-bit CPU and an Nvidia Maxwell 256-core GPU. Its video output (for media) is capable of up to 4K running at 60fps, although games will never make use of that.
The Wii U, on the other hand, has a 1.24GHz tri-core IBM CPU and 550MHz Radeon GPU. It's hard to pin down the exact difference between the two, but needless to say the Switch is much more powerful, even though it is effectively using a mobile chipset.
The Switch is rumoured to be running 4GB of RAM, while the Wii U has 2GB.
In terms of storage, Nintendo has bizarrely opted to stick to the same 32GB of internal space it offered on the Premium Wii U. Both the Switch and Wii U are expandable though. The Wii U can be expanded through the use of an external USB memory stick or hard drive. The Switch has a microSD card slot that is capable of expanding its storage by up to a further 128GB.
Nintendo Switch vs Wii U: Concept
It can be argued that the Wii U was a trial run for the Nintendo Switch. Both consoles are essentially home games machines with a second screen. And both allow you to play games remotely.
The Wii U GamePad is different to the handheld mode of the Switch though. It is also used to complement games running on a television, in second screen fashion. Its primary use is as a game controller, with remote play (in a very local area) very much a secondary function.
The Nintendo Switch doesn't really offer that sort of functionality at all. It can either be docked in the base station and used as a home console, or removed and used as a portable tablet-like device. It can't be used as a second screen for games running on a big screen as it needs to be housed in the dock when playing them.
Its benefit is that, when playing games remotely, it can be taken anywhere. The games run on the device directly rather than streamed from a cited box, so you can play anywhere that takes your fancy.
In addition, while the Wii U GamePad's controls are built in, the Joy-Con controllers on the Switch can unclipped from the sides and used as individual joypads. The screen also has a clip stand, so you can play local multiplayer games with a friend when out and about.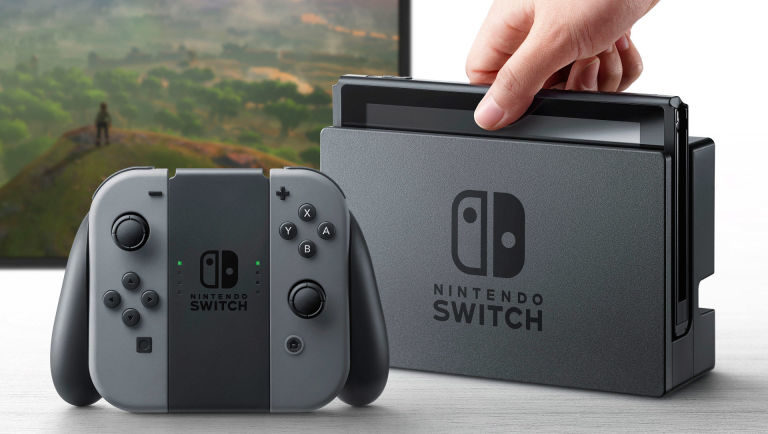 Nintendo Switch vs Wii U: Screen
Both the Switch and Wii U GamePad have 6.2-inch touchscreens but the difference in quality is significant.
The Wii U GamePad's screen has a resolution of 854 x 480 and is plastic to the touch. The Switch's screen is HD 720p and capable of running games at 60fps, we are told. It is much more like a normal tablet device to use and is far more vibrant.
We are yet to play any games that require touch on the Switch's screen, but it looks great with Mario Kart 8 Deluxe, for instance.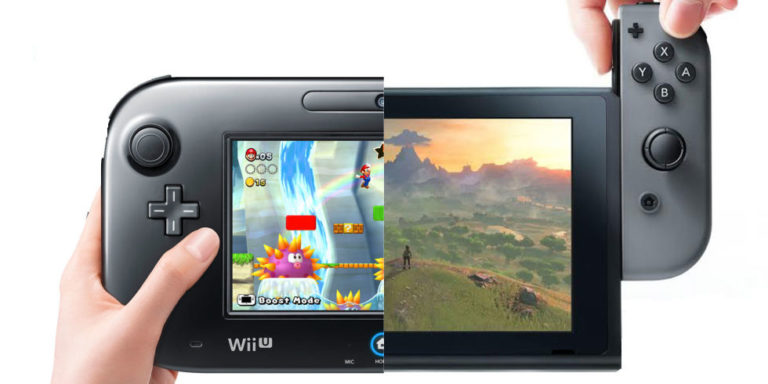 Nintendo Switch vs Wii U: Games
The Wii U wins hands down when it comes to games availability. It might have had a troubled four year lifespan but in that time there have been plenty of excellent games. Many of those games, such as Super Mario 3D World, Pikmin 3 and Minecraft, are very reasonably priced, while others are bound to drop in price in the coming weeks and months.
The Nintendo Switch is a brand new console so naturally has little game support at present. In fact, there will only be five games available at launch, with new titles released in drip feed fashion thereafter.
What might make a big impact in your decision between the consoles is that Nintendo has confirmed it will cease development of first-party games for the Wii U after The Legend of Zelda: Breath of the Wild. There will be no more games from the Japanese giant forthcoming. You'll still be able to play the many already available, with online still supported for the foreseeable future, but don't expect a new Mario, Donkey Kong or the like.
One major difference between games for the Nintendo Switch and the Wii U are that physical Switch games are on cartridge – like DS games or older N64, SNES and NES titles – while the Wii U uses discs.
Both consoles have access to an online Nintendo store for digital downloads.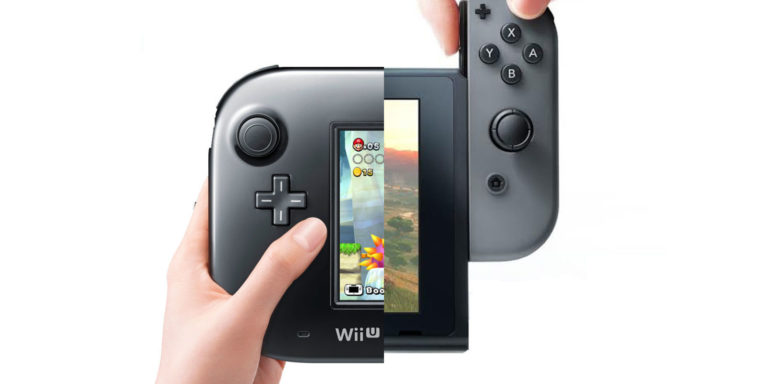 Nintendo Switch vx Wii U: Backwards compatibility
The Wii U wins again when it comes to backwards compatibility. It has always been able to play Wii games from launch – old Wii discs work in the Wii U with a dedicated processor part of the spec to ensure they run.
The Switch will not be compatible with games, controllers or any other accessory for former Nintendo consoles.
It is thought you will get Virtual Console games available for the Switch, much like the Wii U, but full plans are yet to be revealed.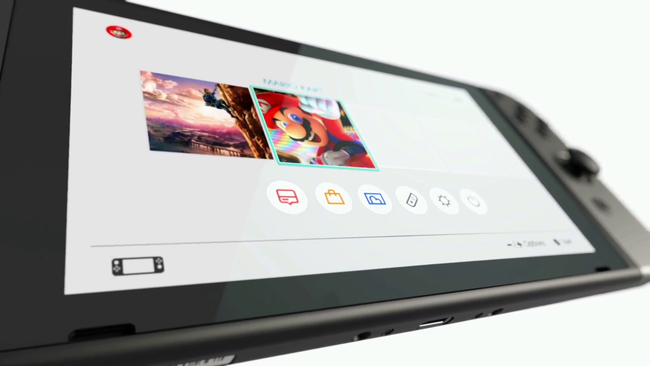 Nintendo Switch vs Wii U: User experience
Save for the user interface, which will undoubtedly look different on the Switch, the basic options between the two consoles will be similar. You will be able to buy games through the Nintendo eStore for the Switch, for example. And images of the UI we've seen so far are icon and thumbnail based, similarly to the Wii U's.
At launch, however, the Nintendo Switch will not have access to any media streaming apps. Nintendo has stated that it is concentrating on games for now, so you will not be able to play video through Amazon Video, Netflix, YouTube or the like, as you can on Wii U. The Wii U recently lost the ability for BBC iPlayer playback itself.
Nintendo has said that it is in talks with video streaming services, so that's something the Switch is likely to gain down the line.
Another likely and important change is the "walled garden" approach that Nintendo has adopted for all of its consoles when online. It has confirmed that the Switch will be able to communicate and share content via conventional social media means, such as Twitter and Facebook. Nintendo's own Miiverse, as on the Wii U, is not making the leap across.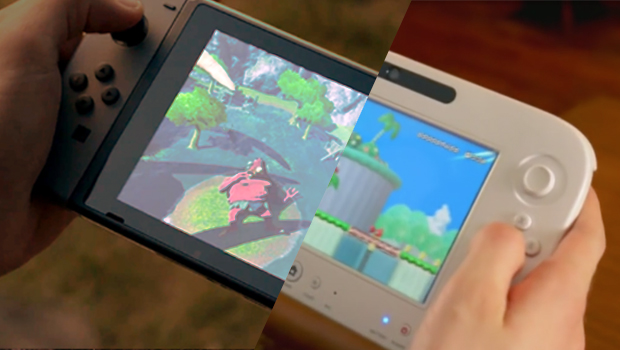 Nintendo Switch vs Wii U: Price
Nintendo's pricing structure for the Switch has been heavily criticised by many but the console itself isn't too unreasonable. It costs £279.99 in the UK ($299.99 in the US). That's the same price (bar inflation and Brexit) as the basic version of the Wii U when it initially came out. The Premium edition was £300.
Even today, a Premium Wii U costs £249.99 on Nintendo's own online store. It does come with a game though, which the Switch does not, so you have to factor in at least an extra £40.
Nintendo Switch vs Wii U: Availability
The Nintendo Wii U is naturally available now and will still be sold globally while stocks last. We even expect some retailers to discount it heavily after the Zelda hype has died down.
The Nintendo Switch is available for pre-order, if you can find anyone still with stock, and will be released officially on 3 March around the world.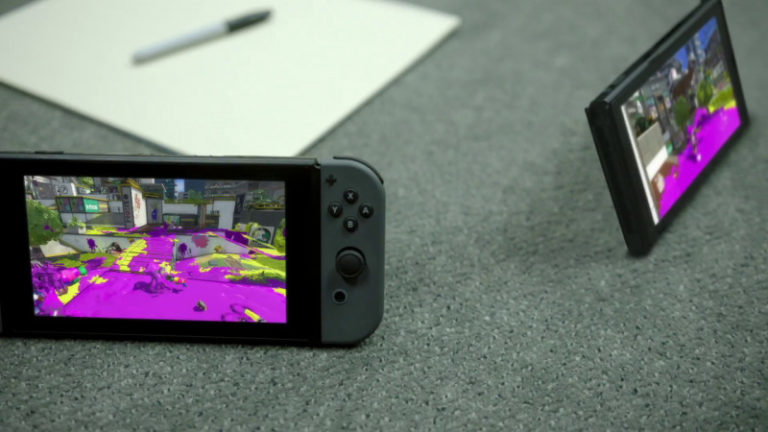 Nintendo Switch vs Wii U: Conclusion
To be honest, it's hard to do a comparison between the console being phased out and its replacement, mainly because we still don't have confirmed specifications for the Switch. It's also tricky because, for all its good intentions and a smattering of amazing games, the Wii U was an unmitigated disaster in sales terms – the lowest selling Nintendo games console bar the Virtual Boy (and who remembers that bar us?).
But if we were to answer the question of whether you should invest in a Wii U or a Switch in the coming months, the answer for us is simple. The Switch isn't even that much more expensive. And while it doesn't have anywhere near the games support currently, more developers and publishers are on board this time around to ensure that there will be plenty of titles to come. And Mario, of course.
We also think the Switch is better suited to families than its immediate predecessor. The motion gaming aspects of the Joy-Cons means that kids, young and old, will engage with it in a way that the Wii U never captured.
(pocket-lint.com, https://goo.gl/M6tus6)
Comments
comments