OUR EARLY VERDICT
If you're someone looking for a fitness tracker that's smarter than the rest, the Polar M600's Android Wear-powered brain might be the ticket. Though, we'll first have to run it through the paces to know for sure.
FOR
Built-in GPS
Unique additions to Android Wear
Waterproof
AGAINST
Proprietary charger
Not the best looking smartwatch
Rather expensive
Polar has gotten along just fine making stellar fitness trackers in the advent of smartwatches. And while it shows no signs of stopping, it's trying something totally new with the Polar M600, a new Android Wear smartwatch that takes after the look of its past products.
While most Android Wear smartwatches are designed to be suited for the office or a night out, Polar's latest looks unashamedly like a standard fitness tracker. As a result, it's a bit bulkier than other options, like the Huawei Watch and Moto 360.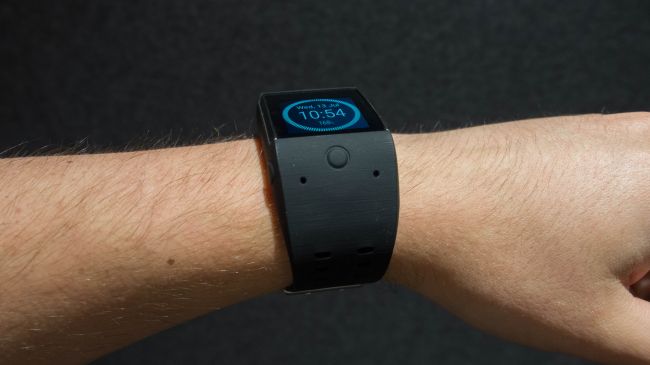 But what's most noteworthy about the Polar M600 are the handful of features that set it apart from many of the others, thin and attractive as they may be: it's waterproof, it will be upgraded to Android Wear 2.0, it works on both iOS and Android, and it packs in GPS, like the Moto 360 Sport.
Not just that, Polar has implemented its own coaching and activity tracking software into the experience. It's not too often you see a company mess with stock Android Wear, but if you're focused on fitness, the Polar M600 could be one of the most alluring options for 2016.
We look forward to spending more time with this smartwatch/fitness tracker hybrid when it launches later this year for US$329.
Design and display
If the Polar M600 was hiding in a group of Polar's products from the last year, you probably wouldn't be able to pick it out of the crowd. Most similar to thePolar V800, it also rocks a vibrant silicone band that will stand up to the rigors of working out.
But unlike the other products in Polar's line, there are fewer buttons here. Just one, actually. That's because this one has a touchscreen, which obviously allows your fingers to do all of the navigation.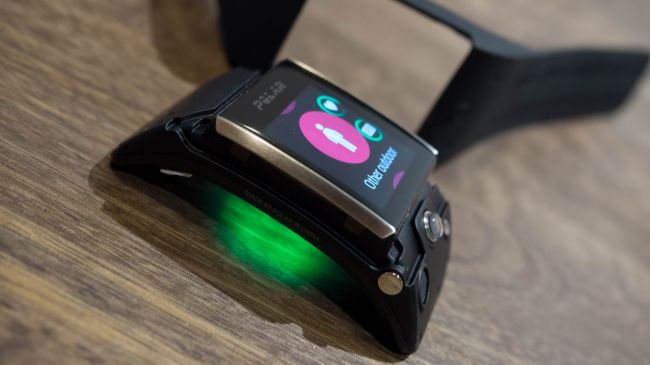 The M600 can be popped out of its band to make things easier to clean or charge, or to just change over to a different color. Most smartwatches charge wirelessly or through pogo pins, but Polar's smartest device yet uses the least intelligent method of charging: a proprietary physical plug, which we haven't seen since the Sony SmartWatch 3.
Inside of the rather large bezel is the 1.3-inch touchscreen. Polar hasn't provided details surrounding the type of screen used here or its resolution, but we'll be certain to dive more deeply into this category for the full review. During our short time with the M600, it seemed serviceable, if a bit washed out looking.
Specs and performance
The Polar M600 appears to check all of the boxes in terms of its spec list. It features 4GB of internal storage that can be used to store music from Google Play Music.
It even goes beyond the norm by adding built-in GPS to the bill, which is a feature that we don't see often enough, but love to have. That said, this tracking feature is likely to greatly diminish the projected maximum battery duration.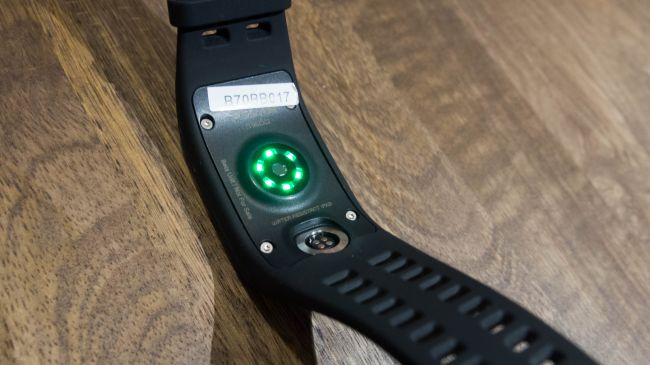 Speaking of which, the exact capacity of the internal battery hasn't been specified, but is said to be large enough to power up to 48 hours of normal use.
If you use most of today's Android Wear smartwatches sparingly enough, it's not too difficult to reach that amount of battery life. We'll be interested to see if this model can stretch beyond its claim.
We've reached out to Polar to find out how much RAM the M600 has inside, as well as what sort of processor it packs in. But specs aside, Polar was quick to tell us that its smartwatch will be compatible with Android Wear 2.0, the biggest update to come to Google's wearable platform yet.
In terms of performance, the Polar M600 seemed to be just as zippy as the rest of the Android Wear crew, transitioning back and forth between menu layers without a hitch. Even if you aren't someone who works out, there's plenty of non-fitness utility with a device like this, as it has a broad library of apps available through Google Play.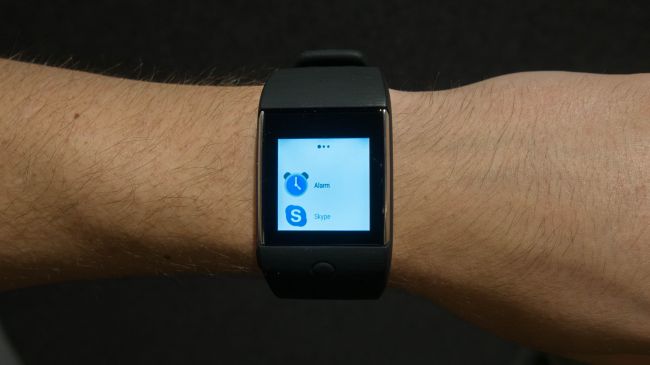 What's most notable about Polar's smartwatch over its competitors is its own fitness software, which uses the heart rate monitor in tandem with the built-in GPS and can sync up to a smartphone app on Android and iOS.
We look forward to really digging into what makes the Polar M600 stand out from its competitors, and seeing how the proprietary software either makes or breaks the smartwatch experience.
Early verdict
Polar's M600 might look just like a standard fitness tracker, but it's all smartwatch inside. Stocked with 4GB of storage and full access to the Google Play Store, these factors make it as good a choice as any smartwatch that's currently available.
But again, based on the looks and more fitness-focused features, like built-in GPS and heart rate sensor, it's obviously geared toward the workout crowd.
Stay tuned for a full review of the Polar M600 to see if the unique perks can overcome its slightly higher than average price point.
(techradar.com, http://goo.gl/dxm811)
Comments
comments