To hear watch without the word smart in front of it will soon be indicative of a heirloom description. Even luxury watch brands have embraced smartwatches with some exciting announcements having already been made this year and more set to come.
In 2015, we saw Apple finally take the plunge into the smartwatch market, Pebble hit us with not one but three new smartwatches in one year alone, and LG dive even further into the pool with yet another smarter offering. So what else do we have to look forward to? Well, there are plenty of devices left to keep an eye out for.
It seems 2015 was the year of intelligent wrist adornment and chances are, 2016 will continue the trend, so here are all the best smartwatches to look forward to in 2016. We have included devices that have been announced but are not yet available to buy, as well as a few rumoured timepieces for good measure.
Samsung Gear S3
It looks like Samsung is working on a successor to the Gear S2smartwatch, which debuted at IFA 2015 in Berlin.
The rumours are currently few and far between, but based on a recent leak, the device is being codenamed Solis and it apparently runs Tizen. Overexposed images that appeared on Twitter show a metal bracelet and a fluted bezel but it's been claimed a luxury version is in the making too.
The Samsung Gear S3 is expected to launch at IFA 2016 but nothing has been confirmed as yet.
Pebble Core, Pebble 2 and Pebble Time 2
Pebble announced the Pebble 2 and Pebble Time 2 at the beginning of June, replacing the original Pebble and Pebble Time smartwatches.
The Pebble 2 adds a ARM Cortex M4 processor, up to a seven-day battery life and provides waterproofing up to 30-metres. The most exciting new feature is the built-in optical heart rate monitor however. The PebbleTime 2 also has the built-in optical heart-rate monitor, as well as the option of a gold finish and a 10-day battery life.
You can get your hands on a Pebble 2 or Pebble Time 2 through Kickstarter initially, with starting prices on the crowd-funding site starting at $99 (£67) and $169 (£115) respectively. Full retail price is estimated at $129 and $199 respectively. The Pebble 2 will start to ship in September, while the Pebble Time 2 will ship from November. Both devices will be available on Pebble.com and from other retailers from early 2017.
Hublot smartwatch
Hublot could be the next LVMH brand to launch a smartwatch, according to a Bloomberg interview with Jean-Claude Biver, CEO of TAG Heuer and Hublot. Although details were thin on the ground, Biver said a Hublot smartwatch would feature sports-related functions.
It is not clear whether Hublot will follow the same path as the TAG HeuerConnected by opting for Android Wear as the platform, but it's expected to arrive in 2017 or 2018.
Considering how well the TAG Heuer Connected is reported to be doing, it is not surprising to see other brands within the parent company wanting a slice of the pie. We will keep you updated as we hear more.
TAG Heuer Connected 2
The original TAG Heuer Connected smartwatch was teased at Baselworld 2015, followed by a proper launch at the end of last year. It might have been the first smartwatch from the company, but it won't be the last it seems.
CEO Jean-Claude Biver not only revealed sister-company Hublot would be releasing a smartwatch at some point in the future, but he also told Reuters at Baselworld 2016 that TAG Heuer had "totally underestimated demand" for the Connected watch.
Having already sold 20,000 of the $1500 Android Wear smartwatch, a further 60,000 are expected to be sold in 2016 and a new model will apparently debut in 2017. Biver told Reuters that because of the success of the original, the company is planning a new collection for next year with six to eight models.
Nixon Mission
Nixon has announced the Mission Android Wear smartwatch offering waterproofing up to 10ATM, which is the equivalent of 100 metres. The watch comes with a couple of pre-loaded apps specifically for surfers and snowboarders, or skiers, that offer live information on weather conditions around the world.
The Mission has a round AMOLED display surrounded by a stainless steel bezel and incorporated in a polycarbonate and stainless steel shell with a silicone wristband. Under the hood is the Qualcomm Snapdragon Wear 2100 processor and it will offer the standard Android Wear features.
The Nixon Mission all be available in Autumn but pricing has yet to be announced.
Fossil Q
Fossil has said it will be releasing more than 100 connected devices in 2016, two of which will come in the form of the Q Wander and Q Marshal. The company announced its first Android Wear smartwatch last year with the Q Founder and these two new devices will join it.
The Wander features a 44mm gold case with interchangeable leather straps, while the Marshal has a 46mm "rugged" case with a navy blue finish and vintage-looking leather straps. Both devices offer circular, always-on touchscreen displays and functionality is the same, meaning you can expect similar features to the Q Founder and most Android Wear watches.
Fossil said the new watches cost $275 each and come with a wireless charger. There will also be a collection of analogue watches including the Q Crewmaster, Q Gazer, Q Nate and Q Tailor, which continue the journey of the Q54 Pilot and Q Grant models. They have some clever tech in them, which you can read all about in our first impressions.
Michael Kors Access Collection
As we mentioned above, the Fossil Group is planning on launching 100wearables by the end of 2016. These will come come from eight brands, including Fossil, Kate Spade New York, Misfit and Michael Kors.
The Michael Kors Access collection will include two Android Wear watches, designed to offer a "stylish, even glamorous design". The two watches, one of which has a gold sparkly case, while the other is a black, sportier model, will feature exclusive faces and interchangeable wristbands.
They will cost $395 each and they will be sold through the Michael Korsstores. Details are still a little thin on the ground but it is thought they won't be available until Autumn.
Samsung Gear S2 by de Grisogono
Samsung teamed up with de Grisogono at Baselworld 2016 to announce a luxury model of the Gear S2. It features 56 white diamonds, comprising 1.2 carats around the bezel of the circular face, as well as rose gold edging.
If that wasn't enough, there are also 71 black diamonds, making up a further 1.8 carats. The strap is black and studded with galuchat, a finish that is signature to de Grisogono.
Elsewhere, the same Gear S2 specs remain with a 1.2-inch Super AMOLED display, 4GB of internal storage, 512MB of RAM, a 250mAh battery and a heart rate monitor. This luxury model will also come with unique faces and a massive price tag at some point this summer.
Tissot Smart-Touch
Tissot used Baselworld 2016 to reveal its Smart-Touch smartwatch. The device is a watch first but delivers a range of functions beyond the current T-Touch offering.
The design is based on the T-Touch Solar models, featuring a titaniumcase, ceramic bezel and sapphire crystal face with quartz movement inside. The battery can be charged by the sun and it features functions including a timer, alarms, compass, barometer and temperature.
When connected to your smartphone, the Smart-Touch will all you to sync the time, get weather updates, change settings and share experiences with friends. There are also connected accessories, including a Find-It tag to help you keep track of other items and a weather station that can give you humidity, air quality and temperature readings.
The Tissot Smart-Touch smartwatch should be available late-2016 for around CHF1000, which is roughly £710/$1,065.
HTC One smartwatch
Rumours that HTC is making a smartwatch have been circulating for some time now. Last year, it was thought the Taiwanese company would launch the Petra smartwatch at Mobile World Congress, but nothing ever appeared. The rumours then suggested the design was being changed to a round model that would apparently appear in 2016.
Since then, serial leaker Evan Blass has shared on Twitter that the HTC smartwatch "should be out mid-April", suggesting it might launch with the next flagship – the M10. That of course didn't happen so we are still waiting.
Apple Watch 2
Apple announced the Apple Watch in September of 2014, releasing it for sale in April of 2015 but rumours have already started circulating for a second generation of the iOS-specific smartwatch.
The Apple Watch 2, as we are calling it for now, was originally rumoured to be unveiled at an event on 21 March, with suggestions it would go on sale in June 2016, or the second quarter of 2016. With no sign of it at that event or the more recent WWDC, it looks like we could be waiting until September 2016.
It will apparently come with the same design as the original with the same rectangular screen size options, screen resolutions, and body, which might mean current straps might remain compatible. Word has it new materials might come for the second generation however, and it is thought it will also sport a front-facing video camera (located near the top of the display) that will allow for proper FaceTime calls. Improved wireless capabilities have also been touted.
Guess Connect (2016)
Guess announced the Guess Connect smartwatch last year at CES. It looked like the traditional Guess Rigor watch but added a notification bar at the bottom of the face, powered by Martian. The company announced there would be several new designs of the Guess Connect appear for 2016, including a leopard print design and a new, smarter option.
In addition to the new colours and styles of the original Guess Connect however, the company is also planning to launch an entirely new model, which will again be powered by Martian. The new watch will focus more on looking like a normal watch, adding just an LED notifier light within the watch housing instead. There are plenty of styles coming with the new model arriving in November.
LG Watch Urbane 2
LG's second generation of its Watch Urbane offers a full range of wireless connections, including 4G and 3G meaning it will be able to make and receive calls, operating independently of your connected smartphone.
The LG Watch Urbane 2 expands the P-OLED display to 1.38-inches, 348ppi, and is powered by the standard Qualcomm Snapdragon 400chipset, with 768MB RAM. There's 4GB of internal storage, should you wish to keep your music offline, and GPS for tracking your runs and so on.
The LG Watch Urbane second edition will be compatible with Android and iOS devices and it will be available in Space Black, Opal Blue, Luxe White and Signature Brown, which refers to the strap colour options.
LG launched the watch before pulling it almost immediately after issues with the display. It has now been confirmed the Watch Urbane 2 hasn't been cancelled and will make a reappearance in the second half of 2016so eyes peeled for this one.
Haier Watch
White-good manufacturer Haier announced its move into wearables at Mobile World Congress 2016 with the Haier Watch that sports full-blownAndroid 6.0 Marshmallow rather than Android Wear.
The Haier Watch comes with multiple watch faces and sports Bluetooth4.0, 8GB of storage and a 1.4-inch display with a 400 x 400 resolution and no flat tyre. The 42mm casing is built from 316L stainless steel and it features an integrated speaker, as well as the ability to be used as an MP3 player. There is also a microphone on board.
Additionally, the Haier Watch has heart rate tracking, activity tracking and it is IP65 water resistant. It was claimed to be available in April and pricing is expected to be around €200 but nothing has appeared as yet.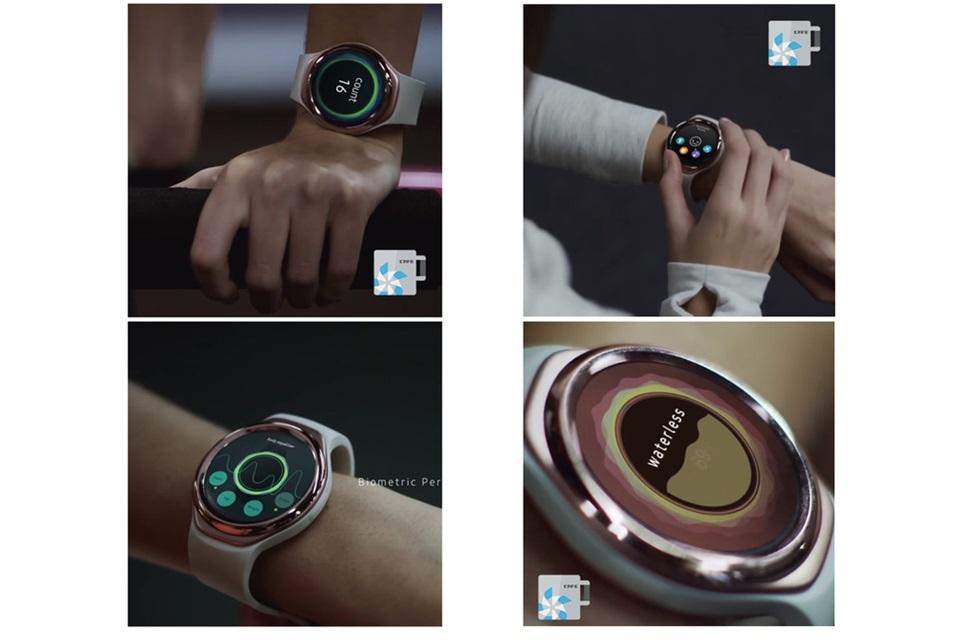 Samsung SM-R150
It looks like Samsung might be working on its next-generation activity tracker if images revealed by Tizen Cafe and later republished by Sammobile are anything to go by. The device is said to be going by the name of Triathlon internally but known by the model number SM-R150 and it appears to look similar to the Gear S2 with a round face and rotating bezel.
Based on the leaked images, it looks like the SM-R150 will feature a heart-rate sensor, something to count workout repetitions, a way to track water intake and some kind of body fat measurement ability. There also seems to be a way to attach the device to your chest.
Martian Kindred vip
Martian Watches announced the Kindred vip watch at CES 2016, featuring a 38mm face set in a stainless steel case that comes in a range of colours. There are two collections – CL and SP – with the former designed for smart occasions and the latter for the more athletic-minded apparently.
Both collections have a LED light for notifications and a vibration motor. Through the Martian Smart mVip app, you can set seven lights and various vibration patterns to help you differentiate between notifications. Two batteries are on board, one for the analogue movement and one for the smarts. The Martian Kindred vip launches in August 2016 with a starting price of $195.
Movado Bold Motion
HP has announced a partnership with watchmaker Movado to create their first smartwatch called Bold Motion. Movado is bringing the fashion and analogue design while HP is offering the tech smarts.
Bold Motion will be a 44mm stainless steel device with a black PVD finished bezel that features a round-faced with one button and a crown dial. The watch will be waterproof up to 50 metres, which the black silicone strap will also handle without a problem.
Inside the smartwatch, HP has packed in its own hardware and software and the Bold Motion will work with iOS and Android smartphones for notifications. On top of the usual watch functions such as time and date, there are vibrating notifications for calls, emails, texts and social media updates, as well as calendar appointments. The watch will also automatically adjust to new time zones and act as an activity tracker.
The HP Movado Bold Motion will cost $795 and arrive in time for Christmas.
Blocks
Blocks, a modular smartwatch, is nearing the final stages of its Kickstarter campaign so we can expect the device to appear in the first half of 2016. Although the design still hasn't reached final phase, the latest version is far more market ready than previous we have seen.
The company is working with Compal to produce the modular watch, which will feature a sleek round finish and single button. Thanks to reaching two Kickstarter goals, it will be offering Gorilla Glass protection and an AMOLED display rather than TFT.
The clasp has been redesigned, with the final model set to feature a pop and clip clasp that allows it to be resized to fit any wearer's wrist. There will also be a bespoke OS on board that will launch with around 20 Blocks apps, along with more from partners.
Under the hood, it should offer the Qualcomm Snapdragon 400processor, a 400mAh battery, an accelerometer and gyroscopic sensors for motion detection. Bluetooth LE, Wi-Fi, haptic feedback and voice controls will also be onboard. Unlike other watches, the modules will allow for upgrades to the basic design.
The first Blocks smartwatch units will begin shipping in May 2016. There are options to buy alone or with module units as part of a package and pricing starts at $195 on Kickstarter.
Sony Wena
Sony announced the the Wena smartwatch in the run up to IFA under its First Flight crowdfunding platform, which is part of the Seed Acceleration Program that features other products such as last-years FES Watch.
The Sony Wena approaches things a little differently to the current smartwatch offering, integrating the smart features into the metalbracelet rather than the watch face. It looks every bit like a traditional analogue watch, but the Sony Wena smartwatch has three functions.
It monitors activity through a range of sensors, delivers notifications through a customisable seven-colour LED light and vibrations, and it can perform e-payments thanks to an NFC chip. The Sony Wena smartwatch went on sale in Japan in March 2016, but there is currently no confirmation for the rest of the world.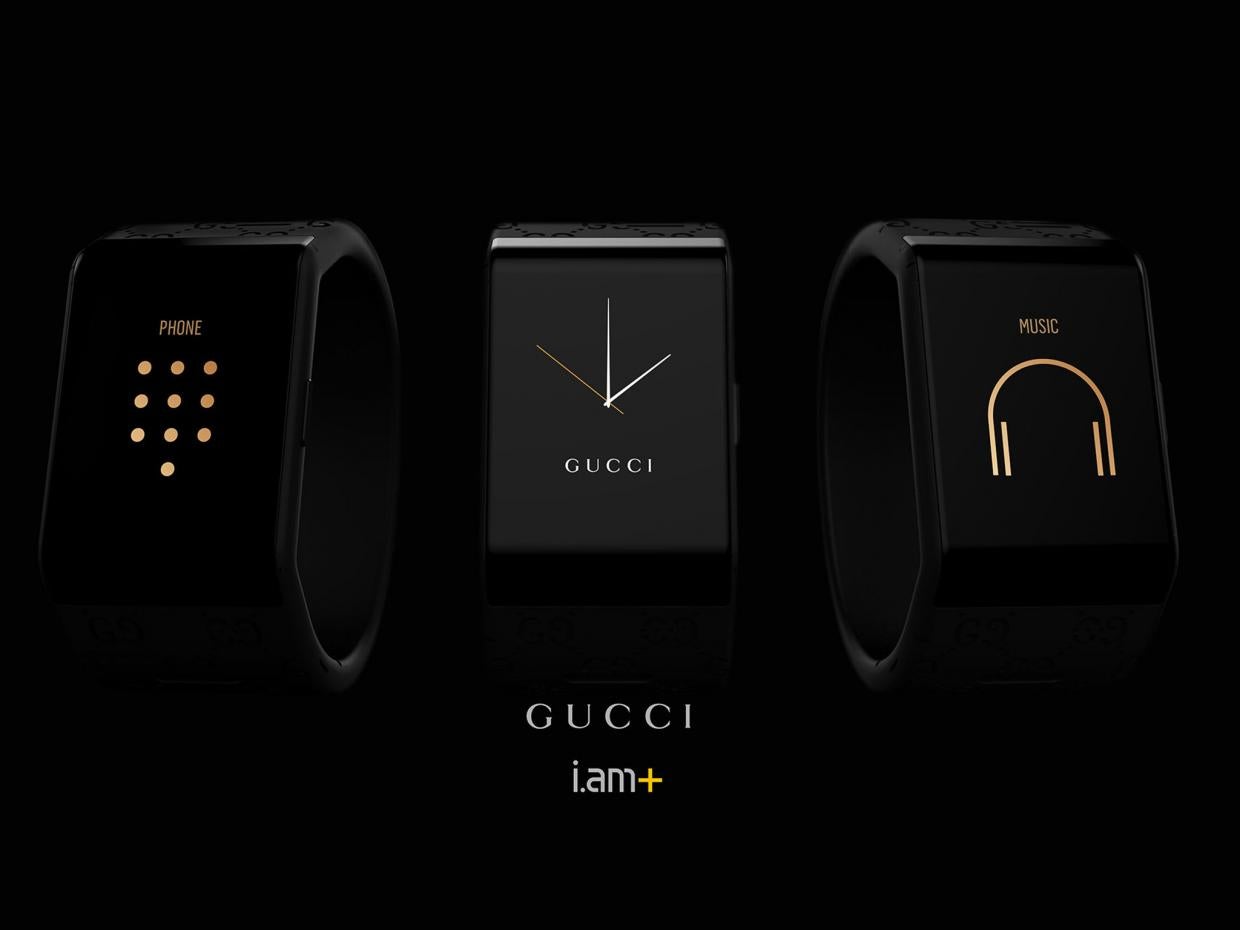 Gucci and will.i.am smartband
Gucci and will.i.am collaborated to announce a fashion smartband at Baselworld 2015, which has been in the making since 2011. The smartband is a standalone device, like will.i.am's Puls that was announced a few months before and the Gucci offering appears to be a fashionable version of it.
It is 3G enabled, voice controlled and it will come with a front-facingcamera, along with a heart rate monitor, temperature sensor and GPS. Battery life wasn't mentioned but if it follows the same path as the Puls, it might be built into the strap.
The Gucci will.i.am smartband will be able to make and receive calls, texts and emails, as well as store music, maps, calendars and track your activity. No pricing or release date information has been provided yet but we will update this feature when we know more.
Bulgari Diagono Magnesium
The Bulgari Diagono Magnesium concept was revealed at Baselworld 2015 and it is claimed to be a luxury timepiece "completely opposite" from other "so-called" connected watches. The company says it is 100 per cent Swiss and NFC-enabled.
The Diagono Magnesium was described as a self-winding, mechanical watch that apparently works with a protected electronic passport called Luxury Wrist Vault. The passport app is said to have a range of possibilities including making payments, logging in securely to a digital community, opening doors and starting your car engine.
Pricing, specs and a release date have yet to be detailed so whether we will see it this year or not is still to be confirmed.
New Balance smartwatch
Athletics company New Balance has created a Digital Sport division that will be focusing on devices and embedded technology. The first product will be an Android Wear smartwatch but details are thin on the ground at the moment.
It has been said that the New Balance smartwatch allow runners to track routes with GPS as well as run with music without needing the help of an accompanying smartphone but that's pretty much all we know at the moment. New Balance has said the smartwatch will be launching by the end of 2016, so we might be waiting a while.
(pocket-lint.com, http://goo.gl/f6AjAX)
Comments
comments