*** Note : £1 = $1.39 (correct at time of post)
For power and futureproofing, a desktop PC is the best choice
The conventional desktop PC may not be sexy, but if you've got serious work to do – or serious games to play – it's your best choice. With a desktop PC, you can take your pick of the most powerful processors and top-of-the-line graphics cards that simply won't fit inside a laptop or an all-in-one design.
Desktop PCs are far more upgradable too: you can generally fit extra RAM, expand your storage, add features like a Wi-Fi card – and if you don't have a dedicated graphics card, you can add one at a later date with no fuss. You certainly can't say that about a laptop.
Last, but not least, desktop PCs are great value. You can pay only for the components and capabilities you need, and with more than a dozen system-builders competing for your custom, prices are squeezed to the bone. Convinced? Of course you are. So read on for our guide to choosing the best desktop PC, plus our rundown of five systems that are, in our view, the very best on the market.
How to buy the best PC for you
Since desktop PCs are modular systems, you're not limited to a small number of prebuilt designs. In many cases, if you find a PC that you like the look of, you can ask the supplier to fit more RAM, a bigger SSD, a better graphics card or what have you. First, though, you need to know what you're looking for.
Which CPU?
When it comes to selecting a CPU, the choice is normally between one of AMD's Ryzen processors and Intel's Core i5 and i7 models. To be honest, any of these chips will be powerful enough to let you browse the web and dash off the odd document.
If you have greater ambitions – perhaps you want to make music, or edit your own photos – there are two things to look at. The clock speed of a processor in megahertz (MHz) gives a direct indication of how quickly it runs. Modern processors have a base speed and a "Turbo" speed that they ramp up to when there's a lot of work to do. The higher the number, the faster the CPU can get things done.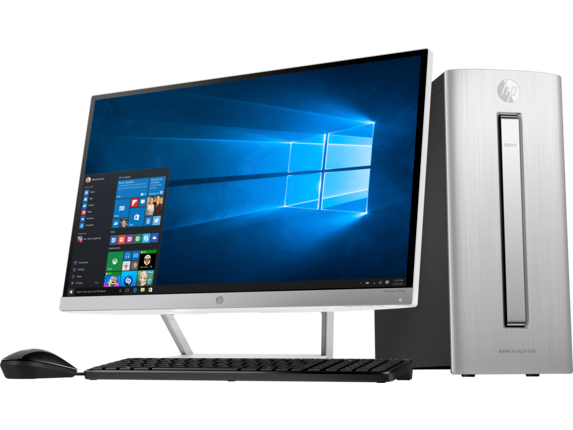 Then there's the question of cores. Most modern CPUs have at least four cores, which is plenty for everyday Windows applications – but others have as many as eight. Having more cores means the chip can do more things at the same time, so multitasking will be smoother. Additionally, some jobs, such as video editing, can be broken up into multiple threads that can be processed simultaneously; for these specific tasks, having more cores can speed up performance significantly.
Aside from different numbers of cores, some CPUs have technology that lets each core handle two threads at once. This isn't as effective as having more physical cores, but it can give a boost for little extra cost.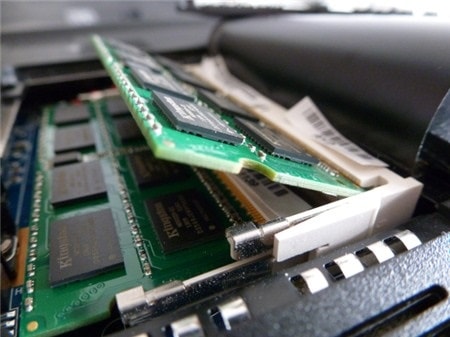 How much RAM?
If you're just running Windows 10 and a typical set of Office applications, you don't need any more than 4GB. However, if you like to keep lots of tabs open in Chrome, edit large photos or work with huge databases, that may not suffice: the PC might need to fall back on the hard disk for temporary storage, and that will slow everything down.
To ensure this doesn't happen, 8GB of RAM is a good working minimum, with some premium systems coming with 16GB. Don't worry too much about that though: most desktop PCs come with two spare memory slots, so you can add more RAM later if need be.
What about storage?
There are two basic types of storage: solid-state drives (SSDs) and traditional mechanical hard disks. SSDs are much faster, and allow Windows to run far more smoothly than an old-school hard disk. The very fastest SSDs slot directly into an M.2 connector on the motherboard, but even a regular SATA SSD will make your system feel a lot more responsive than a mechanical drive.
The catch is that SSDs are very expensive compared to mechanical drives – which is why today's desktop systems typically feature a medium-sized SSD for you to install Windows and your applications on, partnered with a larger mechanical drive for your personal data files. We recommend you look for an SSD of at least 240GB, partnered with a data drive of 1TB or more – although the beauty of a desktop system is that you can normally install an additional drive later on if you need more storage.
Do I need a graphics card?
If you don't want to play games, you might not need a graphics card: Intel processors feature integrated GPUs which are perfectly fine for desktop computing, even if you're using multiple huge 4K monitors.
If you do want to play games though – or if your chosen system uses an AMD Ryzen CPU, which has no onboard GPU of its own – then you'll need a graphics card. This is an area where you can spend a lot: if you want to play games at the maximum possible resolution, with all visual effects enabled, you'll pay upwards of £500 on one of Nvidia's mighty GeForce GTX 1080 cards.
If you're willing to compromise, a better bet might be a GTX 1060, which can be had for around £225 and is powerful enough to play most games at Full HD resolution with high detail settings. If you go much lower than this, though, you might find the experience starts to suffer, and the card may struggle with the very latest generation of demanding games.
Only connect
While some upgrades can go inside the desktop case, USB is more important than ever, so check that your chosen system has plenty of ports. Ideally you want plenty of fast USB 3.1 or USB 3 ports at the rear, perhaps along with a few USB 2 ports for the keyboard and mouse. Additional connectors at the front of the case are helpful for plugging in USB flash drives or connecting a phone.
Finally, check the number and type of audio and video connectors. If you have plenty of both, that makes it easy to hook up multiple monitors, and even a multi-channel sound system.
The best desktop PCs you can buy in 2018
1. Medion Erazer P4408 D: The best value PC
Price: £670
The price is very reasonable, but Medion's Erazer P4408 D is no budget PC: it's a fully capable gaming system, with a full-spec Nvidia GeForce GTX 1060 graphics card. To be fair, this is the slightly slower 3GB version of Nvidia's GPU, not the full 6GB version, and the processor isn't Intel's fastest. Still, 8GB of DDR4 RAM keeps things ticking along, and our performance tests show that it will cope just fine with everyday use, with no particular weak points – not even when it comes to heavy multitasking.
One thing to note is that there's no SSD – only a standard mechanical hard drive, which means this PC is slower to start up and launch programs than other systems. Still, there are two spare 3.5in bays inside, and an M.2 slot on the motherboard should you want to upgrade later on.
The rear I/O panel is also quite lightly equipped, with just four USB ports (two USB 2, two USB 3), plus the standard 3.5mm audio jacks and a Gigabit Ethernet port. Happily, there are two more USB 3 ports at the front, plus an SD card reader and a DVD writer.
It won't set the world on fire, but the Erazer P4408 D does everything most people need, and even makes a good fist of modern 3D games – which for the price makes it a very persuasive deal.
Key specs –
Processor: 3GHz Intel Core i5-7400;
Maximum turbo speed: 3.5GHz;
Cores/threads: 4/4; 
Graphics: Nvidia GeForce GTX 1060 3GB;
RAM: 8GB DDR4;
Supplied storage: 1TB hard disk;
Data connectors (rear): 2 x USB 3, 2 x USB 2, Gigabit Ethernet, 2 x audio jack;
Data connectors (front): 2 x USB 3, 2 x audio jack, SD card reader;
Video ports: 3 x DisplayPort, DVI-D, HDMI;
Dimensions (WDH):185 x 380 x 430mm;
Warranty: 1yr RTB
2. Scan 3XS Gamer: A beast of a system that eats up work and games alike
Price: £1,650
The Scan 3XS Gamer starts with a powerful Core i7-8700 Intel Coffee Lake CPU. With six cores and 12 threads, and the potential to jump from a core clock speed of 3.2GHz to 4.6GHz, it delivers blazing performance, especially when it comes to video-editing and multitasking.
It's partnered with an 8GB EVGA GeForce GTX 1080 SC Gaming graphics card – a hell of a card that zooms through 1080p gaming even at very high detail settings, and can even keep things racing along in 4K.
The compact Fractal Design Meshify C case looks stylish, and there's ample connectivity for most roles: there are two USB 2 and four USB 3 ports at the back, with a further two USB 3 ports on the front panel.  Inside, you can add up to one extra 3.5in and 2.5in drive, as well as two sticks of additional RAM and two M.2 devices on the motherboard. There's an 802.11n Wi-Fi card included too, which is a nice extra.
It's possible to get a faster PC, with an overclocked CPU, a bigger SSD and other luxuries – but you'll pay significantly more for that. Whether you're chiefly concerned with productivity or gaming, the 3XS Gamer ticks all the right boxes at a competitive price.
Key specs – 
Processor: 3.2GHz Intel Core i7-8700;
Maximum turbo speed: 4.6GHz;
Cores/threads: 6/12;
Graphics: Nvidia GeForce GTX 1080 8GB;
RAM: 16GB DDR4;
Supplied storage: 250GB SATA SSD, 2TB hard disk;
Data connectors (rear): 4 x USB 3, 2 x USB 2, Gigabit Ethernet, PS/2, 3 x audio jack;
Data connectors (front): 2 x USB 3, 2 x audio jack;
Video ports: 3 x DisplayPort, DVI-D, HDMI;
Dimensions (WDH): 212 x 395 x 440mm;
Warranty: 3yr RTB (1yr onsite)
3. Wired2Fire Pyro Ryzen Noir: The best compact desktop PC
Price: £799
The Wired2Fire Pyro Ryzen Noir is notably compact, thanks to a Cooler Master MasterBox Lite 3 microATX case that stands just 378mm high and 180mm wide. Even so, it packs in a powerful six-core Ryzen 5 1600 CPU, plenty of RAM and ample storage in the form of a 240GB SanDisk SSD and a 1TB Seagate Barracuda HDD.
The small size means upgradability is slightly limited. There are two free DIMM slots for expanding the RAM, one spare 5.25in drive cage, and an M.2 drive slot on the motherboard – but that's about it. You could squeeze in a PCI-E 3 x1 card below the GeForce GTX 1050 Ti graphics card, but there's not much room for anything bigger than a Wi-Fi card.
On that note, the graphics card isn't the most powerful model out there: you can get smooth frame rates on recent games, but if you want state-of-the-art visuals (or if you want to get into VR), you'll need something beefier.
For most of us, though, this is a great little desktop, with more than enough power for photo-editing or 4K video-editing, plus some gaming on the side.
Key specs –
Processor: 3.2GHz AMD Ryzen 5 1600;
Maximum turbo speed: 3.6GHz; 
Cores/threads: 6/12;
Graphics: Nvidia GeForce GTX 1050 Ti 4GB;
RAM: 16GB DDR4;
Supplied storage: 240GB SATA SSD, 1TB hard disk;
Data connectors (rear): 2 x USB 3.1, 4 x USB 3, 2 x USB 2, Gigabit Ethernet, PS/2, 3 x audio jack;
Data connectors (front): 2 x USB 3, 2 x audio jack;
Video ports: DisplayPort, DVI-D, HDMI;
Dimensions (WDH): 180 x 406 x 379mm;
Warranty: 3yr RTB (2yr parts)
4. Scan 3XS Vengeance Aura SLI: The ultimate in computing and visual power – if you can afford it
Price: £3,799
Scan's 3XS Vengeance Aura SLI pulls out all the stops. It uses Intel's six-core Coffee Lake Core i7-8700K processor, which Scan has overclocked from 3.7GHz to a mammoth 5GHz. That makes it one of the fastest PCs we've ever seen for desktop jobs like video editing and multitasking. It's supported by a huge 32GB of DDR4, and storage includes a lightning-quick Samsung 960 Evo SSD and a 2TB hard disk.
On top of that, Scan has fitted not one but two Nvidia GeForce GTX 1080 Ti cards, which means there's an incredible amount of gaming power here: today's toughest titles will run well on any screen, as well as on multi-monitor rigs and VR headsets.
It's all packaged up in a stunning Corsair Crystal 570X case, with tinted glass panels and crimson edging. Scan has also chosen fans with red LEDs for the front of the machine and the Corsair Hydro H100i V2 CPU cooler. Even the memory is red.
While this is a fantastic system in every area, it's extremely expensive. But if you're looking for the very best in gaming power, desktop horsepower and sheer style, there's simply nothing to rival it.
Key specs – 
Processor: 3.7GHz Intel Core i7-8700K;
Maximum turbo speed: 5GHz;
Cores/threads: 6/12;
Graphics: 2 x Nvidia GeForce GTX 1080 Ti 11GB;
RAM:32GB DDR4;
Supplied storage: 500GB M.2 SSD, 2TB hard disk;
Data connectors (rear): 4 x USB 3.1, 2 x USB 2, 1 x Gigabit Ethernet, 1 x optical S/PDIF, 5 x audio jack;
Data connectors (front): 2 x USB 3, 2 x audio jack; 
Video ports: 3 x DisplayPort, DVI-D, HDMI;
Dimensions (WDH): 234 x 480 x 512mm;
Warranty: 3yr RTB (1yr onsite)
5. Palicomp AMD Gravity RYZ1: A stellar performer at a great price
Price: £799
Palicomp's Gravity RYZ1 takes a powerful AMD Ryzen 5 1600 processor and overclocks it to 3.7GHz – so it's a superfast system, and well equipped with a 240GB SSD and a 1TB hard disk. A 3GB Palit GeForce GTX 1060 graphics card ensures smooth gaming at Full HD resolutions too.
It's all fitted inside a huge Silent Game Max case, with solid metal panels and a hefty door at the front. There's plenty of room inside for extra drives – and the motherboard has an open M.2 slot too – while internal meshing dampens the noise from the fans.
External connectivity is superb: you get two USB 3.1 Type A ports as well as the normal four USB 3, plus a Gigabit Ethernet port. A further two USB 3 ports and two USB 2 ports can be found, along with mic and headphone sockets, on the top of the case near the front, plus three DisplayPort outputs, HDMI and DVI-D on the graphics card. The only hitch is that internal connectivity is more limited, as the bulky graphics card covers up both the spare PCI-E slots.
If that's not a problem for you then this is a powerful, well-built and well-balanced system: for under £800, it's a fantastic deal.
Key specs –
Processor: 3.2GHz AMD Ryzen 5 1600;
Maximum turbo speed: 3.7GHz;
Cores/threads: 6/12;
Graphics: Nvidia GeForce GTX 1060 3GB;
RAM: 8GB DDR4;
Supplied storage: 240GB SATA SSD, 1TB hard disk;
Data connectors (rear): 2 x USB 3.1, 4 x USB 3, 2 x USB 2, Gigabit Ethernet, PS/2, 3 x audio jack; 
Data connectors (front): 2 x USB 3, 2 x USB 2, microSD, 2 x audio jack;
Video ports: 3 x DisplayPort, DVI-D, HDMI;
Dimensions (WDH): 230 x 468 x 475mm;
Warranty: 3yr RTB
(expertreviews.co.uk, https://goo.gl/aDMz7m)
Comments
comments