OUR VERDICT
The Xiaoma 31, when considered in its own right, is a worthy laptop. However, it represents poor value-for-money compared to the competition, and even its siblings, the Xiaoma 21 and Xiaoma 41.
FOR
Superb design
Spare SSD slot
AGAINST
Poor value-for-money
Proprietary PSU connector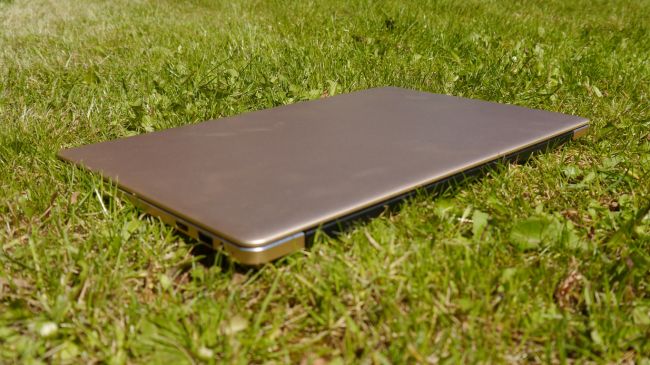 The success of the MacBook Air range has spawned more copycats than we care to recall. To swiftly name a few, the Yepo 737S, Jumper EZBook 2 and to a lesser extent the Xiaomi Air 12 have all attempted to replicate and improve on Apple's design, with mixed results.
And this particular offering is another device that uses the MacBook Air as a source of inspiration, going further than others by offering a champagne gold model as standard. Meet the Onda Xiaoma 31, a 13-inch ultrathin laptop (and no, it is not an Ultrabook).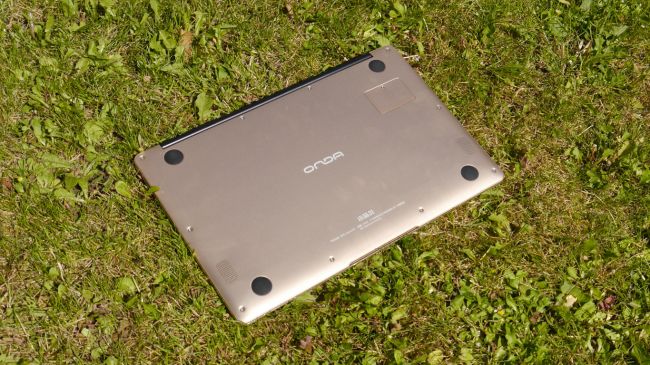 Online Chinese retailer, Gearbest, sent us a review sample and sells the Xiaoma 31 for a not-so-insignificant £347 (around $445, AU$580). Note that while this price includes delivery, it is exclusive of any taxes that may be levied by HMRC or the courier companies on behalf of the vendor. Want to buy tech from online Chinese retailers? Read this first.
Design
The polished, gold champagne metal finish of the laptop adds to the premium feel of the device, as does the silver rim running all the way round the base and the screen. It has a far less tapered design compared to its illustrious Apple rival, with a slightly smaller footprint at 14 x 315 x 207mm and a weight of only 1.4kg.
The top of the notebook is devoid of any design or logo – you can find the Onda branding on its underbelly alongside four rubber feet, a pair of speaker grills and a flap that hides an empty M2 slot for future storage expansion.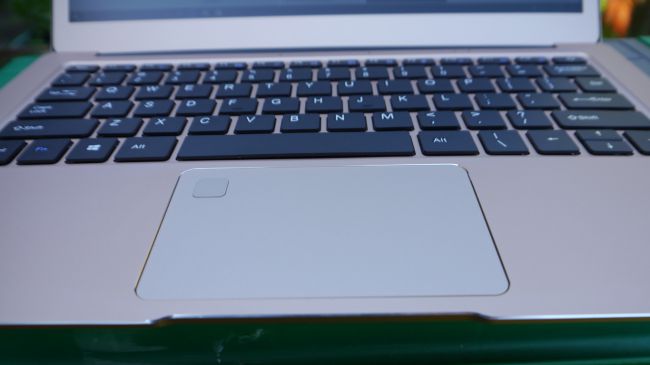 Open the laptop up and you'll uncover a fairly big touchpad (100 x 66mm) with a fingerprint reader. As with most laptops, the touchpad doesn't have any physical left/right mouse buttons. The keyboard is a fairly standard six-row model with the power button on the top-right.
Between the screen and the first row of keys are three status lights, two microphones and a single 10-inch black hinge.
The screen itself is a 13.3-inch Full HD model with fairly narrow bezels (at least compared to the MacBook Air). On the right side are the power port, one USB 3.0 connector and a mini-HDMI port. Opposite you'll find another USB 3.0 port, a microSD card reader and an audio socket.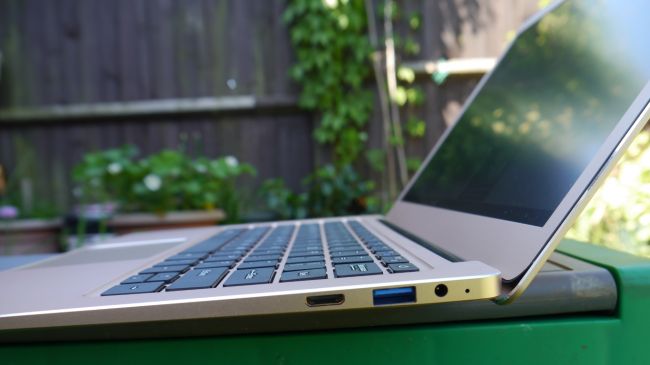 Oh and before we forget, the laptop comes with a brick power supply unit, reminiscent of the efforts that laptops were shipped with a decade ago. The 36W (12V, 3A) unit does the job but seems anachronistic compared to the svelte design of the Xiaoma 31.
Specifications
There's hardly anything to set apart the current generation of laptops and the 2016 crop. The only major difference here is the processor used; the Xiaoma 31 features an Intel Celeron N3450, from the Apollo Lake family.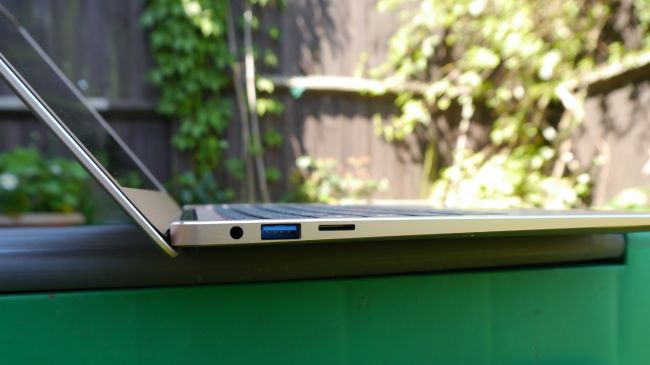 That's a 14nm part clocked at 1.1GHz with four cores and four threads, 2MB L2 cache, a 6W TDP and a burst frequency of up to 2.2GHz. Its processor graphics is a 12-EU (execution units) Intel HD Graphics 500 which has a base/burst frequency of 200MHz and 700MHz respectively.
The N3450 is roughly comparable to the Core M-5Y10 processor, a two-year old Broadwell part, with half the core count (but Hyper-Threading enabled), twice the cache and a slightly lower TDP. That chip made its way to the first-generation Lenovo Yoga 3 Pro.
Other core specifications include 4GB of system memory (DDR3L), 64GB eMMC flash storage, a 2-megapixel webcam, 802.11ac Wi-Fi, Bluetooth 4.0 and a 52.12Whr/5Ah battery.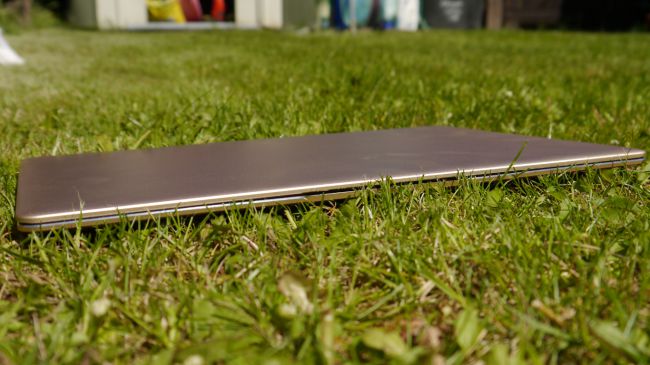 Performance
The input peripherals (keyboard and touchpad) were in line with our expectations: good without being exceptional, usable without being outstanding.
With such a standard set of features (similar to the Teclast X3 Plus), there were no massive surprises when we ran our standard set of benchmarks which comprises of Passmark, CPU-Z, Geekbench, Cinebench, Sisoft Sandra, Novabench, ATTO and CrystalDiskMark.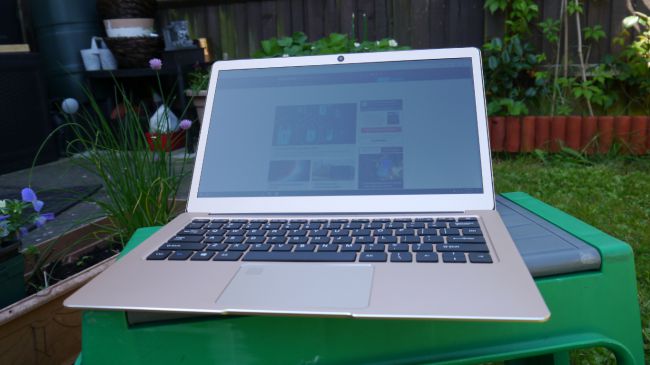 The write performance of the eMMC storage subsystem was the most disappointing aspect, something that will have a detrimental impact on overall system performance. On ATTO, the Xiaoma 31 scored 75MBps compared to 114MBps for the Teclast X3 Plus, while Onda's device clocked 61.86MBps on CrystalDiskMark, nearly 40% less compared to the X3 Plus.
The battery life was better than expected, clocking nearly seven hours (410 minutes) in our test which involves playing a YouTube video of a count-up timer with brightness set to 100% and all other settings left untouched except for power saving (we selected 'never shut down', 'screen never go dark'). As ever, your mileage may vary when it comes to battery longevity.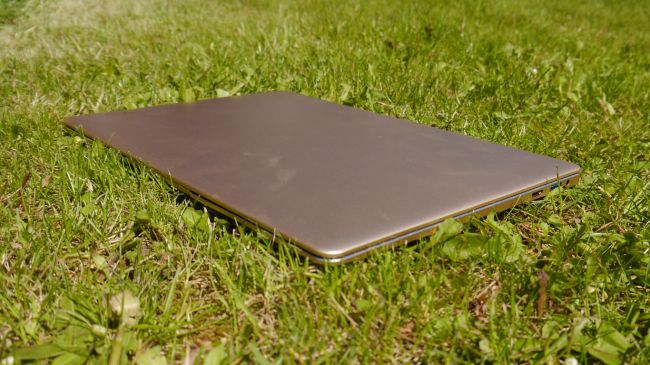 Final verdict
The Xiaoma 31 didn't disappoint with a solid set of performance numbers and a design that ranks amongst some of the best we've seen from Chinese manufacturers. But it achieved this with a pretty standard set of components which leaves us wondering why it is far more expensive compared to, say, the Jumper EZBook 2 or the Yepo 737S.
To make matters worse, Onda has a smaller and lighter model which might be a better purchase. The Xiaoma 21 has exactly the same specification bar the screen size (12.5-inch versus 13.3-inch) and a far bigger battery (10Ah versus 5Ah). The icing on the cake is a lower price tag, as well.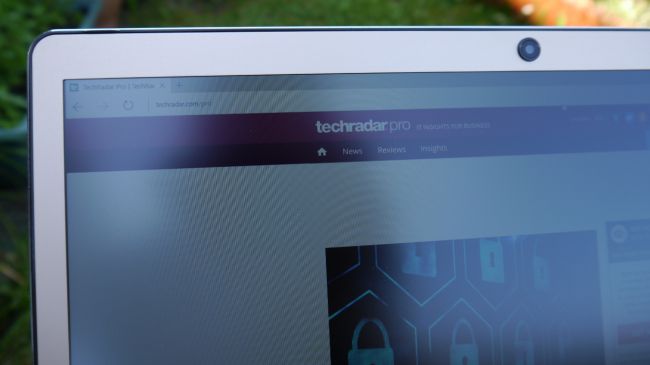 What's more puzzling, though, is that Onda also sells a 14.1-inch model, the Xiaoma 41, which doesn't come with a fingerprint reader but retails for nearly 40% less, with exactly the same hardware bar the bigger screen.
Given all this, it is hard to recommend the Xiaoma 31. If you don't want to buy from China, then check out the HP 250 G5 from Staples which has a more powerful processor, four times the on-board storage (and a real SSD), running Windows 10 Pro. It costs a bit more, is far heavier and bigger (it has a 15.6-inch display), but these may well be compromises worth accepting.
(techradar.com, https://goo.gl/nZW4TD)
Comments
comments