THE GOOD: Improved speed, graphics and battery life in a similar, crisp design. Detachable tablet comes included, as does the Surface Pen. Has USB ports and SD card slot.
THE BAD: It's also slightly thicker and heavier than last year's version, and retains the odd gap on the folding hinge. Expensive compared to other options. Doesn't meet minimum specs for VR gaming.
THE BOTTOM LINE: The design remains mostly unchanged, but PC power users will like the extra power and battery life on the updated 2016 version of the Surface Book.
The Surface Book was Microsoft's first-ever laptop, and now it's back for an encore.
The Surface Book with Performance Base is an update to last year's Surface Book, a laptop with detaching tablet screen that had an iconic look and some pretty good — and weird — design flourishes.
What the Surface Book isn't is a Surface Pro sequel. The Surface Pro 4, released a year ago as well, hasn't been updated in 2016 (and isn't compatible with the Surface Book at all).
But the funny thing is, this year's version of the Microsoft Surface Book is actually more everyday-practical than Apple's MacBook Pro in some key areas. It has full tablet and stylus modes for art and creative work, and retains legacy ports like full-size USB 3 and an SD card slot, unlike Apple's new MacBooks.
If you're looking for a Windows laptop with good performance chops that can also double as a tablet on the fly, you've come to the right place. As long as you can afford the price. The biggest change to last year's model is the base's boost in battery, processor and graphics. "Performance base," indeed.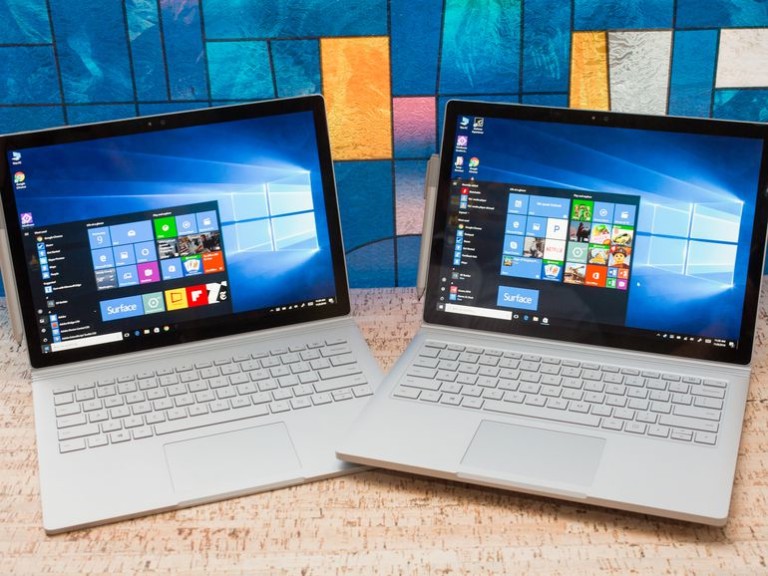 Design: Staying the course from 2015
If you looked at Microsoft's Surface Book last year, lusted after it, but wanted it to be a more powerful computer, this is your answer. It's a better laptop, and a better experience. But in exchange for that power, it also gets a bit heavier.
The side edges feel the same, but there's a clear curving bulge on the base now. You won't notice it unless you stack these laptops side by side, but it's there.
Last year, we remarked that the Surface Book size and weight was comparable to the then-current MacBook Pro models. This year, the MacBooks got thinner and the Surface Book got thicker. The new Book with Performance Base ranges from 13mm thick at the front to 22.8mm thick in the back, and it weighs at least 3.62 pounds. Last year's version maxed at 3.5 pounds for the step-up model with Nvidia graphics.
It's a slightly heavier feel, but it's so close to last year's concept that a newcomer probably won't notice the difference.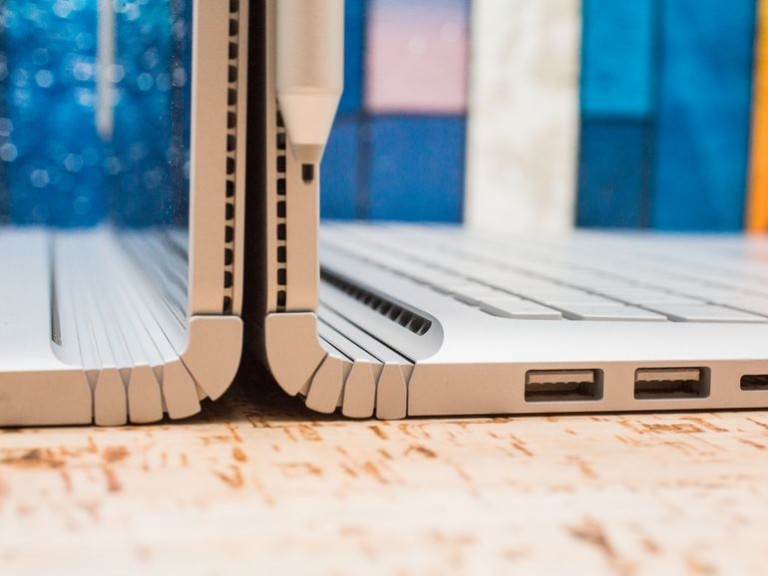 The problem is that it's not just MacBooks that have gotten smaller and lighter: the new 13-inch MacBook Pro is down to 3 pounds. Thin is in for other Windows laptops, too. 3.6 pounds now counts as a heavyweight in the ultraportable world.
We had a few issues with the Surface Book design last year, which have unfortunately stayed: The futuristic magnesium hinge unfolded beautifully, but unlike with devices like the Lenovo Yoga it doesn't flip over end-to-end. To turn it into a tabletop touchscreen, you detach the top and flip it around and re-dock into the base.
There's also still a weird gap between the top and base when closed, as if the whole Surface Book was a sheet of metal curved and folded in half. A gap-free, slimmer design would still be preferred.
But at least the Surface Book retains its classic ports. Unlike the MacBook Pro's crazy all-USB-C array, the Surface Book base has two USB-3 ports, a Mini DisplayPort and an SD card slot, plus Microsoft's magnetic charge connector. USB-C would have been nice, too, but for pros this is probably the preferred arrangement for the present.
Tablet's the same, base is new
If you want to quickly understand the difference in the new Surface Book, know that the top part — the tablet with the great display — is basically the same. The included Surface Pen is the same, too. It feels great for sketches and art, and is also pressure-sensitive. It's not quite as tactile as Apple's iPad Pro-only Pencil, but it's everything you'd need.
The 13.5 inch display, at 3,000×2,000 pixels, looks vivid and fantastic. 267 pixels per inch amounts to a really rich viewing experience, and it's the perfect display for what the upgraded base can throw at it for graphics-rich games and apps.
Faster, stronger, better
We put Microsoft's newest Surface Book to the test in benchmarks, and it's a noticeable improvement.
But, while the upgraded Intel Core i7 processor is new, but it's not quad-core. And note that the new chip is still a sixth-gen Skylake processor, not the latest seventh-gen Kaby Lake model that's appearing in some new Windows machines. Ultimately, that's fine — in our initial experience, Kaby Lake chips aren't terribly faster, and given how much trouble Microsoft had fixing the sleep/wake glitch on the original Surface Book, it's good that they're sticking with what works.
The new Surface Book has faster performance, better multitasking, better battery performance: enough to make a difference, but not necessarily enough to eclipse the competition. And, then there's the Nvidia GeForce graphics. The GeForce GTX 965M is a very good processor for everyday gaming and graphics work, and finally gets the Surface Book into power-user territory.
But, it's still out of range for what current VR rigs like the Oculus Rift and HTC Vive require, meaning this isn't a VR-compatible PC. Now, that could change down the road: Microsoft promises its Windows Holographic environment and headsets debuting next year will work across more computers. Will the Surface Book with Performance Base be folded in? I wouldn't count on it if you're desperate to get VR into your life, but time will tell.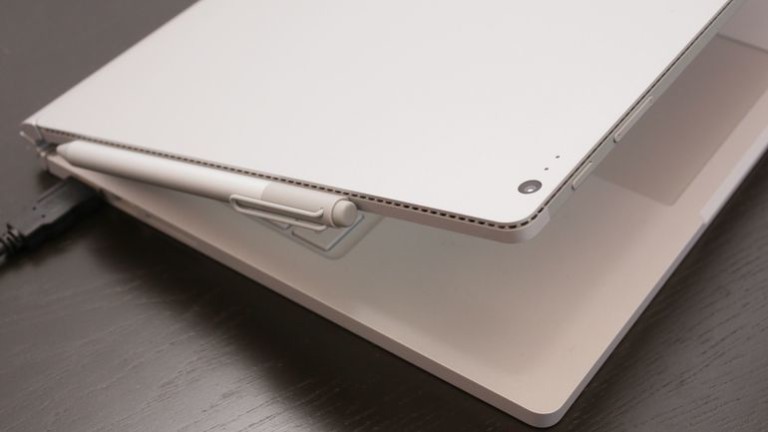 It gets expensive
There's a price to pay for the new Surface Book, and it's really high.
The new Surface Book starts at $2,399, which is higher than even Apple charges for its entry MacBook Pro with Touch Bar. You get 256GB of storage and 8GB of RAM in that configuration; upgrade it all the way to 1TB of storage and 16GB of RAM, and it'll cost $3,299.
That's the biggest downside to the Surface Book: you could conceivably buy a more affordable Windows laptop and a tablet for the same price. In the last year, there have been a number of great convertible Windows touchscreen computer options that rival the Surface Book, including Lenovo's OLED ThinkPad X1 Yoga hybrid (which costs less, too).
There are obvious advantages to combining both tablet and laptop together, and when Microsoft's vision of where touch-enabled computers clicks, it offers things you can't get anywhere else. I can prop this up and use it like a mini Surface Studio in tabletop mode, and sketch on the fly. I could detach the tablet and use it around the house. I could just go into laptop mode. I have options. I like that. But I'd really like if Microsoft's original vision of the Surface as a slim tablet, with its extra keyboard options, could work hand in hand with this still-standalone Surface Book.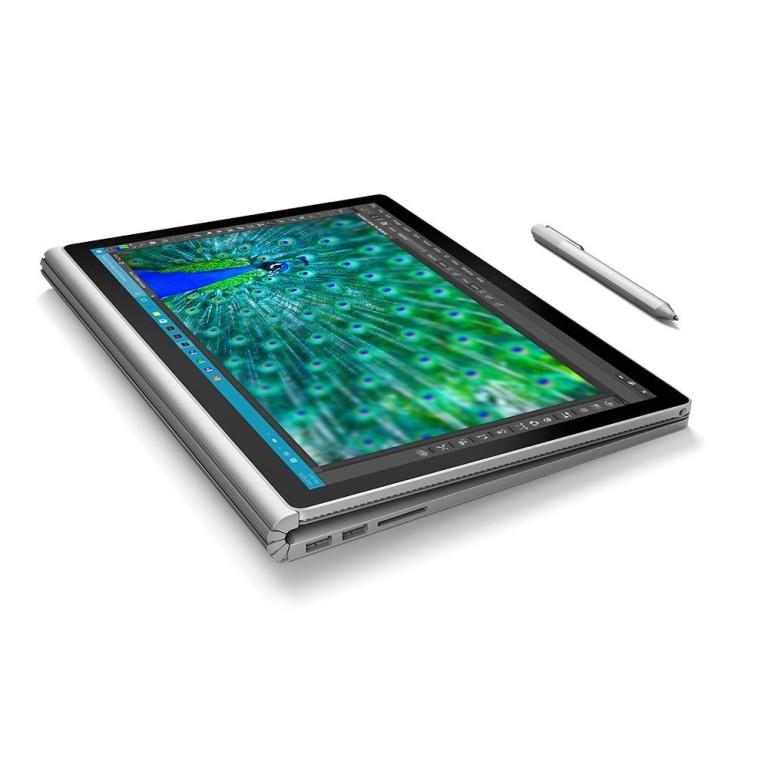 Next year, Microsoft could and should make new Surface tablet-tops that pop into the base…and maybe new bases too. That's the vision of where Microsoft wants to go, according to Microsoft's head of device business, Panos Panay, who's in charge of the Surface line. But right now, you can only buy this in one set package: tablet and base, together as one new Surface Book. If you owned the old one, you can't just buy the base. Not yet, at least.
Wouldn't it be awesome if you could, though?
SYSTEM CONFIGURATIONS
| | |
| --- | --- |
| Microsoft Surface Book (2016) | Microsoft Windows 10 Pro (64-bit); 2.6GHz Intel Core i7-6600U; 16GB DDR3 SDRAM 1866MHz; 2GB Nvidia GeForce GTX 965; 1TB SSD |
| Apple MacBook Pro (13-inch, 2016) | Apple Mac OS Sierra (64-bit) 2GHz Intel Core i5-6360U; 8GB DDR3 SDRAM 1866MHz; 1536MB Intel Iris Graphics 540; 256GB SSD |
| Razer Blade Stealth | Microsoft Windows 10 Home (64-bit); 2.7GHz Intel Core i7-7500U; 16GB DDR3 SDRAM 1866MHz; 128MB (dedicated) Intel HD Graphics 620; 256GB SSD |
| Microsoft Surface Pro 4 | Microsoft Windows 10 Pro (64-bit) 2.4GHz Intel Core i5-6300U; 8GB DDR3 SDRAM; 128MB (dedicated) Intel HD Graphics 520; 256GB SSD |
| Microsoft Surface Book (2015) | Microsoft Windows 10 Pro (64-bit) 2.4GHz Intel Core i5-6300U; 8GB DDR3 SDRAM; 128MB (dedicated) Intel HD Graphics 520; 512GB SSD |
| Dell XPS 13 (touch) | Microsoft Windows 10 Home (64-bit); 2.7GHz Intel Core i7-7500U; 8GB DDR3 SDRAM1866MHz; 128MB dedicated Intel HD Graphics 620; 256GB SSD |
(cnet.com, https://goo.gl/uYTVwv)
Comments
comments