Lenovo has been producing Miix 2-in-1 tablet-cum-laptop devices for a number of years, but relying on Intel for its chipsets. In the last model, the Miix 720, that resulted in an over-powerful, battery-limited product that didn't quite cut the mustard.
But that's all about to change, with the new Miix 630 signalling a new era for on-the-go laptop computing. Thanks to Windows 10 S and the Qualcomm Snapdragon 835 platform, the Miix 630 touts battery life for up to 20 hours. Yep, pretty much double what you'll get from anything else of an equivalent product.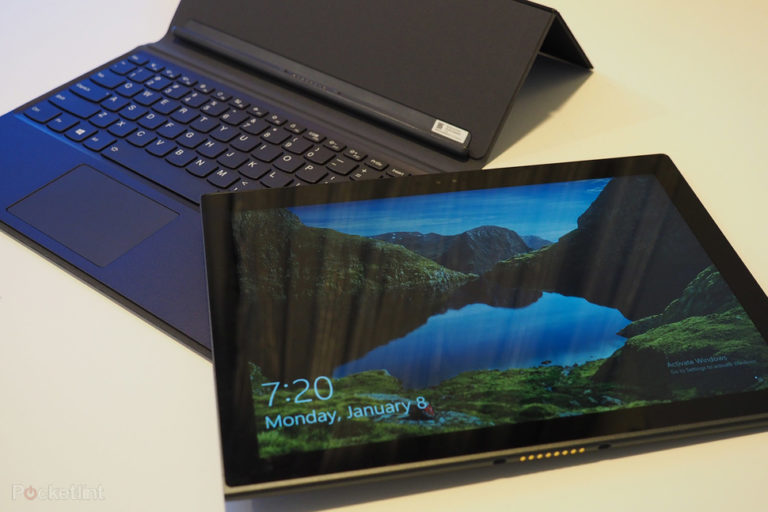 Design
12.3-inch, 1920 x 1280 touchscreen
Metal tablet body
Backlit keyboard folio stand & Lenovo Pen included
210 x 293 x 15.6mm; 1.33kg
1x USB Type-C, 1x nano SIM, 1x microSD card
If you're familiar with the usual Miix design, you'll spot that the Qualcomm-equipped model is a little different: the main tablet is standalone from the keyboard/stand, rather than having a built-in kick stand. That clip-on folio connects simply with magnets, remains secure and has an adjustable watchband hinge-style stand on the back for adjusting the angle as you see fit.
The tablet itself is more metallic in appearance with sharp cut edges that look great – but are actually quite sharp in the hand, which negates its comfort for pure tablet use. Better used as a laptop-replacement then, eh?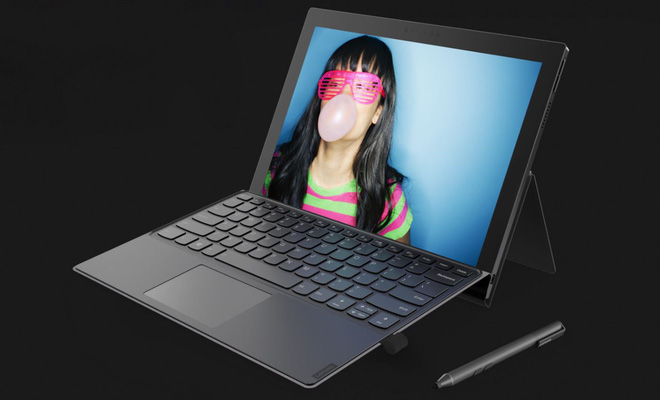 What's even more noticeable is the SIM tray to the side, a fairly unusual sighting on Windows devices. But here it is, plain as day, to push on the angle of on-the-go connected use. You'll obviously need to keep in mind that you'll need a relevant network provider to fulfil this, which will have a cost implication.
Connection-wise, the Miix 630's slender frame means there's no full-size USB, but that's to be expected. There's a single USB Type-C, which is also used for charging – so it's a shame there's not a second one available.
As is familiar with Miix products, the 630 features a 12.3-inch Full HD touchscreen, which is well matched for a clear view throughout Windows without pushing things too far and costing battery life.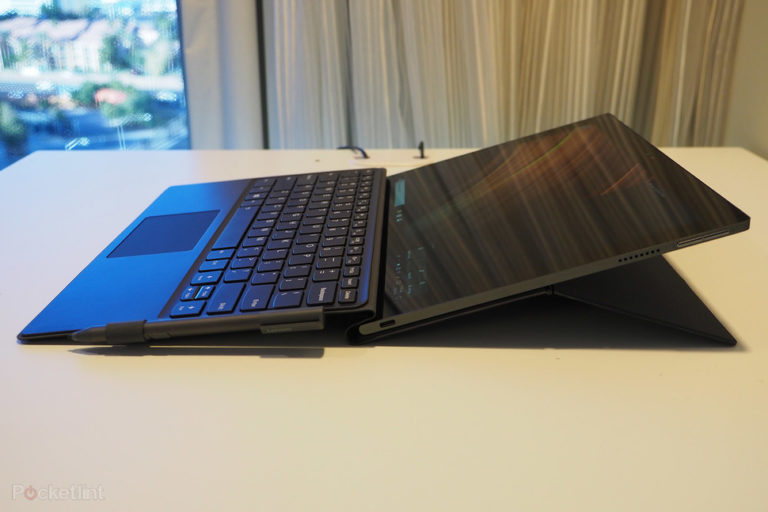 Power
Qualcomm Snapdragon 835 platform
Integrated Adreno 540 graphics
4GB or 8GB RAM / 64/128/256GB storage
2 x 2 Wi-Fi 802.11 ac, Bluetooth 4.1
4G LTE Cat-11
The area where this Miix is most different is with its use of Qualcomm platform. The Snapdragon 835 is the provider's current top-ranked processor, the same as you'll find in top-drawer flagship phones. In a sense, that's what the Miix 630 tries to do: fuse the mobility of a smartphone with the productivity of a Windows 10 S laptop.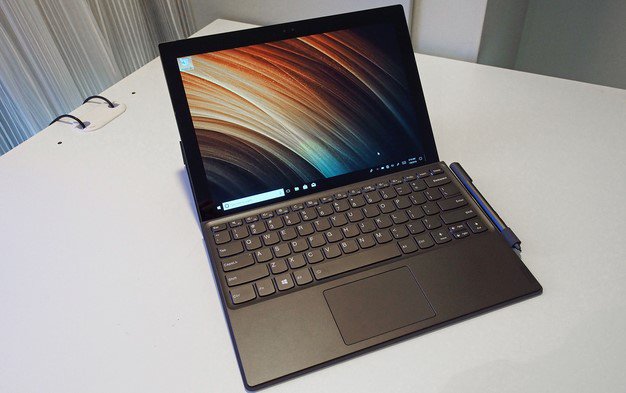 Note the "S" though: if you would prefer Windows 10 Pro then it's possible to upgrade from the streamlined version of Windows, which we suspect will have some impact to battery life, but we would recommend overall for versatility.
Different skews of the Miix 630 will be available, but with a minimum of 4GB RAM, it'll be no slouch. And without the need for fan cooling, it'll be silent too – something we can't say of last year's Miix 720.
Connectivity speed is good, with support for Cat 11 LTE/4G, but the forthcoming Snapdragon 845 is expected to push this yet further – so perhaps holding off on first-gen makes sense if you want optimum connectivity speeds. Although that'll depend on where you live and whether the relevant 4G bands are available via your given network carrier.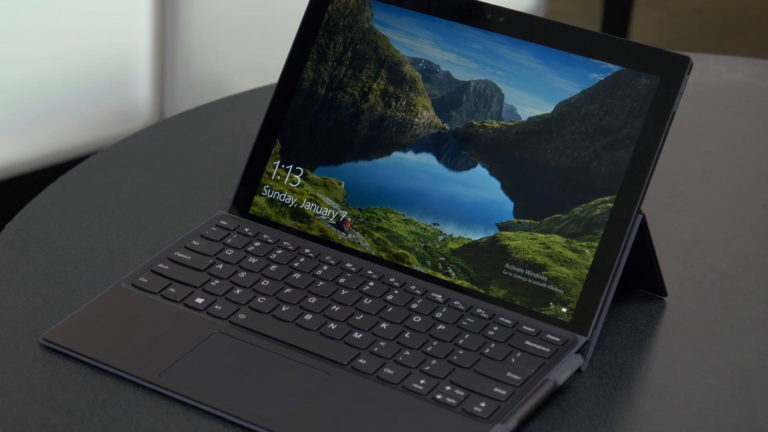 First Impressions
Intel might not be happy about it, but the Qualcomm-powered Windows 10 S devices might help to answer the questions of excess fan noise and limited battery life. Indeed, the Lenovo Miix 630 is silent, powerful and long-lasting straight out of the box.
This good-looking 2-in-1 is a different step for Lenovo, which is exploring different avenues to expand on an already established platform with on-the-go 4G LTE connectivity. The design is right, the concept is right – although we'd upgrade from Windows 10 S – and even the price will take some beating.
A sign of the future? We'll have to wait and see how that battery truly performs in this new-fangled Qualcomm/Windows format. Sounds promising though.
The Lenovo Miix 630 will go on sale in the second quarter of 2018, with prices starting at $799.
(pocket-lint.com, https://goo.gl/4eJCbD)
Comments
comments