OUR VERDICT
The Y1102 will suit those looking for a versatile, portable device that can deliver on light workloads – emailing, a couple of presentations and editing a document. The small size of its screen and poor keyboard will make everything else a struggle.
FOR
Great design
Good battery life
Lovely form factor
Superb price
AGAINST
Poor performance
Proprietary power connector
Way back in January of 2007, TechRadar published a review of a laptop called the GoBook. Nearly 12 years on from that, we're checking out another GoBook laptop (not from the same company), the Y1102, which at less than a fifteenth of the price of its predecessor, provides another interesting take on the small form factor by embracing a Yoga-like convertible format.
Design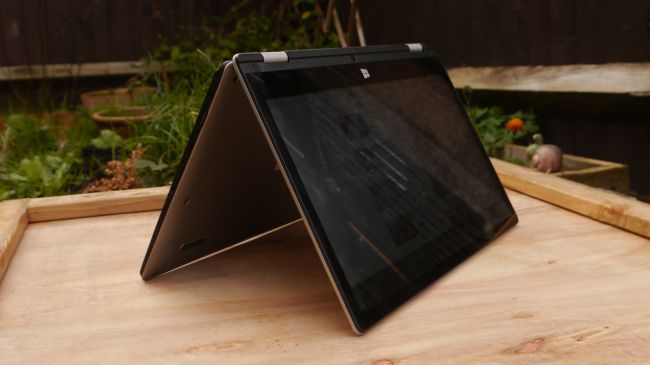 One thing that you immediately notice upon holding the Y1102 is the feel of its surface. It is rubbery – identical to the material used by the Lenovo Yoga 2 Proand a clear personal favorite for us, compared to boring polycarbonate plastic and cold metal. Sure, it doesn't look as sleek but it does improve grip.
The inspiration from the Lenovo Yoga range, more specifically the Yoga 11S, is obvious. Like the latter, the Y1102 is a full convertible, offering the four positions popularized by Yoga devices (laptop, stand, tent, tablet), thanks to a screen that can rotate 360-degrees on its axis via two hinges.
The other thing that's immediately obvious is how small the Y1102 is. At 278 x 189 x 17mm and weighing 1.1kg, it is as small, if not smaller, than many similar-sized netbooks with whom it shares its form factor.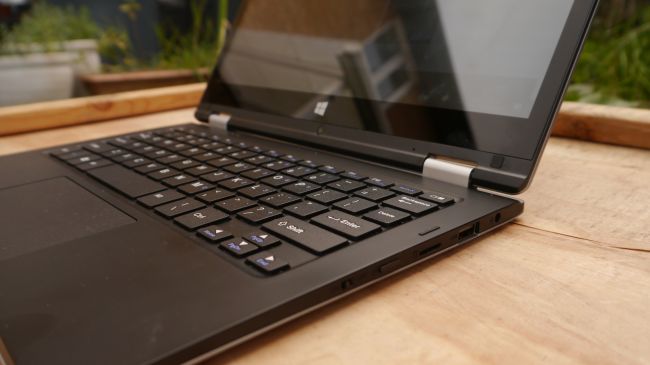 The Y1102 has a much smaller bezel than we'd expect (11mm on three sides), partly achieving this feat by moving the front-facing camera onto the thicker bezel, below the Windows home button and between the two hinges; which is a good idea, although pictures will be less flattering.
The power socket, a USB 3.0 port and a mini-HDMI connector are located on the left side, while the audio port, USB 3.0 connector, a microSD card slot, the power button and keyboard lock can be found on the right side of the laptop.
There are three status lights (Power, Num Lock, Caps Lock) located near the left hinge, and two speakers plus four rubber feet on the base.
Specifications
To keep the price low, the GoBook manufacturer opted for the minimal acceptable specification to run Windows 10. An Atom processor? Check. 4GB of RAM? Check. 64GB eMMC storage? Check. Small battery? Check.
Fortunately, the display was spared as the engineers opted for an IPS screen, a Full HD touch model. As you'd expect, the keyboard performance was sub-par given how cramped together the keys are. 13.3-inch remains the minimum form factor to enjoy an optimum typing experience, especially if you plan to touch type for prolonged periods.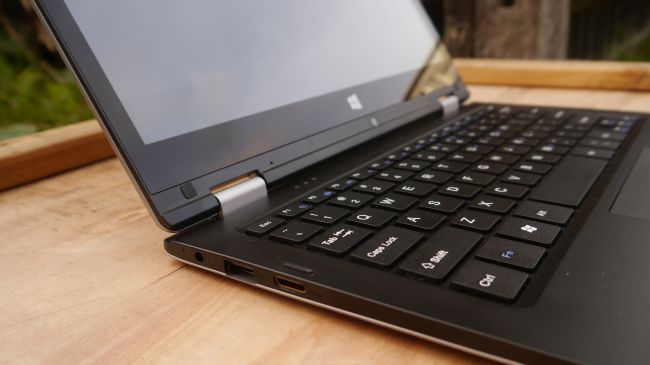 The touchpad is marginally longer than a credit card (it is exactly the same height) and has no physical buttons.
One word about the power adaptor supplied: it has a proprietary connector and the brick looks like a traditional smartphone affair, a 5V2.5A/12.5W model, which charges the small 8Whr battery.
GoBook has missed a trick here as it could have used a microUSB connector instead, something which may have allowed users of the Y1102 to charge their laptops using a host of solutions on the market including their own smartphones (and countless emergency power banks).
Usage and performance
The Y1102 delivered a just-good-enough performance throughout our benchmarks. Scores ranged from average to abysmal with the only good news being the 5 hours and 15 minutes it lasted in our battery test. The touchscreen display produced bright colors with good contrast, and our only concern is the glossiness of the display when used outside in bright sunshine.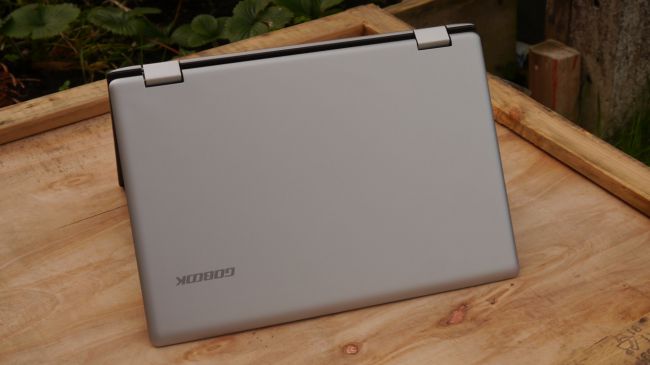 The island-style keys of the keyboard are small and a little too close to each other. System and function keys have been shrunk, as well, to fit into the small space. Sadly, that has a negative impact on the typing experience which felt a bit dry. Feedback was lacking while travel was (understandably) less compared to larger keyboards.
The touchpad doesn't have a smooth surface which, in our view, delivers a suboptimal experience. That said, two-finger scroll and three-finger swipe worked perfectly well. Our model came with an English version of Windows 10 Home which wasn't activated, and that's likely to have been a mistake; just make sure that yours comes with the required version.
Note that the laptop isn't supplied with any stylus, although to be fair, that's perhaps too much of an ask for a device in this price range.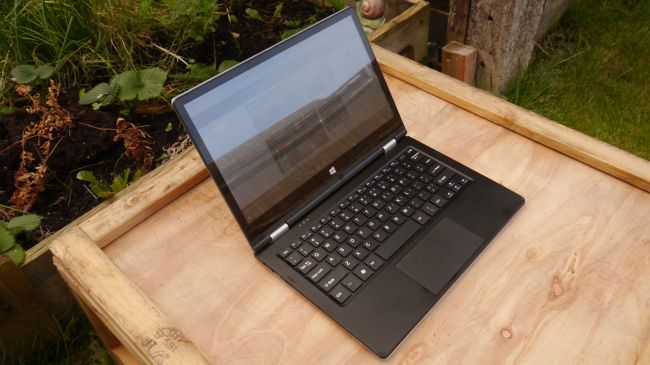 The competition
There's no real competition for the Y1102 if you are looking for a Yoga-like laptop rather than a Microsoft Surface clone. The only potential candidate is the Voyo VBook A1 which shares the same design but costs around 50% more. The price premium is justified by better hardware (Celeron N3450 processor, 128GB SSD, 802.11ac Wi-Fi) and the Voyo machine is probably a better alternative if your budget allows it.
If you'd rather opt for something local, the Yoga 300 is the one to go for. It is more expensive (again by around 50%) and its 11.6-inch touchscreen is an HD display rather than Full HD, but you get a much more powerful processor and 802.11ac Wi-Fi (and better support if anything goes wrong).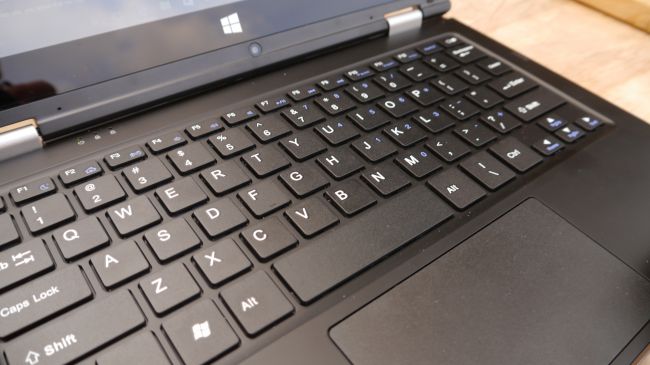 We'd advise steering well clear of products such as the HP Stream x360 with 2GB of RAM and 32GB on-board storage, if you don't want to end up pulling your hair out in despair thanks to sluggish performance. As a generic rule of thumb, your laptop should have more system memory than your smartphone.
Final verdict
While the GoBook Y1102 certainly gets some kudos as a great piece of hardware at this price, there are still some uncomfortable questions to be answered. This laptop is only available for sale – in English language – at one online retailer based in China, and the manufacturer (Shenzhen Guoteng Shenghua Electronics) has yet to release an English version of its website. Then there's the issue with Windows 10 which was not activated on our review sample.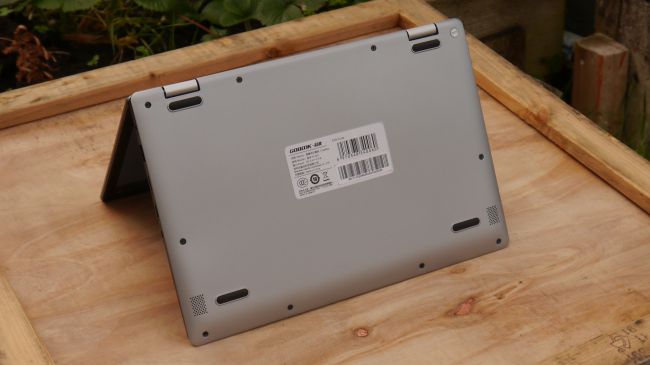 If you overlook these issues, then what you're left with is a device that works well as a secondary machine – maybe for when you go on holiday or need something more portable for meetings – but it will struggle if put to any sort of demanding use.
The form factor and the hardware used are to be blamed – the keyboard is just too small and the components provide a barely decent working experience in terms of performance levels.
(techradar.com, https://goo.gl/jx8NZE)
Comments
comments