Dell has refreshed its excellent Dell XPS 13 ultraportable laptop for 2018. This latest model ushers in a number of changes including a refreshed design, faster processor and new colour options.
Pocket-lint was on hand to check out the new XPS 13 ahead of its official reveal.
Tweaked design with new materials
Claiming to be the smallest 13-inch laptop on the planet, the latest XPS 13 features the same-size edge-to-edge display as before but there's a more refined design all round.
The design is still very similar to the previous model which, incidentally, is staying on sale. However, it now features an aluminium casing in either silver or, new this year, rose gold.
The rose gold offering is similar to Apple's MacBook line but does add a touch of glam to the proceedings. It also features a white keyboard and palm rest.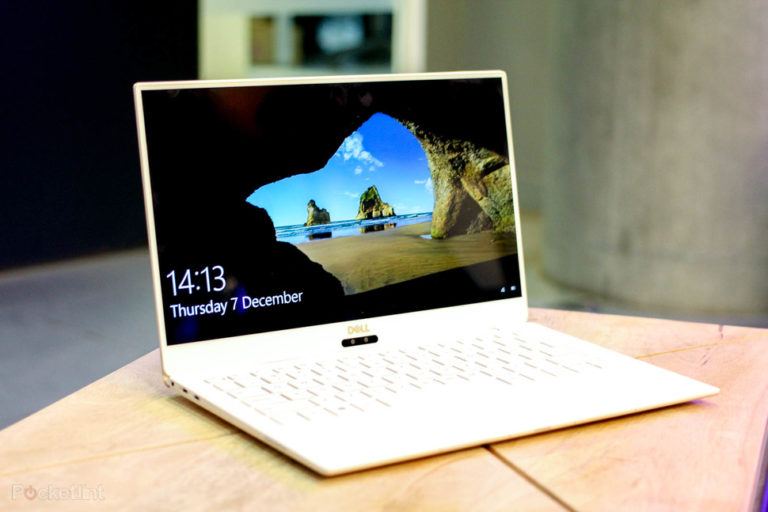 Flip open the lid and inside there's the upgraded edge-to-edge 13.3-inch 4K UHD (3,840 x 2,160) InfinityEdge touch display, offering a 1500:1 contrast ratio (it was 1000:1 before).
Those that don't want a touchscreen will be able to choose a standard, non-touch version. The touchscreen model, however, now comes with an anti-reflective coating to reduce the glare some have previously complained about.
Underneath the screen you'll find a full-sized keyboard and, depending on the colour option, either a black carbon fibre palm rest or an alpine white woven glass fibre one instead.
At the bottom of the screen Dell has now centralised the camera for video calling (it was off to the side previously). It's still not ideal as it'll show off your double chin to your work colleagues or loved-ones, but it certainly beats an Apple-style 'notch' at the top of the screen. Distractedly, the alpine white version features a black camera and sensor model which jars against the brilliant clean lines the white otherwise produces.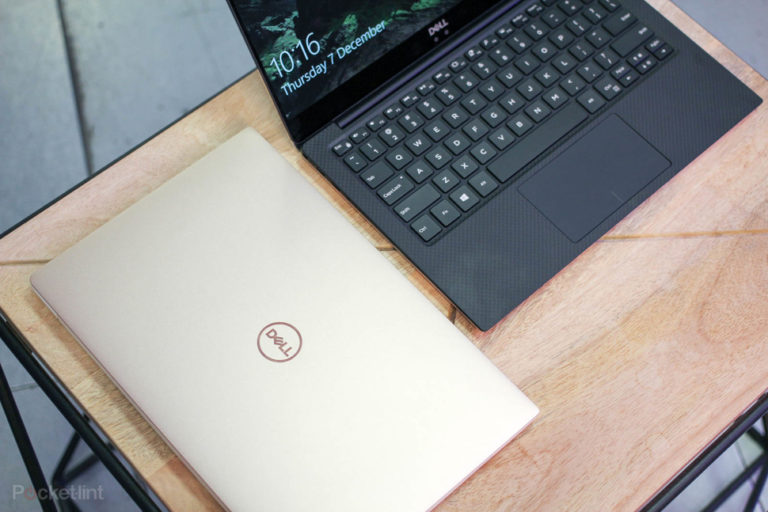 The woven glass fibre of the rose gold and white model doesn't offer as smooth a finish as the black carbon fibre option, but that texture works in the laptop's favour. It also means that unlike standard plastic it shouldn't get as dirty. But, it will be interesting to see how long-term use affects this over time.
Perhaps slightly disappointing is that the woven glass or carbon fibre doesn't flow through the keyboard. That, says Dell, is down the manufacturing process and the amount of keyboard variations it has to offer.
Aside from the use of materials, there are a couple of other differences that make this year's outing a tad different from its predecessors.
No more USB
While the 2017 Dell XPS 13 featured both USB-C and USB sockets, that ship has now sailed. In making the laptop thinner, Dell has opted to ditch the standard USB-A socket altogether, replacing it with USB-C instead. So the XPS 13 features three USB-C sockets, any of which can be used to charge the laptop. Thunderbolt 3 is also supported as before.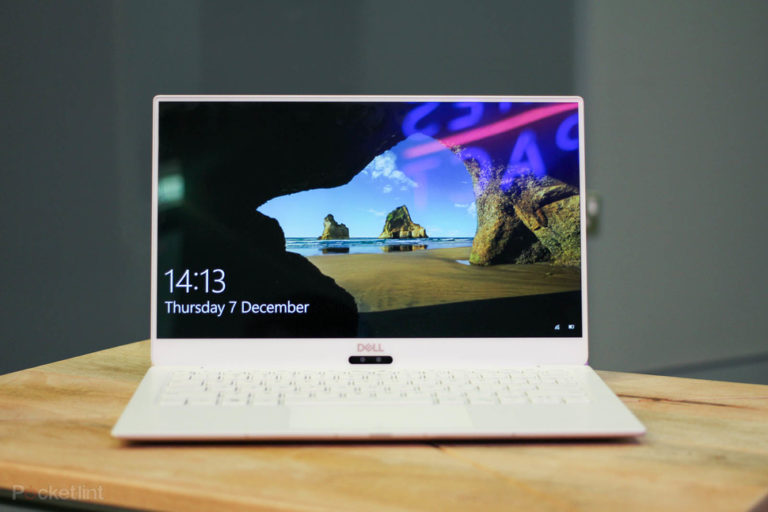 Gone this time around is the popular SD card slot and, in a strange move, it has been replaced by a microSD card slot instead. It's all part of the space saving approach to make the device thinner, but we're not sure of anyone who needs microSD hot swapping over the larger SD format that photographers use.
Thankfully, you still get a 3.5mm headphone jack.
Power and processors
The Dell XPS 13 (9370) will come in a range of configurations. You can opt to have Intel's latest 8th Gen Core i5 and i7 quad-core processors, between 4-16GB of memory, and up to 1TB of storage.
In our hands-on we weren't able to test performance, but will be sure to do so when we get one at Pocket-lint for review.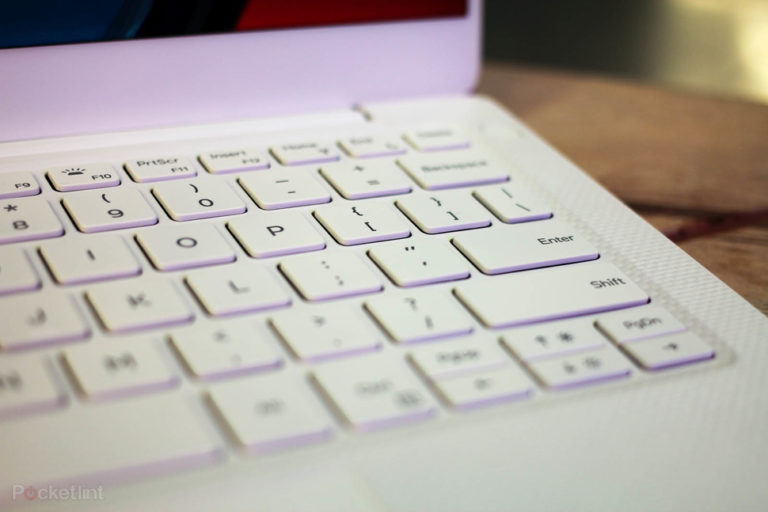 There's also a fingerprint reader option. The screen works with Dell's new accompanying Pen, and that will work seamlessly with Windows Inkin Windows 10.
On the battery front, Dell is promising around 19 hours on a single charge, 11 hours for Quad HD screen. A spokesman for the company confirmed it is a physically smaller battery due to the new smaller size.
How this will fair in the real world is yet to be seen, and something else we look forward to testing.
First Impressions
The new Dell XPS 13 is the result of a company refining an already good laptop and ensuring that it remains a popular favourite with those on the move.
The alpine white model certainly offers something different over the usual staid black and silver.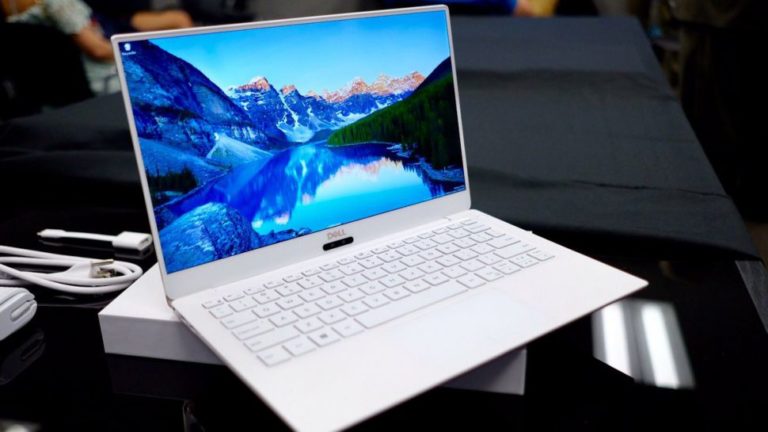 The only misstep we can see, is the move from SD to microSD, but we suspect that will only affect a small number of Dell's regular customers.
The new XPS 13 is available on Dell.com and John Lewis, starting at £1,269. The Rose Gold edition is available from February, starting at £1,669. Dell is also offering an Ubuntu-based developer edition with Linux preloaded starting at £1,319 on Dell.com in the US and Europe as well.
We look forward to getting our hands on the Dell XPS 13 for a longer test in the coming weeks.
(pocket-lint.com, https://goo.gl/Cc9zSY)
Comments
comments