The Apple iMac range has received a spec boost for 2017, promising better screen technology, more processing power, Thunderbolt 3 slots and more. But should you be excited by these additions?
We've been using the new 27-inch 5K iMac for the last 24 hours to get a feel for the new all-in-one desktop machine. Although this new model isn't as powerful as they top-spec iMac Pro due out later this year, it certainly offers plenty.
New 5K iMac review: Design
All-in-one aluminium housing
Magic Keyboard and Magic Mouse 2 included
2x Thunderbolt 3 (USB-C); 4x USB; SD card; Ethernet; 3.5mm jack
The bottom line is that the new iMac's design is virtually the same as the 2015 iMac. Why change something that clearly lots of people like? There are the same clean lines and curves to that aluminium housing. The ports are all still tucked away around the back – great for being out of sight, less practical for adding accessories ad hoc.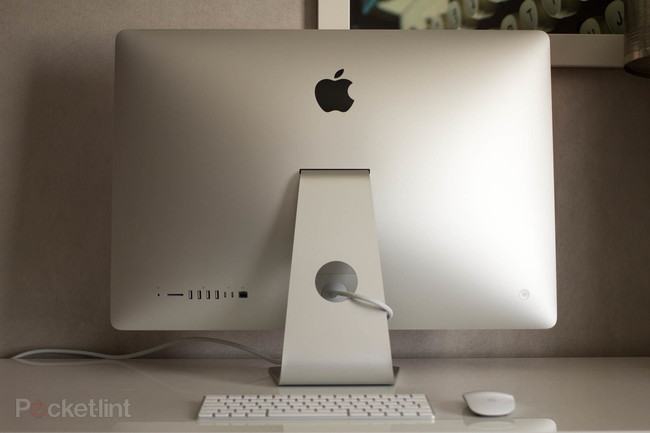 There is one notable change to this array of rear ports: the addition of two Thunderbolt 3 (USB-C) slots. This move gives users plenty of potential to connect other screens, docks, or hard drives. In addition there's the usual 3.5mm headphone jack, SD card slot, four USB sockets, and an Ethernet connector.
In the box you'll also get a Magic Keyboard and Magic Mouse 2, although you can choose to change these to a Magic TrackPad and the new Magic Keyboard with numerical keypad for those who like to crunch numbers.
27-inch iMac (2017) review: Screen
27-inch, 5120 x 2880 resolution display
DCI-P3 wide colour for 1 billion colours
500 nits brightness
The new iMac's screen may look like the same 27-inch panel that many love, but this time around it offers a wider colour gamut – DCI-P3 for blasting up to 1 billion colours in your general direction – and a brighter output.
Indeed, it's 43 per cent brighter than the last generation model, delivering up to 500 nits output. Which all sounds like a lot of figures, but the brightness level is really noticeable in use, it certainly tickles the retinas.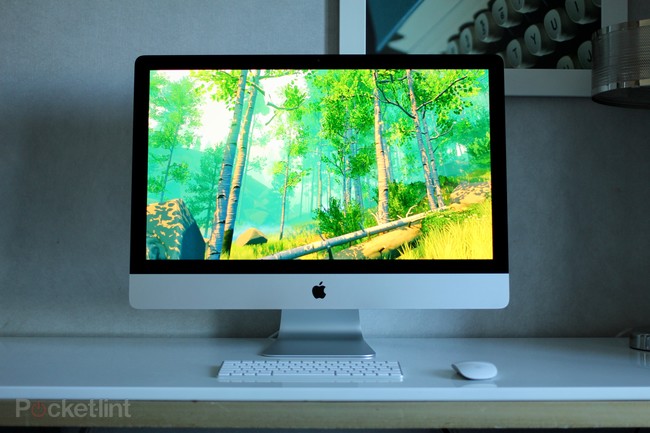 However, this screen isn't capable of supporting 4K HDR (high dynamic range) as it doesn't tick the ultra-high brightness box. It is a strange omission, we feel, given the advantage of better colour in HDR content.
HDR capabilities aside, the screen is vivid whether you're watching movies, editing pictures, or even just reading your email. Put simply, the new iMac's display is stunning.
New 27-inch iMac review: Processors and graphics
Discrete graphics: AMD Radeon Pro 500-series as standard
Graphics have dedicated 4GB-8GB VRAM
Intel Core i5 Kaby Lake processors as standard (Core i7 upgrades available)
8GB 2400MHz DDR4 RAM as standard (configurable up to 64GB)
User-accessible RAM port for RAM upgrades
It's not just a new screen, though, as the new iMac's internals have been upgraded too. There's now Intel Core i5 and i7 Kaby Lake processors that deliver up to 4.2GHz (4.5GHz with Turbo Boost).
Aside from the processor, the new models support up to twice the memory as the previous generation, plus it's moved from DDR3 to DDR4. It's 8GB RAM as standard – but you can access the rear RAM port and add up to 64GB total yourself (without incurring the same off-the-shelf embedded cost that Apple would otherwise charge).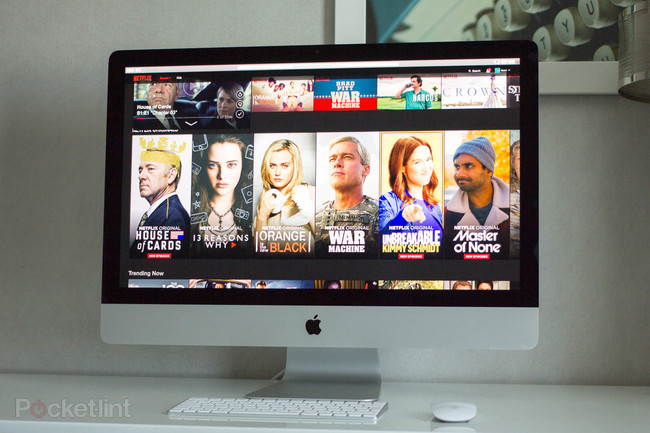 Graphics on iMac are much more powerful this time around, with the new Radeon Pro 500-series graphics with up to 8GB of dedicated VRAM. It means that the 27-inch model has a 50 per cent bump in GPU terms compared to the earlier generation.
Storage sees a boost, too, with the Fusion Drive now standard across all 27-inch configurations. This is Apple's hybrid drive that combines a standard hard disk with flash storage to give you the best of both worlds: fast storage for your most used apps, with enough space available for long term storage. Or upgrade to full SSD, with up to 2TB drives offered that are also 50 per cent faster than those in the outgoing models.
About the only thing that hasn't changed is the FaceTime HD camera – which remains the same as the previous models.
The model we tested was the entry-level, but this still features a 3.4GHz quad-core Intel Core i5 processor, 8GB of memory, and 1TB Fusion Drive. At £1,749 it's not unreasonably priced. Go all-in, however, and that price rises rapidly. With all the possible internal customisations – including a 2TB SSD drive, Intel Core i7 4.2GHz processor and 64GB RAM – the 27-inch iMac will set you back a cool £4,949 (or $5,299).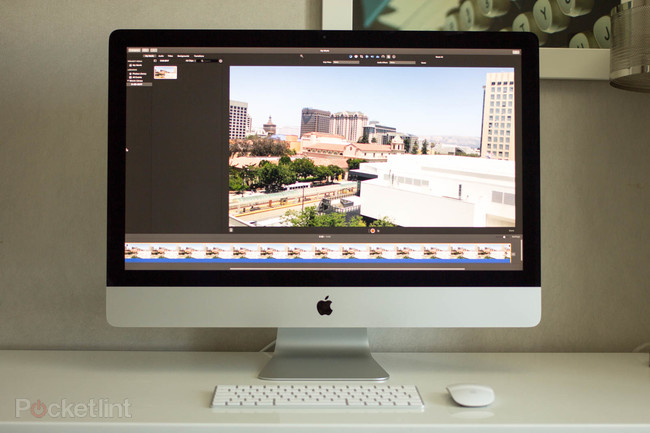 Our time with the new iMac was brief so we've not been able to put the new machine through as many "day to day" tests as we would have liked. A quick spot of image editing with Pixelmator, 4K video editing with iMovie, watching Darth Vader on the HTC's Vive VR headset, and playing the gorgeous game Firewatch in Ultra setting kept us plenty busy though. Even with just 8GB our model was able to deliver the goods, although we would love to see what a difference 64GB would make when crunching through heaps of massive images or video content.
Apple 27-inch iMac with Retina 5K display review: Software
MacOS 'High Sierra' coming later in 2017
Will be MacOS 'Sierra' for launch
The new iMac runs the MacOS Sierra for the time being, but will be eligible for an update to MacOS High Sierra later in the year when the new version of the operating system comes out.
That update will bring a number of speed and storage improvements thanks to the adoption of a new file system. There are other features as we've detailed in a separate feature: What's new in MacOS High Sierra?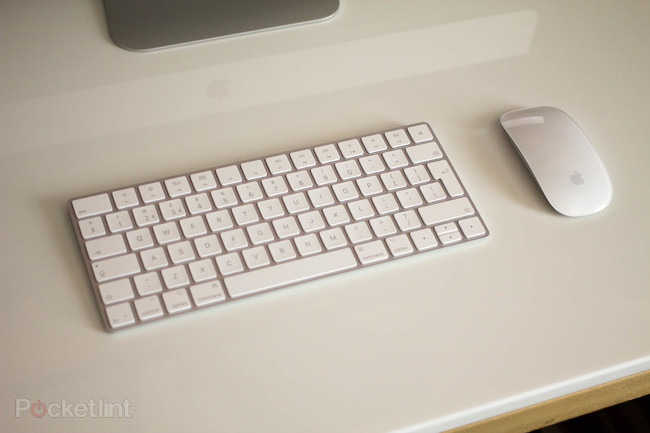 First Impressions
The latest iMac is lovely. From a day's use we've found it performs really well thanks to the beefed-up processing and graphics power, paired with that bolder, brighter screen. It doesn't disappoint.
If there's one complaint, it would be the short-sightedness of not including HDR support. In a world that's quickly finding it the new industry standard, trying to position a machine with such a creative focus that isn't able to support such content may come as a blow. Apple will say that it's not just a case of adding a few more nits brightness to achieve HDR, and that's true, but it would certainly be a great addition for the high-end user.
That slight grumble aside, the new iMac will hugely appeal to many. It looks great, it runs great and is highly configurable – meaning you can turn it into one super-powered machine if you have the cash. We look forward to giving it a proper run for its money when we get it in the office for a full review.
(pocket-lint.com, https://goo.gl/kqDvHn)
Comments
comments