OUR VERDICT
With only one hour of battery life and dual Nvidia GTX 1070s, the Aorus X9 should really be considered a foldable desktop rather than a gaming laptop. But, holy hell, is it powerful.
FOR
Unbeatable graphical performance
Perfectly calibrated Pantone-certified display
The best cooling system we've ever seen
AGAINST
Practically non-existent battery life
Lifeless keyboard
Awful trackpad
The Aorus X9 is out to pack as much power as possible into an ultra-thin gaming laptop. While the Razer Blade Pro and Alienware 17 R4 have proven desktop replacements can be ultra-thin without compromise, this 17-inch gaming laptop kicks things up another notch by packing in dual graphics cards.
By harnessing the power of two Nvidia GTX 1070s, the Aorus X9 is the most graphically capable gaming laptop we've tested to date. What's more, this beast of a desktop replacement also features four fans for unbeatable cooling and RGB lighting on every side. We just wish the Aorus X9 would have come with a larger battery and better inputs.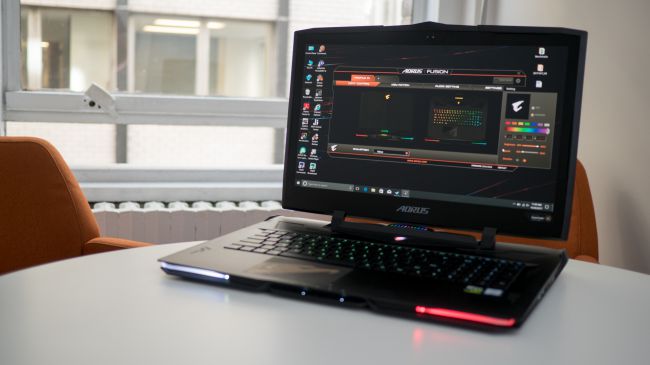 Price and availability
Starting at the heady price of $3,199 or £3,099, the Aorus X9 follows in the tradition of desktop replacements that cost over three grand.
At this price bracket, the 17-inch laptop is equipped with the same Intel Core i7-7820HK processor and dual Nvidia GTX 1070 graphics cards as our review unit, but only has a QHD (2,560 x 1,440), 120Hz display and a 256GB SSD. It's also worth mentioning that you'll only find QHD-variants of the Aorus X9 in the UK, but not in Australia.
Our review unit as configured to the right rings up for $3,649 or AU$5,099, which is slightly more affordable than the $3,799 (£3,799, AU$5,899) Razer Blade Pro. However, the Aorus X9 is also significantly more expensive than an equally well-equipped Alienware 17 R4 priced at $3,049 (£2,907, AU$4,998.
Meanwhile, if users want to double up on their flash storage, the price of the Aorus X9 bumps up to $3,799 or AU$5,399.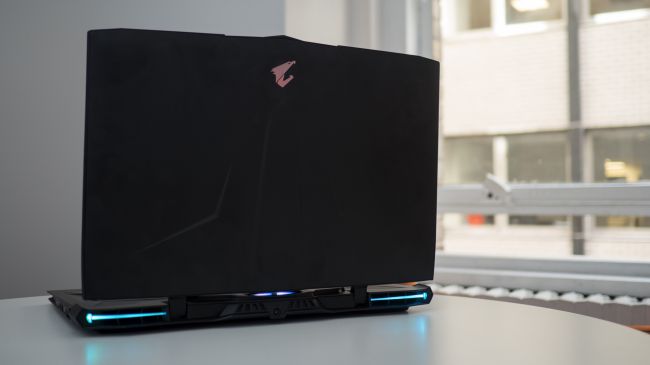 Design
Unlike the demure styling of Aorus's gaming laptops that we've become accustomed to, the X9 is as loud as can be with edgy design elements.
The Aorus X9 fully embraces the RGB lighting revolution with a completely customizable 16.7 million-color backlit keyboard and multiple light bars around the chassis. It's quite the lightshow, and all the more impressive when you take a closer look at the three distinct LEDs illuminating the power button and the 11 LEDs built into the light bar just above that logo.
Unfortunately, you can't really put the lighting to good use. The most functionality we get out of the 11 LED light bar is using it as a battery meter or a temperature gauge.
While there's also a music mode that's neat in that it turns the laptop's entire lighting array into a visualizer, it requires the user to increase the laptop's volume to at least 80%. What's worse is this music mode only works through the speakers, which basically limits its use to when you're home and alone – that is, unless you relish in being the most obnoxious person in the room.
We would have loved it if there were a way to tie the lighting into games, like Counter Strike Global Offensive, to let us know when to reload – or when our abilities were back in Overwatch. Razer has been ahead of the game in this regard, and you'll find all of these keyboard lighting features on all of its laptops.
Lighting aside, the Aorus X9 features a very angular design with enough metal edges to make the Lamborghini it was modeled after jealous. It looks more garish than the stealthier designs of the Aorus X5 v6 and Aorus X7 v6, but it's balanced by the matte black paint job.
Measuring in at the same 1.18-inches (2.99cm) thickness as the Alienware 17 R4, the Aorus X9 pushes the envelope of what's possible in an ultra-thin form-factor with its SLI-graphics card setup. Still, the Razer Blade Pro edges out as the thinnest machine measuring 0.88 inches (2.24cm).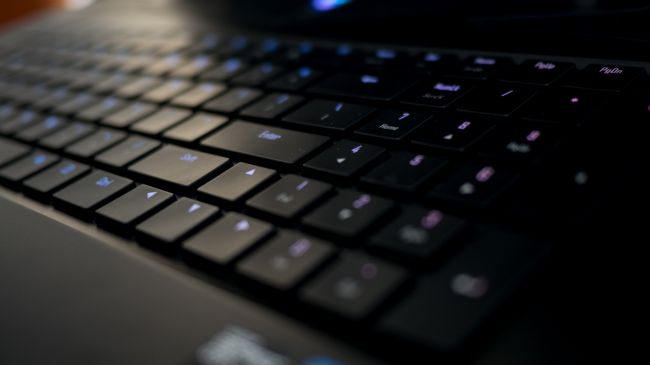 Twack keyboard and trackpad
We were ecstatic when we first heard that the Aorus X9 would feature a mechanical keyboard with an astonishing 2.5mm of key travel. However, we are disappointed in the lack of tactile feedback from the laptop's Kailh brown keyboard switches.
While these Kalih switches are designed to emulate the tactile bump of Cherry's corresponding MX Brown switches on a keyboard, they feel more like they just crumbles under pressure. Pressing any of the keys even slightly causes them to bottom out without any resistance at all.
At the very least, we can say the Aorus X9 has an extremely spacious keyboard with large physical keys and more than adequate spacing between each one. Despite the lifeless feel of the keyboard, there are no problems with responsiveness. There's no delay between us hitting the 'G' key and chucking out a grenade or quickly moving out of the way of oncoming rockets while gaming.
Other gaming laptops, like the MSI GT75VR Titan and Razer Blade Pro, have proven mechanical keyboards on notebooks can be as good as desktop peripherals. We really would have rather preferred if the Aorus X9 keyboard had more bite to it.
Likewise, the Elantech trackpad on the Aorus X9 is nigh unusable. Simple point-to-point tracking between our finger and the cursor is aggravatingly sluggish. What's more, no matter how much we increase the palm rejection setting, we're still constantly activating the sensor while typing.
Some might be able to stomach the keyboard and actually find it more usable than us, but it's almost a requirement to replace the lackluster trackpad with agaming mouse.
Thanks to copious amounts of ventilation, the Aorus X9 keeps its cool and ensures all of its components are operating at their peak performance.
Above the keyboard, there are several mesh sections and eagle-shaped ventilation on the underside to help its four fans pull cool air from both the top and bottom of the laptop. Of course, with that many fans spinning up at the same time, this system gets loud. But, it's still not nearly to the level of other ultra-thin laptops, like the MSI GS63VR Stealth Pro.
That said, we'll take a bit of fan noise if it means we can avoid thermal throttling, which the Aorus X9 does beautifully. The 17-inch gaming laptop's extensive network of heat pipes and aforementioned cooling system, we didn't see a single drop in performance no matter how far or long we pushed the system.
Usually, our gaming benchmarks will turn out lower results with each successive run, and thus why we give you an average of three tests. However, the frame rates you see above were the result we got every time without any deviation whatsoever. It's something we've never seen any laptop achieve before, and it's a testament to the Aorus X9's thermal design.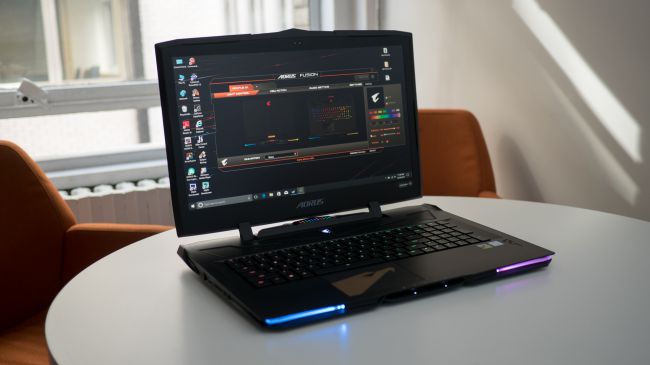 Thanks to its dual-Nvidia GTX 1070 GPUs, the Aorus X9 is the most graphically capable gaming laptop we've ever tested. This 17-inch gaming laptop flies in the face of our synthetic benchmarks, with Fire Strike scores soaring 2,000 to 5,000 points above that of the Nvidia GTX 1080-powered Alienware 17 R4 and Razer Blade Pro.
It's no surprise that the Aorus X9 is the first gaming laptop to give us a steadily playable 4K gaming experience. We ran Shadow of War and The Evil Within 2 at Ultra HD and ultra-quality settings at an average 26 frames per seconds (fps) to 30fps, respectively. Thus far, rigs powered by a single Nvidia GTX 1080 have only been able to eke by at an average 20 to 25fps.
Although the Aorus X9 also shares the same processor as it rivals, the Alienware 17 R4 pulls ahead with slightly higher benchmark numbers. The Razer Blade Pro is the weakest in the bunch with the lowest performance numbers.
Sights and sounds
Thankfully, the Aorus X9 comes with a superb pair of speakers and a display, making gaming experiences as pleasurable to the eyes and ears as possible.
The 4K display is definitely the brighter highlight of the Aorus X9's audio-visual package. The Pantone-certified display lives up to its classification, with perfect color tuning and excellent contrast. Likewise, the laptop's stereo speakers offer decent sound separation and are loud enough to overcome the sound of the fans.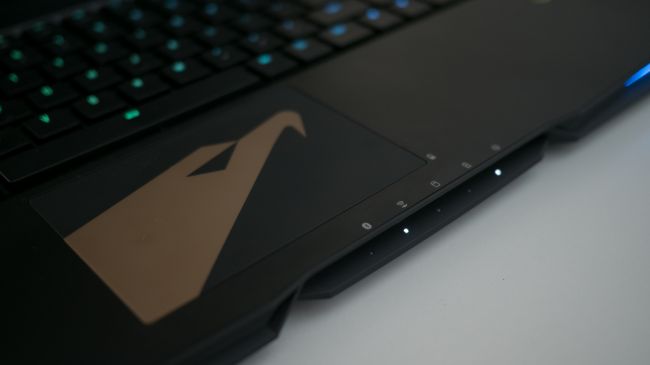 Battery life
At most, you should expect an hour of battery life out of the Aorus X9. As laughable as that might sound, it's not a joke. Aorus's flagship gaming laptop only lasted for 1 hour and 9 minutes on our video playback test, a mere minute longer than it performed on the PCMark 8 battery test.
Comparatively, the Alienware 17 R4 offers a better, but still not superb, 3 hours of battery life, and the Razer Blade Pro lasts the longest at four hours. Whether Aorus ran out of room for a larger battery or it just falters under the sheer weight of two high-end GPUs, you'll definitely need to carry the power adapter for this 17-inch machine if you mean to take it outside.
We liked
The Aorus X9 is one of the most uncompromising and impressive ultra-thin gaming laptops on the market. It's ability to pack in a second graphics card into a frame as thick as the Alienware 17 R4 is impressive on its own. Better yet, it puts all of that power into making it the most graphically capable gaming laptop we've ever tested.
We disliked
Having only a single hour of battery life disqualifies this desktop replacement from calling itself a gaming laptop. If you take it with you outside and can't find a power outlet, you should expect to get an hour and a half of usage, and that's if you're strictly sticking to simple tasks, like word processing or web browsing.
We're also not crazy about keyboard and trackpad – especially the trackpad. While the keyboard is good enough for gaming and quick strings of chat text, you're going to want to keep a mouse connected to this laptop like it's a part of it.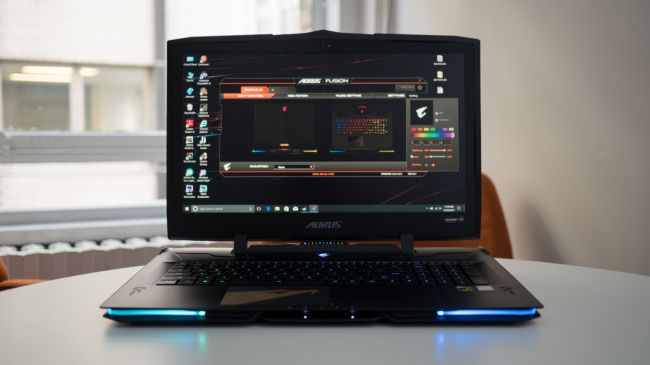 Final verdict
The Aorus X9 caters specifically to the most devout hardcore gamers who want to push all their graphical settings to the max, and this gaming laptop is beautifully engineered to do just that. SLI graphics cards in a gaming laptop is a real rarity these days, thanks to the greatly improved performance we've seen from Nvidia's mobile Pascal architecture, and so this 17-incher is a unique outlier with its two GTX 1070's. We also can't help but be impressed by how the Aorus X9 is always ready and willing to run at max performance without fail.
If you're looking for something more possibly portable with friendlier built-in inputs, the Alienware 17 R4 is the stronger choice here. That said, if you would rather have the most graphical power that can possibly fit into a gaming laptop, there's nothing that can match the might of the Aorus X9.
(techradar.com, https://goo.gl/kquAVw)
Comments
comments