THE GOOD: The Yamaha RX-V481 offers very good audio performance in a relatively affordable bundle. It offers numerous streaming services over Wi-Fi plus the ability to stream to a Bluetooth headphone. HDMI ports support 4K video and HDR sources.
THE BAD: The total of just four HDMI ports means users with more than one gaming console, for example, may need to look elsewhere. Competitors such as Pioneer and Sony are supporting the versatile Google Cast system.
THE BOTTOM LINE: The Yamaha RX-V481 checks most of the must-have feature boxes, and still delivers excellent sound quality for a mid-price receiver.
Yamaha has been hammering away at the AV anvil for a good while now, and many of its receiver products gleam like Excalibur. One fine examples is the RX-V481, a well-honed blade with a good balance of must-have features and superb sound quality for the buck.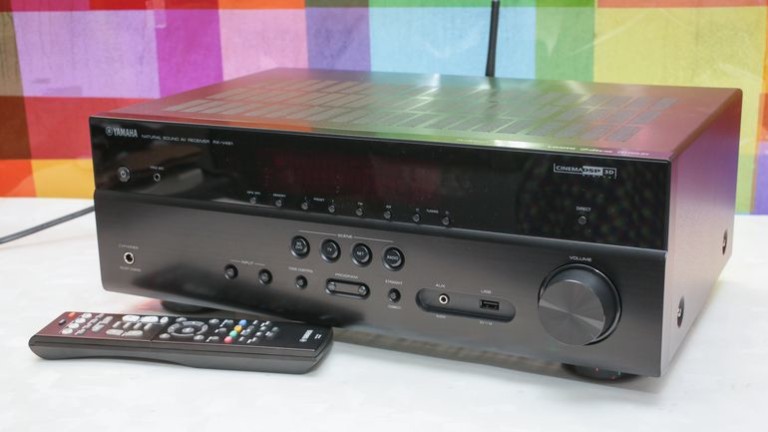 Yamaha's MusicCast multiroom system and Bluetooth in/out highlight a solid feature set. Our only disappointment is that Yamaha cut the number of HDMI ports on this unit from six to four. The consolation is that all are state-of-the-art, with the ability to carry 4K signals with all the latest HDRinformation still attached.
Performance of the RX-V481 is a little better than the RX-V479 it replaces, but Yamaha's competitors, namely Sony and Pioneer, have also made gains in 2016. For example, the Sony STR-DN1070 offers better features and better sound than the Yamaha, although it is somewhat more expensive. If you want a high-quality weapon in your home theater arsenal but want to stay on a midrange budget, the V481, available now for $399, £399 in the UK or AU$849 in Australia, is a winning choice.
Design
Buttons. Come get your buttons! While some companies opt for austere front panels with two knobs and not much else, Yamaha is on the "airplane cockpit" side of receiver design. As a result the face is more cluttered than most, but at least the RX-481 includes the most oft-used buttons in an easy-to-grasp layout. We award bonus points for the shortcut buttons to the most popular inputs.
The onscreen interface has received a light polish this year. It's now in high definition, unlike the 480p interfaces of old, and is relatively easy to navigate for users familiar with AVRs.
The remote control is friendly and easy-to-use and is virtually identical to the model which the company unveiled with the previous RX-V479.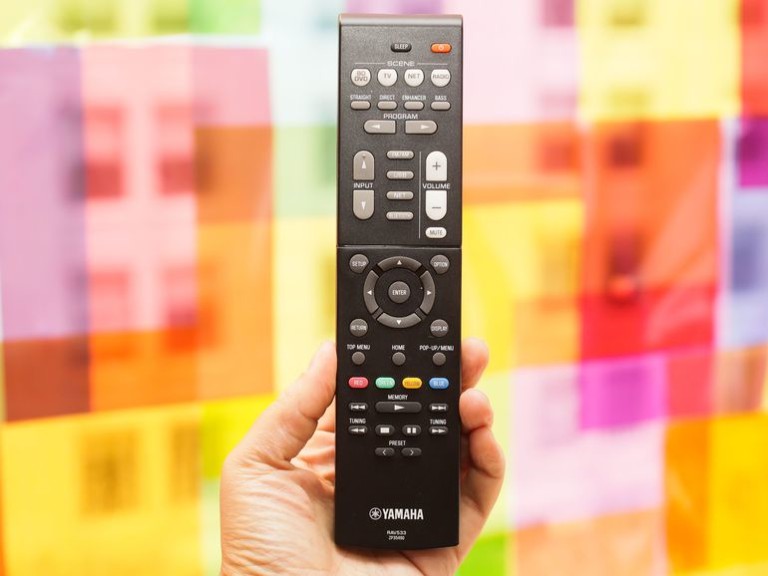 Features
The old RX-V479 was a beauty: it sounded great and it offered plenty of features, including six HDMI ports. While the '481 is cut from the same cloth, there have been some changes to the pattern. Namely, the number of HDMI ports has been slashed from six to four. While all of these ports are now HDCP 2.2and HDMI 2.0 compliant, it's fair to say almost no one has four compatible devices right now — connecting legacy equipment is much more important. Otherwise, connectivity is pretty decent with both Bluetooth in and Bluetooth out (to compatible headphones or a speaker).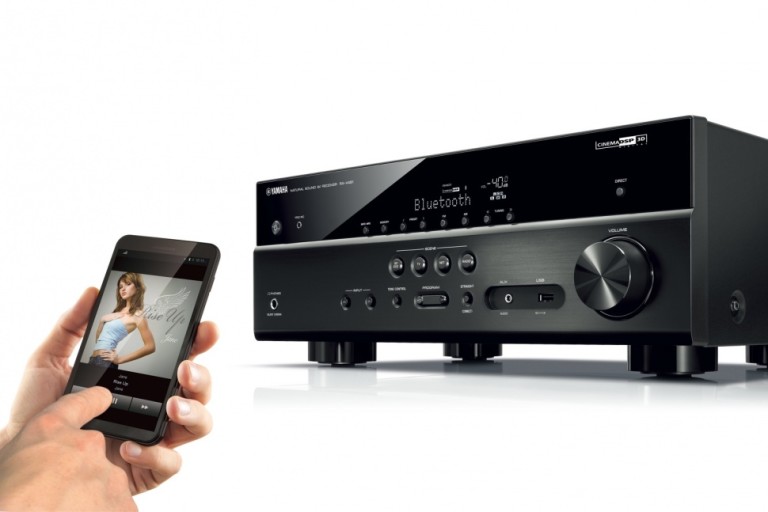 Yamaha's proprietary MusicCast system is over a year old now. While it's added a couple more services, it's still not as compelling as competitors — some of which can offer dozens of streaming providers. In order of least interesting to the most, they include Rhapsody, SiriusXM, Pandora and Spotify. It also comes with the ability to read from users' phones or network devices (up to 24-bit/96kHz) as well as transmit over Apple's AirPlay.
One feature the Yamaha misses is Google Cast. For Android and iOS phones and tablets, Google Cast offers the ability to stream directly from a music app rather than use a proprietary one like MusicCast. Competitors like Sony, Pioneer and Onkyo have Google Cast now, and are in the process of upgrading it for multiroom functionality.
The amp itself is a 5 x 150W model with a single subwoofer output. It offers decoding of most popular formats, including the various forms of Dolby Digital and DTS. Given that it's only 5.1 channels, it should come as no surprise there's no DTS:X or Dolby Atmos though.
Setup
Sticking with what we know, we used our reference Andrew Jones designed ELAC Debut F5 towers in the front left/right spots, ELAC Debut C5 center channel speaker, ELAC B5s as surround speakers and a Klipsch R-110SW subwoofer. We performed a complete manual speaker calibration/setup in about five minutes. The subwoofer-to-speaker crossover points were set to 80 Hertz for the center and surround channel speakers. The Debut F5 towers were run full range.
Performance
From our first moments getting acquainted with the RX-V481 while listening in stereo, we knew something good was up. The sound of Thom Yorke's vocals and the acoustic guitars on Radiohead's "A Moon Shaped Pool" rang especially true. The deep bass lines coursing through African Head Charge's psychedelic dub albums had tremendous power and definition. With high-resolution files from MA Recordings, the clarity/transparency was better than what we're used to from a mid-price receiver, and the soundstage had tremendous depth and body. All in all, the RX-V481 proved itself an above average contender with music.
Sticking with music, the recording studio scenes in Don Cheadle's flawed but still pretty terrific Miles Davis biopic "Miles Ahead" sounded remarkably realistic, because they had an "in the room" believability. Same when Davis is home alone with his trumpet; the realism of the sound was striking.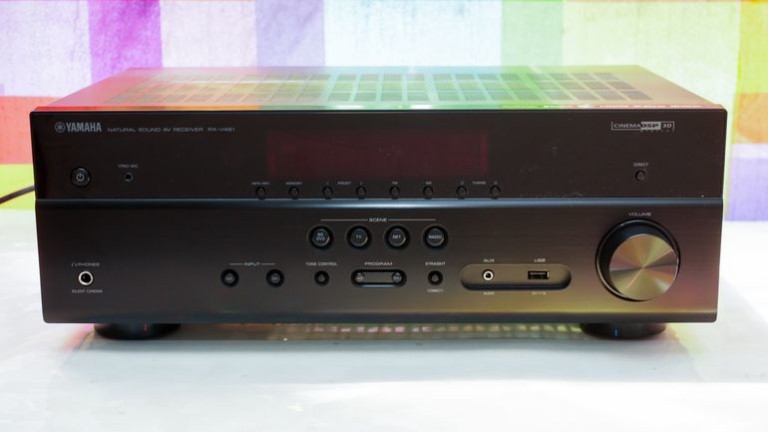 Last year we lauded the sound of the RX-V479, and when we compared that receiver with the RX-V481, the new model was a wee bit better sounding, with improved transparency and overall clarity.
With the "Terminator Genisys" Blu-ray, we cranked V481's volume way up to annoy-the-neighbors levels, and the sound remained clear and clean. There was no strain or hardening, and dynamic impact was impressive. The sound of the front and surround channel speakers together created a coherent sound field.
The effect was even more obvious with Terry Gilliam's fantastical film, "The Zero Theorem." It stars Christoph Waltz as Qohen Leth, a genius computer programmer who tries to figure out the meaning of life. The film's dense, multilayered sound mix, with the beeps, squeaks, rattles, whines, and whooshes in Leth's massive loft, were loaded with texture. The flutter of pigeons, buzzing insects and water dripping seemed to come from all around the CNET listening room.
To finish up we returned to music with the Rolling Stones' "Sweet Summer Sun: Hyde Park Live" Blu-ray from 2013. The 'Stones may be really old, but the young(er) audience reveled in their greatest hits. The sound mix was good, with lots of dynamic range, so the drums really kicked butt. When guitarists Keith Richards and Ronnie Wood play acoustic the RX-V481 sounded natural.
Shifting gears to streaming music via MusicCast, we connected a set of PSB X2T and were impressed by the extra clarity the speakers unfurled. The Yamaha seemed to have no problem running these large towers. Music with a bass punch, such as Talking Heads or Daft Punk sounded full and appropriately funky. Running a set of $1,000 speakers on a $400 receiver is not something we would expect to work, but the Yamaha handled itself admirably.
Lastly we tested the '481's ability to stream over Bluetooth to an external device, and whether it wasMitski or "Deadpool", the stream stayed perfectly in sync with both the onscreen action and the X2T speakers.
Conclusion
Pair the Yamaha RX-V481 with a decent home theater speaker system, and you'll be in for a good time. The receiver's mostly complete feature set and superb sound — for a very down to earth price — may be tough to beat. Sure, we could quibble over the loss of two HDMI inputs from last year's RX-V479's, but that's something only you can decide is a deal breaker.
(cnet.com, http://goo.gl/Z7rdYw)
Comments
comments