PRICE $1,299
AT A GLANCE
Plus
Impressive contrast and shadow detail
Handles both Dolby Vision and HDR10
Affordable price
Minus
Wi-Fi sync issue with included tablet remote
No extended-color-gamut capability
Some halo artifacts from local dimming backlight
Only one HDMI 2.0a input
THE VERDICT
Vizio's budget-minded display handles both flavors of HDR and, a few quirks aside, delivers impressive performance.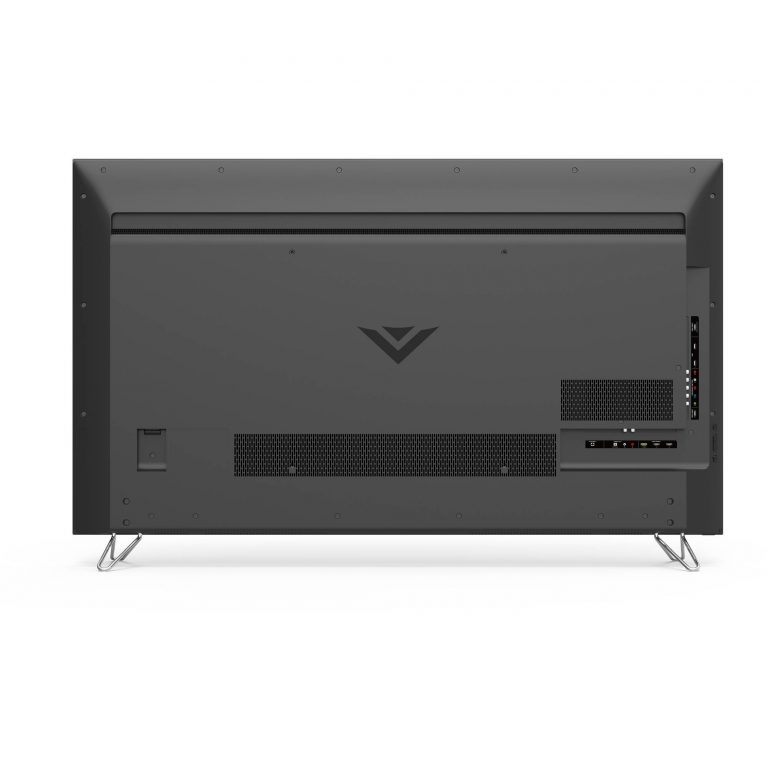 When is a TV not a TV? When it's an Ultra HD Home Theater Display. With the new M series, Vizio has chosen to shake up conventional expectations of what a TV should be and should do. One key change is that each M series set lacks a tuner to receive over-the-air digital TV broadcasts—hence, the company's use of the term Home Theater Display. Another change is that Vizio has scrapped the typical full-featured IR remote control and replaced it with an Android tablet. Future-savvy or future shock? Read on and find out.
Vizio's changes might seem random to some, but they actually make sense. With the current ATSC 1.0 digital broadcasting system scheduled for an overhaul to version 3.0 in early 2017, why saddle 2016 sets with a soon-to-be-obsolete digital tuner that few people use anyway? (It has been speculated that the ATSC 3.0 digital tuner may take the form of a dongle that will plug into a TV's USB port, and in any event the majority of viewers still use pay TV service with a cable or satellite box.) Also, with streaming services supplanting conventional cable and satellite TV for many viewers (myself included), why not give users a high-tech device with which to organize and control their media-streaming universe?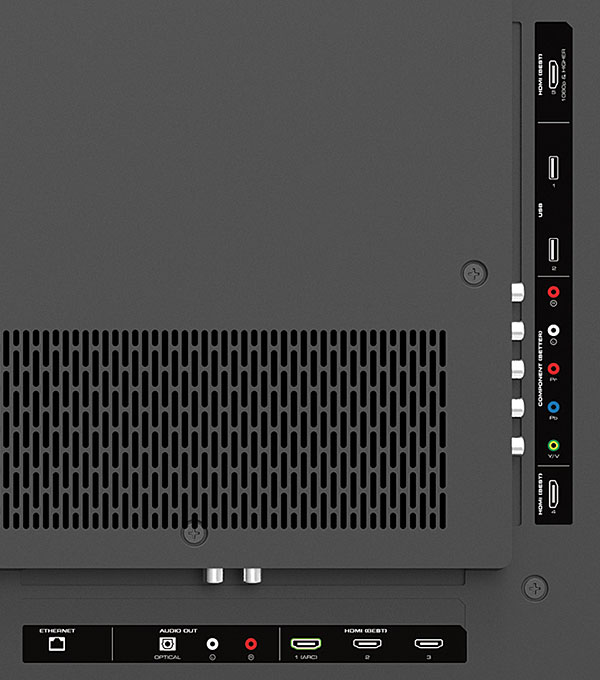 Before covering the details of Vizio's streaming platform, I'll briefly hit some other highlights of the M series. This budget-oriented line is available in screen sizes ranging from 50 to 80 inches, with the 80-inch model selling for a mere $4,000. As with all of Vizio's current sets, the M65-D0 does not do 3D. But all of the M-series models support both the Dolby Vision and HDR10 high dynamic range (HDR) formats and have a full-array local-dimming backlight with 64 zones. They also feature built-in Google Cast support, which lets you stream content directly to the display from compatible apps on your smartphone or tablet, or from the Google Chrome browser on your computer. A few examples of Cast-friendly apps I used during my evaluation include Netflix, Vudu, YouTube, and Spotify.Vizio's own streaming platform is called SmartCast, which comes loaded on the included Android tablet and can also be downloaded as an app that runs on other Android or iOS devices. While I mostly used SmartCast to control general features and adjust picture settings, it's designed as a jumping-off point to search and collect content, so you don't have to scroll through individual apps. For example, type "Star Trek" into the SmartCast search window, and it will give lists of relevant movies and TV episodes and route you to apps where they can be streamed or bought. As for Vizio's Android tablet, it has a 6-inch screen and comes with a sturdy magnetic dock to park the device and recharge it when not in use. Vizio also includes a small IR remote that provides basic controls to power the set on and off, switch inputs and picture presets, and adjust volume.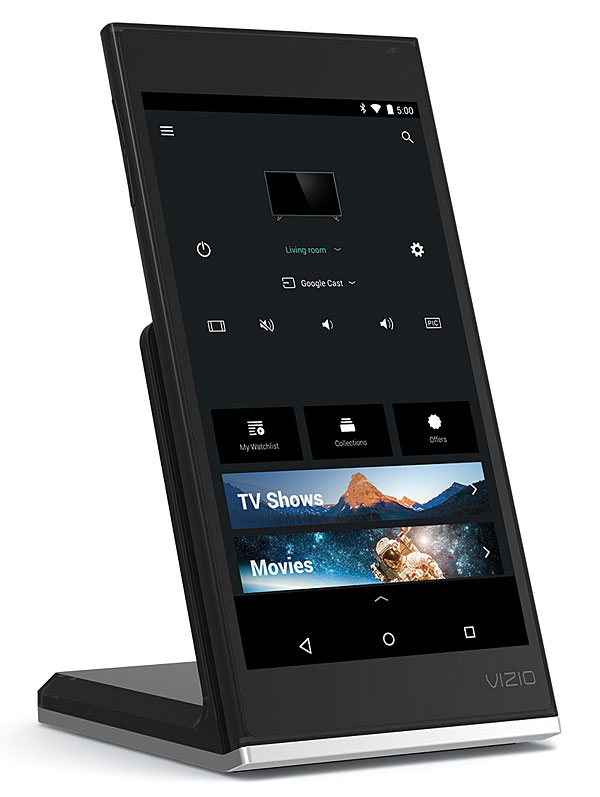 The 65-inch M65-D0 itself has a sleeker, more modern design than that of previous Vizio sets I've tested. The screen is surrounded by a thin, matte black bezel, and the panel's sides are capped with textured aluminum. Thin metal feet splay out toward the edges at the screen's bottom, creating a sturdy yet unobtrusive base. Keep in mind, though, that the widely spread feet will require a wide surface on which to rest the set, something that comes up less frequently with traditional pedestal stands.
Inputs include a single HDMI 2.0a/HDCP 2.2 and four HDMI 1.4 ports. In my case, having only one HDR-compatible HDMI 2.0a jack ended up being a bit of a drag: I needed to plug and unplug cables to switch sources between a Samsung Ultra HD Blu-ray player and my UHD- and HDR-capable Roku 4 streaming player. Fortunately, most of the apps I regularly use on the Roku are supported by Google Cast, so I went that route instead.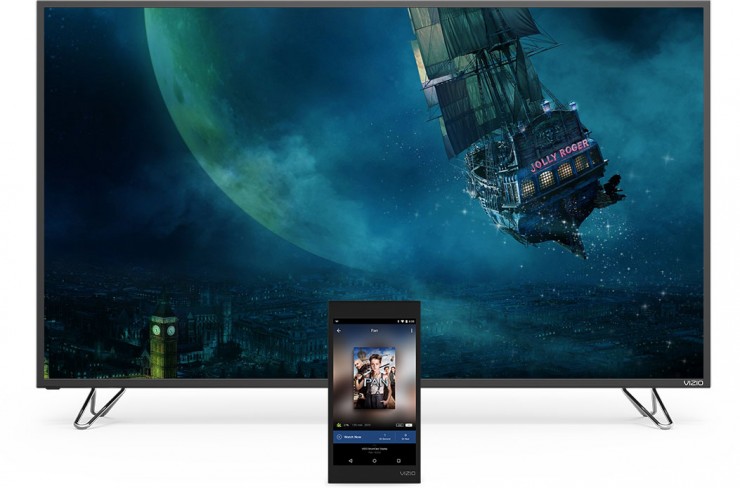 Setup
I started out calibrating the M65-D0 in the set's Dark Calibrated picture mode—and right off the bat, I ran into problems with the Android tablet remote. It repeatedly lost sync with my Wi-Fi network, forcing me to wait until sync was reestablished so I could continue with my adjustments. Abandoning Android, I downloaded the SmartCast app to my iPhone and got better results, allowing me to continue my calibration without loudly spewing expletives. Fortunately, Vizio issued at least two SmartCast app updates during my time with the M65-D0, which reduced (though didn't fully eliminate) the Wi-Fi sync issues that I initially experienced with the tablet.
Setup options in the Picture menu were straightforward. I selected the Normal Color Temperature and then Active LED Zones to switch on the set's local-dimming backlight. Vizio's picture presets default to the Low setting for both the Reduce Signal Noise and Reduce Block Noise adjustments. After finding that both softened pictures noticeably, I made a point of switching them off. Other settings I selected during my standard dynamic range (SDR) calibration included Auto Color Space and 2.2 Gamma. I also made adjustments in the Color Tuner menu, which provides an 11-point White Balance plus a full color management system to precisely dial in grayscale, gamma, and color points. The M65-D0 is a 10-bit display but can only push color a bit beyond Rec. 709, so there aren't any color space settings beyond what you'd see on a typical HDTV.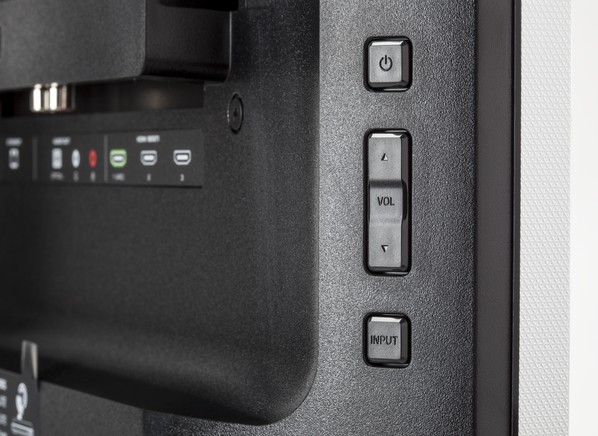 Several attempts to calibrate the set in either Dolby Vision HDR mode or for HDR10 turned out to be a misadventure, mainly because the tools to make that happen are new, and manufacturers are still working through compatibility issues. According to Vizio, M series displays should have the backlight parked at 50 (the default setting) for viewing Dolby Vision content. The set has HDR default settings that are said to kick in automatically when it sees HDR signals, including adjustments to white balance, color points, and gamma, but adjustments beyond subjective tweaks by eye need to be made using special pattern generators or test discs and display calibration software. None of the multiple procedures and pattern sources now available to calibrators and reviewers delivered the expected results with the Vizio. When I measured light output with HDR test patterns, the M65-D0 managed 500 nits in Vivid mode with a 100 percent white pattern, a high of 622 nits in Vivid with Vizio's recommended 25 percent white window, or a high of 420 nits with a 25 percent window in Calibrated Dark Mode. Not bad, but well below what we've measured from the higher-end sets we've tested.

Performance
In the opening sequence of The Revenant on 1080p Blu-ray, where hunters track a moose, the Vizio presented deep blacks and well- defined shadow detail among trees in the heavily wooded forest. In a later shot where a Native American tribe attacks a fur-trapper encampment, highlights such as the setting sun on the water and trees engulfed in flames combined with the set's strong blacks to deliver images with powerful contrast.
The Vizio's accurate post-calibration color also contributed to its impressive picture quality. I watched an Ultra HD Netflix stream of Stranger Things, episode 7. In a scene where Steve chats with his friends outside a convenience store, the Vizio offered a subtle range of red hues, such as the maroon of his BMW, the garish red of a Coke can, and the red-orange trim of a varsity jacket. Meanwhile, the brown, yellow, and orange color scheme of the store came across with all its glum early-1980s aura intact, and skin tones of the squabbling friends also showed a good range of differentiation.
While the Vizio generally had good shadow detail in this episode, sequences in the Upside Down dimension, where El searches for Will, tested the limits of the set's 64-zone local-dimming backlight. I could see a faint halo of light encircling El's white-clad figure in the fully black netherworld. However, there were only a few other instances where I noticed such haloes, even in the case of movies with white-on-black film credits. For the most part, the M65-D0 exhibited very good picture uniformity, including when I viewed it off-axis.

HDR Performance
Vizio's 2016 display lineup initially shipped with support for just the Dolby Vision HDR format, but a recent firmware update added support for HDR10, which is the format being used for current Ultra HD Blu-ray releases. Taking advantage of this, I loaded The Martian into Samsung's UBD-K8500 Ultra HD Blu-ray player.
In a scene where stranded astronaut Mark Watney retrieves "organic matter" to fuel his farming experiments, sun reflections on the nearby solar panels had a brilliant look that really helped the image to pop. When I watched the same sequence on regular Blu-ray, the reflections came across as less intense. Scanning forward to a scene in a NASA control room where a technician first discovers that Watney is alive, I experienced a similar result: Highlights such as the banks of display panels had a punchier, more brilliant look on the HDR10 ver- sion, while the deeper, more detailed shadows helped to flesh out the image.
Next, I checked out Man of Steel on both Blu-ray and Dolby Vision UHD (streamed from Vudu). In a scene where the Earth father of young Clark Kent shows him the ship that transported him from space, beams from flashlights and glints of sun cutting through slats in the barn looked powerfully bright via Dolby Vision, while the barn's shadowy interior came across as a deep tone of black. Comparing the same scene with its Blu-ray version, the latter looked considerably less dynamic. However, I did note a few banding artifacts in the Dolby Vision streams of both Man of Steel and Mad Max: Fury Road. A streaming issue, or an artifact generated by the Vizio display? At this point, with no access yet to Dolby Vision content on Ultra HD Blu-ray, it's impossible to say.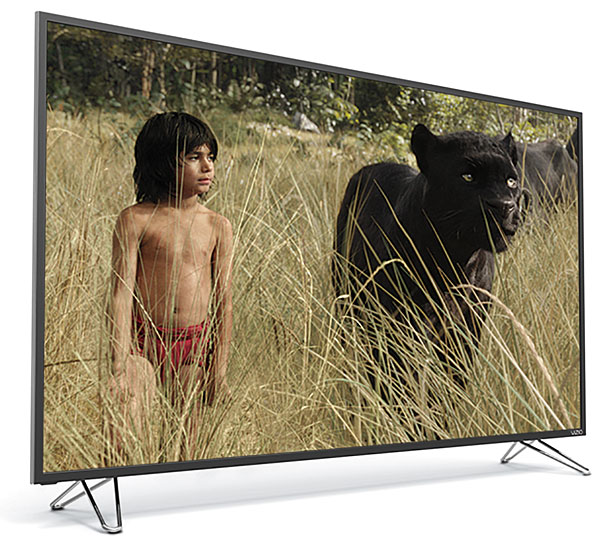 Conclusion
Future-savvy or future shock? With the M65-D0, I experienced a bit of both. While I can appreciate the statement that Vizio has made by eliminating the digital tuner and turning the focus to streaming, I was more impressed by the set's picture quality. The M65-D0 delivered deep blacks, very good shadow detail, and excellent contrast, especially when in HDR mode. With a careful calibration, it was also capable of rendering accurate Rec. 709 color.
What I didn't appreciate about the M65-D0 was its single HDMI 2.0a input and the sometimes-spotty Wi-Fi performance of its Android tablet remote control. Also, when you consider the Vizio's lack of extended color gamut capability and somewhat limited peak light output, you realize that its HDR performance isn't as mind-blowing as what you can expect from higher-end models, including Vizio's own P series and Reference series. That said, I liked what I saw with the M65-D0, and I definitely like its price.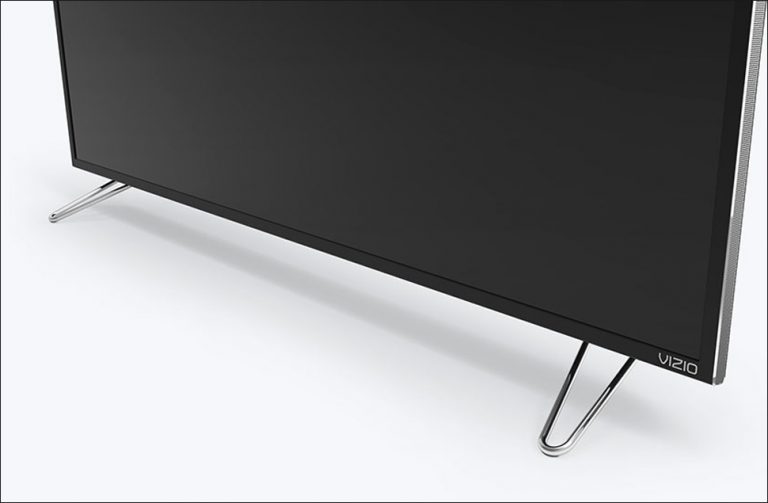 Specs
Dimensions (WxHxD, Inches): 57.6 x 33.2 x 2.5 (without stand); 57.6 x 35.8 x 10.9 (with stand)
Weight (Pounds): 55.3 (without stand); 57.3 (with stand)
Video Inputs: HDMI 2.0a with HDCP 2.2 and ARC (1), HDMI 1.4 (4); component video (1)
Audio Inputs: Stereo RCA (2)
Audio Outputs: Optical digital (1)
Other: LAN (1), USB (2)
Price: $1,299
(soundandvision.com, https://goo.gl/vXnCmO)
Comments
comments