The Good: The Urbanears Stadion fits securely on your head, is comfortable to wear, and eliminates the dangling wires of other Bluetooth sports headphones (it works well for running). It's sweat-proof, sounds decent enough, and includes a protective carrying pouch.
The Bad: The design is love-it-or-hate-it. It's not good for listening in noisy environments, thanks to semi-open design of buds.
The Bottom Line: The Urbanears Stadion's coiled design may not appeal to everyone, but a lot of people will find it liberating to be free of the dangling cords of most Bluetooth sports headphones.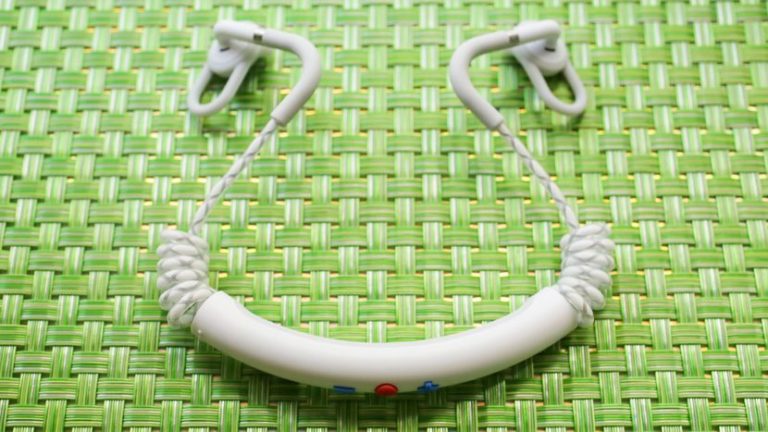 Sweden-based Urbanears' Stadion ($99, £79 or approximately AU$140) is a bit of a different take on a wireless Bluetooth sports headphone, with a unique coiled cable that looks like an old telephone cord — for those who remember what that is.
The idea is that instead of having any dangling wires to deal with, the coiled cable rests snugly on the back of your head with just enough tension to keeps the buds securely in your ears. They reminded me a little of Arriva headphones, but their coil is much tighter.
The Stadion, which comes in multiple color options, includes a few different sized EarClick tips to lock the bud in place, and one should fit your ear. The largest one worked for me.
Overall I was impressed with the fit, and while the design isn't not for everyone, I found the headphones worked really well for running and were comfortable to wear. They're sweat-proof and come with a nice carrying pouch.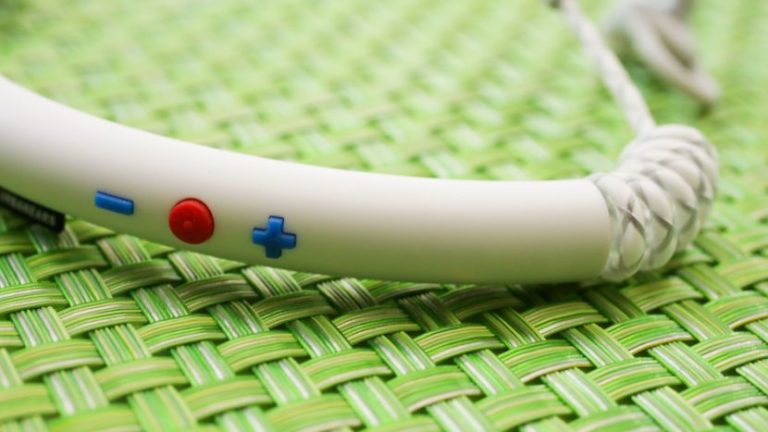 As for the sound, it's decent though not exceptionally good. The Stadion doesn't deliver as much bass, detail or overall fullness as the more expensive Bose SoundSport Wireless, for example, but it's pleasant enough to listen to while you're working out. And you can make calls with it. Don't expect business-class performance, but I didn't have any complaints from the people I spoke to.
Battery life is rated at 7 hours at moderate volume levels. For this type of headphone, that's pretty good but not fantastic.
Like the aforementioned Bose and Plantronics' BackBeat Fit, these are semi-open in-ear headphones, which means you don't jam them into your ear canal like you do with noise-isolating in-ear headphones, and they do let in some ambient sound. That open design can be a problem in noisy environments, but it's a good safety feature for runners and bikers who like to be able to hear traffic around them.
As I said, this headphone may not be for everyone. That the coiled cord design shares some similarities with the earpieces security officers wear while on duty may not be your cup of tea and some people may not like the feeling of the cord cinched up on the back of their heads.
But I did like the headphone and think it has a unique and appealing design that's well worth checking out at its relatively affordable price point.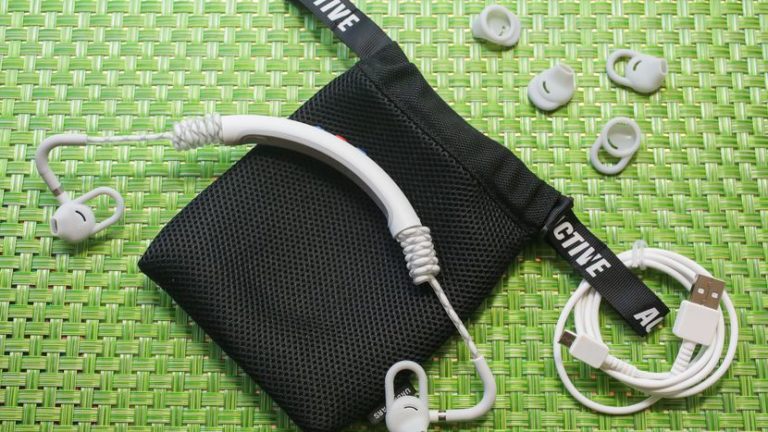 Specs and features
Sweat-proof
Three-button control on the back lets users navigate their playlist, adjust volume and pick up calls.
Reflective details to make wearers visible at night
Seven hours of playback time per charge
Color options: Rush (coral and gray), Team (blue and white), Trail (indigo and green) and Black Belt (black and gray)
Price: $99 or £79, which converts to about AU$140
(cnet.com, https://goo.gl/vUjfJB)
Comments
comments