Pros
Decent output with music, movies & TV
Well connected
Sturdily built
Good multi-room integration
Cons
Dedicated subwoofer is missed
Slightly expensive against some of the competition
Soundstage could be more spacious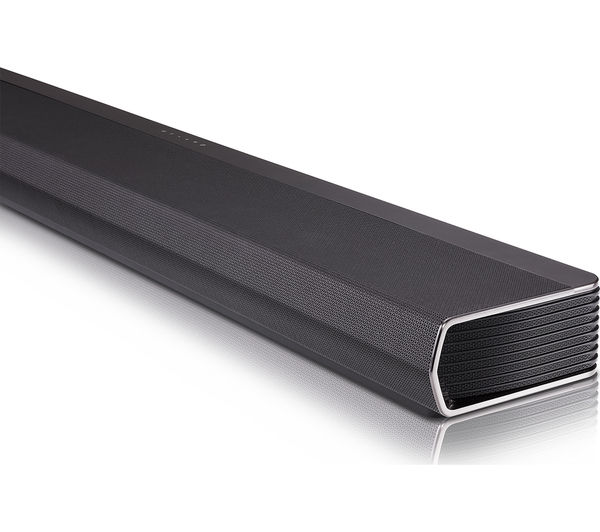 What is the LG SH6?
This soundbar is hot off the LG production line after only being released in the summer 2016. It's an all-in-one, or 'Complete,' solution as LG would like to term it, meaning there's no outboard subwoofer as the low-end drivers are built in to the speaker bar. Aside from that, as you would expect from the Korean giants, the SH6 is a feature packed device with a number of technologies and qualities that make it a bit different from much of the pack.
We'll obviously go in to more detail as to what they are – and if they work – down the page but they include flexible installation options, universal remote control capability and features called Adaptive Sound Control and Auto Sound Engine. One very prescient detail you will no doubt want to know is the cost and, at the time of publishing (July 2016), the recommended retail price of the SH6 is £399.95/$600 which is not budget for a solo soundbar package so it needs to deliver.
Design
The SH6 is quite a bulky looking example of a soundbar; that's in order to accommodate decently sized speaker drivers, of course, but we weren't big fans of its looks. Tastes will vary, naturally, but it's somewhat industrial looking with a mostly black design offset by a strip of grey where a set of touch-sensitive controls are situated. The unit measures 113cm across, 7.6cm high and it's rather unusually deep at 14.5cm. The SH6 is ribbed at the either end and around the back and features a display at the front assuming positioning in its table-top formation; the display doesn't move when set in the other orientation for wall-mounting so it's then on the underside which obviously renders it not very useful.
Connections & Control
All the physical connections are situated in a recess at the back and include a service port for software updates, an HDMI 2.0/HDCP 2.2 compliant input and an ARC (Audio Return Channel) ready HDMI output, a Toslink digital audio out and a LAN port. The SH6 also features built-in WiFi and Bluetooth enabling integration with LG's multiroom audio products and the MusicFlow app.
The supplied remote control is fairly small but features well sized buttons and complete control over all the functionalities, including discrete commands for all available inputs. You can also use it to set the sound mode, adjust volume and bass levels, mute the sound, power on/off and activate and deactivate the Adaptive Sound Control (ASC) feature.
Features & Specs
The SH6 has a slightly unusual passive radiator tube technology which moves the air around in a couple of tubes and pumps it out of a pair of ports at the rear at a velocity intended to radiate all around the soundbar. There are 4.1 channels of amplification delivered through a pair of tweeters, four mid-range drivers and a couple more slightly lower-end speakers to supplement the radiator tech. The SH6 is compatible with LG's multi-room, MusicFlow range, meaning it can be teamed up with other LG speaker products to play content in unison, or distinct to it, via the accompanying app using either Bluetooth (v4.0) or your home network connection. To aid easy network connection, in fact it's a prerequisite since there are no on-screen menus, the LG can be paired with your router using WPS (Wi-Fi Protected Setup) – aka one-touch-setup – or you can just stick an Ethernet cable in, which would be our choice, in terms of stability.
Additionally, the speaker is Google Cast ready, meaning you can select music from certain apps – e.g. Spotify & Google Music – and then send it to the soundbar with the touch of a button or the swipe of a finger. The SH6 also utilises LG's new Adaptive Sound Control (ASC) tech, which automatically changes the sound settings to suit various content or media types, although it can be switched off, and it also employs another feature called Auto Sound Engine (ASE) which is designed to optimise the audio at every volume level to keep the frequencies accurate, regardless of how hard – or not – you push it.
Sound Quality
One thing is for sure, the LG SH6 is a pretty noisy beast. Even with the volume set at one third of its maximum potential, there's enough output to fill a medium-sized living room, although we didn't find the soundstage as spacious as some other soundbars we've reviewed. For larger rooms, you would obviously need to pump it up a little more and, true to LG's word, the sonic balance of the frequencies holds reasonably true regardless of what scale of volume the SH6 is putting out – unless you really push it. The LG is definitely more accomplished than some at preserving detail at lower levels, so it's a better choice for night time listening than many we've reviewed.
On the other hand, if you're the type that likes to crank up to levels that would trouble your building's insurer, the SH6 tends to lose its focus and balance a little more with the mid-tones more brittle and the low-end slightly over-powering the rest. The technology LG has crammed in to the SH6 is best suited to middling volumes, without a doubt, and when watching the likes of San Andreas or Battleship, with their bass heavy sound mixes, we did begin to opine the lack of a dedicated subwoofer although during 'regular' TV viewing, it's not really a big miss.
As we alluded to above, the sound field would benefit from added width and there's the sense that everything – and especially 5.1/7.1 movie mixes – are all too crammed in, with little room to manoeuvre, which can be a bit fatiguing to listen to. The 'Cinema' sound pre-set does help somewhat to alleviate this claustrophobic feel but it's a tad echoic and, by default, too bass heavy. The 'Standard' mode is better balanced and far more neutral and would be our choice for just about everything video based but it's worth experimenting to find what suits your tastes best.
We found the Adaptive Sound Control (ASC) – accessed from a button on the remote – to be best with musical duties, where the SH6 puts in a pretty decent performance, regardless of genre. You don't really miss a subwoofer here, particularly the low-ish end ones that generally come with a soundbar – and the slight curtailment of dynamic range that ASC tends to impart on movie soundtracks doesn't seem to occur with music so noticeably. The SH6 is fairly nimble and refined with music, in fact, without sounding too tamed and can make even fairly well compressed streaming services sound nicely detailed, with a hint of warmth behind them. The Bluetooth connection is solid and robust, even at six or seven metres away and, were you to employ MusicFlow over your network, you shouldn't have any issues at even greater distances.
Video Review
Conclusion
Should I buy one?
The LG SH6 is a pretty decent soundbar proposition for those looking to go all-in-one, without the added footprint of a dedicated subwoofer unit. The design, like much of what LG is putting out in 2016, is fairly industrial which will likely divide opinion but there's no doubt it is well constructed and it's not of inconsiderable weight. The supplied remote is small and simple but perfectly fit for purpose while connectivity options are decent and include HDMI, Bluetooth and Audio Return Channel functionality to simplify operation.
The sound quality is good, with plenty of volume on offer and well balanced frequencies at even low listening levels but the SH6 will struggle when pushed hard. The sound field also felt a tad claustrophobic and lacking in breadth, compared to some, and the lack of a dedicated subwoofer was palpable with certain multichannel movie and TV show mixes. It was actually with music where we were most impressed by the LG, which is unusual; with an assured and agile performance that coped well with a range of genres. Ultimately, however, we don't think the LG SH6 quite does enough to justify its price so it narrowly misses out on an award.
What else is there?
For about £50/$75 less the Samsung HW-K550 slightly outstrips the performance of the SH6 and comes with a dedicated sub. If you really don't want the extra box in your room, for £329/$494 the Q Acoustics M4represents better value than the LG, although it doesn't have HDMI connectivity. For a real space saving solution, the Philips XS1soundstage is a great all-rounder and virtually takes up no room at all, as it sits directly under the TV as a plinth.
(avforums.com, https://goo.gl/LpWSHG)
Comments
comments