THE VERDICT
Strato serves up gorgeous, full UHD images using Kaleidescape's unparalleled interface, with content delivered from the company's store.
Editor's Note: As was reported over the weekend, Kaleidescape, the firm that virtually launched the at-home movie server after its founding in 2000 and survived many a fight with Hollywood and its copyright enforcers to survive and evolve through its 16 years, has officially shut down operations. Following is our review of the company's new Strato 4K movie player, originally scheduled for our October print issue. It is offered up early here with full understanding that the Strato may not be available for purchase or supported going forward. But this thorough review, written by Sound & Vision's John Sciacca, is both a testament to the quality of product and customer experience that Kaleidescape held up right through the end, and an important 3rd-party endorsement of valuable technology the company can now hold up to potential bail-out partners or investors. For more on Kaleidescape's history and what brought them to this point, you can read Sciacca's blog following his recent conversation with co-founder and CEO Cheena Srinivasan.— Rob Sabin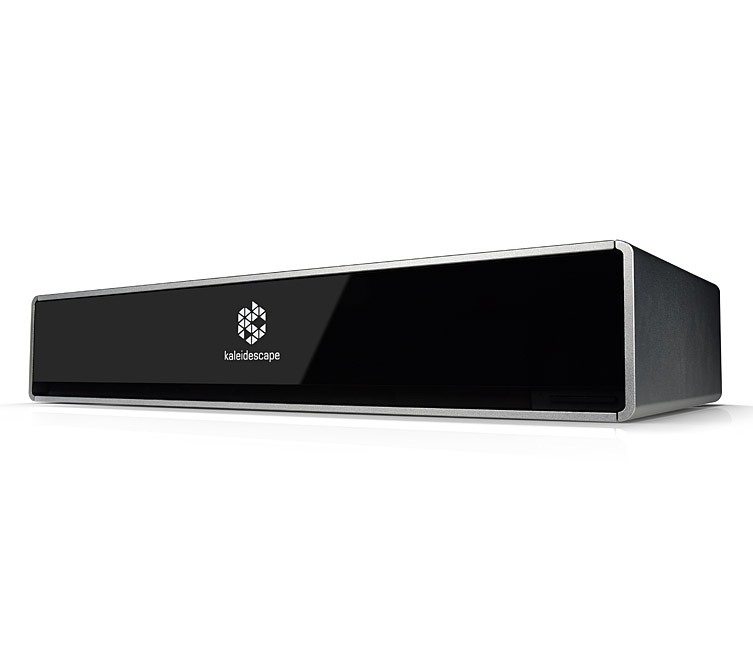 One of my biggest takeaways from the 2015 Consumer Electronics Show was that 1080p TVs are rapidly going extinct, replaced in nearly every size from 40 to 80 inches by 4K Ultra HD models. This was confirmed at this year's show, where the only non-4K TVs were outliers in the 90-inch-and-beyond region…or the 8K "visions of the future" that manufacturers displayed to prove they aren't resting on their laurels.
The problem with 4K, however, remains content. Now that you can get a pretty sweet 55-inch 4K TV in the vicinity of $1,000, what are you going to watch on it? Sure, there's a smattering of titles on Netflix and Amazon, but streaming 4K isn't without its own challenges—or compromises, including rather massive data compression. Dish and DirecTV are looking to roll out 4K coverage (DirecTV had the world's first 4K broadcast of the Masters golf tournament this year) and offer a small amount of pay-per-view content, but this also involves significant compression and very limited selection. Ultra HD Blu-ray is making its way onto the scene, but while picture quality has been mostly hailed as terrific, the current selection of titles has been mostly meh, and many people have sworn off adopting another form of physical media. Furthermore, Ultra HD Blu-ray still comes with all the traditional limitations of disc-based media— the required shelf space, the usual get-up-and-put-it-in-the-player routine, etc. For those looking for the ultimate in picture quality, features, and luxury movie theater performance, Kaleidescape submits the new Strato for approval.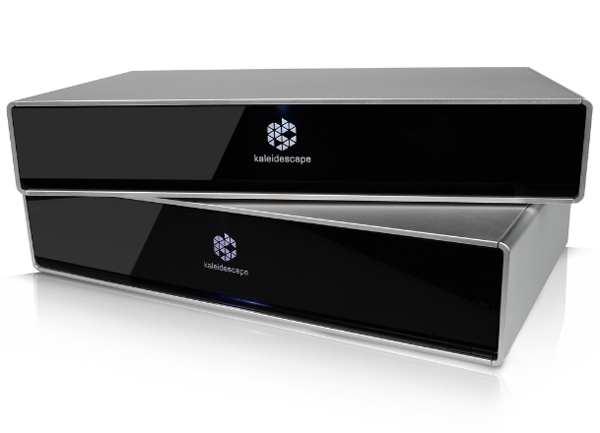 Kaleidescape Evolved
If you've been an avid Sound & Vision reader for any length of time, or even just a casual A/V aficionado, you're probably familiar with the Kaleidescape name. It's the company that literally invented the movie server category.
Back when DVDs were king, Kaleidescape's first movie server (which I reviewed when it was introduced in 2003) would import DVD fare onto a series of hard drives, utilize the company's Movie Guide database to identify and sort your films in a variety of ways, and then present your collection in a glorious, onscreen user interface. The system was revolutionary, but it didn't come cheap: Early models cost upwards of $30,000.
As Blu-rays came onto the scene, Kaleidescape updated their technology with Blu-ray drives and greater hard-disk capacities, so that their servers would remain the ultimate portal for movie lovers. Kaleidescape unveiled their online Movie Store in December 2012, a development that paved the way for this latest generation of product. Here, customers could purchase and download films directly to their machines in full disc quality. All the digital convenience with none of the compromise.
With Strato, Kaleidescape is completely abandoning the discdependent system that the company was founded on, instead relying 100 percent on their Movie Store to provide content. To be clear, Strato doesn't play any discs; all content must be downloaded from the Kaleidescape store.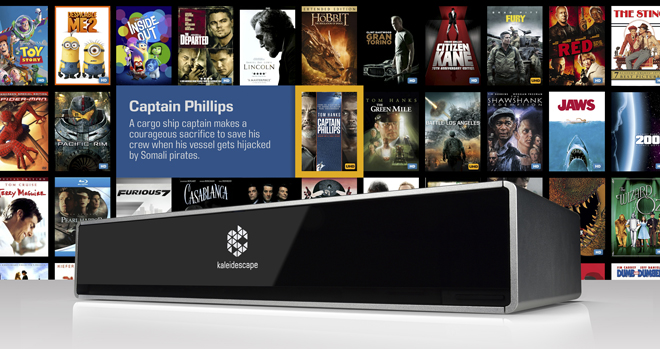 Visit the Store
Since Kaleidescape's online store is so integral to Strato's operation, it demands a bit of discussion. Cheena Srinivasan, the company's co-founder and CEO, told me back in 2003 that Kaleidescape wanted to be "more than just a media management company. We want to eventually get into content delivery." That dream is now fully realized in the Kaleidescape Movie Store, which you can browse by visiting store.kaleidescape.com.
The store has licensed 11,000 DVD- and Blu-ray-quality movies for download, plus 1,500 TV seasons. And it claims the largest selection of UHD titles available anywhere. The vast majority of UHD films you'd want to own (and you've actually heard of) come from Sony Pictures Home Entertainment, though Kaleidescape also has UHD distribution agreements with The Orchard, K2 Communications, Moving Art, 4K Universe, and Twentieth Century Fox (with Fox UHD titles scheduled to appear this fall). Although the company won't speculate about who else might be added later, they're constantly in talks to acquire new content and have existing agreements in place for HD content from Disney, Lionsgate, Magnolia, Marvel, Pixar, Warner Bros., Gravitas Ventures, and Sony Music. So it isn't difficult to imagine that these studios might be added to the UHD mix at some point as content becomes available.
Pricing for new releases like Concussion, The Brothers Grimsby, and Pride + Prejudice + Zombies is comparable to buying an Ultra HD Blu-ray at $29.99, while indie studio titles range from $15.99 to $24.99. Because your Strato player is linked to your store account, the store "knows" what films you own, helping to prevent you from re-buying anything. It can also present opportunities to upgrade from SD to HD to UHD, and if a movie supports disc-to-digital UltraViolet rights, you can upgrade to the UHD version for considerably less. For example, since I own Air Force One and The Walk on Blu-ray, I could download those movies in UHD for only $13.99 each. Because I own The Fifth Element and Men in Black II on DVD, I could upgrade those to UHD for $17.99 each.
Once you buy a movie, it downloads in its entirety to your Strato before you can watch it. Kaleidescape supports download speeds of more than 100 megabits per second, and your results will definitely vary based on your ISP and network. UHD movies are massive—most are around 60 to 75 gigabytes, with Lawrence of Arabia clocking in at a whopping 111.3 GB!—so downloading over a 20-Mbps connection will take several hours. One bonus is that purchasing a film in UHD also gets you download rights for the HD and SD versions, something that can be important in housewide streaming (see below). And UHD titles featuring HDR10 high dynamic range are on the way; more on that later.
Kaleidescape's store is certainly easy to navigate, and it offers a lot of options for sorting and filtering content, such as just displaying new UHD releases. Once you've linked your player to your store account, purchasing is a breeze, and downloads start almost immediately. There are also some handy options like setting a maximum download speed (so the store doesn't decimate your bandwidth) and creating a schedule (so downloads occur only during certain hours).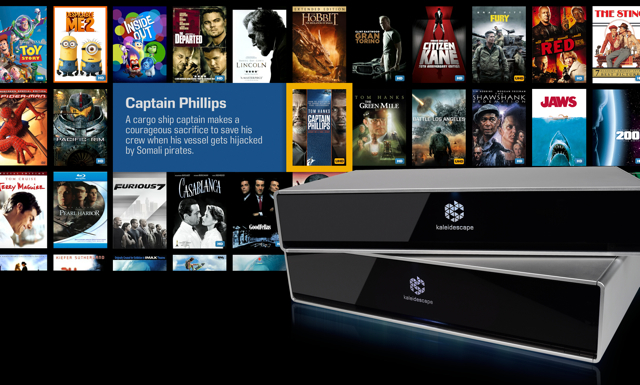 Choose Your Strato
Strato can be ordered one of two ways: with or without internal storage. I received the model with 6 terabytes of internal storage ($4,495), which is capable of accommodating approximately 100 UHD-, 200 Blu-ray-, or 900 DVD-quality movies, or any comparably sized combination of the three. The non-storage version is $1,000 less and either streams from another Strato with internal storage or pairs with Kaleidescape's Terra Movie Server, which is available in capacities of 12 TB ($5,995) and 24 TB ($7,995).
Kaleidescape offers some interesting options for housewide video distribution, allowing you to share and enjoy a single, unified library around the home. All A/V signals are sent over a home's existing hard-wired network (Wi-Fi is only supported for standalone players; see below). Up to four players with internal storage (either Strato or the company's non-4K Alto) can be on one system, giving a maximum storage of 24 TB. There is no limit to the number of players without storage that can be on a system; however, only two simultaneous streams are possible. For homes where more than two streams are needed, the Terra features more powerful computing and caching services and can handle up to seven 4K streams or 15 Blu-ray streams.
Alto can stream all non-4K content from Strato (or Terra)—an example of why you might want to download both the UHD and HD versions of a film—and Strato can stream all content from an Alto with storage.
Setup
Included in the box are a shielded Ethernet cable, HDMI cable, AC adapter, remote control, and batteries. The first thing I noticed when unboxing Strato was its weight. At nearly 14 pounds, Strato feels really solid and well built. I was also impressed by its fit and finish, featuring a slick, completely buttonless, gloss-black front panel, a top and a bottom in brushed aluminum, and rounded edges and sides. This is a definite departure from Kaleidescape's industrial design, as previous components all featured distinctive gloss-white finishes. While technically insignificant, my unit was serial number 007. Cool.
For such a complex bit of kit, installation is surprisingly straightforward. Around back you'll find dual HDMI outputs (one full HDMI 2.0a/HDCP 2.2 audio and video, one HDMI 1.4 audio only), both coaxial and optical audio, a Gigabit Ethernet connection, a minijack IR connection, 12-volt power, and two USB connections (one for service, one for future use). The dual HDMIs are terrific for bridging the HDCP gap on older A/V receivers or preamps that haven't been upgraded.
The system requires some basic initial onscreen setup, including making network connections, registering the system with Kaleidescape, setting parental controls based on MPAA ratings (to determine which movies will appear without a password), and choosing default language and subtitle preferences. For the network connection, wired is always preferred, but you can use Wi-Fi as a convenient option for a standalone player to download movies and guide updates from the internet. For systems with multiple components, a wired connection is mandatory.

Beyond the initial setup screen, more advanced A/V configuration is performed by logging into Strato's web GUI. Here you set audio behavior such as whether the player decodes multichannel to PCM or outputs bitstream, and which audio formats your system can support. Under video settings, you can manually select output resolution to be 720p, 1080i, 1080p, or 2160p if you're connecting to an older system or having issues, and you can opt to use Kaleidescape's CinemaScape mode, which optimizes the display for 2.35:1 anamorphic projection screens.
You also get some terrific HDMI tools to ensure that Strato works regardless of where you might have a weak link in your system. First, you can disable 4K Ultra HD output, which automatically downscales 4K content to HD. You can set the system to use HDMI 1.4 modes if some device in the system isn't HDMI 2.0 capable. You can select whether to limit the output to 10.2 or 13.5 Gbps if some component or some of the cabling can't accommodate the full 18-Gbps signal flow.
If you're watching a movie and the video connection isn't stable, chances are you've exceeded the bandwidth of a cable in the system, and you'll have to replace it. (I had to replace one in mine.) If this isn't possible, it's awesome that Kaleidescape gives you a way to dial back the horsepower so that you can enjoy your system to its maximum.
4K, 4K, or 4K?
Right now, we're living in what feels like the wild, wild west of 4K. Is my source 4K? Is my display getting 4K? Is it true 4K? What's happening? Diagnosing exactly what you see on your screen can be a difficult prospect at best. The last bit of setup awesomeness that Strato delivers is a tab titled "Show primary HDMI port capabilities and status." This will provide HDMI answers about your system in a way that no other consumer component even dreams of. In short, the tab tells you definitively whether you're getting true 4K or something else.
Clicking the tab shows which version of HDCP your system currently supports, which HD resolutions it supports, and whether it can handle Deep Color and HDR. When content is playing, it tells you the current status/capability of the media and the output. Is the current media HDR, and is it being sent that way to your display? What is the current chroma, color space, or frame rate? This tool is phenomenally beneficial, not only for diagnosing issues but also for confirming that they've been settled.
I connected Strato to several different products, including a Sony VPL-VW365ES 4K projector, a Marantz VP-11S2 1080p projector, both Sony XBR75X850D and Samsung UN65JS8500 4K Ultra HDTVs, and a few A/V preamps and receivers, using both the single and the dual HDMI connections—and I noticed a variety of HDMI quirks when I looked at the tab, depending on the device.
For example, when I first connected to the Sony projector, I thought the picture looked great. However, I was plugged into the HDMI 1 input, which, it turns out, isn't HDMI 2.0, and content was being downscaled to 1080p. With the status tab, I could have gone a long while thinking I was watching 4K and never known. When I connected to the Sony TV, I got a warning of "non-HDR-capable display," even though a huge sticker on the TV screams, "HDR"! I had to enable wide dynamic range in a menu setting and then reboot the TV. The Samsung TV required me to enable UHD color, and a Sony STR-ZA5000ES receiver's HDMI inputs needed to be set to Enhanced.Another thing I discovered: If a lower-"caliber" display is connected in the chain—even though you aren't using it—then the entire system scales back to its maximum capabilities. For example, I have a dual-display setup in my reference system, the Samsung 4K TV and the Marantz projector. With the HDMI 1.3 projector connected but powered off, the Samsung couldn't receive 4K content. This was fairly easily rectified by just unplugging the HDMI output to the projector, but it was still an interesting HDCP quirk.
However, I loved that instead of merely presenting me with a frustrating blank screen of nothing, Strato simply adjusted its video output so I could watch and enjoy the content. In other words, "The show must go on!" It's an attitude that reflects Kaleidescape's philosophy of always delivering a terrific customer experience.
Video to the Stratosphere
Finally, we get to it: What does Strato look like? Kaleidescape pre-loaded my review sample with nearly 50 Ultra HD Blu-ray titles, and from the second the cover art GUI fills the screen, it's obvious that video quality has been nitrous-injected to the next level. Cover art in the user interface is much sharper and more vibrant compared with what I've seen via 1080p. There is exceptional detail letting you read even the smallest print. Navigating your collection is done in an ultra-fluid, 60-frame-per-second scroll that is beautiful to look at, as images glide by without any hitching or tearing. When you select a movie, it begins playback in about five seconds. No trailers or warnings, just straight into the film.
Strato is capable of delivering up to 100 Mbps (compared with streaming's 15 Mbps, and a range of 82 to 128 Mbps for UHD Blu-ray depending on disc capacity), and the resulting video quality is spectacular. As seen here, Ultra HD's nearly 8.3 million pixels have finally and completely eliminated any hint of jaggies; no matter how tight the detail or how fine the pattern, there was never any breakup or any artifact creation around object edges. In Moneyball, there are scenes where Billy Beane (Brad Pitt) drives past telephone lines or where the camera pans past chain-link fences or netting; always, the lines remained sharp and stable. Whether it's the brick work in the German towns of Fury as tanks slowly roll past or the grilles on cars in Men in Black as they blast down the freeway, lines and edges stayed in focus.
One of the things you really appreciate is just how clean the images appear. Everything looks like you're watching a Hollywood master print with zero wear. The closest comparison I can give is to viewing satellite TV for the first time after having watched cable for years; the significantly smaller degree of compression makes for an all-around better picture. This is likely due to the superiority of the H.265 compression and also to the fact that all of Kaleidescape's UHD offerings are 10-bit transfers (versus the 8-bit of Blu-ray) with 4:2:0 chroma resolution, which results in images that are completely free of any noise and that boast amazing depth and detail, letting you appreciate each pixel on the screen.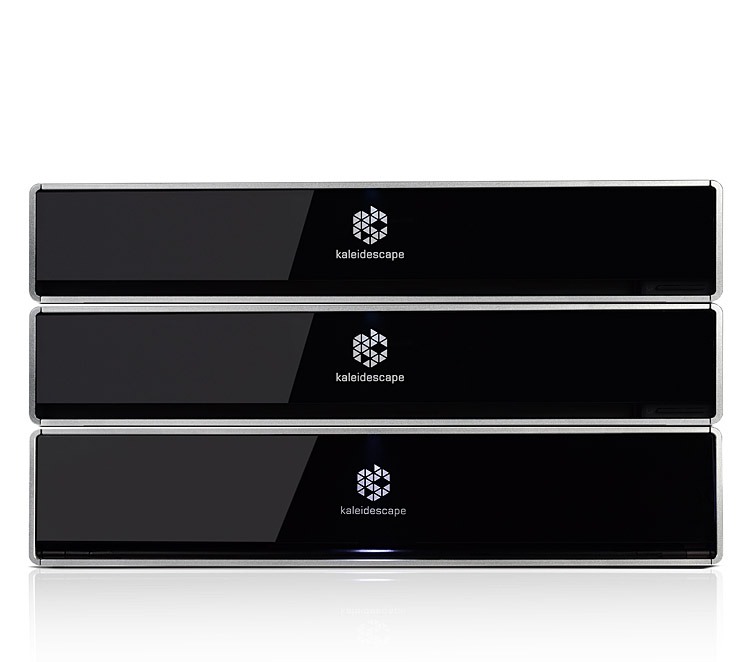 Black-level detail is also terrific, without any banding or contouring. This is certainly noticeable in a film with a lot of low-lit images, such as Captain Phillips. And while the picture quality of 1934's black-and-white It Happened One Night was obviously soft and grainy due to age, the 4K transfer had amazing black-level detail and contrast, preserving all the tiny patterns in Clark Gable's suits.
If the connected system supports it, Strato upscales chroma channels to 4:4:4. This results in vibrant, rich colors, especially reds. There are several scenes in Lawrence of Arabia where you can really appreciate the rich tapestry of fabrics and costume design, and the combination of resolution, detail, and color will make you marvel at how well this 54-year-old film has stood up.
At the eleventh hour of my review, Kaleidescape upgraded my Strato to the latest version of their KOS operating system and pushed me a download of The Amazing Spider-Man 2 in HDR and wide color gamut. (Some issues with hardware partners and certification have delayed this upgrade from being rolled out sooner.) This was a glimpse of where Strato is headed and the quality of films that should be available by the time you read this. The images were just stunning, with the Times Square battle between Spider-Man and Electro showing off the larger color gamut (P3 for now, though Strato is ready for Rec. 2020 when content and displays come available). Spidey's red suit and Electro's glowing blue energy had far more intensity, as did all of the background neon lights and signs. Scenes such as the clock-tower battle finale demonstrated HDR's strengths, with glowing-white electrical poles next to deep blacks that retained enough contrast and depth to allow you to still appreciate all the details in the Green Goblin's armor and all the intricate gears in the clock mechanism. Although I didn't spend nearly as much time watching non-UHD content, I did view enough—Jurassic World, Gravity, The Martian, Life of Pi, Mad Max: Fury Road—to confidently say that Strato does a terrific job of upscaling HD content to UHD resolution.
Conclusion
There is a lot I haven't even mentioned about Strato: how it supports nearly every control system on the market, its terrific iPad control interface, how Kaleidescape bookmarks the most iconic scenes and songs in films so you can jump straight to your favorite moments (or bookmark your own personal favorites), the ability to create a kid's collection based solely on age-appropriate content, and the variety of ways to browse your collection, such as by actor, director, rating, or run time.
Your home cinema experience is only as good as the weakest link in the chain, and Kaleidescape's Strato ensures that content delivery will be of the highest caliber. For home theater enthusiasts who are passionate about picture quality and the overall cinematic experience, Strato comes highly recommended.
(soundandvision.com, http://goo.gl/Ty7gSk)
Comments
comments