OUR EARLY VERDICT
With a simple screen and stylish display, Sony's first smart speaker looks and sounds great – we just wish it had a better name, and it's worth noting it's more expensive than rivals.
FOR
Stylish design with simple display
Gesture control
Strong audio potential
AGAINST
Only two microphones
More expensive than rivals
The Sony LF-S50G is one of the least sexy names around, but the product it's attached to is rather good looking.
This is Sony's first smart speaker to rival the likes of the Amazon Echo, Google Home and Apple HomePod, and it uses Google Assistant as the brains of the operation.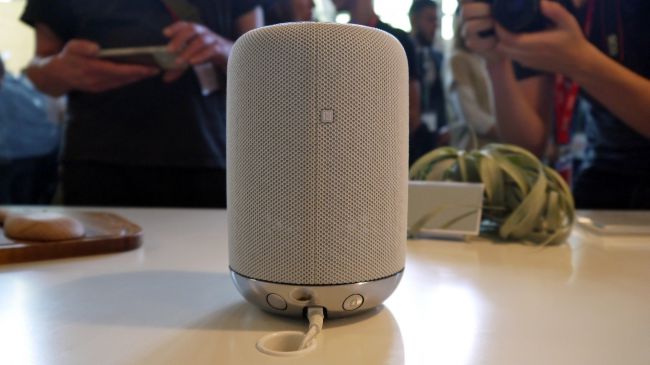 It means it works almost identically to the search giant's own smart speaker, so for a detailed rundown of how Assistant fares in a speaker – and the commands it can understand – head over to our in-depth Google Home review.
If you're still with us, we're taking a closer look at the 'Google Assistant built-in Wireless Speaker' as Sony has rather clumsily labelled it on its booth at IFA 2017in Berlin.
It's easy to draw immediate comparisons with Apple's HomePod, with the cylindrical design covered almost completely in a speaker mesh shockingly similar in look.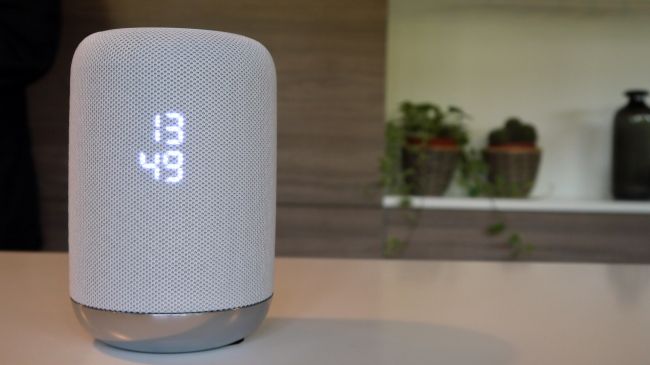 It is however, a little taller and slimmer than Apple's more squat implementation, and there's a slender silver base which houses the power port and two buttons.
One button lets you activate the Bluetooth pairing mode – allowing you to link the speaker to other Bluetooth speakers in your home – while the other key mutes the two microphones if you don't fancy the idea of it listening in on certain conversations.
It has the same number of microphones as Google Home, but Apple's HomePod has six and Amazon's Echo boasts seven for improved audio recognition.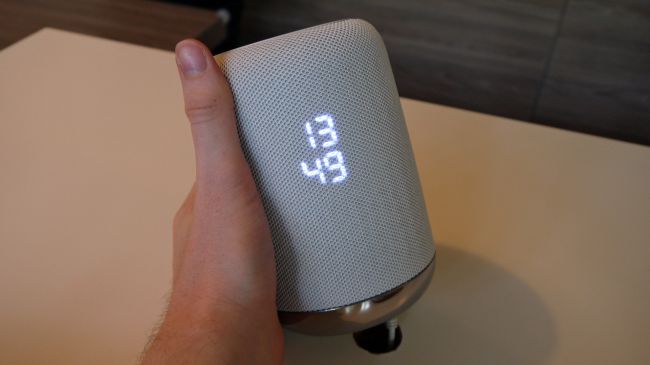 During the demo we were given on the noisy Sony booth at IFA, the LF-S50G performed reasonably well, although it did struggle to pick up and understand commands at times.
Your home is unlikely to be quite as noisy as the floor of a trade show though, so we're not concerned about its speech recognition performance at the moment.
Both microphones are positioned on the top of the speaker, with a rubberized cap ensuring a splash proof finish through – which means you don't need to worry if you drip water on it in the kitchen.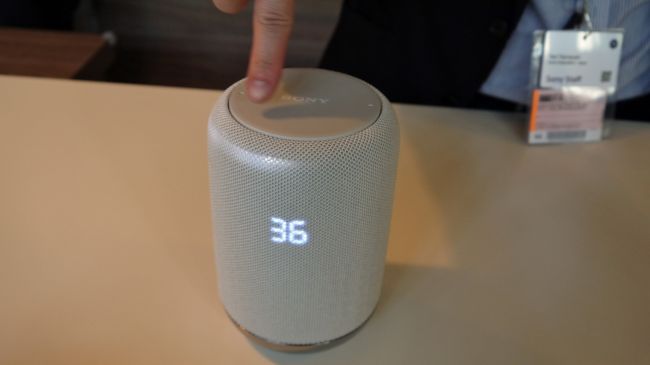 Gesture controls allow you to adjust volume and skip tracks
The top of the Sony smart speaker also supports gesture controls. A rotation of a finger clockwise over the top of the speaker will increase volume, and movement in the opposite direction reduces it.
You can also skip back and forth between songs by moving your palm over the top of the speaker – left to right to skip forward, and the other way to skip back a track.
When it comes to audio, the LF-S50G (that name really is terrible) is well placed. It's equipped with a 360-degree speaker array, a downward woofer and an upward tweeter, delivering sound in all directions.
We were unable to truly appreciate the quality of the speaker during our demo on a noisy booth, so you'll have to wait for our full review to find out how it performs.
It's a great looking speaker though, and one we'd have no issue displaying in our home, plus you'll have the choice of white, black or blue when it goes on sale.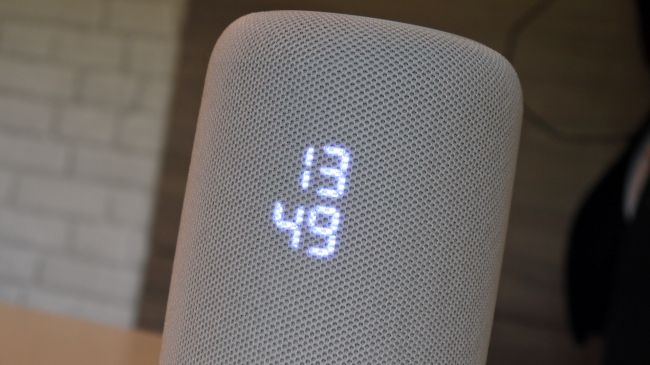 There's a handy dot matrix display on the Sony Smart Speaker
The best feature however, saving the best to last , a classic move – is its simple dot-matrix display. It's something the likes of Echo and Home don't offer, and can provide you with useful info such as the time and the volume level.
If you'd prefer to not have the display on, it seamlessly disappears into the mesh of the speaker when you turn it off.
Sony says the LF-S50G release date is set for mid-October with a retail price of $199 (around £150, AU$250) – or, for those doing the math at home, about $70 more than the Google Home.
Early verdict
The new Sony Smart Speaker is a little on the pricey side, considering it boasts very similar functions to the cheaper Amazon Echo and Google Home, and we wonder if that's going to be a slight issue for it when it does go on sale.
However, it does look great in the flesh and the inclusion of a dot-matrix display on the front that can show you things such as the time and audio volume is a handy addition and elevates it above key rivals.
(techradar.com, https://goo.gl/ddoU4j)
Comments
comments