OUR EARLY VERDICT
With its weighty sound and well-defined bass, Bose's SoundTouch 300 looks to be an accomplished upgrade to your television's built-in sound, but it could probably use a couple more inputs.
FOR
Weighty, distortion-free bass
Wide soundstage
Multi-room capabilities
Perhaps the two biggest things in the world of home audio right now are multi-room streaming speakers and soundbars, but it's uncommon for the two to intersect.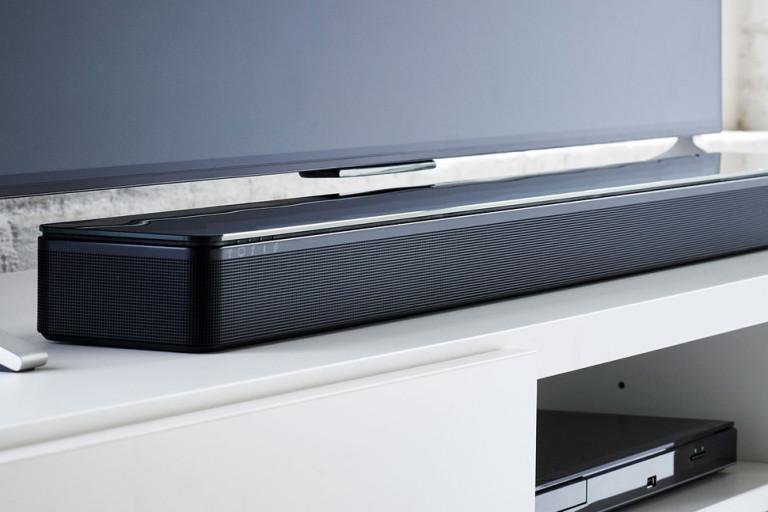 In the past the Sonos Playbar has done just that, and now Bose is getting in on the action with its SoundTouch 300, which is compatible with the company's SoundTouch range of multi-room speakers.
While Bose has positioned the SoundTouch 300 as a weighty addition to your existing SoundTouch multi-room setup, it's also a surprisingly capable soundbar in its own right.
Design
The SoundTouch 300 isn't the smallest soundbar we've ever seen. At 10.8 x 97.8 x 5.7 cm, its size is substantial, and while it felt perfectly size matched with the large TV used for the demonstration, if you're using a smaller 32 or 42 inch TV you might find it to be far too wide.
Its finish is stunning, with a glass topping that combined with the rich black colour gives it a piano-like sheen, just make sure not to leave too many fingerprints.
Round the back you'll find a number of connectivity ports, but you might be disappointed with the amount of ports offered.
When we spoke to Bose they expected most people to power the soundbar via HDMI by connecting it to their TV's ARC HDMI port on their televisions. This, unsurprisingly, means you'll need a television which is equipped with an ARC port, which is what's required to output sound via HDMI.
Alternatively you're free to connect the soundbar via HDMI passthrough, although disappointingly you'll only be able to connect a single box via this method since there's just one HDMI input. The good news is that although there's just one input, at least that source can be 4K as the SoundTouch 300  supports 4K passthrough.
There's also an optical audio input if you're into that sort of thing.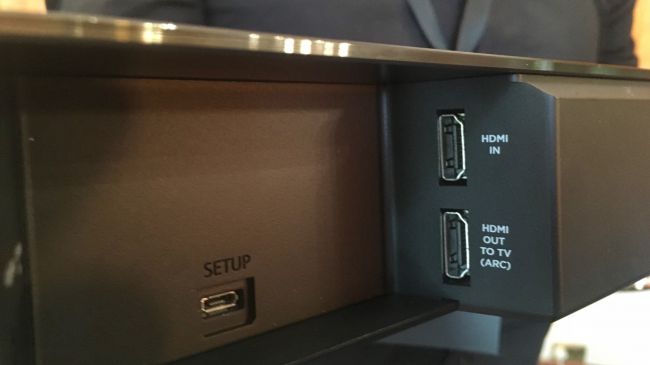 We'd wager that the kinds of people who have $699.95 (£599.95 / around AU$925) to spend on a soundbar probably already have a television with an HDMI ARC port, but we would have liked to have seen at least one extra HDMI passthrough port for slightly older televisions.
As well as video, the soundbar also supports music playback via Bluetooth as well as via Bose's Wi-Fi solution, which supports music from Spotify, Deezer, Pandora, AmazonMusic, iHeartRadio and SiriusXM.
That's a list that's likely to include most of the streaming services people are using today, but it would have been nice to see AirPlay or Google Cast support to maximise its music connectivity.
Performance
We were treated to a number of demonstrations through the SoundTouch 300, and all of them showed off the seriously powerful bass this soundbar is capable of.
Its sound was surprising in two ways. First was the lack of distortion in the bass, which is due to Bose's new Quiet Port technology.
For the uninitiated, 'ports' are what are used to generate a speaker's bassiest sounds, but at high volumes these can add distortion to sound.
What Bose's Quiet Port achieves is a bassy sound free from this problem, meaning you can turn this soundbar up uncomfortably loud while still keeping its bass lovely and crisp.
The second surprise was just how broad the soundbar's soundstage was able to spread. This was most apparent in a short demonstration clip from X-Men: Days of Future Past where James McAvoy entered Cerebro for the first time.
The scene heavily features surround sound, and much of it felt like it was entering our ears from the left and right, and even slightly behind us.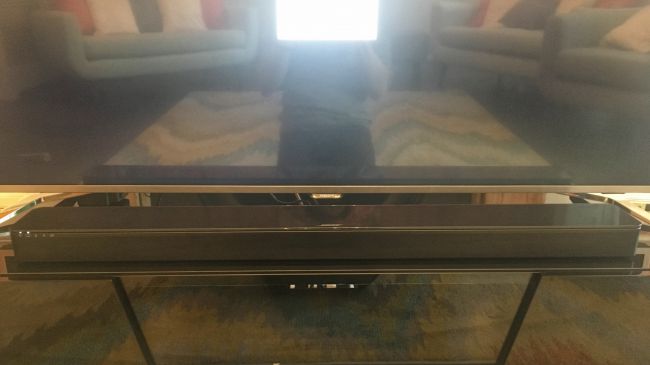 This directionality meant that much of the sound's subtle detail was still audible in spite of the volume and levels of bass because it was nicely spaced out in the room.
At this point we should point out that we were in the ideal room to generate such an effect. It was big and spacious, and minimum wall-hangings meant that sound was able to bounce around and create the surround effect.
However, the soundbar is equipped with Bose's proprietary ADAPTiQ calibration system, which it claims is able to customise the speaker's sound to match any room.
Alternatively, if you'd prefer to add dedicated rear speakers to the setup then Bose sell these speakers, which it calls its 'Virtually Invisible 300' wireless speakers, separately.
Finally, if you want yet more bass from the SoundTouch 300, then Bose has an additional subwoofer, the Acoustimass 300, which is also sold separately.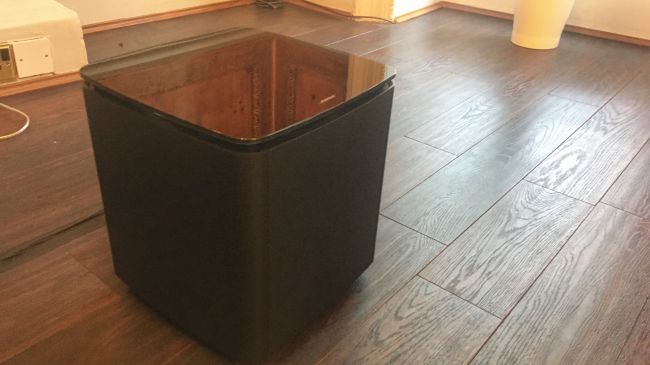 When the subwoofer was activated, the soundbar's bass level went from 'full-bodied' to 'seriously bassy'.
Suffice to say this isn't something you want to turn up to ten late at night if you live in a flat. It felt close in intensity to what you'd expect to feel in a cinema, and much like the soundbar itself, the bass had punch to it without distorting at all.
Early Verdict
The 'signature Bose sound' as it's become known, is one that's most famous for its impressive level of bass response, and the SoundTouch 300 looks set to continue this legacy magnificently.
Its sound is impressively weighty, but what really surprised us was its surround sound capabilities, which filled the room with a nicely detailed sound.
Our main reservation was the amount of connectivity ports offered by the speaker. If you've got a modern TV with HDMI ARC sound output then you shouldn't have any problem, and you should be able to get the soundbar connected with a minimum of fuss.
But if you've got a slightly older or less feature-complete television, then the number of boxes you can connect to the SoundTouch is slightly more limited, and you'll need to be aware of this prior to purchasing the bar.
(techradar.com, https://goo.gl/xMht9O)
Comments
comments