THE GOOD: At $350, the Epson Home Cinema 640 is one of the least expensive home theater projectors available. It's extremely bright, and thus able to fill larger screens and compete better against ambient light.
THE BAD: More expensive projectors can deliver full HD resolution and overall superior picture quality. Just one HDMI input.
THE BOTTOM LINE: Despite lack of true HD resolution, the Epson Home Cinema 640 has impressive overall image quality considering the rock-bottom price.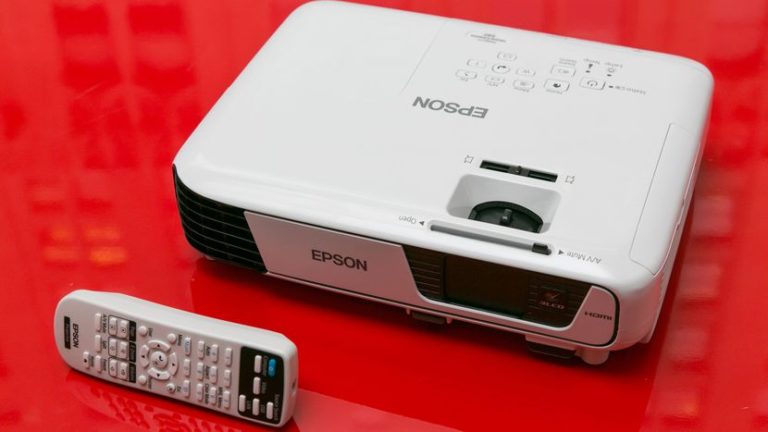 Looking for a big, bright image for cheap? Projectors like the Epson Home Cinema 640 can make a picture bigger than any TV, for a fraction of the price.
This little white unit is superior in pretty much every way to the iRulu BL20 ($150), but compared with more expensive units like the Optoma HD142X ($550), the Epson 640's main weakness shows through: lower resolution. Although it will take any high-def source like your cable box, Roku or game console, the image it throws on your screen isn't native HD. It's less detailed and blockier and shows issues like jagged lines that true, native 1080p projectors don't.
The image still looks very good, however, so if you want something better than the deeply flawed iRulu but can't justify the cost of a "real" HD projector, the 640 is a great choice.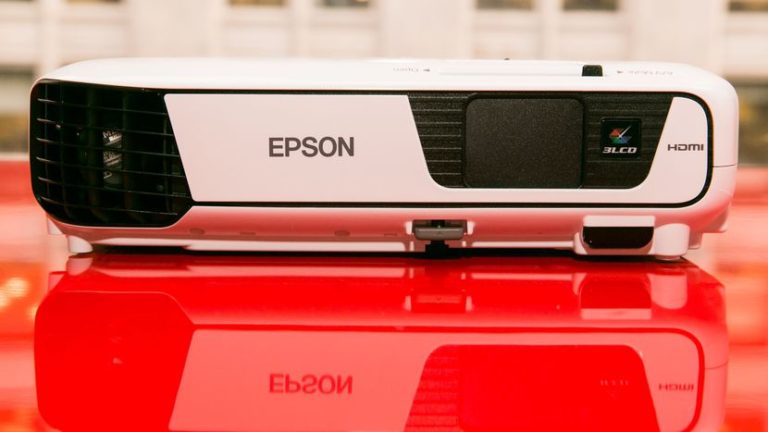 Basic specs
Native resolution: 800×600
Lumens spec: 3200
Zoom: Digital only
Lens Shift: No
3D-compatible: No
Lamp Life (Normal mode): 5,000 hours
Replacement lamp cost: $80
The 640 is a bright little projector, making it a good choice both for larger screens and for situations where you can't completely darken your viewing environment — think during the day or even at night outside. It's small enough (11.6 by 9 by 3.1 inches WDH) to take just about anywhere, although unlike some tinier "pico projectors" it doesn't run on batteries.
Because there's no zoom or lens shift, placement isn't as versatile as some projectors. You'll need to physically move the projector to size it to your screen properly. If you're less persnickety about filling the screen completely, or if you're using a white wall or other makeshift projection surface, that's less of an issue.
I recommend avoiding the digital zoom because it impairs picture quality, and the same goes for the keystone control, as usual.
Connectivity and convenience
HDMI inputs: 1
AV input: 1 (with S-video)
PC input: Analog RGB
USB port: 2
MHL: No
Remote: Not backlit
Built-in speaker: Yes
The Epson's back panel is quite basic, as is the remote. There's just one HDMI port, when many budget projectors have two. You can plug in USB flash drives for easy photo and video playback, but the unit isn't compatible with phones that use MHL (mobile high-definition link).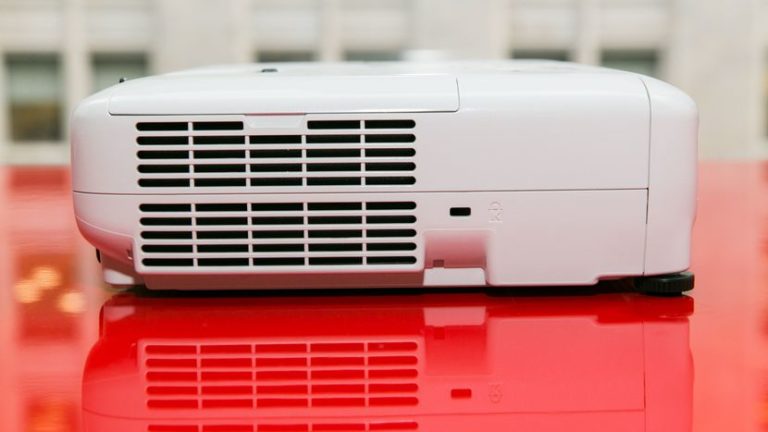 Picture quality details
The 640 was easily able to fill my big 120-inch reference screen with a bright image that held up well in the dark, and even under dim lighting. Light output is actually a bit higher than the more expensive Optoma HD142x, although that unit exhibited better black levels for more overall contrast and pop, important in a dark room.
The Epson's color was decent in the best picture mode (Cinema), but fell short of some higher-end units in terms of measurements. An exceedingly bright green was the biggest color issue, but nothing else was too terrible, and watching real program material (as opposed to test patterns) I had no major complaints.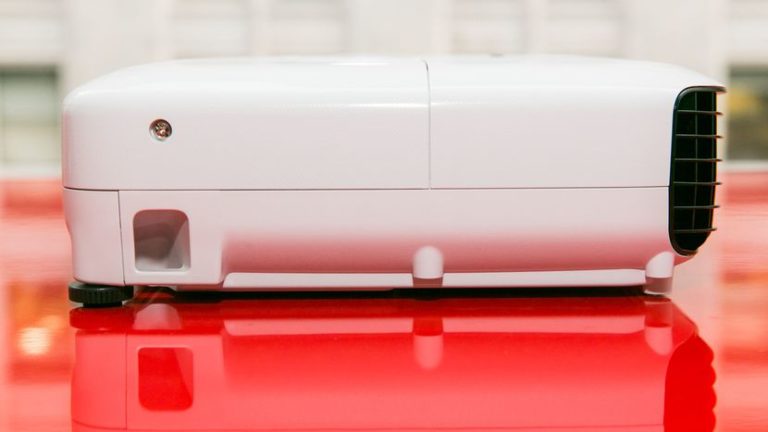 I can complain about that resolution, however. The image looked softer overall than any of the 1080p units, which was especially visible the larger the image got. Lines, in particular diagonals, showed jagged edges that crawled with movement, and the edges of test showed visible blocking. And of course the pixel grid itself was visible, especially in bright scenes, creating the impression of a screen door over the picture. (That's why they call it the "screen door effect.")
None of those issues would be a deal-breaker to less-discerning viewers, however, who would likely focus instead on the massive image. Especially if they sit far enough away or don't have perfect vision.
Measurements
To arrive at all of results below I measured the Epson 640's best default picture setting, Cinema with the Auto Iris disabled (I did not perform any calibration). The exceptions are peak white luminance and derived lumens, which were measured in Dynamic mode (thanks to Chris Heinonen for the lumens calculator). All observations and measurements were taken on my reference Stewart StudioTek 130screen.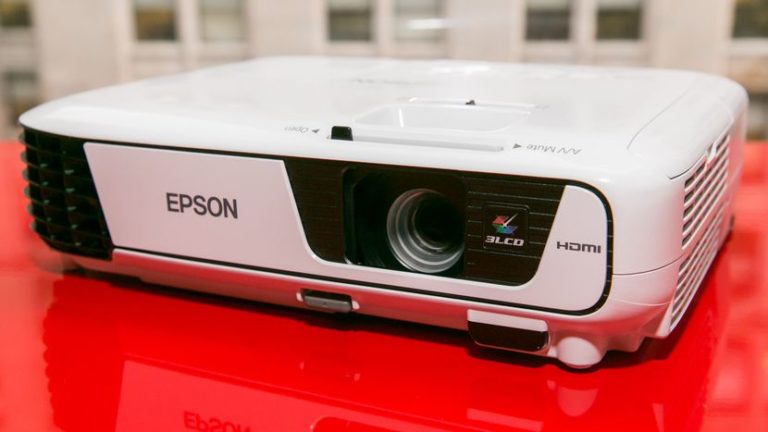 GEEK BOX
| | | |
| --- | --- | --- |
| Test | Result | Score |
| Black luminance (0%) | 0.134 | Poor |
| Peak white luminance (100%) | 67 | Good |
| Derived lumens | 2201 | Good |
| Avg. gamma (10-100%) | 1.99 | Poor |
| Avg. grayscale error (10-100%) | 3.744 | Average |
| Dark gray error (20%) | 3.966 | Average |
| Bright gray error (70%) | 3.315 | Average |
| Avg. color error | 5.651 | Poor |
| Red error | 3.889 | Average |
| Green error | 10.347 | Poor |
| Blue error | 4.121 | Average |
| Cyan error | 5.388 | Poor |
| Magenta error | 6.338 | Poor |
| Yellow error | 3.82 | Average |
| Percent gamut (Rec 709) | 91.14 | Average |
| 1080p/24 Cadence (IAL) | Fail | Poor |
| Motion resolution (max) | 300 | Poor |
| Motion resolution (dejudder off) | N/A | N/A |
| Input lag (Game mode) | 51 | Average |
(cnet.com, https://goo.gl/qmmWvo)
Comments
comments