The Apple HomePod is a £319/$424 speaker with Siri built-in. It plans to take on not only the much-cheaper Amazon Echo and Google Home but systems like Sonos too.
Apple wants to deliver not only a connected smart speaker but wants to address one of the biggest weaknesses among the current smart speakerpack: sound quality.
With better quality options now appearing from elsewhere with the £199/$265 Sonos One and $399 Google Home Max (sadly and inexplicably not available in the UK) does Apple have what it takes to challenge an already crowded market with the HomePod?
A stylish and simple design
172 x 143mm, barrel shaped, 2.5kg
Mesh covered for 360-degree sound
Flattened top with touch controls and Siri waveform
The cylindrical speaker covered in a mesh fabric – which Apple created specifically for the HomePod – promises to put music at the forefront of the experience. The 7-inch tall speaker comes in either white or space grey (pictured) and features an array of speakers to create a well-rounded balance of treble and bass regardless of where you place it in the room.
A single non-detachable power cable comes out just above the base, while a touch sensitive display panel on the top shows volume controls when needed, as well as a glowing rainbow of lights when Siri is responding to your commands or questions – called the "Siri waveform".
Sadly, those Siri lights aren't always clear enough to be seen from various positions around the room. Amazon solved this problem with a clean light ring around the top of the Echo and Echo Plus, while Google angled the top of Google Home. Apple's approach? You can have an audible beep, very much like Alexa, to ensure you know that you are expected to give a command.
There are resemblances to the company's cylindrical Mac Pro computer, although it's not as big or as shiny. Like Google Home and the AmazonEcho, this is a speaker that is designed to sit in any environment, be it the bedroom or the kitchen, and it's a design that works from all angles when it comes to the sound performance – but more on that in a bit.
Cautionary note: White marks on some surfaces
The Apple HomePod speaker sits flat on any given surface creating a snug fit, presumably to help resonate and amplify the bass. It is this snug fit that could cause you problems however. For our tests we placed the speaker on a solid oak kitchen worktop treated with Danish oil.
Within 20 minutes the HomePod had caused a white discoloured ring to appear on the wood that some days later has faded, although still hasn't completely disappeared.
We subsequently tested the HomePod on other materials: the same wood that hadn't been treated with Danish oil and a regular lacquered desk and haven't seen the same issues.
When questioned, Apple told us it was "not unusual" for a speaker with a silicone base to leave a "mild mark" when placed on certain oil or wax based wood finished surfaces, suggesting the marks are caused by oils diffusing between the silicone base and the table surface.
The company suggested it can improve over several days after the speaker is removed from the wood surface and if it doesn't self-correct, to try cleaning the surface with the manufacturer's suggested oiling method.
For us the mark hasn't disappeared and we'll have to sand and then re-oil our worktop. It's certainly something to be careful of, especially if you're about to put it down on that rather nice worktop or quality piece of furniture.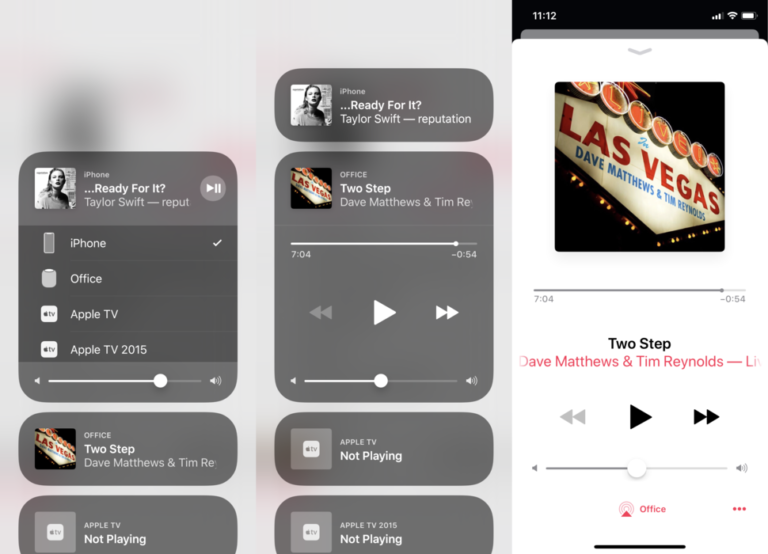 HomePod is a self-tuning speaker
Sound adapts based on speaker placement
6 microphones
Turn the speaker on and it will automatically tune itself to maximise the performance based on its position in the room.
Unlike Sonos which requires you to wave your phone around to create a better "sound landscape" using its TruePlay technology, Apple says that the speaker sends out an array of sounds and then uses the six built-in microphones to hear how those sounds reverberate around the room.
When freestanding in a room, HomePod beams consistent 360-degree audio throughout the room. When against a wall or on a bookshelf, the included Apple A8 chip (the same chip that powers the iPhone 6) analyses the music and appropriately beams direct energy and centre vocals into the middle of the room, while reflecting the ambient reverb and backup vocals against the wall for dispersion into the room.
It means that you should have the "perfect sounding" speaker whatever room you're using it in and it won't matter if you place it on a table in the centre of the room or in a corner. The sound will be adapted to make sure you get the best results out of it.
During our testing we've listened to it in a number of different rooms around the house and it sounds great wherever we've put it. Up against the wall, in a corner, in the middle of the room all produce the same performance. Likewise, rooms with plenty of carpet and fabric faired equally well as rooms with lots of hard surfaces.
The only time the sound performance did change was when it was placed it on coaster to try to stop the white marks we mentioned above. That then caused a drop in the quality, presumably because it doesn't resonate as effectively.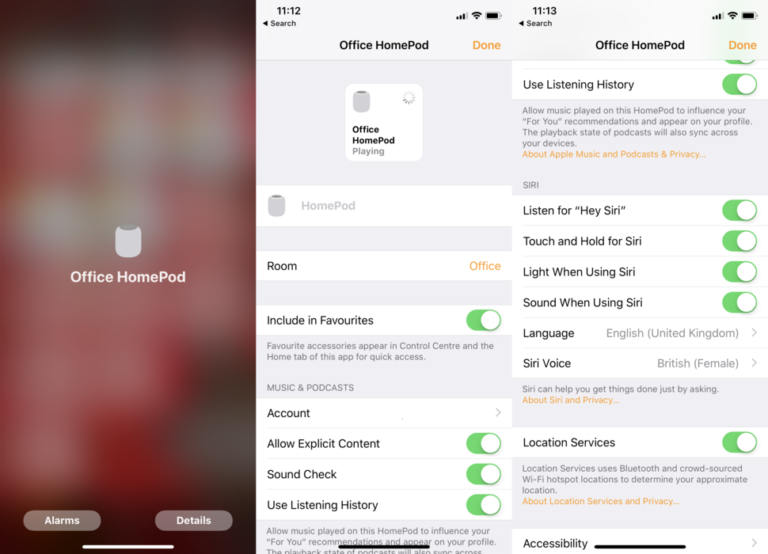 How do you set-up Apple HomePod?
Like Apple's other recent products all you have to do to set-up the HomePod is turn it on and put your iPhone near it. A setup screen will appear, you say yes to a couple of questions and then moments later you're good to go having added the HomePod to your Wi-Fi, added all your HomeKit accessories, and logged you into Apple Music. It couldn't be easier.
The bottom line is it takes less than 2 minutes, which is a great start.
Apple Music at the heart of the experience
Only supports Apple Music
Only radio station is Beats 1
Only supports AirPlay
As it stands, the HomePod can directly connect with Apple Music or play tracks you've "iTune Matched". While iTunes Match is an option (£21.99 in the UK), as is AirPlay, without an Apple Music subscription the HomePod is very limited when it comes to playing music.
There is no Bluetooth support, nor can you access any radio station other than Apple's Beats 1 (although you don't need an Apple Music subscription for this). We suspect that's likely to be a deal breaker for many, given that connectivity to a wide range of services has very much been the theme of technology over the past few years.
Yes, you can AirPlay the radio or Spotify from your iPhone or iPad, but that defeats the point. This is a voice-controlled speaker, but there's only really Apple Music to control. Sonos, Amazon, and Google all support TuneIn radio and plenty of other music services so we're slightly baffled as to why Apple doesn't even try to.
If you are an Apple Music subscriber, then all is good in the world of Apple and the HomePod. You can gleefully call on any one of the service's 40m+ tracks to play instantly, or have Siri create a band radio station just for you.
Then there are the numerous editorially-driven playlists, genre-based stations, mood-based stations or activity-based offerings. You can go further still, with commands like "Hey Siri, play some upbeat R&B" or "Hey Siri, play this year's Grammy Nominees", although these sorts of things aren't unique to Apple Music.
Apple Music has most tracks you'll want to play, unless your music tastes are incredibly niche, and for the most part the playlists and radiostations are very good. In the worst case you can always say "Hey Siri, skip" or if you want to improve things, actively tell Siri that you like what you're listening to – "Hey Siri, I like this" and the service learns as you listen. Thankfully you can turn off "Use Listening History" if you suspect that your kids will destroy your refined music taste with Disney songs.
Controlling the music without your voice is somewhat clumsy though. The problem seems to come about because Siri on your iPhone is also keen to play you music rather than just being a remote control for your HomePod. In fusing control of two devices, some of the clarity seems to have got lost.
To use your iPhone as a remote for the HomePod – or even to see what is playing – you need to go deep within the Apple Music app, not select the button that seems the most obvious choice, but select another almost hidden button (you can also access it via the Control Center via yet another hidden button). It's from here you can then control the music on your HomePod from your iPhone or iPad.
Get it wrong though – basically by selecting AirPlay – and anything you then do on your phone will be automatically be played on the speaker, because you're then using AirPlay. The process confused us at the start and we were actively looking for the feature. It could certainly be a lot easier, as things like Spotify Connect are.
We suspect this will change with the introduction of AirPlay 2, along with the addition of multi-room support and stereo pairing when it arrives later this year. At least we know the HomePod has improvements in the pipeline…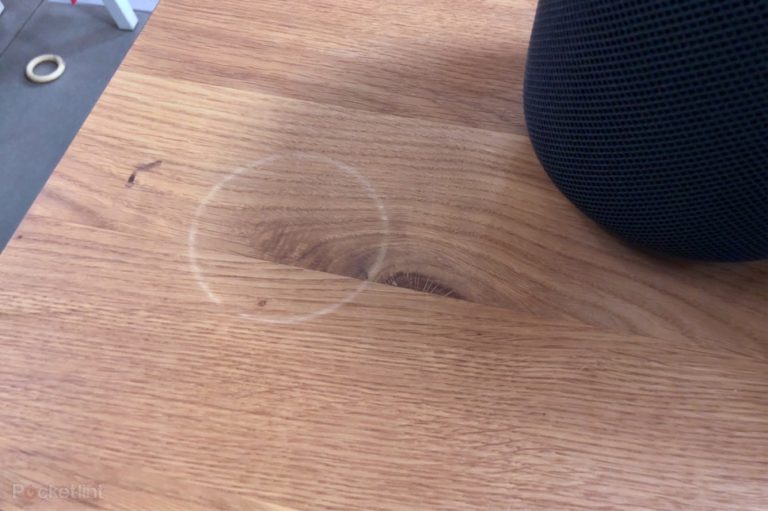 Hearing you from all corners of the room
One of the key things the Apple HomePod has going for it, is that it can hear you pretty much regardless of where you are in the room, or at any volume. Say "Hey Siri," and the speaker jumps into life. We've yet to have it where the speaker hasn't flashed ready to hear our command, something that can't be said for the Sonos One or Echo.
It might not get the answer right, or give you the answer you want, but those six microphones inside certainly do a great job listening out for what you've got to say.
Apple HomePod sound performance
4-inch up-firing central woofer
7 tweeters
Adaptive software to reduce distortion
We've tested the HomePod alongside rivals from the Echo and Google Home family, as well as Sonos speakers and we'd say that the HomePod beats all of them in terms of sound performance, making this the best sounding speaker of its type.
It's coped admirably with every track we've thrown at it from Daft Punk to Cyndi Lauper, Hans Zimmer to Drake. Heck, it's even made the 1987 Bruce Willis album The Return of Bruno sound great. No easy feat.
Where the HomePod excels is in not only capably delivering a thumping bass line when needed, but also producing quality mid-tones and treble too. Artists like Gregory Porter and Norah Jones sound sublime, while pop tracks from Ed Sheeran or Demi Lovato arrive in a way that is a far cry from the Beats sound experience. Because of the design there's no "sweet spot": the music simply engulfs you wherever you are standing or sitting in the room. It's very clever, and very apparent, especially on acoustic live tracks.
While it's clear that the HomePod enjoys being played loud, remaining distortion-free as you turn it up, it still does a good job at low levels without losing the definition of what it's playing.
It's not just the smaller smart speakers that the HomePod beats in terms of performance, but more expensive ones too. It's certainly comparable to the non-smart Sonos Play:5, a £500/$665 speaker. Put simply, you're unlikely to be disappointed with the sound of the HomePod and this is a key strength.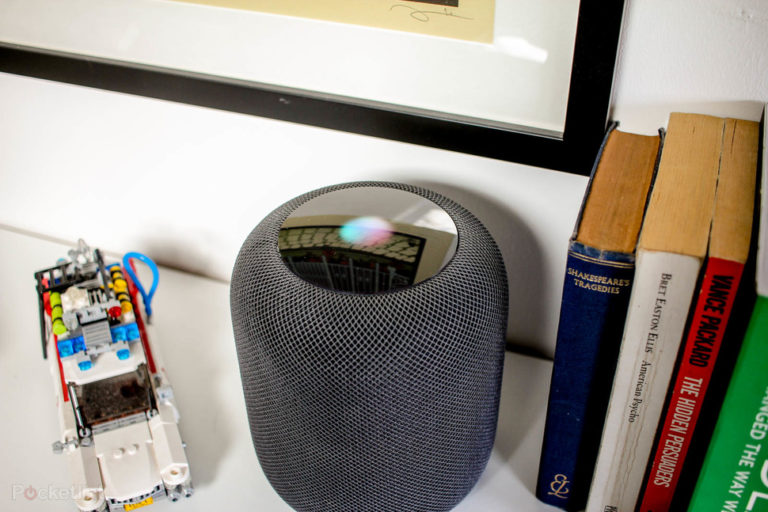 HomePod as a smart speaker beyond music
Siri able to handle contextual searches
Full HomeKit integration
Messages, calls and reminders
Beyond being a great speaker, Apple has used an A8 processor to manage a lot of the heavy lifting and power Siri. It means that, like the Echo and Google Home, the HomePod offers a personal assistant: Siri. Like other Apple devices you can ask Siri questions, issue smart home commands and so on.
Beyond basic music controls, Siri can also handle advanced searches within the music library, so users can ask questions like "Hey Siri, what song is this?" to "Hey Siri, who's the drummer in this?"
But the smart speaker bar has been set high and the likes of Alexa and Google Assistant are slowly taking over all forms of connected devicesand integrating with lots of services, so the offering beyond the music is a lot more important than it might once have been.
HomePod and HomeKit
When you aren't asking about music you can control all the HomeKit-enabled devices in your home, turning on lights, creating scenes, and HomePod instantly has access to all your existing HomeKit-enabled devices, routines and scenes.
Within 3 minutes we had Siri controlling our Philips Hue lights and turning off an Elgato Eve Smart Plug. Like Apple TV, the HomePod can act as a home hub, providing remote access and home automation through the Home app on iPhone or iPad, meaning you can then control your devices from out of the house.
HomePod's HomeKit skills mirror the experience on an iPhone or iPad, but at times feels light years behind Amazon and Google's offering. While Amazon is busy adding Skills on a daily basis and getting others to do the same (there are 30,000 and counting), Apple offers virtually no third-party support aside from messaging apps.
Surprisingly, there is no support currently within HomeKit to get the HomePod to play a sound or music on a given instruction. There are plenty of reasons Apple should add this, for example, letting HomePod play a sound when a HomeKit enabled alarm goes off, or someone pressing a HomeKit enabled doorbell to play a sound, or even a HomeKit-enabled Scene that plays a tune as you walk in through the front door just like in Back To The Future 2. There's no support for this on Echo either – one for the developer wish list.
HomePod also doesn't offer music alarms or multiple timer support either, just the one cooking timer, even though both are already available on the considerably cheaper Echo and we're surprised that Siri's functions haven't included common useful features like this.
You can see a full breakdown of how the three systems compare in our comprehensive Apple HomePod vs Google Home vs Amazon Echo: What's the difference? feature.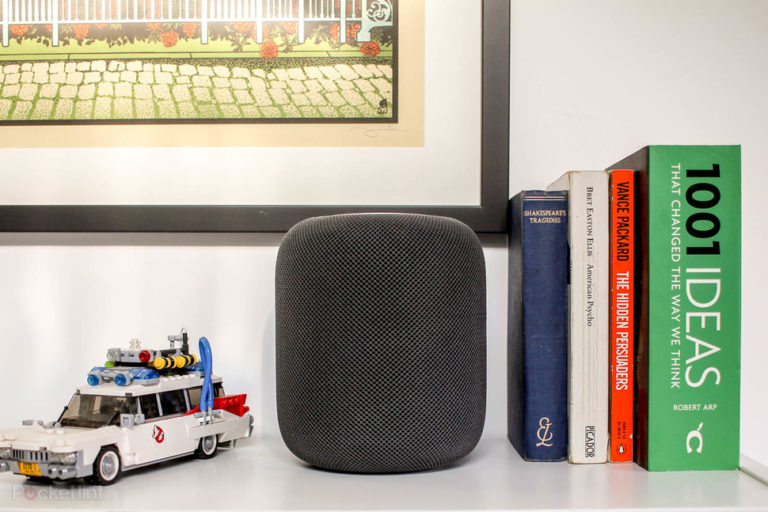 Making calls, sends texts, and creating reminders
The HomePod is tied to a single Apple iCloud account and that allows you to send text messages, add or create Reminders, Lists, or Notes and hand off a call that you've started on your iPhone to the speaker. You can't have multiple users.
On the messaging front, Apple offers support for iMessage, SMS messaging, as well as third-party apps like WhatsApp, WeChat, Viber, Skype, Linked In, and textPlus. On the Reminders/Lists front the HomePod supports Evernote, Things 3, Remember The Milk, Picniic, Streaks, and OmniFocus 2.
The integration is seamless on the messaging front, but again, it's a strange omission that you can't simply say "Hey Siri, phone my wife" and the HomePod do it.
If giving anyone with a voice the ability to send messages or add things to your reminders lists sounds a little too dangerous in your home or office, you can turn the feature off. The settings are buried within the Home app.
Hey Siri, you might actually be the problem here
Let's cut to the chase: we said that the bar had been set high for smart speakers by the likes of Amazon and Google. Apple had time to perfect Siri and the HomePod experience, but sadly, that doesn't seem to have happened.
Siri, while sounding okay on the iPhone, doesn't sound like a native English speaker on HomePod. Compared to Alexa, Siri sounds horrid. Words are hacked together, things aren't pronounced correctly, and everything sounds abrupt. There's no fluidity or conversational flair. It's a talking computer without personality.
It's not that Siri can't turn off the lights, play a song or answer a simple question, it's just there doesn't seem to be the same magic, the same show-off moments. Ask Alexa to sing you happy birthday and it'll jump right to it, bringing a smile to your face, ask Siri and you get the excuse that it's just a speaker. Oh, maybe it is just a speaker?
It's this lack of intelligence that makes everything feel a little disjointed. It's as if HomePod exists as a singular entity within the Apple eco-system rather than the conduit for all Apple's devices. It feels like it has to be owned by your iPhone, in the same way you would a pair of AirPods, rather than being the heart of your home and music you've been waiting for. And that's a little disappointing.
We suspect that much of what we don't like will be fixed and refined over the coming months. Come Christmas 2018, following further improvement announcements at Apple's developer conference in June and then again at the yearly September event, the HomePod will be much better. Until then, it is just a speaker.
Verdict
If we were grading the HomePod on its sound performance alone it would be a slam dunk. Apple has produced a small speaker that produces a sound way above its stature, in a way that is enjoyable to listen to whatever you music you're in to. It is a natural sound that's nicely balanced rather than one that is too tinny or too bass heavy.
But we aren't grading it on just its sound quality and neither will anyone else – and that's where it all starts to disappoint. The HomePod is just not smart enough when pitched against the likes of the cheap little Amazon Echo or Google Home, Siri is not refined enough and even the experience between the iPhone and the HomePod feels confused.
We know that this will change and we know that Apple is great at creating and refining user experiences, but this doesn't feel like the £319/$424 breakthrough speaker you might expect it to be.
For now, it's just a speaker that sounds great, that isn't very smart.
(pocket-lint.com, https://goo.gl/W6Cdth)
Comments
comments