OUR VERDICT
While the M5 manages to deliver the headline brightness figure that Aaxa claims, this projector does so by almost ignoring basic requirements for color representation.
FOR
Bright output for its size
Simple to use
Replaceable battery
AGAINST
Poor for video
No battery life gauge
Projector designs often fall neatly into one of two camps: those that are offering portability, and others that can project enough light to be seen easily.
Not that the boundary between those distinctions isn't a bit flexible, and the Aaxa M5 is an example of a product that attempts to straddle both requirements in a single solution.
But is it light enough to carry, and yet bright enough to be worth bringing along?
Design
According to the specifications, a 48-inch projection requires a 50-inch throw, which is a 1.04 ratio using our calculator.
The M5 retails at around £680 – $470 over in the US – and it comes in a fabric carry case that's been stiffened with plastic to offer greater protection. Inside the case is the (roughly) Apple Mac mini-sized M5, the power supply, a small tripod, tiny remote control and a few potentially useful cables.
The unit is just 150mm square and 45mm deep, making it larger than some of the Pico projectors we've seen, but obviously small in comparison to a full-scale projector.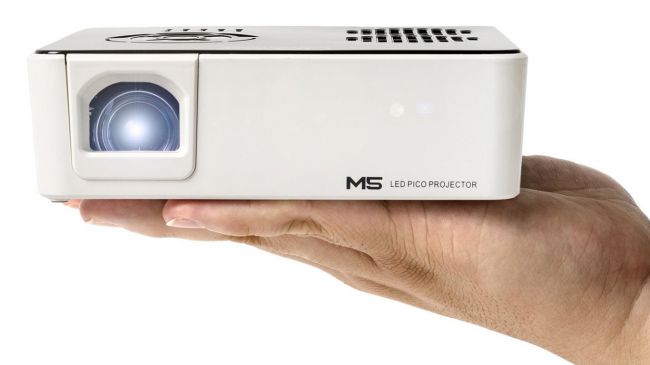 The projector alone weighs 863g, and together with all the accessories in the travel case, the total weight is 1.84kg.
At 900 lumens, Aaxa claims that this is the world's brightest mini projector, and it can generate a 150-inch display using its 4th-Gen DLP Optical Engine.
That quoted brightness assumes a mains power connection, though the M5 will run on an internal battery for 70 minutes if you are willing to accept a reduction to 500 lumens as the trade-off.
Available inputs include VGA, HDMI, and Composite A/V, and you can also source media files from USB-connected storage or a microSD card slot.
There is also a headphone jack for those who like to project something others can't fail to notice, but keep the sound to themselves. The unit also has a single 2W integrated speaker for more gregarious types.
On the underside is a mount for the accompanying tripod which could be used to place it on a more substantial support, or even be used for ceiling mounting.
Instead of including a foot for tabletop deployment, Aaxa angled the optics in the M5 slightly upwards, allowing the projection to avoid hitting the supporting surface. Usually, some clearance is required to avoid overheating, but here the vents are on the top and rear.
The underside also has a removable cover where the battery is housed, allowing for the replacement of the Lithium-Ion module with another that the company will sell you for about $50 (around £40).
What you can't switch out is the LED light source. That said, this element is built for up to 20,000 hours use, making replacement less of a concern.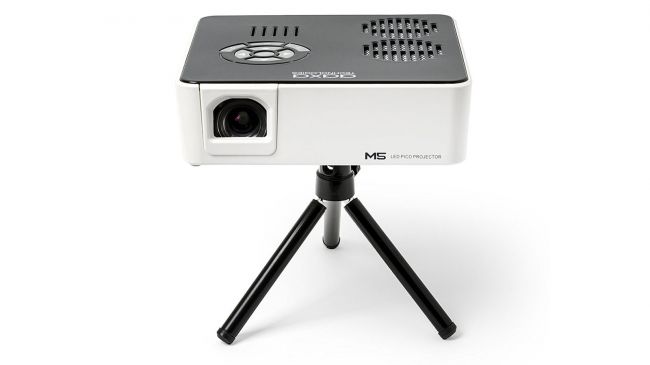 Aping larger projector designs, the M5 has a small control pad on the top that can be used to select options from the interface. This is useful when you (inevitably) misplace the tiny remote control. However, the remote is a necessity for some adjustments, such as keystone alterations.
The only other features of note on the outside of this device are a small focus wheel on the right, and an on/off switch that overrides the soft power controls.
The internal projection system uses DLP (Digital Light Processing) technology with a native resolution of 1280 x 800 (WXGA), though it will scale a 1080p HDMI signal for presentation.
However, note that this projector isn't a short-throw design, having a ratio of only 1.2:1. That equates to requiring roughly as much distance from the screen as the scale of projection you wish to see.
According to the specifications, a 48-inch projection requires a 50-inch throw, which is a 1.04 ratio using our calculator.
In use
In recent times, we've seen so many small projectors that use the Android platform that it was a shock to discover one which doesn't.
Aaxa has gone with a very basic interface where you get to choose what sort of media you'd like to show, or input source to present. You can also configure a relatively small number of projection parameters, like the color balance, picture mode and aspect ratio.
There's also an option to boost the brightness settings or scale them back with Eco mode.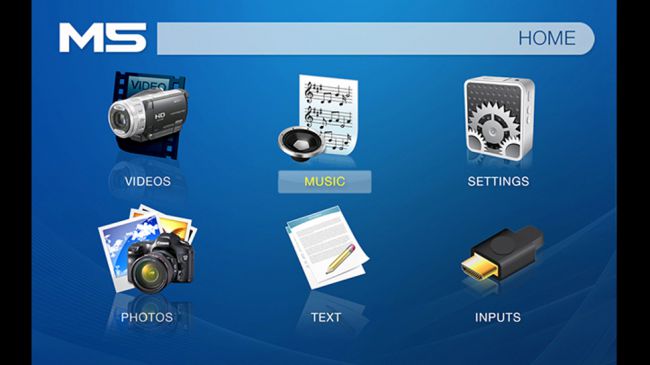 What's missing here is any internet interaction, and by definition, any means to upgrade or enhance the existing firmware. How it works and looks when you get it is exactly how the M5 will always be, forever.
The obvious way to solve that problem is to connect a laptop, tablet or phone to the projector, and make use of the other device's connectivity instead. Personally, we'd buy a Chromecast and use that, because it would easily fit inside the carry case and take power from the USB port.
For media playback, the M5 is fully self-contained. Any of the compatible file types can be loaded on to a FAT32 formatted USB device or microSD card and presented directly.
In terms of official support, Aaxa's M5 can handle MP3, WMA, OGG, WAV, AVI, WMV, SMV, BMP, JPG, GIF and TXT files. But we also tried MKV and that worked, unsurprisingly.
Our only reservations about projecting videos with the M5 are that the image can exhibit an extreme contrast in dark scenes and rampant over-saturation. Some adjustments to the contrast levels helped a little, but as a means to project videos, the M5 isn't ideal.
On some video formats, the decoder also chose to ignore the aspect ratio of the source, instead presenting it stretched rather than correctly bordered top and bottom.
The sheer brightness produced by this device is impressive, though, being easily strong enough to use in naturally lit rooms with 40-inches wide or smaller projections, even without activating brightness boost.
When the M5 is projecting there is a fair amount of fan noise. However, at least the noise is constant, and the unit isn't inclined to make sudden and distracting pitch changes.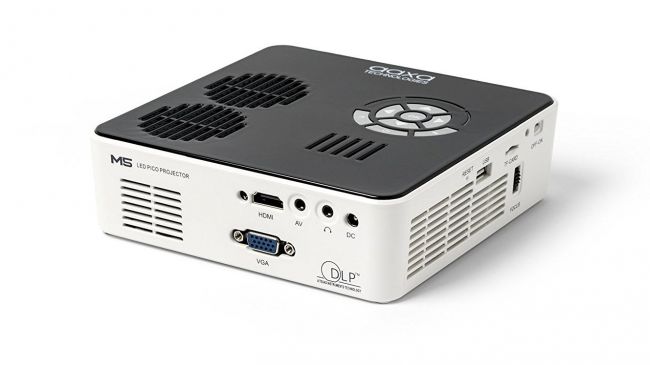 Performance
900 lumens is a dramatic amount of light to see projected from such a small box, giving the M5 some tough numbers to live up to in testing.
With standard picture mode and default brightness, the M5 puts out an impressive 570 lumens at its centre, and about 30 less than that around the edges.
Selecting brightness boost mode elevated the light level to the 750-800 lumens range, though it never actually got to 900 lumens in our testing.
For such an easily transportable device that's more than respectable, and significantly brighter than any of the Pico class projectors we've tested.
Battery brightness is closer to 400 lumens than 500, but it is workable if you only need it for an hour or so. What's mildly annoying about running on battery power is that the interface contains no indicator as to the current level of charge or likely lifespan that might yield.
Having gone to the trouble of providing a battery, and even making it replaceable, would it really have been so much effort to implement some sort of battery life gauge?
Still, the biggest issue here, as mentioned previously, is overly saturated colors in everything this device projects, and there is only so much you can do about that in the settings.
Final verdict
Our initial reaction was to be disappointed that the M5 didn't use Android, or have any networking capability. But the deeper we got into using this projector, the less that mattered.
Critically, the M5 delivers much of what it claims in the specs, and that overrides being able to access YouTube via the interface, or reply to an email with it.
Sadly, while this device manages to deliver the headline brightness that Aaxa claims, the M5 does so by almost ignoring basic requirements for color representation.
The video playback issues it exhibits don't make this a great choice for use in a home environment, but travelling business users might find it a useful tool for PowerPoint presentations.
At just over £680, the UK pricing also doesn't do it any favors compared to what US customers might expect to pay ($470).
(techradar.com, https://goo.gl/nPqxJZ)
Comments
comments