Highs
Flawless auto-blip downshifting function
Mid-range power finally returns
Supremely agile
Lows
Wheelie control needs refinement
Could be more stable at speed
Cornering ABS reduces braking feel
Ducati continues to demonstrate 'there's no replacement for displacement' with the release of its 1299 Panigale S Superbike ($24,995). Powered by an even more radically oversquare 1285cc variation of its Superquadro L-Twin, Ducati's latest Superbike is engineered for riders seeking the utmost in Italian performance that's not limited by the World Superbike rule book. To find out if Ducati hit the mark we put the 1299 through its paces at the seaside circuit of Portimao in southern Portugal.
MID-RANGE TORQUE RETURNS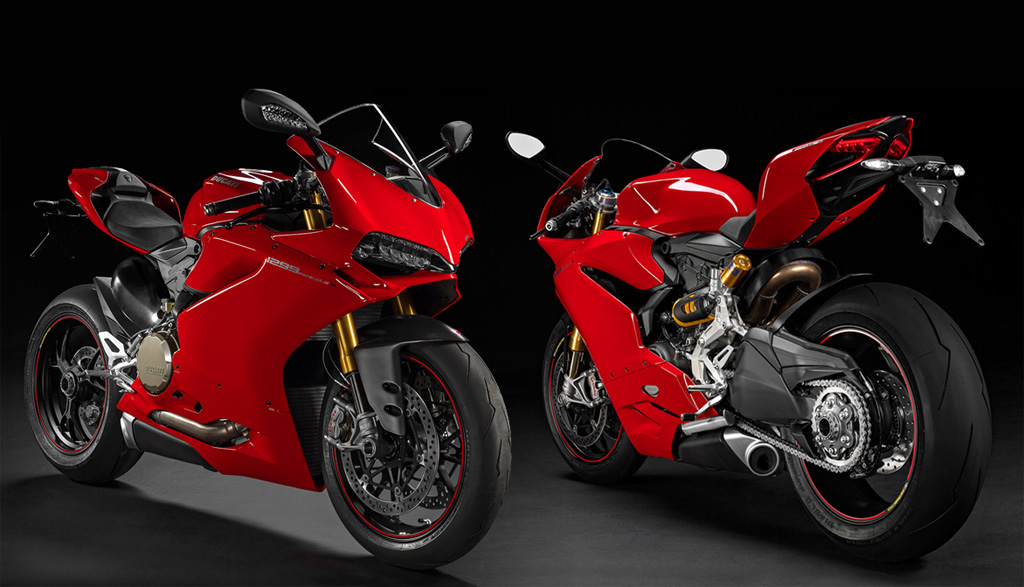 Ducati Superbike's were long renowned for their hellacious low- and mid-range torque, until the high-revving 1199 Panigale arrived in 2012. The 1199 traded bottom-end performance for a more top-end biased power curve. We were skeptical of Ducati's decision to try and boost the 1299's torque via a 4mm wider cylinder bore rather than an increase in piston stroke. But as soon as we twisted our wrist at Portimao, skepticism evaporated, and we're glad to report that useable grunt returns.
Dainese Made 2 Measure Program
Riders come in all different shapes and sizes. That's why Dainese offers its Made to Measure program. This premium offering allows men and women that can't comfortably wear common, off-the-rack sizes a chance to experience true comfort with a tailor-made and Italian-crafted suit. Customers are offered four levels of customization. The entry-level being a standard production size but with custom colors and your choice of three logos, names, or numbers. Riders that are more concerned with fit will appreciate the next level, a full custom measure, in a more affordable production colorway. And for those that want the ultimate experience, Dainese's top-of-the-line offering and is limited by what the customer can dream up (and of course design limitations). Interested in getting fitted? Dainese hoss M2M events across the United States. Contact your local D-Store for more details and pricing.
(Top) Never a slouch in the handling department, the Panigale becomes even sharper with its 0.5-degree reduction in steering head angle. (Center) A pair of grippier footpegs is a huge improvement on the 1299 Panigale. The design of the exhaust system was also tweaked to better work with the engine's 87cc larger capacity. (Bottom) The 1299 Panigale is equipped with a tremendous number of electronic setting adjustments. Some of our favorites are the DQS and EBC. Due to limited track time we only got a chance to try a few different wheelie control settings.
On paper Ducati claims a 15% increase in torque production between 5000 and 8000 revs. And that claim feels true with the 1299 barking off corners harder and faster than before. Power comes online earlier in the rev range, which adds a degree of flexibility, allowing the bike to be run a gear higher versus the 1199. Complementing the extra 87cc of displacement are larger front fairing air intakes and up to 4mm larger diameter exhaust headers.
Like its predecessor, the 1299 still makes tremendous top-end power. It's more than happy to be revved to the moon, but the extra mid-range means you don't have to ride it in such a manner anymore. As before, the Panigale's over-rev isn't as plentiful as a four-cylinder Superbike, but for a Twin it's pretty impressive.
The last time we dyno tested the 1199 Panigale it produced 165 ponies at the business end of the 200-section Pirelli SP tire, and we estimate the 1299 cranks out another 10 horsepower more. Like before, the Ducati continues to employ three different engine power maps (Race/high, Sport/medium, Wet/low), allowing the rider to tailor the feel and power output of the engine based on road conditions or preference.
IF IT AIN'T BROKE… MAKE IT STEER QUICKER
Handling-wise the Panigale is far from a slouch but the 0.5-degree reduction in steering rake (reduces trail by 4mm as well) nets a noticeable difference. The 1299 continues to carve turns with the sort of agility you wouldn't expect from a Superbike-class sportbike. Perhaps the most impressive trait is how adept the chassis is at fine trajectory adjustments at lean. It's so nimble that it take a few laps to acclimate to its quick manners – especially mid-corner.
Although the swingarm pivot height is non-adjustable, it's fixed at a 4mm lower position, which is identical to the lowest-setting on the R-spec Panigale. It offers a fair degree of grip off turns, though the hyper action of the suspension gives the 1299 a looser feel, which while thrilling to ride might not be the fastest way around the circuit.
(Top) The 1299 Panigale employs a 2.2 pound lighter ABS controller from Bosch. And with addition of the IMU it now takes lean angle into account in the ABS setting (Level 2 and 3). (Bottom) Like the fork the shock offers both fixed and "event based" damping control in which the damping is adjusted based on pre-programmed parameters. Manual adjustment is made electronically via the color dash display.
The 'S' model benefits from an electronically-adjustable Ohlins steering damper. And it certainly needs it because even at a relatively smooth circuit like Portimao, the 1299 exhibited a fair degree of headshake. A lesser noted but still very important update is the fitment of gripper knurled footpegs that afford better traction against the sole your boot and ultimately more control behind the windscreen, which is also taller than last year's bike.
SMART EC SUSPENSION BY OHLINS
For 2015 Ducati expands on its electronic suspension concept with the addition of a semi-active "event based" system by Ohlins. The suspension is powered, in part, by a Bosch-sourced IMU (Inertial Measure Unit) that incorporates gyro and accelerometer functions. The suspension offers two operation modes: fixed, in which the rider sets damping settings via the dash display, and event, when the suspension's dedicated ECU modifies damping settings front and rear based on pre-programmed conditions. Furthermore, the rider can fine-tune the algorithms by manually selecting damping behaviors (Softest, Softer, Default, Harder, Hardest) on either the fork, shock, or steering damper.
Due to limited track time paired with the Panigale's plethora of electronic settings, we only ran the bike with the 'Default' suspension setting. As mentioned before, the 1299's chassis has a very active feel, which makes it more challenging to ride at pace for more advanced riders. No doubt, the 'Hardest' setting would have netted a more favorable result we just ran out of time to try it…
WHEELIE CONTROL
Despite being an early innovator in sportbike electronics (the 2008 1098R was the first traction control-enabled production Superbike), Ducati Superbikes have never featured wheelie control — a complaint we've filed for the last few years. Now it finally answers with its Ducati Wheelie Control. The DWC system relies on data from the IMU, modulating engine power when excessive front wheel lift (wheelie) is dedicated. Eight settings are offered (similar in number, but independent from traction control with Level 8 being the most restrictive, and Level 1 the least) allowing the rider to fine-tune the degree of lift during acceleration.
1299 Panigale Settings
Suspension (Event Based)
Fork
Preload: 6mm (6 turns in from zero)
Damping: Default
Shock
Preload: 12mm
Damping: Default
Link: Flat
Steering Damper: Hardest
Drivetrain
Power Mode: Race
DTC: 3
DWC: 7
EBC: 2
ABS: 1
Full of rises and steep elevation changes, Portimao is a circuit you'd want, scratch that, need wheelie control. But the Ducati's electronics failed to impress, offering inconsistent results. We tried a variety of settings ranging from Level 3 to Level 8 and neither could suitably control the 1299's excessive propensity, at times, to wheelie over crests. This negates its usefulness, as it requires the rider to let off the throttle to prevent the bike from looping out.
(Top) We didn't push the Panigale hard enough to get an accurate gauge on its new Cornering ABS function. It did however reduce lever feel and overall braking sensation. (Center) We were skeptical of Ducati's decision to expand cylinder bore in lieu of more piston stroke. But the update worked and the 1299 offers considerable more mid-range muscle than before. (Bottom) For 2015 the 'S' model 1299 Panigale adds "event based" semi-active suspension adjustment by Ohlins. In the 'default' setting the bike has an active feel which while fun to ride, isn't the fastest way around the track.
Overall we preferred Level 7 as it was the only setting that allowed us to commit to the DWC, at certain parts of the track, without overly restricting straight-line acceleration (Level 8). While we appreciate Ducati adding wheeling control to its electronic arsenal, it has a ways to go in terms of its actual usefulness. One feature we are fond of is the paddle-like toggle switch on the handlebar which allows the rider to modify either the traction control or wheelie control setting while riding.
CORNERING ABS AND DQS / BACK SHIFT ASSIST
From hardware to software, we're big fans of the functionality of the Panigale's braking prowess. And the 2015 model looks to improve with the implementation of Corning ABS. The system is powered by an updated 9.1 version of Bosch's excellent 9ME ABS controller (2.2 pounds lighter than previous hardware) and allows for anti-lock control based on lean angle (again from the IMU).
The system is enabled in ABS Level 2 and 3, but not in Level 1 (rear brake ABS is also disabled). Overall, the Cornering ABS performed well, though we never rode the Panigale hard enough to accurately feel it intervene. However, we did find brake feel is noticeably less sharp with it 'on', so we preferred the Level 1.
As always Ducati's three-way adjustable Engine Brake Control (EBC) performs well by allowing the rider to tune the overall feel of the motorcycle during hard braking. Generally we prefer Level 1 (least engine braking) but since the 1299's fork set-up was so soft, Level 2 was more optimum as it took a hair degree of load off the suspension during braking maneuvers entering turns.
We also love the function of the quickshifter's new auto-blip technology. Using sensors on the shift drum and throttle, the ECU knows when to blip the throttle thereby affording quick and painless backshifts without using the clutch. Considering that manual blips are ingrained in our sportbike riding psyche it actually took a bit of time to get use to not making them and instead just working the gear shift lever. Overall the system performed without flaw and makes for a more simplified riding experience.
FINAL THOUGHTS
If you're looking for a fast, loose and exciting motorcycle this Ducati is it. The displacement bump nets a substantial boost in mid-range and the function of the backshift assist is flawless. We also appreciate 1299's added agility and the sheer number of electronic set-up options that it now offers. If engineers could further hone the electronics package as a whole we have little doubt the Ducati could have the competition seeing red.
2015 Ducati 1299 Panigale S Specs
Engine: 1285cc liquid-cooled L-Twin; 8-valves
Bore x Stroke: 116.0 x 60.8mm
Compression Ratio: 12.6:1
Fuel Delivery: Marelli electronic fuel-injection
Clutch: Wet multi-plate; Hydraulic actuation
Transmission: Six-speed; chain final drive
Final Drive: Chain, 15/39 gearing
Frame: Monocoque aluminum
Front Suspension: Ohlins 50mm inverted fork; Three-way adjustable for preload, compression and rebound; 5.0 in. travel
Rear Suspension: Ohlins gas-charged shock; three-way adjustable for preload, compression and rebound; 5.12 in. travel
Front Brakes: 330mm discs with radial-mount Brembo four-piston M50 monobloc calipers
Rear Brake: 245mm disc with twin-piston caliper
Curb Weight: 420 lbs.
Wheelbase: 56.6 in.
Rake: 24.0 deg. / Trail: 3.78 in.
Seat Height: 32.48 in..
Fuel Capacity: 4.5 gallons
MSRP: $24,995
Colors: Red
Warranty: Two years unlimited mileage
(motorcycle-usa.com)
Comments
comments