1. ZENVO ST1
$1.2 Million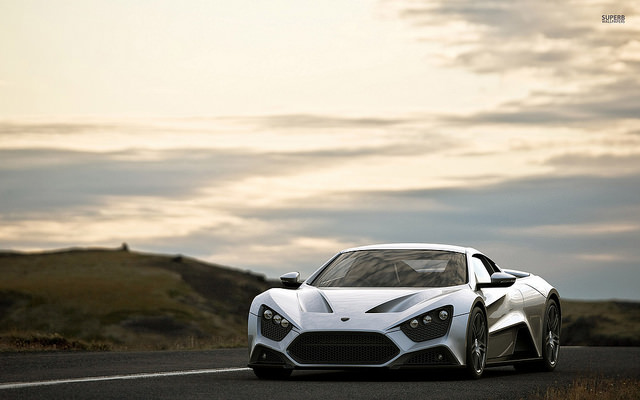 The Zenvo ST-1 is a high performance sports car. Its turbocharged and supercharged 6.8 liter V8 engine generates 1,104 hp at 6,900 rpm and 1,050 lb-ft of torque at 4,500 rpm. The Zenvo ST1 car set a 0-100 km/h time of 3.0 seconds, with 0-200 km/h taking 8.9 seconds. The Zenvo ST-1 has a top speed of 233 mph. The ST-1 is made entirely by hand with the exception of a high performance, 5 axis CNC router. Zenvo claims that the ST-1 is entirely a Danish design, created by Christian Brandt and Jesper Hermann. The body is made of carbon fiber and was constructed in Germany, while many of the other components come from German or American made cars.
2. FERRARI LAFERRARI
$1.4 million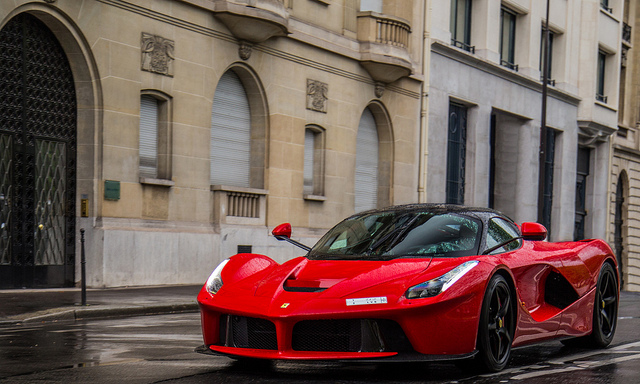 While it may have a silly name, the Ferrari LaFerrari is gearing to become the king of exotic sports cars. Clocking in at $1.4 million dollars, it certainly costs a pretty penny. The LaFerrari is powered by a 950 horsepower hybrid engine. The V12 outputs 789 horsepower and gets the additional 161 of its horsepower from an electric motor. With a 0-60 mph time of 2.5 seconds and a 0-150 mph time of 9.8 seconds, the LaFerrari is no slouch, beating the Bugatti Veyron 16.4 by 1.5 seconds. A very low center of gravity and light steering allows the LaFerrari to navigate high speed turns with grace, although with that price tag you may not want to fly around corners for fear of destroying your investment.
3. PAGANI HUAYRA
$1.4 million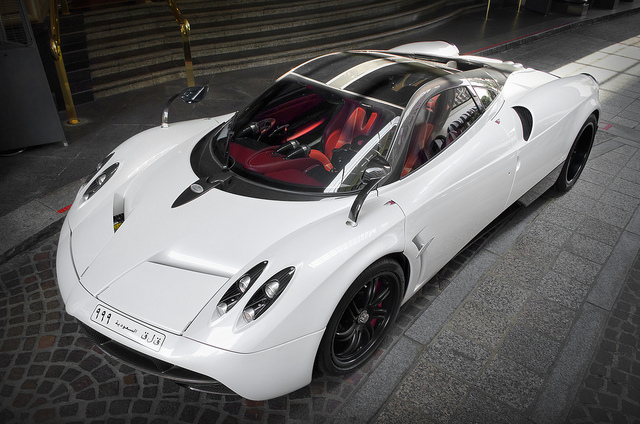 The Pagani Huayra is a 720 horsepower, mid-engined, million dollar supercar. The 6 liter twin-turbo V-12 engine gets the Pagani Huayra to a top speed of 230 mph. The vehicle has motorized body surfaces that constantly lift and tuck lift an F-16's flaperons with the goal of reducing body roll and stopping distances. The flaps on the Huayra's upper body are designed to act like wing ailerons. Above 50 mph, all four lift 10 degrees to increase downforce. When the driver turns the wheel, the flaps on the inboard side rise to 20 degrees to counteract body roll. Under braking, all four lift to 40 degrees to act as air brakes. The cockpit looks like something from a spaceship, with bionic-Bauhaus sculptures in cut aluminium.
4. ASTON MARTIN ONE-77
$1.4 million
The Aston Martin One-77 was a limited production supercar built by Aston Martin. There were only 77 produced from 2009-2012, which is why it was named One-77. The One-77 features a full carbon fibre monocoque chassis, a handcrafted aluminium body, and a naturally aspirated 7.3 liter V12 engine with 750 hp and 553 lb-ft of torque. The car uses a strengthened version of the DB9's 6-speed automated manual transmission and height-adjustable pushrod suspension coupled with dynamic stability control. Top speed of the One-77 was clocked at 220 mph and it has a zero to sixty time of 3.5 seconds. Carbon Ceramic Matrix brakes are used to to increase braking power, so the car can safely decelerate from high speeds.
5. FERRARI F60 AMERICA
$2.5 Milion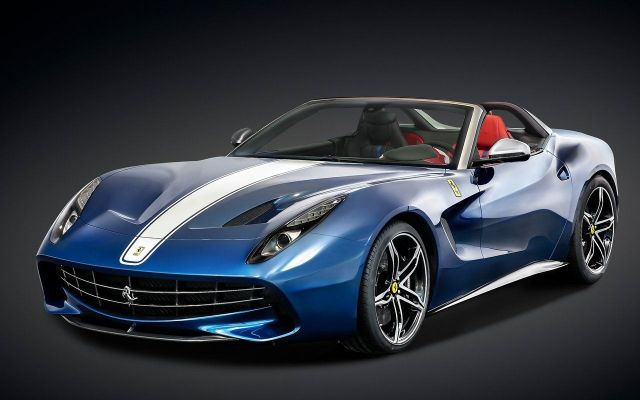 To celebrate their 60th anniversary, Ferrari created the Ferrari F60 America. Based on the F12 Berlinetta, the Ferrari F60 America is modified to suit what Ferrari felt Americans would want. The vehicle exterior is blue with white racing stripes, and the interior is clad in red leather and red accents. There is no roof, because who doesn't love a convertible? The V12 engine produces 730 horsepower and can go from zero to sixty in 3.1 seconds. The price tag of the Ferrari F60 America was $2.5 million, 8 times the $320,000 price tag of the F12 Berlinetta– and all ten of them were sold before Ferrari even unveiled the vehicle. The only thing that would make this car more American would be replacing the standard Ferrari emblem with a bald eagle.
6. KOENIGSEGG ONE:1
$2.8 million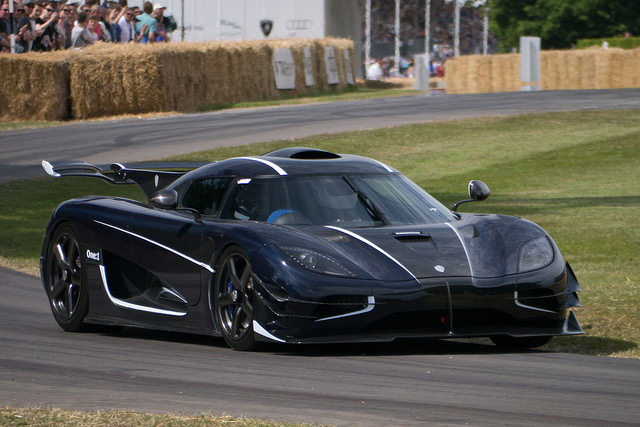 With a Price tag of $2.8 million dollars, the Koenigsegg One:1 is built for one purpose: speed. Its name, meant to be pronounced as "one to one," refers to the car's metric power output of 1 megawatt (1341 horsepower when fueled by a E85 alcohol-gasoline blend) and its perfectly balanced power-to-metric weight ratio. The interior trim is minimal but covered in carbon, the seats have a six point harness to keep you firmly affixed while driving, the speedometer reaches 280 mph, and a power gauge shows how much horsepower the engine is producing. Speaking of engines, the One:1's engine is a 5.1 liter twin turbo V-8 that produces 1341 horsepower and 738 foot pounds of torque ( 1161 horsepower if using regular gasoline).
7. MANSORY VIVERE BUGATTI VEYRON
$3.4 million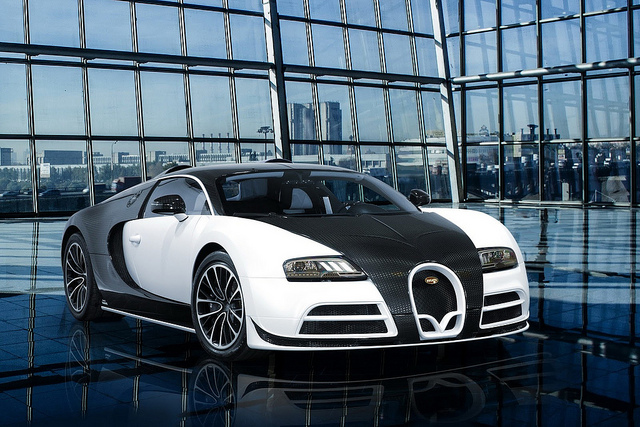 The Mansory Vivere Bugatti Veyron is a modified Bugatti Veyron Grand Sport Vitesse. The vehicle is upgraded by Mansory, and all of the changes are to the aesthetic look of the vehicle. The exterior of the Vivere is covered in a superbly lacquered carbon fiber. Other changes include a new inner front grill, shortened hood, larger side scoops, a spoiler package that provides new diffusers, front apron, and new rims. The headlights and taillights are upgraded with LEDs as well. The interior is re-upholstered and covered in carbon fiber, and an LED lighting system illuminates the cockpit. The engine is left unchanged, but considering it's an 8.0 liter W16, capable of producing 1,200 horsepower and 1,106 lb-ft of torque, I don't think it needs any changes.
8. W MOTORS LYKAN HYPERSPORT
$3.4 million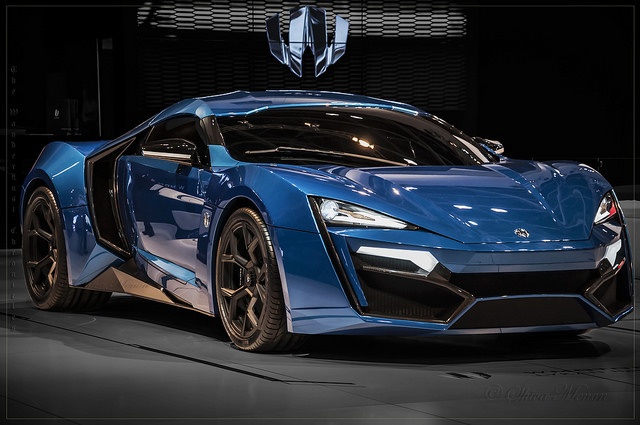 Produced by W Motors, the Lykan Hypersport is the first supercar to be produced in the Middle East. At $3.4 million dollars, it is the third most expensive car ever made behind the Lamborghini Veneno ($4.5 million) and the Koenigsegg CCXR Trevita ( $4.8 million). With only 7 expected to be produced, the Hypersport is also among the rarest. Housing a 3.7L flat six motor with an estimated 750 horsepower that can go a top speed of 239mph, the Hypersport certainly brings power and speed to the table, but it's the added options that bring up the price tag. Options like diamonds, rubies, yellow diamonds, and sapphires integrated into the headlights, which are made up of titanium LED blades containing 420 diamonds, or the leather interior featuring gold stitching. Each unit sold also comes with a special edition Cyprus Klepcys watch worth over $200,000 so you can wear a piece of your car wherever you go. A Lykan Hypersport was featured in the most recent Fast and the Furious film.
9. LAMBORGHINI VENENO
$4.5 million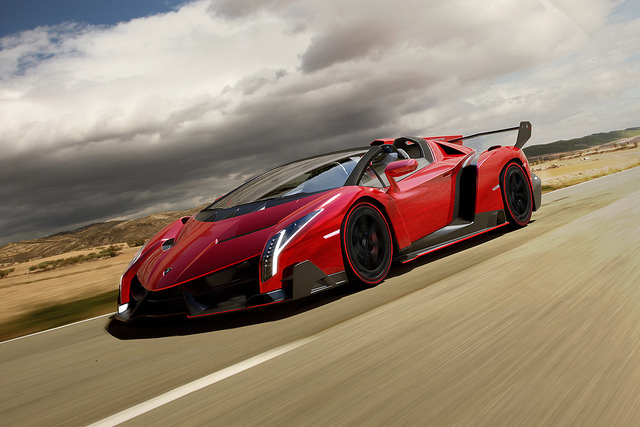 In celebration of Lamborghini's 50th birthday, the company created the ultra-expensive and exclusive Veneno. Named after one of the strongest and most aggressive fighting bulls ever, the Veneno is powered by a 6.5 liter V12 that produces 740 horsepower. Only 5 were ever made, 2 for the company and 3 for customers. One of the Venenos, with red accents, went to Antoine Dominic, owner of Lamborghini Long Island. The second, with green accents, went to Kris Singh, a car collector from florida. The third, accented in white, went to an unknown customer in Macau. The Veneno retailed for $4.5 million dollars, and all the customers purchased them sight unseen, only being given artist's renderings of the vehicle. The original production Veneno, dubbed "car zero" resides in the Lamborghini museum.
10. KOENIGSEGG CCXR TREVITA
$4.8 million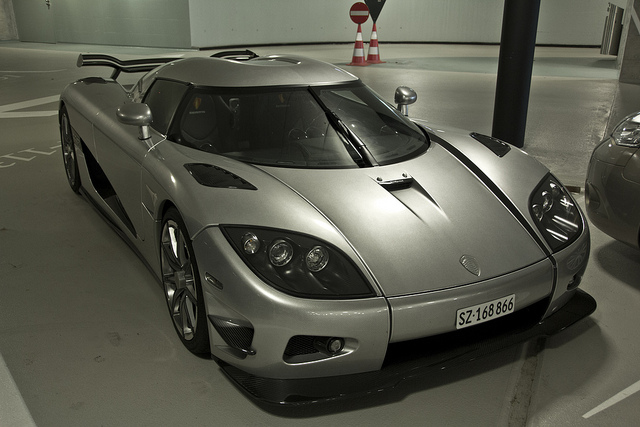 The Koenigsegg CCXR Trevita is a limited edition of the Koenigsegg CCXR, featuring a diamond weave carbon fiber finish. This is a new and unique method to manufacture carbon fiber. Using this method Koenigsegg was able to coat the fibers with a diamond finish. Three were planned to be produced, but because of the complexity to make the special white carbon fiber, only two were ever made, making it one of the rarest vehicles produced by Koenigsegg. Both cars featured the Koenigsegg Shimmering Diamond Weave bodywork, double carbon rear wing, inconel exhaust system, carbon ceramic brakes with ABS, airbags, paddle-shift, chrono instrument cluster, infotainment system, tire monitoring system, and a hydraulic lifting system. Floyd Mayweather and a man in Geneva each own one of the Trevitas.
(carophile.com)
Comments
comments