Introduction
The Kodak PixPro AZ901 is a new superzoom compact camera with an incredible 90x optical zoom lens, offering an effective focal range of 22-1980mm. The AZ901 also features a 20 megapixel CMOS sensor, Optical Image Stabilisation (OIS), 5 frames-per-second burst shooting, 3.0" articulating LCD screen, VGA dioptre adjust EVF, support for JPEG and RAW file formats, 1080p Full-HD video capture, Wi-Fi connectivity and wireless control with your iOS/Android device. The Kodak PixPro AZ901 is available now for around £400 / $450.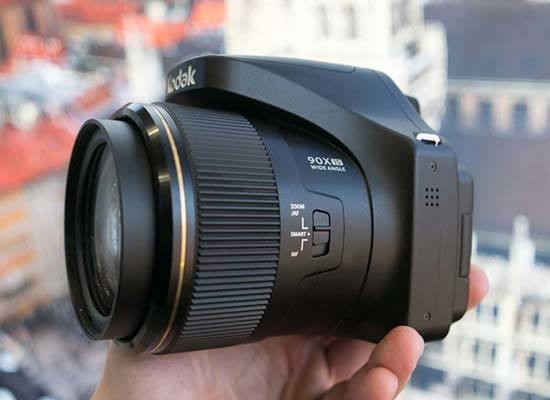 Ease of Use
New from Kodak licence holder JK Imaging – although originally announced over a year ago – is the PixPro AZ901, a 20-megapixel DSLR-styled bridge camera that arrives with the chief selling point of a whopping 90x optical zoom.
It comes with a launch price tag of £449.99 at the time of writing, which puts the Kodak branded model into close competition with the likes of Nikon's 83x optical zoom CoolPix P900 for a similar price and/or Canon's PowerShot SX540 HS, the latter offering a more modest but arguably more manageable 50x zoom. Higher priced alternatives for those in the market for a photo enthusiast-targeted all-in-ones also include the Panasonic DMC-FZ2000, a higher-end bridge camera with a higher-end price tag – yet relatively modest 20x optical reach by comparison – plus Sony's well-received RX10 IV, a 25x optical zoom behemoth of a camera at almost twice the price again of the Panasonic.
The Kodak's necessarily optically image-stabilised lens starts out at an ultra wide 22mm equivalent setting in 35mm film terms, and stretches up to 1980mm equivalent at the telephoto end of the zoom, with available apertures ranging from f/3.1 to f/6.8. Nikon's P900 matches this quite closely, starting out at a respectably wide equivalent of 24mm and stretching to 2000mm. Both cameras have a 3-inch tilting LCD screen at the rear. When it comes to capturing and reviewing stills and video, the Kodak also offers an eye level electronic viewfinder, though we missed the fact that there isn't an eye sensor ranged alongside it. As it is, if you want to swap between LCD and eye-level finder you have to press the dedicated button next to it, which, for us, interrupted what could have otherwise been a seamless compositional 'flow'.
Front of the Kodak PixPro AZ901
From the front, first appearances are nevertheless reassuring when it comes to the PixPro AZ901. It features a familiar DSLR type styling reminiscent of every bridge camera going, a pop up flash hidden atop the huge lens barrel, at the very back of which we find its aforementioned eye-level viewfinder. The lens barrel features a dual-use, ridged lens ring with a thumbnail-operated switch at its side. Said switch allows for the lens ring's use to be swapped between either manual focus ring, or zoom ring with auto focus, as the user desires. A 'smart' middle setting for this switch is interesting, allowing, for example, the adjustment of exposure compensation in Program mode with a twist left or right of the lens ring; the adjustment of shutter speed if in shutter priority mode; or the selection of aperture f-stop settings in aperture priority or manual modes, once said modes have, in turn, been selected via the camera's familiar top plate shooting mode dial.
To the left of the huge zoom lens (if examining the camera from the front) is a tiny AF assist/self timer lamp, tucked in between lens barrel and camera grip, the latter of which affords enough space for three fingers to curl around comfortably, while your thumb rests at the back and forefinger hovers over the shutter release button. We found the shutter button release a little too obviously plastic in feel and construction, however, plus the zoom lever that surrounds it also a tad loose feeling for our liking. The zoom mechanism is also quite noisy in use, sound-tracked by a low gnat-like buzz, and it is also a little lethargic in terms of responsiveness; the lens taking 4 to 5 seconds to travel from extreme wide angle setting to maximum telephoto.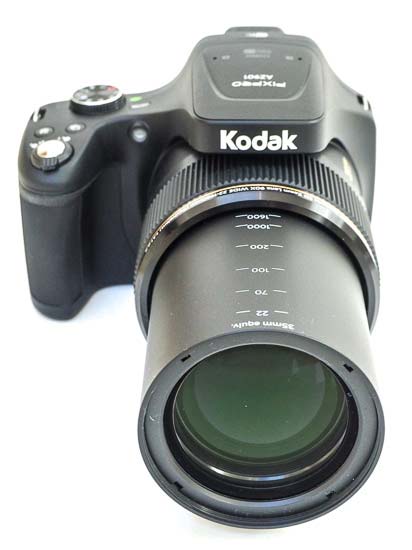 Front of the Kodak PixPro AZ901
It may be that this camera offers a whopper of a focal length for the investment, but that investment is still just £50 shy of £500, which isn't inconsiderable. Like many competitors, equivalent focal lengths are however marked in stages on the lens barrel itself, which is a neat touch – such settings therefore only reveal themselves when the lens is being extended. And on a more positive note still, the camera otherwise feels solid and well built in the hand. It's too big for even a roomy jacket pocket however, so a rucksack or shoulder bag is recommended for transportation. We do however get a shoulder strap and click on lens cover in the bag.
Positioned at the rear of the Kodak AZ901's pop up flash are pin-prick sized holes for the built-in stereo microphone; sound quality isn't bad at all for video (with up to Full HD clips offered here), delivering a nice clear sound. Also on the top plate is an indication that the camera features built-in Wi-Fi, while a small lozenge shaped on/off power button sits adjacent to the raised bottle top style shooting mode wheel. The latter boasts a roughened edge to aid grip and stop fingers slipping when rotating it in the heat of the photographic action, while the power control is recessed into the body to avoid accidental activation/deactivation. That said, we did find the camera randomly powered down on occasion, after only having been in operation for a few seconds, which was frustrating.
The shooting mode dial features familiar icons for familiar settings – so anyone who has used a compact point and shoot in the past, before smartphones destroyed that market, shouldn't be daunted by the 10 strong selection here, which of course include a fully auto point-on-shoot option anyway. The others include the familiar Program, Aperture Priority, Shutter priority and Manual settings, alongside Custom Settings mode, a Portrait/ 'Face beautifier' mode, Wi-Fi mode, user-selectable subject-optimised Scene mode and Movie mode.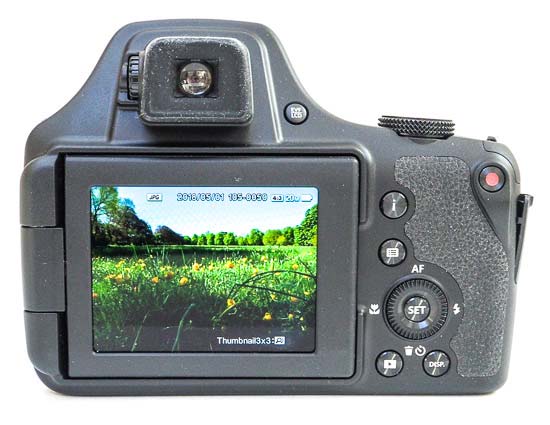 Rear of the Kodak PixPro AZ901
Just forward of the dial, moving towards the front edge of the hand grip are positioned two identically sized recessed buttons for swapping drive mode between single shot and continuous capture, or adjusting exposure control and ISO. The latter isn't obvious until you start experimenting with the camera, whereby a press of this button highlights the +/- 3EV exposure compensation, settings incrementally adjusted via a subtle spin of the rotational wheel/four-way controller at the camera back, with a subsequent right hand press hopping the selection over to ISO settings, which are in turn adjustment via this scroll wheel. It isn't obviously, as I say, and a dedicated ISO button (rather than a dual use one) would have been more preferable, speaking personally.
The light sensitivity settings on the Kodak are a tad limited for an enthusiast camera, with the max manual selectable setting being ISO3200. When you see the noise intruding into images at ISO1600 or ISO3200 and the drain of colour information, however, you start to understand why.
Ultimately of course, we're dealing with a relatively modest 1/2.3-inch sensor at the heart of this camera, even if its light gathering qualities are (on paper, at least) slightly enhanced by it being backside illuminated. So, despite a hand held night photography option to be found amongst this Kodak's scene-optimised settings, that takes a burst of images and composites them together in an attempt to avoid visible camera shake and resultant blur, this isn't really one for low light work. This fact is perhaps communicated by the fact that the flash will automatically pop up very often in daylight settings, where you might imagine there was already sufficient available light to help achieve a sharp shot. Luckily the flash settings include the option to disable its use, along with the standard forced flash and forced flash with red eye reduction options.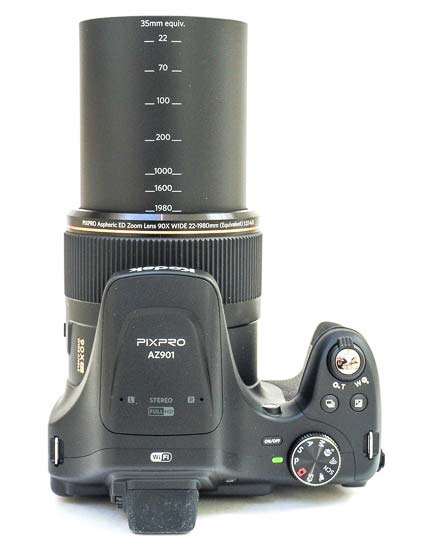 Top of the Kodak PixPro AZ901
At the topper-most, forward edge of the camera's handgrip, as expected, we find a toggle switch for the zoom, ergonomically encircling the shutter release button. The lever's forward lip falls comfortably under the pad of the forefinger, such that you can 'feel' your way to your preferred focal length while your eye is otherwise glued to the electronic viewfinder, the quality of which is perfectly respectable in terms of provided detail and colour. As noted earlier, it's just a shame that an eye sensor isn't included when switching between use of the rear plate 3-inch LCD and the smaller eye level finder – for example something you might want to do quickly when shooting in bright sunshine.
The backplate of this camera is, expectedly, dominated by the LCD screen, which, while it is not a touch screen, is at least articulated to provide a degree of flexibility and features a standard 920K-dot resolution, which is sufficient for purpose. The adjustability ensures that the monitor can be turned to face screen-inwards to the body for added protection when transporting, as well as flung out parallel to the body and twisted so the screen faces the subject for possible selfies.
Undoubtedly the LCD's flexibility also aids high or low angle shooting, and the added degree of choice when it comes to framing is to be welcomed, which is why it has fast become a feature we now expect to find on our digital cameras. Also found on this camera, as expected, is the ability to shoot Raw files instead of, or in tandem with, standard JPEGs. Shooting both together however sometimes results in an on-screen message that the image is still being saved as you attempt to quickly review it, suggesting the camera would have benefitted from a faster processor. It certainly can't compare to a DSLR on that score.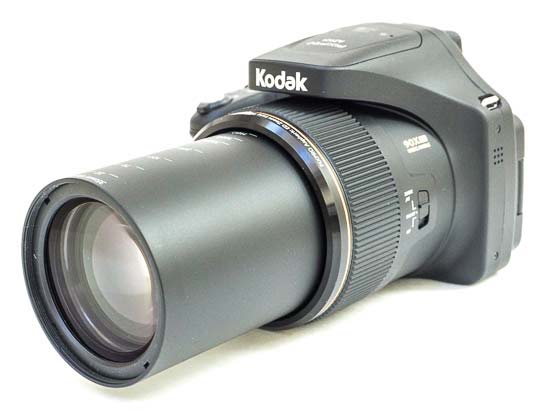 Side of the Kodak PixPro AZ901
The other buttons on the Kodak's backplate include a familiar red video record button conveniently located top right, where it falls under the thumb, and is again partly recessed to avoid accidental activation. It's responsive in use. We also get a dedicated function/menu button that brings up two rows of shooting mode icons left and right of screen; these include options for metering, white balance, macro mode (letting us focus as close as 5cm, instead of the standard 50cm on this camera) and run-of-the-mill self-timer settings. The centre piece of the back plate, however, is the four-way control pad encircled by the aforementioned scroll wheel, arranged around which are dedicated settings for auto focus, flash, macro mode (on or off) plus a dual-use self timer (again) and delete button. The bottom buttons meanwhile are playback and display – again self-explanatory.
While one flank of the camera features a built-in speaker, the other features a rubber flap, flicked open or shut with the aid of a thumbnail, protecting micro USB and HDMI ports. The base of the camera features an off-centre screw, meanwhile, next to a compartment housing both the provided lithium ion rechargeable battery and a spare slot for inserting the optional SD card (8MB of internal memory is otherwise offered – barely enough for one image). Battery life is meanwhile good for 400 shots, which is more than respectable.
But what of the images that the Kodak PixPro AZ901 delivers and, if you need the giant focal range on offer, should you really be considering this one as your next super zoom, bridge camera, or all-in-one camera purchase? In short, however you want to classify it, is it actually worth owning when the fruits of its labours are examined? Read on to find out…
Image Quality
All of the sample images in this review were taken using the 20 megapixel Fine JPEG setting, which gives an average image size of around 6Mb.
We have to say that, even with perfect lighting and conditions, the results we got from the Kodak Pixpro AZ901 were rather mixed. Yes, it allowed us to get some images that we would never have attempted otherwise – a close up of a skittish squirrel on a tree trunk being amongst our favourites – but too often, with some very visible fall off of focus towards the edges of the frame, it appears as if someone has smeared the periphery of the lens with Vaseline. Forgivable if your attention is on the subject in the centre, but for wide vista style landscape shots it's a tad frustrating to witness the corner details blurred at maximum wideangle setting – and this is not only visible when zooming in and checking closely for any aberrance, but when viewing the image in its entirety.
For low light work too, the camera hardly covers itself in glory. Manually selectable light sensitivity range is a modest ISO100 to ISO3200, with noise intruding upwards of ISO800; which one would have expected at a time from a sub-£200 point and shoot camera with the same 1/2.3-inch sensor, but is slightly less forgivable when the camera costs just under £500.
Sure, we're getting that whopper of the zoom and the creative range it provides is welcome, despite the fact that softness of detail inevitably creeps in the further zoomed in you are, and it is tricky to hold the camera steady enough to get your framing spot on; though it is possible after a couple of attempts and with some perseverance. But it's the noisy images this camera delivers, and the fact that wide-angle shots have visibly soft edges from the get-go, that mean, for us, the AZ901 can't help but disappoint, despite its obvious scope and potential. It feels a bit like a fudged, or possibly missed, opportunity on that score.
Noise
The Kodak PixPro AZ901 has seven sensitivity settings ranging from ISO 100 to 6400 for both the JPEG and Raw file formats.
| | |
| --- | --- |
| JPEG | RAW |
| ISO 100 (100% Crop) | ISO 100 (100% Crop) |
| | |
| | |
| ISO 200 (100% Crop) | ISO 200 (100% Crop) |
| | |
| | |
| ISO 400 (100% Crop) | ISO 400 (100% Crop) |
| | |
| | |
| ISO 800 (100% Crop) | ISO 800 (100% Crop) |
| | |
| | |
| ISO 1600 (100% Crop) | ISO 1600 (100% Crop) |
| | |
| | |
| ISO 3200 (100% Crop) | ISO 3200 (100% Crop) |
| | |
| | |
| ISO 6400 (100% Crop) | ISO 6400 (100% Crop) |
| | |
Macro
The Kodak PixPro AZ901 can focus as closely as 5cm from the subject using the dedicated Macro shooting mode.
Flash On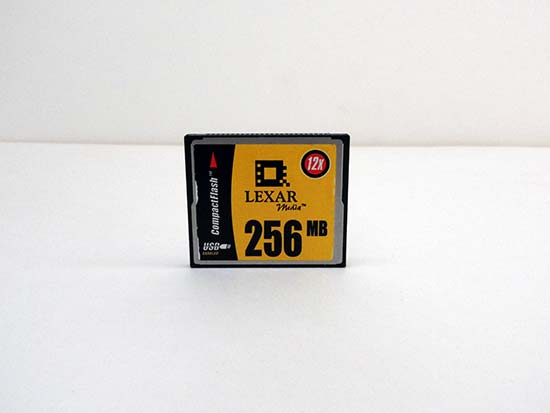 Flash
The Kodak PixPro AZ901 offers the following flash modes – Auto, Red-Eye Reduction, Fill Flash, Force Off, Slow Synchro, Red-Eye Reduction + Slow Synchro.
With or without red-eye reduction, the Kodak PixPro AZ901 successfully avoided red-eye during our testing.
Flash On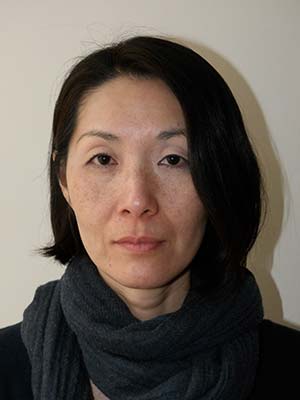 Night
The Kodak PixPro AZ901 's maximum shutter speed is 30 seconds, which is good news if you're seriously interested in night photography.
Night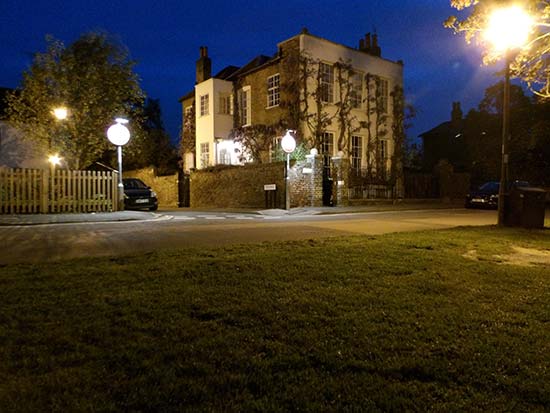 Sample Images
This is a selection of sample images from the Kodak PixPro AZ901 camera, which were all taken using the 20 megapixel JPEG setting.
1/324s · f/4.6 · ISO 100 – 224mm (35mm)
1/564s · f/4.6 · ISO 100 – 224mm (35mm)
1/741s · f/4.3 · ISO 100 – 22mm (35mm)
1/741s · f/7.4 · ISO 200 – 1980mm (35mm)
1/916s · f/4.5 · ISO 200 – 166mm (35mm)
Specifications
Manufacturer
Kodak
Lens
Max Aperture
f/3 – f/6.2
35mm equivalent
22mm – 1980mm
Optical Zoom
90x
Image Sensor
Pixels
20Mp (Megapixels)
Pixels (W)
5184
Pixels (H)
3888
Sensor Type
Back-lit CMOS (B.S.I.)
Sensor Size
1/2.3inch
Sensor Size (width)

No Data

Sensor Size (height)

No Data

Aspect Ratio
LCD Monitor
LCD Monitor
3in
Screen resolution
920k dots
Touch Screen
No
Focusing
Min Focus
5cm
Focusing modes
Exposure Control
Shutter speeds shortest
1/2000sec
Shutter speeds longest
30sec
Bulb mode

No Data

Exp modes

Program
Aperture-Priority
Shutter-Priority
Manual
Scene modes
Program Variable

Metering

Centre-weighted – Average
Multi Pattern
Centre Spot

ISO sensitivity
100 – 3200
White balance

Auto
Manual
Outdoors/Daylight
Cloudy
Incandescent
Fluorescent

Exposure Comp
+/-3
Shooting Options
Continuous shooting
5fps
Video
Movie mode
Yes
Video Resolution
Video FPS
30fps
Stereo Sound
Yes
Optical Zoom with Video
Yes
Other Features
Image Stabilisation
Yes
Interface
HDMI
Yes
USB
USB 2
Wi-Fi
Yes
Storage
Card Type
File Type
Power Source
Battery Type
Lithium-Ion
Battery Life (CIPA rating)
400shots
Box Contents
Box Contents

No Data

Dimensions
Weight
777g
Width
138.7mm
Height
103.5mm
Depth
118.5mm
Conclusion
On the plus side, Kodak remains one of the most recognised names in the field of photography. But, unfortunately, that probably wouldn't be the case if cameras like the AZ901 was what its reputation had originally been built on; despite the long wait between the model's announcement back in early 2017 and its eventual appearance for review in 2018, our impression is that it is not quite 'ready' yet – or at least leaves something to be desired in terms of overall image quality.
What you want from any camera is consistency in its results. Unfortunately, what we got from the AZ901 was constant softening of corner detail on our wider-angle shots, and inevitable softness the closer we went to maximum telephoto setting also. Photography (or video) at the higher ISO settings also suffers. On an enthusiast level camera, we'd want to be able to achieve usable results over ISO800, but at ISO1600 and ISO3200 we're seeing a lot of noise that signals the manufacturer was right to not even attempt a (fairly standard by today's terms) ISO6400 option.
On a more positive note, the huge, broad focal range on offer here will allow you to achieve shots that you would otherwise have missed (even if the zoom mechanism is itself noisy), which is certainly a bonus, as is the lens reach when it comes to filming video, the stereo audio for which is bright and clear in terms of sound quality. But whether the occasionally pleasing image, or video, is worth nearly £500 of anyone's money if the camera and lens combination cannot get it right nearly all the time is up for debate.
(photographyblog.com, http://bit.ly/2LeUvdq)