Triathlons are one of the most physically challenging activities out there and do require a lot of training. Athletes training for triathlons have to go rigorous training and track all of their activities and workouts in order to make sure that they give their best performance. The Smartwatch makers have made all kind of watches like Fitness Tracker, Gps watch, and Heart rate tracker. So, That's why they also made the Watch for the athletes.
Basically, Triathlon is mixtures of three athletic contest consisting of three different events, typically swimming, cycling, and long-distance running. So, Triathlon watch also works on three modes as swimming, running, and cycling.
There are a lot of triathlon watches out in the market and made solely to help athletes track all the necessary information like their heart rate, calories burned, duration of workout etc. If you are preparing for a triathlon and are in search of the best triathlon watches, today we have compiled a list of the best triathlon watches out there to help you narrow your search.
Garmin Forerunner 735XT
Garmin no needs an introduction in making any kind of smartwatch. They have a huge lined up a category for the smartwatch. The Garmin Forerunner 735XT is Triathlon smartwatch. Talking about the features Garmin is providing you a complete instructor on your wrist.
The watch is programmed to record all your daily activity and keep sync the data to your smartphone. It also shows all the notification like Calls, Chats, Email, and others as well. The Garmin Forerunner 735XT is the best watch for the athletes who are preparing for the triathlon because it has three modes as Swim, Running, Cycling. The watch is GPS enable also so it will let you each step you have taken and how much time, Distance you have traveled. The smart analysis also compares the data with previous dates so you will get a better idea of your improvements. Here is the features which you need to know:
Wrist-based heart rate measuring.
Advanced stats for swimming, running, and cycling.
Smart notifications for any call or text alerts you receive on your Smartphone.
Auto-upload of workout data to the Garmin Connect platform.
Connect IQ store support to use apps, and watch faces.
Battery life of up to 6-8 days.
Water-resistant for up to a maximum pressure of 5 ATM.
Predict your biking race time with VO2 max feature.
Improve your running form by analyzing data like stride length, vertical ratio, and contact time balance.
The Garmin Forerunner 735XT is available in three color variants: Black, Black/Gray, and Midnight Blue/Frost Blue.
Garmin Forerunner 35
The Garmin Forerunner 35 another best smartwatch for the Athlete. The square shape design attracts more then it's featured. There are Four physical buttons are available on the watch through them you can easily navigate to watch functions. The Garmin Forerunner 35 is paired with a compatible smartphone, it pulls text, social media, and other notifications, and it alerts you on your wrist.
There is a GPS sensor inbuilt to keep track of the distance, pace, and location of your run. The watch is also featured with a training partner which will help you to train in different modes as Run, Sprint, Race, Swim, Bike. Here are the features which you need to know:
The watch makes use of Garmin Elevate technology in order to monitor your heart rate from within your wrist 24/7.
Vibration alerts to notify if your workout milestones are achieved or for running prompts.
All your workout data are automatically uploaded to the Garmin Connect platform. Using the Garmin Connect platform, you will be able to check details of your workout routine, interact with the fitness community for free, and share your workout progress.
Count your steps and calories burnt.
About 5 days of battery life.
The Garmin Forerunner 35 is available in four colors: Black, White, Frost Blue, and Limelight. You can also buy the watch as a bundle with either a body strap or a bike mount.
Garmin Forerunner 645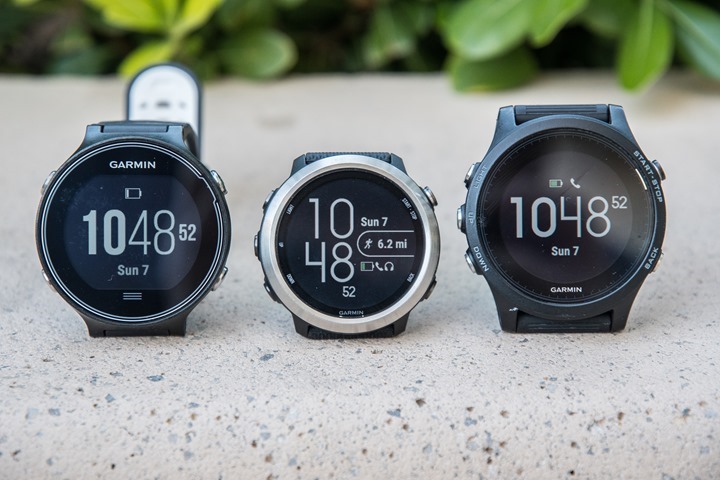 Garmin Forerunner 645 – 630 – 935
The Garmin Forerunner 645 is one of the most premium triathlon smartwatches. It has two variants one without Music storage and another comes with Music storage. The watch also supports the wireless payment feature with the latest update. The interesting things about the watch are you can install tones of other Fitness Apps on the watch. To do that you need to connect the watch to your smartphone through Connect IQ App.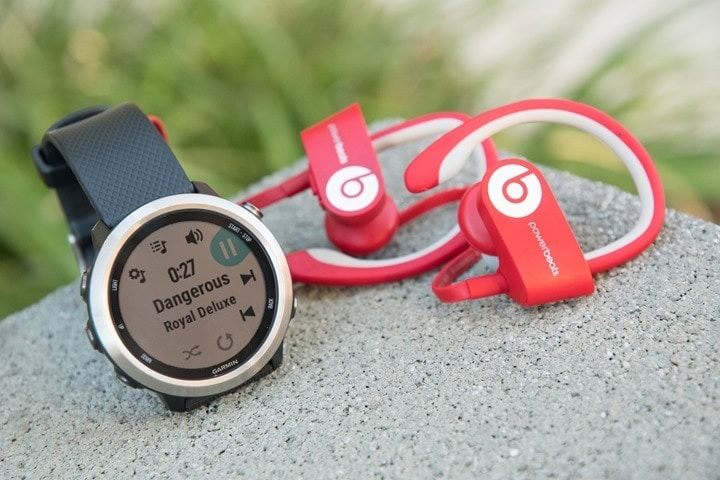 After that, you will be able to install the other fitness apps. Here are some of the key features of the Garmin Forerunner 645:
Support for Garmin Pay, which is a virtual payment solution that lets you connect the watch to your debit/credit card and make payments.
Workout monitoring using your heart rate to analyze the status of your present training.
Smart notifications to get alerts when you receive calls or texts.
Workout data is automatically uploaded to the Garmin Connect platform.
LiveTrack feature to allow others to track your run.
Connect IQ store support to download and use watch faces and applications for the watch.
12 hours of battery life when GPS is ON and 7 days of battery life is GPS is OFF.
The Garmin Forerunner 645 is available in three colors: Sandstone, Cerise, and Black.
Timex T5E901 Ironman Classic
You must be wondering on listing this watch because it's not a smartwatch. The Timex T5E901 is a digital display. The Timex T5E901 Ironman Classic is the cheapest triathlon watches. The watch has all the basic features like Water-resistance, Lap Time Counting, different modes of the sport.
The features offered by the watch are:
Performance-oriented design.
Stopwatch with memory that can store up to 30 laps.
Support for alarms.
Countdown timers that can go down all the way for 24 hours.
Watch strap is made of resin.
Water-resistant up to 100 meters deep.
Lithium-metal non-rechargeable battery.
The Timex T5E901 Ironman Classic is available in two color variants: Black/Gray and Black/Blue/Silver-Tone.
Garmin Vivoactive
The Garmin Vivoactive is one of the best selling triathlon watches from the manufacturer. The slim design and square dial of the watch is the key point of selling. The touch display of the watch lets you choose the modes like Running, Swiming, biking, etc. The built-in GPS of the watch will let you see your stats while you are not connected to your smartphone. You can also install other fitness apps but for that, you have to connect with Connect IQ app. The watch provides 3 Weeks of battery on activity modes and up to 10 hours on using GPS.
The features offered by the watch are:
High-resolution touch-screen display.
GPS sensor inbuilt.
Get notified when you receive a text or a call on your Smartphone with Smart Notifications.
Up to 3 weeks of battery life without enabling GPS, and with GPS enabled, the battery can last up to 10 hours.
Tracking for activities like running, biking, swimming, golfing, and walking.
Option to find you connect Smartphone by remotely ringing it.
Support for Connect IQ store to use apps, widgets, and watch faces.
Tracks your distance, pace, and steps.
All data automatically synced with the Garmin Connect platform.
The Garmin Vivoactive watch is available in black color and can be bought with or without a heart rate monitor.
Garmin Forerunner 920XT
Another best triathlon watch from Garmin is the Garmin Forerunner 920XT. The 920XT is a complete training for your fitness. It can capture detailed likes swim metrics, including distance, pace, stroke count, stroke rate. The high-end color display able to show you all notification like Calling, massaging, alerts as well.
The watch is able to do a lot more functions:
GPS-enabled multisport watch.
Estimate the VO2 max for cycling by using a power meter.
Predict your race time using heart rate monitor and recovery time.
Measure cadence, ground contact time, and vertical oscillation.
Record the distance, ascent or descent, speed, grade etc.
Smart Notifications to be notified about any incoming phone calls, emails, reminders, and texts messages.
Battery life of up to 3-5 days.
Let your family and friends follow your training and races with Live Tracking.
Automatic upload of training data to the Garmin Connect app.
All-day-long tracking of sleep, steps, and calories burnt.
The Garmin Forerunner 920XT is available in Black/Blue color.
Garmin Forerunner 910XT
The design of the watch is similar to the Garmin Forerunner 920XT but not the features. This is the older version of the 920XT. It may not have all the features of the 920XT but still, have enough for an athlete. The watch has In-built GPS-enabled which let you know how many kilometers, Steps, speed you have gained while training. It has all the modes like Swin, Run, Biking, Hiking.
Below are the features offered by the watch:
Track distance, time, pace, heart rate and elevation.
Suitable for running, cycling, and swimming activities.
Up to 20 hours of battery life.
Data uploaded to Garmin Connect to view later.
Water resistance up to 50 meters.
The Garmin Forerunner 910XT is only available in black color.
Polar V800
Last but not the least. This is a one button watch means, unlike other smartwatches you don't have to select the mode of the activity. All you have to do is just press one button and it will automatically set on the Triathlon Mode. The watch will detect the activity and record the data. There are also modes like advanced training modes which will let show you how much calories you have burn and heart rate during activity and other details. The watch is GPS enabled so in case you are not connected to the smartphone it will still keep the data and later on you can sync it with the smartphone.
Below are the features of the Polar V800:
Inbuilt GPS to track your speed, route, and distance.
Create a custom profile for individual sports and track the exact data you need.
Waterproof up to 30 meters.
24/7 activity tracking.
Track the steps, and calories burnt.
Data uploaded to the Polar Flow app to let you deeply analyze your performance.
Motion Alerts that prompts to move when the user is inactive for a long period of time.
Smart Notifications for calls, text messages, reminders, etc.
The Polar V800 is available in four color variants: Black, Blue, Blue/Red, and Red.
Final Words
So guys, we have listed the best triathlon watches out there that also offer great value for money. If you are using some other triathlon watch other than the ones mentioned in this list, then leave a comment below mentioning the name along with a review of the watch.
(technosoups.com, https://goo.gl/7goCXi)
Comments
comments