Samsung has unveiled an even bigger version of its flagship curved screen smartphone together with a new "phablet," as it bets on larger displays to lure users away from Apple's iPhones.
The dual-curved screen S6 Edge Plus follows on from its predecessor the S6 Edge, which was unveiled earlier this year, but with a bigger 5.7 inch display. The South Korean electronics giant also launched a 5.7 inch phablet called the Galaxy Note 5.
Until Apple released its 5.5 inch iPhone 6 Plus last year, Samsung was the go-to choice for big displays. Now analysts see Samsung's latest device launches as a response to Apple's bigger handset.
"Clearly this year Samsung has had renewed competitive pressure because for the first year Apple have had larger screen iPhone models," Ian Fogg, head of mobile at IHS, told CNBC by phone.
What's new?
Samsung tests trucks that you can see through.
Users had criticized the lack of functions on the curved S6 Edge screen. For the Plus, Samsung has added a feature called "apps edge" which allows quick access to favorite apps. It has al
so enhanced the "people edge" feature which allows users to quickly call or message their top contacts. Samsung added new camera features such as the ability to live broadcast from the phone. The device is also compatible with SideSync which allows the contents of the phone screen to be projected onto a PC or laptop monitor. The S6 Edge Plus will be available globally by the end of the month.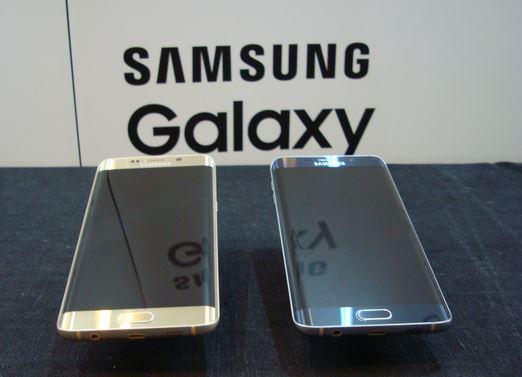 Samsung's Note 5 comes with a stylus that springs out, a feature some analysts say is a differenitator for the phablet. The device will be available in the U.S. and "key Asian markets" this month and then will roll out to other regions. "
(It's) back to the basics with the S6, S6 Edge and the S6 Edge Plus. We are now just focusing on what can bring added value to the people," Jean-Daniel Ayme, deputy president of Samsung Mobile Europe, told CNBC in an interview.
'Extremely tough' market
Samsung has had a hard time in the smartphone market over the past year being put under pressure by the likes of Apple at the high-end and Xiaomi in the mid- and- lower-tier categories. In the second quarter of 2015, Samsung's global smartphone market share declined 2.3 percent year-over-year, according to IDC, but it was still the biggest handset player in the world.
But there were signs of hope. Profit for the mobile division in the second quarter rose to 2.76 trillion won ($2.3billion) in the April-June period from 2.74 trillion won in the first quarter thanks to healthy demand for its flagship Galaxy S6 and curved-screen S6 edge devices launched in early April. This is still down on year-over-year terms.
But analysts said that given the extremely competitive landscape, Samsung have managed to still keep on top.
"The grim reality of the smartphone market is that it is extremely tough, and Samsung is doing a respectable job in the face in the market," Ben Wood, chief of research at CCS Insight, told CNBC.
"Yes it's tougher for them, but they are still the biggest phone maker on the planet and they still make money and sometimes people lost sight of that."
Samsung Pay
Elliott fires latest salvo in battle with Samsung
Earlier this year, Samsung unveiled its mobile payments system called Samsung Pay. This will allow customers to store their card details in a "mobile wallet" and pay using their smartphone or any other Samsung devices.
The platform will roll out in the U.S. and South Korea first and then later in the U.K. Samsung did not give any specific information on timings.
Samsung Pay will initially work with the S6 Edge and the Note 5. The payment system works using near field communication (NFC) technology. But unlike Apple Pay, Samsung Pay also uses magnetic strip technology in order for users to pay for items using their mobile devices. This, Samsung claims, will allow it to work with over 90 percent of the world's retailers.
(moneycontrol.com)
Comments
comments