NVIDIA today launched their latest mainstream graphics card, the GeForce GTX 950, which features a suggested retail price of $159 and uses the GM206 Maxwell GPU. That GPU might sound familiar to those that keep up with the graphics card market as it is the same exact GPU that NVIDIA is using on the GeForce GTX 960 ($199). NVIDIA disabled some things to help differentiate this card from the GeForce GTX 960 and was able to bring it to market at a lower price point.
For this card NVIDIA is targeting it to the millions of gamers around the world that play MOBA (Massive Online Battle Arena) game titles like DOTA 2,  Heroes of the Storm and League of Legends. MOBA game titles have seen explosive growth over the past several years yet only modest system hardware is needed to play those game titles. There are tons of gamers out there with 3+ year old video cards playing these game titles and NVIDIA is looking to get those people to update their system to one of these new cards. With the recent release of Windows 10 and DirectX 12 there are likely a good number of gamers out there that are looking for a more powerful graphics card that is more power efficient, quieter and supports all the latest features like DX12.
let's take a quick look at our specifications table to see what is different on the GeForce GTX 950 since it uses the same basic GM206 GPU as the GeForce GTX 960.
| | GTX 960 | GTX 950 | GTX 650 Ti | GTX 650 |
| --- | --- | --- | --- | --- |
| GPU | GM206 | GM206 | GK106 | GK107 |
| Die size (mm2) | 227 | 227 | 221 | 118 |
| GPU Cores | 1024 | 768 | 768 | 384 |
| SMX Units | 8 | 6 | 4 | 2 |
| GPU Clusters | 2 | 2 | 2/3 | 4 |
| Base Clock (CUDA Cores) | 1127 MHz | 1024 MHz | 928 MHz | 1058 MHz |
| Boost Clock (CUDA Cores) | 1178 MHz | 1188 MHz | N/A | N/A |
| Texture Units | 64 | 48 | 64 | 32 |
| ROP Units | 32 | 32 | 16 | 16 |
| Memory | 2GB | 2GB | 1GB | 1GB |
| Memory Clock | 7000 MHz | 6600 MHz | 5400 MHz | 5000 MHz |
| Memory Interface | 128-bit | 128-bit | 128-bit | 128-bit |
| Memory Bandwidth | 112.0 GB/s | 105.6 GB/s | 86.4 GB/s | 80.0 GB/s |
| TDP | 120 watts | 90 watts | 110 watts | 64 watts |
| Peak Compute | 2.30 TFLOPS | 1.57 TFLOPS |  1.43 TFLOPS | |
| Transistor Count | 2.94B | 2.94B | 2.54B | 1.3B |
| Process Tech | 28nm Maxwell | 28nm Maxwell | 28nm Kepler | 28nm Kepler |
| MSRP | $199 | $159 | $149 | $110 |
NVIDIA disabled two SMX units and this resulted in the number of CUDA cores dropping from 1024 to 768. This is a 33% decrease in the number of CUDA cores. NVIDIA also reduced the number of texture units from 64 to 48, which is a 25% reduction.
NVIDIA left the memory configuration alone, so you still have a 128-bit bus although it's clocked at 6600 MHz instead of 7000 MHz. This reduces the memory bandwidth to 105.6 GB/s from 112.0 GB/s. NVIDIA also reduced the base/boost clock speeds as the base clock is 1024 MHz and the typical boost clock is 1188 MHz. The end result of all this is a card with 1.57 TFLOPS of compute power versus 2.30 TFLOPS on the GTX 960 reference card.
We wouldn't get too hung up about base/boost clock speeds though as the NVIDIA reference card was just for internal testing and for the add-in board partners to use to come up with their own designs.   We've seen cards from ASUS, EVGA, MSI, Zotac, Gigabyte and others that all come with much higher overclocks from the factory. The card that we are looking at today is the ASUS STRIX GTX 950 and it features a base clock of 1165 MHz with a boost clock of 1355 MHz right out of the box!
Let's take a closer look at the ASUS STRIX GTX 950 video card and then jump into looking at how it performs!
ASUS STRIX GTX950 DC2OC Overview and Retail Box
We have been told that ASUS will have just a single GeForce GTX 950 video card at launch, the ASUS STRIX GTX 950 DirectCU II OC (part number STRIX-GTX950-DC20C-2GD5-GAMING). This is a fully custom, factory overclocked card that carries an MSRP of $169.99. For that price you end up with a card that is said to be 11.5% faster than the NVIDIA reference card thanks to the 1329MHz core clock with a 1355MHz boost clock. The NVIDIA GeForce GTX 950 reference design has a base clock of 1024 MHz and a boost clock of 1188 MHz, so ASUS has a fairly healthy overclock on this card. ASUS did not overclock the memory on this cards 2GB of GDDR5 memory, so it remains stock at 6600 MHz.
The retail box for the ASUS GeForce GTX 950 STRIX graphics card is a pretty slick looking box. The front of the STRIX packaging above puts emphasis that this gaming graphics card has better and quieter cooling on it. TheASUS GeForce GTX 950 STRIX packaging points out that it is using the DirectCU II cooler for 20% cooler and and 3x quieter than the reference card for as quiet of a gaming experience as possible. Towards the bottom edge of the packaging ASUS lists out a couple more key aspects of the GeForce GTX 950 STRIX: Windows 10 Ready, NVIDIA GameWorks, NVIDIA G-Sync and Microsoft DirectX 12 API support.
The back of the ASUS GeForce GTX 950 STRIX packaging has no shortage of marketing text. The first feature that ASUS shows off back here is the DirectCU II GPU cooler along with the 0dB fan. From there it explains ASUS Auto-Extreme Technology With Super Alloy Power II for enhanced quality and reliability. The Super Allow power consists of a couple different components that all work together for the utmost efficiency and overclocking ability. The fourth and final feature on the back of the box is ASUS GPU Tweak II with XSPlit Gamecaster. The GPU Tweak II software is a handy little utility that makes overclocking the ASUS GeForce GTX 950 STRIX super simple even if you've never overclocked before. The XSplit Gamecaster makes it easy to record and share all your gameplay with the click of a button.
Opening up the ASUS GeForce GTX 950 STRIX packaging, the card is securely packed inside the box. No chance of it shifting in here and getting damaged! There certainly isn't much included with the ASUS GeForce GTX 950 STRIX, but not much is needed with it. There's a little bit of paperwork, driver and utility disc, STRIX case sticker, and of course the ASUS GeForce GTX 950 STRIX card!
ASUS STRIX GTX950 DC2OC Video Card Design
The ASUS STRIX GTX950 DirectCU II OC 2GB video card features the usual black design with red accents and measures in at 220 x 125 x 40 mm in dimension. This makes the STRIX-GTX950 just 8.7-inches in length, so you shouldn't have any issues fitting inside the vast majority of PC cases on the market now or in yesteryear.
The STRIX GTX 950 has a 5-phase Super Alloy II Power design that should give you plenty of smooth power and minimal choke noise. Up top you'll also see the two 8mm heatpipes that help transfer the heat from the GPU to the cooling fin arrays. The two wing-blade fans on the STRIX GTX 950 are 0db models, so they'll only spin up when the card reaches a certain operating temperature.
Along the top edge of the ASUS STRIX GTX 950 you'll find a single NVIDIA SLI multi-GPU interconnect for those that might want to combine two of these cards together for even greater performance.
On the other end of the top edge of the PCB there is the rear-facing 6-pin PCIe power connector. ASUS recommends at least a 350W power supply for their NVIDIA GeForce GTX 950 video card and that the +12V rail has a current rating of 24 Amps or higher.
Just below the connector on the black PCB you'll find two LED indicator lights that visually let you know if you connect the power properly. If the LED light is white you have the power cable completely plugged in and it is feeding the card power properly. If the LED indicator light is red it means that you don't have the power connector pressed in tight enough or there is a possible power supply issue.
The ASUS STRIX GTX 950 2GB video card does not come with a black back plate and we noticed that there are locations for more memory to be added, so it is possible that 4GB versions could be made down the road if there is market demand for such a card.
The 2GB of GDDR5 memory chips are made by Samsung and have the model number K4G41325FC-HC28. After looking up the part number we figured out that these 4th Generation GDDR5 SGRAM memory chips are rated at 0.28ns (7000MBps) with 1.5V of power.
ASUS went with three DisplayPort 1.2 outputs as well as single HDMI 2.0 and Dual-Link DVI-I when it comes to video outputs. ASUS includes a DVI to VGA adapter in the accessory bundle, so the STRIX-GTX950-DC2OC-2GD5 should be able to connect to pretty much any monitor that you own or that is coming out in the years ahead. It is nice to see some many DisplayPort connections as that it what you need to run NVIDIA G-Sync monitors and you can easily run a set of them out of the box with this card.
Here you can make out the two 8mm thick heat pipes that make up the DirectCU II GPU cooler. These heat pipes make direct contact with the GPU to ensure the best possible heat transfer. The heatsink on this card is 2.8x larger than the NVIDIA reference design! The DirectCU II GPU cooler design is certainly one of the big selling points of this video card.
On this particular the fans don't kick on until the GPU temperature hits ~65C. This means when you aren't gaming or are playing games that only slightly load the GPU the fans won't be running and you won't hear any fan noise from the graphics card!
We found that in game titles like League of Legends that the ASUS STRIX GTX 950 often had no running at all and at other times one or two fans would kick in. The reason both fans didn't kick in is because there are slight variations between fans as we were told by ASUS that there shouldn't be a single fan mode. NVIDIA said that most Multiplayer Online Battle Arena (MOBA) game titles will be able to run in silent operation!
The ASUS GeForce GTX 960 STRIX will be able to take advantage of the latest GPU Tweak II software from ASUS. The GPU Tweak software is able to display the specifications of the card, as well as the current status of of the card. The GPU Tweak II software also has a couple of overclocked presets that you can take advantage of, or you can make your own presets for the card. You can also use GPU Tweak II to set the card to either Silent Mode, Gaming Mode or OC Mode.
Gaming Mode: 1140 MHz Base / 1239 MHz Boost
OC Mode: 1165 MHz Base / 1355 MHz Boost
If you don't install ASUS GPU Tweak II software and just run the cards with the lastest NVIDIA GeForce drivers it will default to OC Mode clock speeds, so you get the most from the card without having to install any software applications and we really like that!
Now that we have a good understanding of what the NVIDIA GeForce GTX 950 is all about we can take a look at the test system and get straight into testing!
Test System
Before we look at the numbers, let's take a brief look at the test system that was used. All testing was done using a fresh install of Windows 10 Pro 64-bit and benchmarks were completed on the desktop with no other software programs running.  There has been some concern of people testing a cold card versus a hot card, but we've always done out testing 'hot' since the site started back more than a decade ago.
Video Cards & Drivers used for testing:
AMD CATALYST 15.7.1
NVIDIA GeForce 355.65
Intel X79/LGA2011 Platform
The Intel X79 platform that we used to test the all of the video cards was running the ASUS P9X79-E WS motherboard with BIOS 1501 that came out on 01/15/2014. We went with the Intel Core i7-4960X Ivy Bridge-E processor to power this platform as it is PCIe 3.0 certified, so all graphics cards are tested with PCI Express Gen 3 enabled. The Kingston HyperX 10th Anniversary 16GB 2400MHz quad channel memory kit was set to XMP Profile #2. This profile defaults to 2133MHz with 1.65v and 11-12-12-30 1T memory timings. The OCZ Vertex 460 240GB SSD was run with latest firmware available. A Corsair AX860i digital power supply provides clean power to the system and is also silent as the fan hardly ever spins up. This is critical to our testing as it lowers the ambient noise level of the room and gives us more accurate sound measurements than the old Corsair AX1200 power supply did.
Here are the exact hardware components that we are using on our test system:
The Intel X79 Test Platform

Component

Brand/Model

Live Pricing

Processor
Intel Core i7-4960X

Click Here

Motherboard

ASUS P9X79-E WS

Click Here

Memory

16GB Kingston 2133MHz

Click Here

Video Card
Various

Click Here

Solid-State Drive
OCZ Vertex 460 240GB

Click Here

Cooling
Intel TS13X (Asetek)

Click Here

Power Supply
Corsair AX860i

Click Here

Operating System
Windows 8.1 Pro 64-bit

Click Here

Monitor
Sharp PN-K321 32″ 4K

Click Here
ASUS STRIX GTX 950 DirectCU II OC 2GB Card GPU-Z Info:
Battlefield 4
Battlefield 4 is a first-person shooter video game developed by EA Digital Illusions CE (DICE) and published by Electronic Arts. It is a sequel to 2011's Battlefield 3 and was released on October 29, 2013 in North America. Battlefield 4's single-player Campaign takes place in 2020, six years after the events of its predecessor. Tensions between Russia and the United States have been running at a record high. On top of this, China is also on the brink of war, as Admiral Chang, the main antagonist, plans to overthrow China's current government; and, if successful, the Russians will have full support from the Chinese, bringing China into a war with the United States.
This game title uses the Frostbite 3 game engine and looks great. We tested Battlefield 4 with the Ultra graphics quality preset as most discrete desktop graphics cards can easily play with this IQ setting at 1080P and we still want to be able to push the higher-end cards down the road. We used FRAPS to benchmark with these settings on the Shanghai level. All tests were done with the DirectX 11 API unless noted in the chart.
Battlefield 4 is more CPU intensive than any other game that we benchmark with as 25% of the CPU is used up during gameplay. You can see that six threads are being used and that the processor is running in Turbo mode at 3.96GHz more times than not.
Benchmark Results: In Battlefield 4 with Ultra settings at Full HD 1080P resolutions we found that all three video cards were somewhat close, but the ASUS GeForce GTX 950 STRIX 2GB was more than 10% faster than the MSI Radeon R7 370 2GB video card.
Benchmark Results: Here is a look at the performance over time and you can see that the ASUS GeForce GTX 950 STRIX was faster than the MSI Radeon R7 370 across the entire benchmark run!
DOTA 2

DOTA 2 is a multiplayer online battle arena video game, the stand-alone sequel to the Defense of the Ancients (DotA) Warcraft III: Reign of Chaos and Warcraft III: The Frozen Throne mod. Developed by Valve Corporation, DOTA 2 was released as a free-to-play title for Microsoft Windows, OS X and Linux in July 2013. In August 2015 the most recent STEAM survey shows that at any given time of the day there are on average 600,000 people playing the game title with a peak of nearly 1 million. DOTA 2 uses the Source game engine by Valve.
We tested DOTA 2 at 1920 x 1080 screen resolution with VSync disabled. The rest of the settings we set to high or enabled. We did go into the console and raise the fps_max from 120 to 1000 to raise the frame cap ceiling  to set it to 1000 fps to better show the performance differences between the cards.  Without raising the FPS cap it should be noted that all the cards we tested had exactly the same average frame rate as they were at the frame rate cap for most all of the benchmark. We used Game 4 in the International grand championship match as our test replay. We ran FRAPS for 90 seconds starting at the 28:00 minute mark on the replay of CDEC vs EG. This part of the game is known as the 6 Million Dollar Echo Slam and is one of the memorable matches we've seen. The Match ID is 1697818230 if you'd like to download this section and try it out on your own system to see how it compares to our results.
In the replay that we used we found the GeForce GTX 960 and GeForce GTX 950 cards to offer very similar performance on our test system and we honestly couldn't tell a difference between the two cards in our system. The AMD Radeon R7 370 video card on the other hand was found to have lower performance. The minimum frame rate was down just 2-3 FPS, but the average was lower by nearly 10 FPS and the peak frame rate was 25 FPS lower.
Benchmark Results: Here is the FPS result charted over time and you can see how the NVIDIA GeForce cards appear to excel at the periods of the replay where not much action is going on, but the AMD and NVIDIA cards are very similar when you get a large number of Heroes in one area battling it out.
Grand Theft Auto V

Grand Theft Auto V, currently one of the hottest PC games, was finally released for the PC on April 14, 2015.  Developed by Rockstar, it is set in 2013 and the city of Los Santos.  It utilizes the Rockstar Advanced Game Engine (RAGE) which Rockstar has been using since 2006, with multiple updates for technology improvements.
In Grand Theft Auto V we set the game to run with no MSAA with 16x AF and high image quality settings as we didn't want the GPU to bottleneck the system too bad, but wanted a setup that your average gamer would actually play on.
Benchmark Results:In GTA V we ran the games built-in benchmark three times and averaged the numbers. The ASUS GeForce GTX 950 STRIX had a 70 FPS average versus the 64 FPS average on the Radeon R7 370 and the 82 FPS average on the GeForce GTX 960. The MSI Radeon R7 370 had the same peak frame rate as as the GeForce GTX 950, but the minimum was 24% lower and we care more about the minimums than anything else as that is usually when you notice a jitter or rough gameplay. 
Metro Last Light
Metro: Last Light is a first-person shooter video game developed by Ukrainian studio 4A Games and published by Deep Silver. The game is set in a post-apocalyptic world and features action-oriented gameplay with a combination of survival horror elements. It uses the 4A Game engine and was released in May 2013.
Metro: Last Light was benchmarked with very high image quality settings with the SSAA set to off and 4x AF. These settings are tough for entry level discrete graphics cards, but are more than playable on high-end gaming graphics cards. We benchmarked this game title on the Theater level.
We again found around 20% CPU usage on Metro: Last Light.
Benchmark Results:In Metro: Last Light the GeForce GTX 960 averaged 81.9 and the GeForce GTX 950 averaged 68.9 FPS, so while both have the same GM206 GPU it's clear that having more CUDA cores and higher clock speeds does help performance. The ASUS GeForce GTX 950 STRIX performed much better than the MSI Radeon R7 370 Gaming video card in this benchmark as it's average was nearly as high as the maximum framerate average!
Benchmark Results: Here is a look at our manual FRAPS benchmark! We are proud that we were able to run through the level with such precision and give you a look at how the cards stack up to one another over time.
Thief

Thief is a series of stealth video games in which the player takes the role of Garrett, a master thief in a fantasy/steampunk world resembling a cross between the Late Middle Ages and the Victorian era, with more advanced technologies interspersed. Thief is the fourth title in the Thief series, developed by Eidos Montreal and published by Square Enix on February 25, 2014.
We ran Thief with the image quality settings set at normal with VSYNC disabled.
Thief appears to be running on the six physical cores of the Intel Core i7-4960X processor and averages around 17-24% CPU usage from what we were able to tell from the CPU utilization meter that is built into the Windows 8.1 task manager.
Benchmark Results:The EVGA GeForce GTX 960 SSC 4GB video card averaged ~80 FPS, the ASUS Geforce GTX 950 STRIX  around 70 FPS and the MSI Radeon R7 370 was just shy of 60 FPS. Some pretty good scaling here from the $150-$200 price range cards. were seen here in our Thief benchmark run. 
3DMark 2013
3Dmark Fire Strike Benchmark Results – For high performance gaming PCs

Use Fire Strike to test the performance of dedicated gaming PCs, or use the Fire Strike Extreme preset for high-end systems with multiple GPUs. Fire Strike uses a multi-threaded DirectX 11 engine to test DirectX 11 hardware.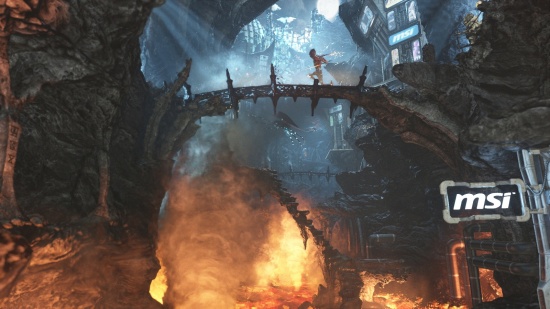 Fire Strike Benchmark Results:
Benchmark Results: The 3DMark Fire Strike benchmark had the EVGA GeForce GTX 960 SSC video card coming in with an overall score of 7,054 versus a score of 6,156 on the ASUS GeForce GTX 950 STRIX 2GB video card.  TheMSI Radeon R7 370 was in the back of the pack again with an overall score of 5461.
Temperature & Noise Testing
Temperatures are important to enthusiasts and gamers, so we took a bit of time and did some temperature testing on the the ASUS version of the NVIDIA GeForce GTX 950 video card.
ASUS Strix GTX 950 Direct CU II OC 2GB Idle Temps:
The ASUS Strix GTX 950 STRIX OC DirectCU II video card has no fans spinning at idle, so the card is dead silent. Even with no fans spinning at all we found a rather impressive idle temperature of just 42C.
When gaming we hit 68C in a room where the temperature was 67F (20.5C), so we have no complaints at all. Not the fan speed got up to 1273 RPM. As you can see when we were gaming the GM206 Maxwell GPU was running at 1417.5 MHz and we used all of the 2GB frame buffer on our 1080p benchmarks!
We took some thermal images of the ASUS GeForce GTX 950 STRIX card during a single pass of 3DMark Fire Strike and found that the back of the card got up to 73C while the front of the card topped out at 64C thanks to the fan blowing across the cooling fins.
Sound Testing
We test noise levels with an Extech sound level meter that has ±1.5dB accuracy that meets Type 2 standards. This meter ranges from 35dB to 90dB on the low measurement range, which is perfect for us as our test room usually averages around 36dB. We measure the sound level two inches above the corner of the motherboard with 'A' frequency weighting. The microphone wind cover is used to make sure no wind is blowing across the microphone, which would seriously throw off the data.
All of the cards have no fans spinning at idle, so the idle noise is the same on all of the cards. The only reason the system is above ambient noise levels is due to CPU's water cooler fans and pump noise. Even with the fans running the ASUS STRIX GTX 950 hit just 39.7dB, so this is a very quiet card and that will appeal to many gamers. We didn't notice any choke noise when gaming when we tried the card in a PC case. The noise between the three cards we tested was pretty much the same at both idle and load since none of the fans spun at idle and all GPU coolers were dual fan models with low RPM fan speeds.
Power Consumption
For testing power consumption, we took our test system and plugged it into a Kill-A-Watt power meter. For idle numbers, we allowed the system to idle on the desktop for 15 minutes and took the reading. For load numbers we ran Battlefield 4 at 1920×1080 and recorded the average idle reading and the peak gaming reading on the power meter.
Power Consumption Results: The system with the ASUS STRIX GTX 950 2GB video card used the least amount of power at load and averaged just 103 Watts at idle. The GeForce GTX 950 actually used more power than the EVGA GeForce GTX 960 at idle, but that is likely due to voltage differences and the fact that every GPU has different die leakage. The big thing we'd like to hammer home on this chart is that the ASUS GeForce GTX 950 2GB video card beat the MSI Radeon R7 370 2GB in ever single benchmark that we ran and unfortunately for AMD it also uses significantly more power. We found that the Radeon R7 370 peak power number was 51 Watts higher than that of the GeForce GTX 950 2GB video card. Using 22.3% more power when gaming and being 10.8% slower in the game title being used for that test is not good. The GeForce GTX 950 card that we tested today won with regards to performance, combined idle/load temperatures and obviously here in the power test against the Radeon R7 370.
ASUS STRIX GTX 950 OC Video Card Overclocking
We spent a day overclocking the ASUS STRIX GTX 950 and used ASUS GPU Tweak II v1.0.6.9 for the very first time. ASUS GPU Tweak has been around for years, but it was recently updated to be easier to use.
ASUS GPU Tweak two has GPU-Z built-in and now has a live update for the utility itself as well as the driver and the vBIOS on your card.
You'll need to clock on 'Professional Mode' to get to dials that overclockers are used to seeing! Here you can overclock your card manually by setting the various clocks and even the GPU voltage. We left the GPU voltage alone and cranked up the power target and then the clock speeds as high as we could get them. We ended up with +100 MHz on the core and +150 MHz on the memory with the power target at 111% (GPU temp target was at 94C).
In case you forgot, the ASUS STRIX GTX 960 graphics card is already factory overclocked up to 1165 MHz base with a boost clock of 1355MHz and the 2GB of GDDR5 memory is clocked at 1653MHz (6612 MHz effective). By using the ASUS GPU Tweak II utility to overclock the core of the GPU by 100MHz and memory by 150MHz we were running at 1265 base clock (1455MHz boost) and the memory was at 1703MHz.
This overclock meant that we were running at 1518MHz at times thanks to NVIDIA Boost 2.0 on the core and 1728MHz (6912MHz effective) on the 2GB of GDDR5 memory. Not a bad overclock and it should be fairly common for people to hit over 1500MHz with no voltage increase needed.
ASUS STRIX GTX 950 Stock:
ASUS STRIX GTX 950 Overclocked:
By overclocking the ASUS STRIX GTX 950 DirectCU II OC 2GB video card we were able to take the stock score of 6156 and raise it up to 6490. This is a 334 point increase in our overall 3DMark score, which represents a performance gain of 5.4 percent. Not a bad little performance gain for free!
Memory Bandwidth Testing
Testing memory bandwidth on video cards is tricky, but we've been dabbling around testing it in recent weeks. We built a new system to test just memory bandwidth it is best the test on a system that has a CPU with integrated graphics in order for the discrete graphics card can be run in headless mode. We also disabled Windows Aero and set the system to high performance mode for both the display settings and power settings. Nai's GPU memory bandwidth test only works on NVIDIA CUDA cards, so we tested a handful of NVIDIA GeForce GTX reference cards from the Fermi, Kepler and Maxwell series to see how they perform. The ASUS STRIX 950 2GB and ASUS STRIX 960 2GB video cards are the only non-reference cards in the chart below.
We weren't expecting to reach the theoretical peak bandwidth figures, but all of the cards came in reasonably close. The NVIDIA GeForce GTX 950 is rated as have 105.8 GB/s of memory bandwidth and we averaged 98.0 GB/s across the 2GB frame buffer.
We are really shocked that the NVIDIA GeForce GTX 950 had higher memory bandwidth than the GForce GTX 960! We tested the NVIDIA GeForce GTX 960 with GeForce 355.60 and the GeForce GTX 950 with GeForce GTX 355.69 drivers. The GeForce GTX 355.69 drivers are not compatible with the GeForce GTX 960 for some reason.
We've reached out to NVIDIA to ask why the GeForce GTX 950 would have more memory bandwidth than the GeForce GTX 960 when it has slower clocked memory and features the same GM206 GPU albeit some things are disabled.
Final Thoughts and Conclusions
Hopefully you clicked through the benchmark pages before making it to the conclusion and if you did you'll have seen that the ASUS GeForce GTX 950 STRIX 2GB video card was significantly faster than the AMD Radeon R7 370 and usually under 20% slower than the GeForce GTX 960. The GeForce GTX 950 made short work of the AMD Radeon R7 370 and we have a feeling that is going to shock many people as we weren't expecting to see that big of a performance gap. The NVIDIA GeForce GTX 950 not only performed better than the Radeon R7 370 in all the benchmarks that we ran, but it also used significantly less power when outperforming the R7 370 in the game titles. By the time you factor in all of NVIDIA's other features (NVIDIA G-Sync, HDMI 2.0 display output, DX 12_1 feature level support and so on) you have a video card that is clearly superior to AMD Radeon R7 370!
When it comes to pricing the NVIDIA GeForce GTX 950 has an MSRP of $159 and the ASUS STRIX GTX 950 2GB card that we tested today runs $169.99. That is a pretty fair price.  The MSI Radeon R7 370 Gaming 2GB video card that we looked at here today for comparison sake runs $159.99 shipped.  For only being $10 more you get a better gaming and overall usage scenario with the GeForce GTX 950. If you wanted to spend a little more money for more performance you can get a fully enabled GM206 GPU card like the ASUS STRIX GTX960 2GB for $200.99 shipped.
Here is the suggest retail pricing for the current NVIDIA GeForce GTX cards.
GTX TITAN X: $999
GTX 980 Ti: $649
GTX 980: $499
GTX 970: $329
GTX 960: $199
GTX 950: $159
GTX 750 Ti: $119
NVIDIA GeForce GTX 950 cards will be appearing at retailers today and we highly suggest giving them a look if you are shopping for a video card in the $159 to $179 price range. They appear to blow away the AMD Radeon R7 370 cards and is likely plenty for someone searching for a capable 1080P gaming graphics card for their Windows 10 system!
(legitreviews.com)
Comments
comments